Following US government restrictions, Chinese supercomputers have gotten a lot of attention from the hardware and high-performance computing (HPC) communities. At least two Chinese supercomputers broke the so-called exascale threshold in October. According to reports presented at the SuperComputing 21 (SC21) conference, another Chinese exascale supercomputer is in the works. These machines, however, appear to have a significant flaw.
At SC21, David K. Kahaner, an expert in high-performance computing and the founder of the Asian Technology Information Program (ATIP), gave a talk about modern supercomputers in China. Koji Uchikawa, thankfully, revealed sections of the presentation in a Twitter post (via ComputerBase). Tianxia has many 100–500 PFLOPS systems online, based on native technologies or commercially available AMD, Intel, and Nvidia hardware, according to him. He also stated that China has two exascale-class systems and that the creation of a third system has been postponed.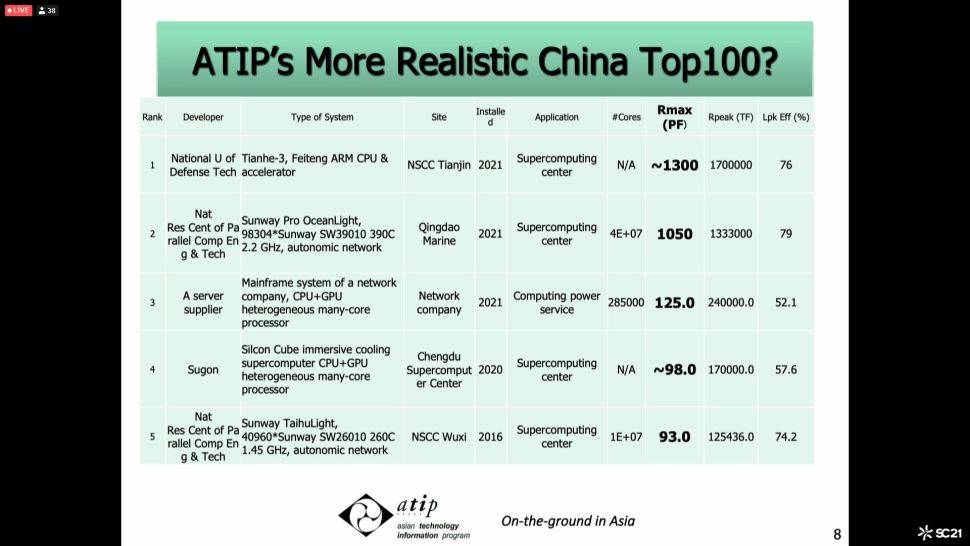 According to ATIP, the Tianhe-3 system housed in the National Supercomputer Center in Guangzhou, China, is the highest-performing Chinese supercomputer. Traditional HPC workloads with full FP64 precision are handled by Armv8-based Phytium 2000+ (FTP) processors. For growing workloads like AI that don't require FP64 accuracy all of the time, it uses Matrix 2000+ (MTP) DSP accelerators. The system is rated at roughly 1300 PFLOPS, according to ATIP (1.3 FLOPS).
The Sunway Oceanlite, housed at China's National Research Center of Parallel Computer Engineering and Technology, is the country's second most powerful supercomputer (NRCPC). Sunway SW26010 CPUs are used to create proprietary hybrid 390-core Sunway processors. The machine's long-term performance is estimated to be around 1050 PFLOPS, according to ATIP (1.05 FLOPS).
Several years ago, the National Supercomputing Center in Shenzhen proposed an EFLOPS-class system. Sugon was tasked with designing the supercomputer, which was intended to be delivered in 2022. However, due to government constraints, Sugon's Hygon processor division no longer has access to AMD's technology (including Zen CPU microarchitecture for its Dhyana CPUs and AMD compute GPUs for accelerators). As a result, it's unclear how the corporation intends to implement the system. The NSCC and Sugon, according to ATIP experts, will need to identify a new exascale-capable hardware platform to install the supercomputer.
"In their Gordon Bell Prize-winning work, the Chinese researchers introduced a systematic design process that covers the algorithm, parallelization, and architecture required for the simulation," Dmitry Lakh, a developer from ORNL, told NextPlatform. "Using a new Sunway Supercomputer, the Chinese team effectively simulated a 10x10x (1+40+1) random quantum circuit (a new milestone for classical simulation of RQC). Their simulation achieved a performance of 1.2 FLOPS (one quintillion floating-point operations per second) single-precision, or 4.4 FLOPS mixed-precision, using over 41.9 million Sunway cores."