According to recent sources, new details have been leaked regarding two new Xbox exclusives from Compulsion Games (We Happy Few) and Obsidian Entertainment (The Outer Worlds). The former of which is described as a single-player "southern gothic adventure."
Compulsion's first game with Microsoft is codenamed Midnight and it's reported to be a third-person game that is set in a dark and fantastical world.
The protagonist of the game can be seen in the middle section of the concept art which was leaked and is a dark-skinned woman with braided hair.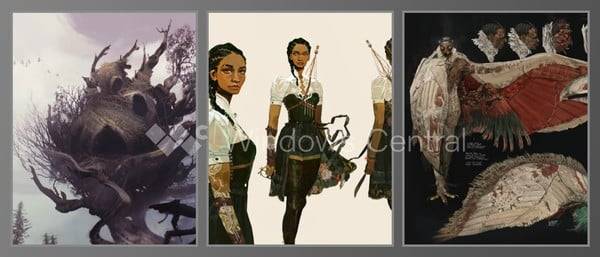 Reports suggest that this game draws its inspiration from America's deep south and is a "coming of age" story. This is also a solely single-player game and according to reports, this new game will not be made ready for an official reveal or launch until the next few years.
The second game comes from Obsidian Entertainment, codenamed Pentiment. This will be reportedly a murder mystery set in the 16th Century in which players will be able to investigate and accuse other characters in the game.
But, these accusations will have their consequences, and if you're wrong, then a snowball effect occurs. The game will slowly unfold into a full-blown conspiracy and the development studio is also reportedly experimenting with several different gameplay mechanics, but some might not make it into the final product.