According to the latest leak by Videocardz, we now have some understanding as to what the specifications of AMD's upcoming Radeon RX 6600 (Non-XT) graphics card will be and what will be the release date of the cards.
From the leak, we can understand that the cards will start shipping to the reviewers by early October and the reviews are slated to go live on 13th October at 9 AM EDT. And based on further information it's been reported that details such as the pricing info & the product itself will be released the same day. However, there is still a doubt as to whether it will be a retail launch date or just a standard embargo lift on the card details.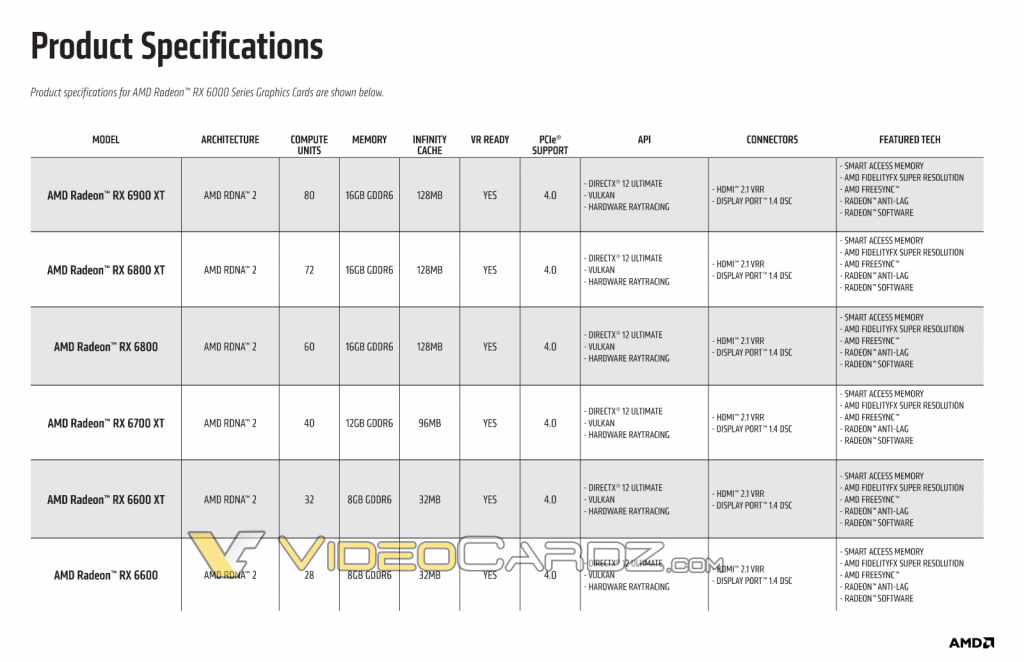 AMD Radeon RX 6600 Graphics Card Specifications
As we know, the AMD Radeon RX 6600 graphics card will most probably feature the Navi 23 XL GPU. The GPU will have 28 Compute Units or 1792 stream processors and Radeon RX 6600 will have 32 MB of Infinity Cache & will be featuring up to 8 GB GDDR6 memory capacity running across a 128-bit wide bus interface.
The major target of AMD with its Radeon RX 6600 series is premium 1080p gaming solutions and the card will be launching for $379 US, hence, we can expect there to be a price of around $299-$329 US for the non-XT variant.
AMD Radeon RX 6000 Series "RDNA 2" Graphics Card Lineup:
| | | | | | | | | | |
| --- | --- | --- | --- | --- | --- | --- | --- | --- | --- |
| Graphics Card | AMD Radeon RX 6600 | AMD Radeon RX 6600 XT | AMD Radeon RX 6700 | AMD Radeon RX 6700 XT | AMD Radeon RX 6800 | AMD Radeon RX 6800 XT | AMD Radeon RX 6900 XT | AMD Radeon RX 6900 XT Liquid Cooled | AMD Radeon RX 6900 XTX |
| GPU | Navi 23 (XL?) | Navi 23 (XT) | Navi 22 (XL?) | Navi 22 (XT?) | Navi 21 XL | Navi 21 XT | Navi 21 XTX | Navi 21 XTXH | Navi 21 XTXH |
| Process Node | 7nm | 7nm | 7nm | 7nm | 7nm | 7nm | 7nm | 7nm | 7nm |
| Die Size | 237mm2 | 237mm2 | 336mm2 | 336mm2 | 520mm2 | 520mm2 | 520mm2 | 520mm2 | 520mm2 |
| Transistors | 11.06 Billion | 11.06 Billion | 17.2 Billion | 17.2 Billion | 26.8 Billion | 26.8 Billion | 26.8 Billion | 26.8 Billion | 26.8 Billion |
| Compute Units | 28 | 32 | 36 | 40 | 60 | 72 | 80 | 80 | 80 |
| Stream Processors | 1792 | 2048 | 2304 | 2560 | 3840 | 4608 | 5120 | 5120 | 5120 |
| TMUs/ROPs | TBA | 128/64 | TBA | 160/64 | 240 / 96 | 288 / 128 | 320 / 128 | 320 / 128 | 320 / 128 |
| Game Clock | TBA | 2359 MHz | TBA | 2424 MHz | 1815 MHz | 2015 MHz | 2015 MHz | 2250 MHz | TBA |
| Boost Clock | TBA | 2589 MHz | TBA | 2581 MHz | 2105 MHz | 2250 MHz | 2250 MHz | 2345 MHz | 2435 MHz |
| FP32 TFLOPs | TBA | 10.6 TFLOPs | TBA | 13.21 TFLOPs | 16.17 TFLOPs | 20.74 TFLOPs | 23.04 TFLOPs | 24.01 TFLOPs | 24.93 TFLOPs |
| Memory Size | 8 GB GDDR6 + 32 MB Infinity Cache? | 8 GB GDDR6 + 32 MB Infinity Cache | 12 GB GDDR6 + 96 MB Infinity Cache? | 12 GB GDDR6 + 96 MB Infinity Cache | 16 GB GDDR6 +128 MB Infinity Cache | 16 GB GDDR6 +128 MB Infinity Cache | 16 GB GDDR6 +128 MB Infinity Cache | 16 GB GDDR6 +128 MB Infinity Cache | 16 GB GDDR6 +128 MB Infinity Cache |
| Memory Bus | 128-bit | 128-bit | 192-bit | 192-bit | 256-bit | 256-bit | 256-bit | 256-bit | 256-bit |
| Memory Clock | 16 Gbps? | 16 Gbps | 16 Gbps? | 16 Gbps | 16 Gbps | 16 Gbps | 16 Gbps | 18 Gbps | 18 Gbps |
| Bandwidth | 256 GB/s? | 256 GB/s | 384 GB/s | 384 GB/s | 512 GB/s | 512 GB/s | 512 GB/s | 576 GB/s | 576 GB/s |
| TDP | TBA | 160W | TBA | 230W | 250W | 300W | 300W | 330W | 330W |
| Price | $299-$329 ? | $379 US | TBA | $479 US | $579 US | $649 US | $999 US | ~$1199 US | ~$1199 US |