Money Heist is a Spanish heist crime drama TV series. It is created by Alex Pina. It is executively produced by Alex Pina, Sonia Martinez, Jesus Colmenar, Lobato, Cristina Lopez Ferraz and Nacho Manubens. Its production companies are Atresmedia and Vancouver Media. It contains 4 seasons having 31 episodes. It has a running time of 41-59 minutes for each episode. It was firstly released on 20th December 2017. The fifth season is going to be released within a month. The head writer of season 5 is Javier Gomez Santander.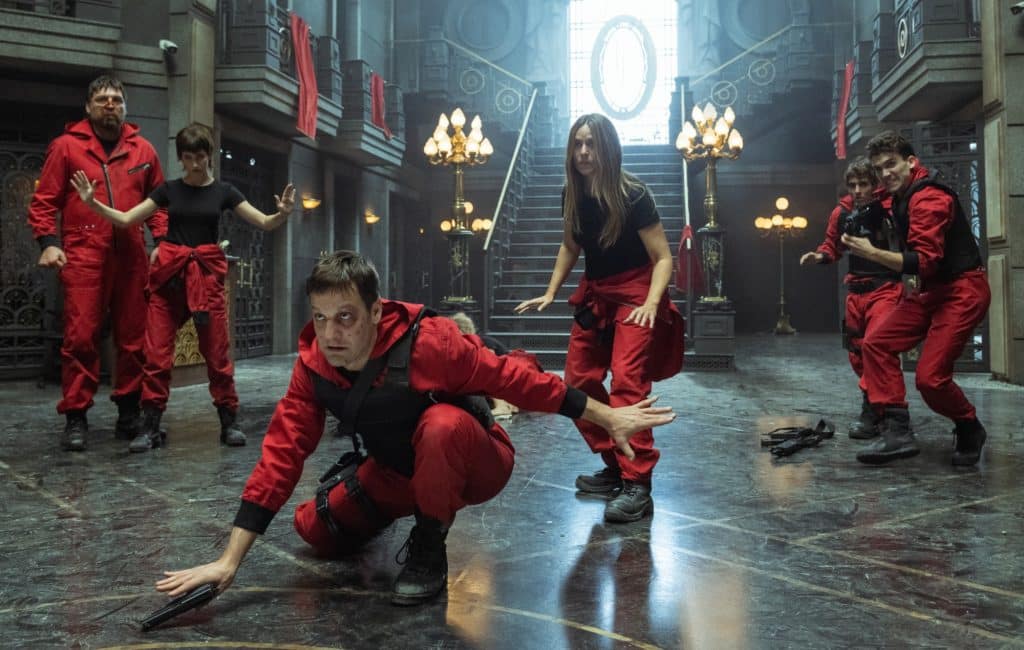 Short glimpses about the series
This story is based in Madrid, in the first two seasons a mysterious man named 'The Professor' recruits a set of 8 people who choose city names for themselves to avoid personal sharing of life in order to carry out an extraordinary, brilliant, impossible, and ambitious plan of robbing The Royal Mint of Spain.

In the next two seasons, the groups are forced to come out from their nutshell in order to save one of their members of the heist. In this season, they prepared for a second heist, this time, it's The Bank of Spain, and again they deal with hostages and police forces simultaneously.
Release Date
Money Heist Season 5 is said to be the last and final season. Netflix has announced the released date on 24th May 2021. Netflix has said that this season will be released in two installments, and this season will consist of 10 episodes.
Volume 1: will be released tomorrow i.e. on 3rd September 2021 consisting of 5 episodes.
Volume 2: will be released on 3rd December 2021 consisting of again 5 episodes.
Alex Pina, the creator of the series, has answered that why this will be aired in two volumes. He said, "When we began to write Part 5 in the midst of the pandemic, we felt that we had to change what was expected from the ten-episode season and used every tool we could to create the sensation of a season finale or series finale in the first volume itself. We decided to work in an extremely aggressive genre, putting The Gang on the ropes. In volume 2, we focus more on the emotional situation of the characters. It is a journey across their sentimental map that connects us directly to their departure."
Previously we said that it was heard that the wrap-up of the filming of the final season was made in January 2021, but that's not true. Recently it gets confirmed that officially the filming wrapped up on 14th May 2021. "What started as a heist ended as a family. It's a wrap on Part 5 of La Casa de Papel/Money Heist. Thank you to all the fans for being part of La Resistencia (the resistance)! We can't wait to show you how this story ends," Netflix wrote in its post.
Release Time
Money Heist Season is going to release globally on the OTT platform named Netflix at different times, the timings of the different countries are mentioned below:-
India: 12:30 p.m. IST.
England: 8:01 am BST.
Westcoast of the US: 12:01 a.m. PT.
Midwest of the US: 2:01 a.m. C.
East Coast of the US: 3:01 a.m. ET.
Australia, Sydney: 5:01 p.m. KST.
Spain: 9:01 a.m. CEST.
France, Germany, and Italy: 9:01 a.m. CEST.
Israel: 10:01 a.m. IDT.
South Korea and Japan: 4:01 p.m. KST.
Mountain timezone: 1:01 a.m. MT.
Hawaii: 9:01 p.m. HST on thursday, i.e. 2nd September, it has been already released.
Alaska: 11:01 p.m. AKDT on thursday i.e. 2nd September, an hour is only left to release.
Cast
Money Heist season 5 cast includes Morte as The Professor, Úrsula Corberó as Tokyo, Itziar Ituño as Lisbon, Miguel Herrán as Rio, Jaime Lorente as Denver, Esther Acebo as Stockholm, Hovik Keuchkerian as Bogota, Rodrigo de la Serna as Palermo, Najwa Nimri as Alicia Sierra, Belén Cuesta as Manila, Enrique Arce as Arturo, Darko Peric as Helsinki, Luka Peros as Marseille, Fernando Cayo as Coronel Tamayo, and José Manuel Poga as Gandía. Miguel Ángel Silvestre (Sense 8) and Patrick Criado (La Gran Familia Española) are the two new major additions to the Money Heist season 5 cast.
Trailer
The trailer of Money Heist season 5 releases today. Netflix has revealed the 90-second video as the first trailer for Volume 1 of Money Heist season 5. The trailer gave us a glimpse of what we can expect from the upcoming final season of Alex Pina's hit Spanish thriller series- known as La casa de Papel to Spanish-speaking viewers.
In the trailer, after the cop Alicia Sierra gains the upper hand by arresting The Professor, the Spanish authorities have sent in the military. The trailer of Money Heist season 5 does not have any local-language version.
Here we present the trailer:-
Synopsis of the Trailer
As we have discussed above, the trailer started with the arrest of The Professor and was followed by the military attack. As we all know, the whole gang has been shut in the Bank of Spain for over 100 hours. However, they managed to rescue Lisbon, but unfortunately, they have lost one of their own.
For the very first time, there was no rescue plan. When they think that everything is going perfectly, there comes their enemy who is more powerful than them they have ever faced: the army. The heist has turned into a war. The end of the greatest heist in history is approaching.
"Locked up for a hundred hours, trapped, about to be killed, and having lost a best friend, it feels like a hundred years have gone by," an unseen voice says before Alicia confronts The Professor: "Checkmate." As you can expect, the confrontation is fierce, with heavy casualties on both sides. The police realize they have them where they want and decide to push their advantage with the military: "They'll come out victorious or come out dead." The Money Heist season 5 trailer doesn't show who dies, though — that would be a spoiler after all.
Expectations
In the last season, they left us with many loose ends that where the new season will try to meet the ends.
Lisbon has fewer chances to get out of The Bank of Spain because Inspector Sierra has dominated The Professor. Whereas The Professor has to play cleverly and make a plan of escape, and meanwhile Lisbon will have to continue to melt the gold.
We can expect the series to end on a happy note. The directors may reunite Lisbon and the Professor with all the other heist members and give the series finale an emotional goodbye.
Teaser itself gave a heart-thumping reaction to the audience. In this teaser, there's a lot of action. The army is inside the bank and continues to attack in order to force the gang to surrender, but they did not. They continue to fight. While the members make their way through The Bank of Spain. The professor was outside managing from there, but in a second's blink, the Professor was found to be tied to a chair's hint, assuming that Alicia Sierra has managed to overpower him.
This season is going to be the ultimate one. It will surpass all the expectations of the audience. Above the teaser, we can only say that we will experience a brilliant escape. Audiences are waiting to see how they will escape by melting the gold into tiny balls and how all the gang members reunite with the Professor, and how they led their life afterward when their identities were revealed.