The mobile gaming market in India again heats up with the entry of Battlegrounds Mobile India. Though it was launched for Android initially, the developer company releases the iOS version as well a few days back. It is obvious a proper gaming accessory can improve both your skill and experience. But most of the time, a gaming accessory come at a high cost most of the time. Now, what if you can get a gaming wireless earphone for Rs.1,999?
Trüke, a German headphones and headsets making brand, is ready to bring its new gaming-focused truly wireless earphone, Trüke BTG 2, to the Indian market very soon. The main thing is it packs all the gaming-centric features, though the price is just Rs.1,999. But you need to remember; this is the launch special pricing only. It will come on sale via Trüke India's official website and Amazon India on 24th August at 12 PM.
Set launch Reminder: https://amzn.to/3mjTFRK
Features…
I already mentioned the Trüke BTG 2 is a gaming-focused TWS. So, first, talk about the gaming features that include audio drivers, the chip assigned inside, audio quality and modes, and latency. I know there is the design and battery life, including noise cancellation as well. I will discuss these at the end.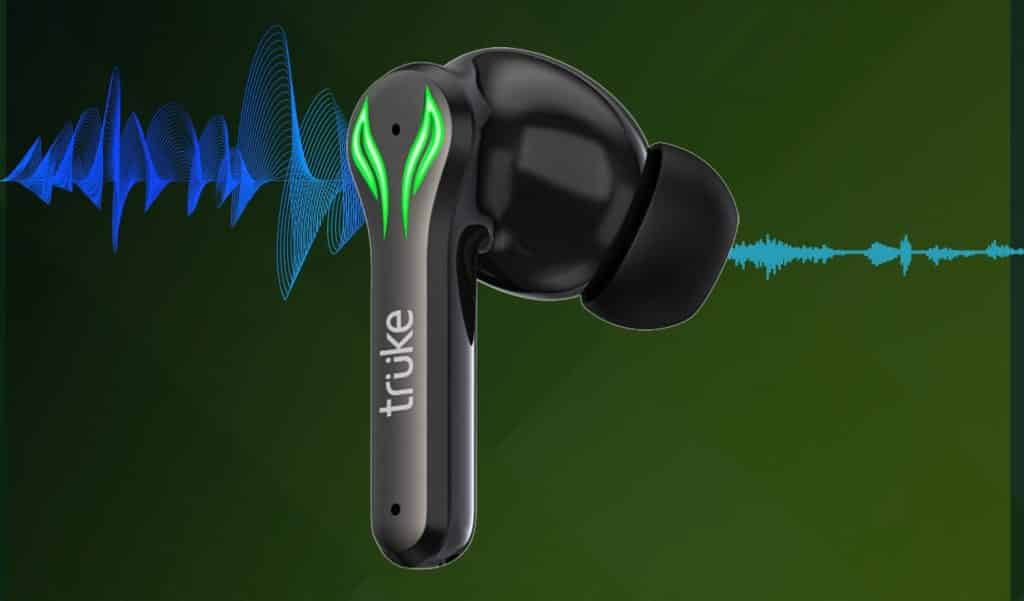 The Trüke BTG 2 houses 13mm Titanium audio drivers in each bud for the cinematic audio experience. Though, a 32-bit RISC gaming chip is providing the support as well to enhance the audio quality. This TWS is coming with the environmental noise cancellation. So, you can focus on your game or media content without any interruptions. Oh, forget to mention, you will get two different modes too. One is for media consumption, where the BTG 2 will deliver Hi-Fi Audio quality. The other one is for gaming purposes. In this mode, there will be 60ms low latency and stereo surround sound.
In the case of latency, the company compares the BTG 2 performance with other high quality premium earphones such as Galaxy Buds+ and Airpods Pro. You can see the chart below.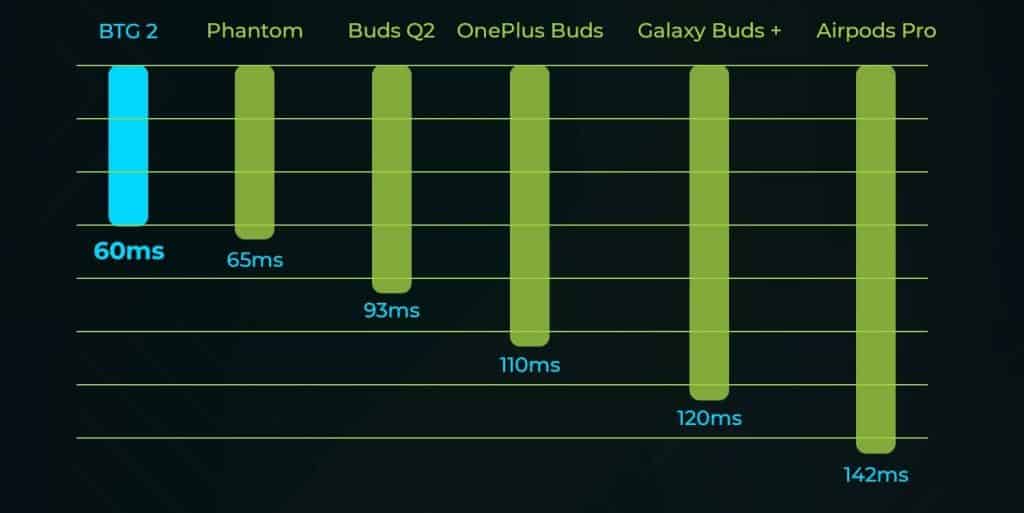 The designers shaped the earphone with a Tribal design having a combination of green and black colour. There is Bluetooth 5.1 onboard for reliable connectivity and touch control functionality for easy management. Lastly, in a single charge, the buds can provide up to 10 hours of service, and with the charging case, the total play-timing can go up to 48 hours. There is a Type-C port for charge refilling.
There are more to describe, but these all are pretty much enough to get an idea about this product. What there is not mentioned is any IP rating. As it's a gaming-focused earphone, that's why the company probably skip it.
The company, Trüke, is promising a lot considering the Rs.1,999 price tag for the BTG 2 wireless earphone. It needs to check how much the product can serve in the real field.