Ronaldo is yet again having a remarkable summer. On one hand, he is now the greatest striker in the history of Euros and on the other he also equalled Ali Daei's all-time highest goal tally in men's international football. But these personal achievements could not carry his nation to the quarter-finals this year. He scored five goals (current highest) this season but his team ended losing to Belgium in the Round of 16.
Ronaldo was seen utterly frustrated when the final whistle was blown. This might be the Portuguese great's final ever appearance at a major international tournament. Ronaldo was so emotional that he decided to throw his captain's armband onto the turf not once but twice. It seemed like a flashback to his frustration after the 'ghost goal' against Serbia.
Ronaldo has proven again and again that age is just a number for him. At 36, he continues to haunt the opposition's defences with his mercurial talent. He is smashing records and making new ones at his age. His tally of 14 goals has come across 5 Euro editions. Ronaldo also overtook Gianluigi Buffon on Wednesday night as the most appearances in Euros history (59). Let's have a look at his other records at the European Championship.
Cristiano Ronaldo's Euros Records:
59 – Most appearances, including qualifying
24 – Most finals appearances
45 – Most goals, including qualifying
14 – Most finals goals
12 – Most victories at finals
5 – Most Euro final tournaments played in
5 – Most Euro final tournaments scored in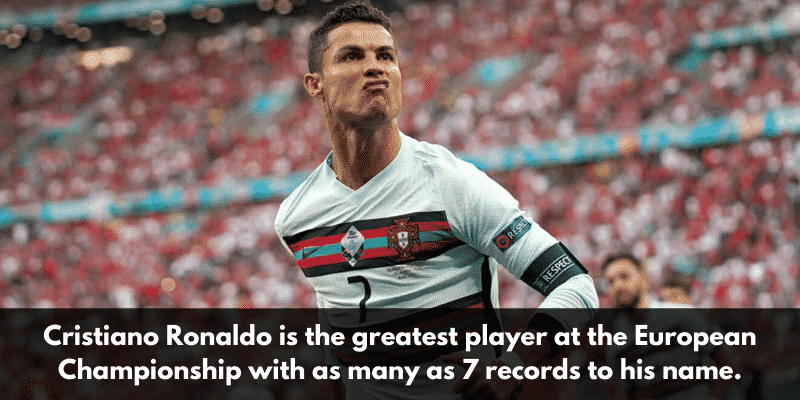 Netting 5 goals at Euro 2020 in his 4 games, Ronaldo is also in the race for another Golden Boot. Although many players have a 4-goal tally and have got more matches to play. His 14 goals record in Euros actually fades in comparison to his 109 for Portugal. His service to his nation has been incomparable. Just one more goal at the tournament could have made him the greatest international goalscorer in history. We really hope he stays to get it done.
Whatever one says about Portugal's performances, they were constantly competing at the greatest levels being in the Group of Death with Germany and France. Ronaldo's work rate was noteworthy as he never gave anything less than his 200%. If this is how the curtain falls on Ronaldo's Euros career, he left as its greatest ever player.