Come June 11th, we will see the first game of Euro 2020. While a lot of familiar stars dominated in Europe's top-flight leagues the last season, there were few surprise introductions as well. Moving right into it is the highest-rated XI of players playing at Euro 2020, with the ratings sourced from the stats-based website WhoScored.
The highest-rated XI in Euro 2020 (4-4-2 formation)
Goalkeeper – Martin Dubravka (Slovakia)
With a rating of 6.84, our first inclusion is Slovakia's first-choice keeper. Despite only keeping 3 clean sheets, he will make the cut ahead of Manuel Neuer. Interesting!
Right-Back – Joao Cancelo (Portugal)

One of Portugal's finest this season, Cancelo made it into the PFA Team of the Year and rightly so! He is currently the highest-rated (7.31) defender in Europe's top 5 leagues (for the 2020/21 campaign).
Centre-Back – Mats Hummels (Germany)
Hummels scored 5 goals in his 33 Bundesliga appearances last season. The 7.26 rated player has also gained a lot of muscle in the past few months which has directly or indirectly helped him too!
Centre-Back – Willi Orban (Hungary)
Another surprise entry! Orban is one of the most underrated footballers in the world. He's as amazing at the backline as he is at the front. The 28-year-old ended last season netting 4 goals in the Bundesliga. His rating (7.17) says it all!
Left-Back – Raphael Guerreiro (Portugal)
Portugal will be a defensive rock this season. Guerreiro received a rating of 7.24 as he ended yet another amazing Bundesliga campaign, scoring 5 goals and assisted another 10 in just 27 games. World Class!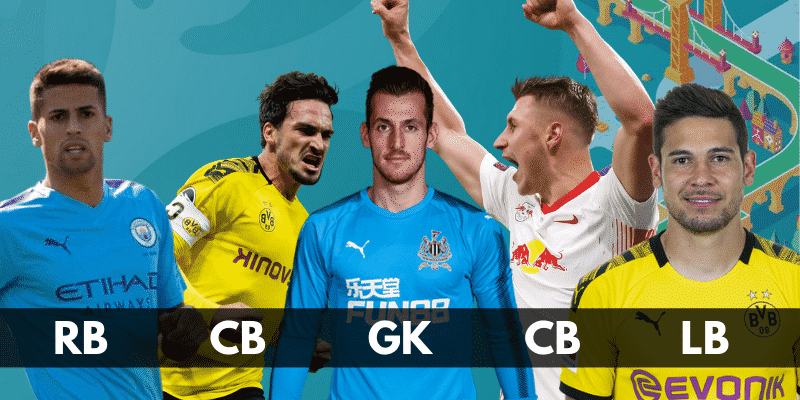 Right-Wing – Kylian Mbappe (France)
We don't feel he needs an introduction. Rated at 7.68, Mbappe will be France attacking pillar. He scored 27 goals and assisted 7 in 33 Ligue 1 games last season. What a player he is becoming!
Centre-Mid – Joshua Kimmich (Germany)
Joshua Kimmich. How much can we praise this man? He is what we call a complete midfielder. He's a world-class defender. His offensive numbers are stellar. An absolute beast. He ended his Bundesliga campaign with 4 goals and 10 assists and receives a rating of 7.57.
Centre-Mid – Kevin De Bruyne (Belgium)
The 29-year-old did not enjoy his best seasons and yet managed to be a step above the rest. Do we need to make any further statements? His rating? 7.65!
Left-Wing – Cristiano Ronaldo (Portugal)
The Portuguese superstar proves that age is just a number as he enters his fifth European Championship at 36. He has netted 29 in his 33 Serie A appearances last season and is rated 7.61 by WhoScored.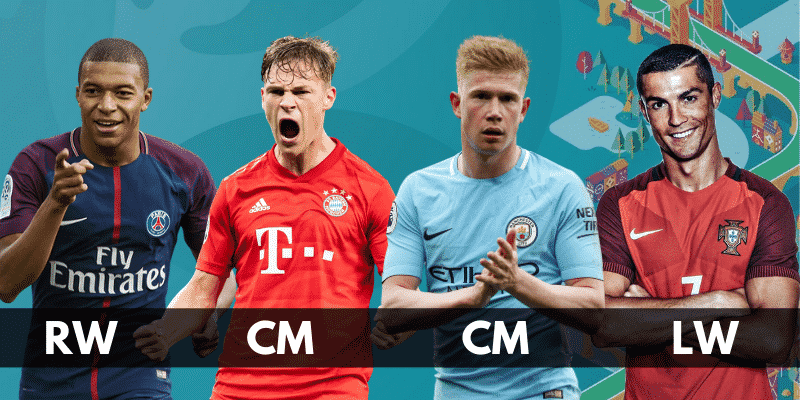 Striker – Harry Kane (England)
Who else would have made it? Kane (rated 7.79) enjoyed a fantastic season as he became Premier League's top scorer with 23 goals, and provided the most assists (14 assists) as well. His form is ridiculously good. Could England take this one home?
Striker – Robert Lewandowski (Poland)
Wherever you look, it's RL9! The 2020/21 campaign was all about Lewandowski. He scored 41 Bundesliga goals in just 29 games to break Gerd Müller's record for most goals in one season. Insane! This is why he has received a rating of a whopping 8.07. Could he take Poland all the way? We'll see soon!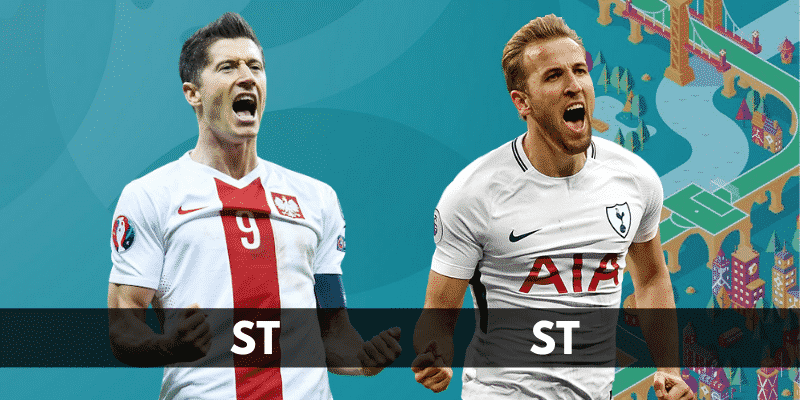 Now keep your beers ready and your flags clean! It is time to cheer for your favorites!