When we and the entire industry is obsessed with upcoming AMD Zen 4 based Ryzen 7000 series processors codenamed Raphael, we get more info about AMD Ryzen 8000 using Zen 5 hybrid architecture, which will finally bring big.LITTLE design to reality.
Already Intel is doing the same thing with the upcoming 10nm based Alder Lake, and finally, we talked about this when we found the mention of Strix Point, which is the upcoming desktop APUs with Zen 5 cores that will be based on TSMC's 3nm process node.
The positive fact is that AMD's Zen 5 APUs are in their early design & development phase, and as per rumours, these upcoming desktop APUs with Zen 5 cores will be known as Strix Point. If we follow assumptions based on past results, AMD does bigger architectural revamps for its odd-numbered Zen architectures in contrast to even-numbered Zen cores to get better optimizations.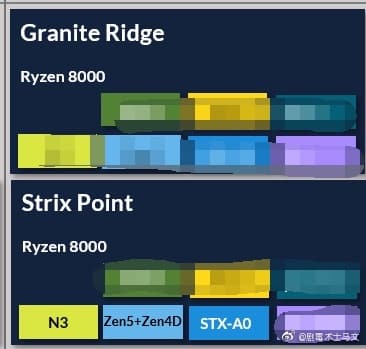 Now a new leak from itacg (Weibo), suggests the Ryzen successor to the Zen 4 based Raphael CPUs or Ryzen 8000 processors codenamed Granite Ridge. So, while Strix Point refers to Ryzen 8000H/G/U APUs, Granite Ridge stands for the mainstream Ryzen 8000 desktop processors.
As of now, the roadmap cutout only reveals the specs of the Strix Point APUs; however, the details for Granite Ridge are hidden, not suggesting much of the specifications, but those will likely be revealed over time.
It surely suggests Strix point will use the new hybrid architecture with main cores using Zen 5 architecture + efficient cores using Zen 4 architecture and a new cache implementation. However, both of these cores will be based on 3nm process nodes, so we could see an enhanced version of Zen 4 and the little Zen 4 cores are said to be called Zen 4D. 
We still do not have any positive specification leak about Granite Ridge and this is why if we take account of AMD Strix Point Ryzen APUs, they are rumoured to feature 8 large Zen 5 cores and 4 smaller cores. 
Also, Strix Point comes with a new L4 cache system that will be used on AMD Strix Point APUs and will work as a system-level cache; however, it remains to be seen if AMD uses this hybrid approach for desktop CPUs as well or not.