There has been a massive wave of transfer speculations about Lionel Messi. It was said that Messi is unhappy with the Barcelona board and along with that he wants Neymar at Camp Nou. If Barcelona fails in their bid for Neymar and the ongoing issues within the board doesn't solve, Messi may leave Barcelona.
Inter seemed as Messi's next destination. They have publicly voiced their wish to sign Messi. Cristiano Ronaldo plays in Serie A for Juventus and it seemed Messi would like to revive that world-class rivalry once again by signing for Inter.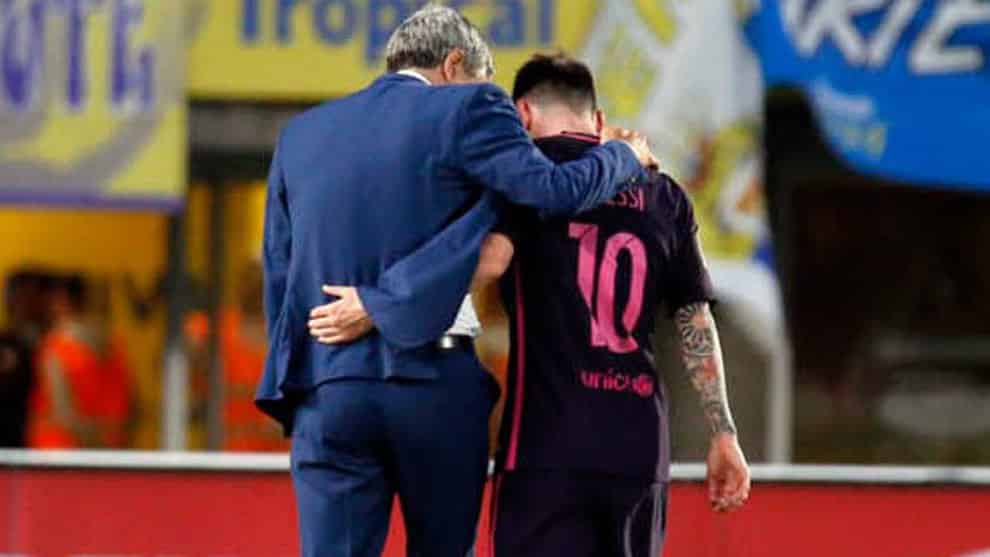 Barcelona coach Quique Setien gave an interview with Rac1. He was firm in his comment about Messi staying at Barcelona. He said: "Messi will end his career at Barcelona."

Messi also claimed previously 'it is harder to win the Champions League than La Liga', and that 'it takes a little more for the team to win it right now'. Setien replied to Messi's comment: "I do not agree with Leo Messi. It is harder to win the league than it is to win the Champions League. As things progress, it is not impossible that we win the Champions League when we resume."
All the football leagues have been suspended due to the Coronavirus pandemic and the players have been instructed to be in quarantine.
During this lockdown, Setien sends various exercises to his team to keep them fit. He told: "Every day we send specific exercises for the players and everyone is keeping up. They're professionals and they know the drill. When we return to training, everything will continue like the way it was. I don't know when we will be training again. But based on what the media says, it doesn't look like we'll be returning any time soon.
I insist on live video conference calls to see if my players' cheeks have become bigger (laughs)."
The Barcelona coach also talked about Philippe Coutinho who is currently on loan at Bayern Munich and injured Ousmane Dembele. He said: "I don't know what Coutinho wants to do. Maybe I should talk to him and convince him to stay. He's a great player no doubt. However, I'm relying on the fact that Coutinho will be here next season."
"Démbele's injury was totally unexpected and really hindered our progress. Perhaps I would have kept Carles Perez had I been appointed earlier. Ousmane is a great player. We count on him."
He further added: "At Barcelona, the objective is to win everything. But sometimes that makes you wonder whether you should concentrate on the present or on the future. Many people expect Barca to easily win all games, but it's not like that. Winning isn't as easy as people think."
Do check out:
All the latest 2019-20 kits of football teams from all over the world are now available on Tech2Sports. Superior quality kits at the lowest price guaranteed. Show your support for your favourite club and country by wearing their colours.
If you're a Barcelona fan, then check this out:
1. Home Kit
2. Home Kit (Full Sleeve)
3. Away Kit
4. 3rd Kit
5. Mobile Cover