Intel's 10th Gen Comet Lake CPUs are already starting to make its way to the market and by Q1 2020 commercially we will able to see these desktop CPUs in the market. In the meantime, Intel has silently announced its new generation of mini PCs – Intel NUC 10 Performance Mini PCs & Kits.
These PCs will feature Intel's latest 10th-generation Comet Lake processors with Core i3, i5 and i7 variants. This also suggests these PCs will have the latest features like Thunderbolt 3, Wi-Fi 6 and 4 USB 3.1 ports, one of them being a USB-Type C.
There will be 3 models of the new Intel NUC 10 with 3 types of CPUs: 10th-generation Core i3-10110U, i5-10210U or i7-10710U and their sub-series will be known to be NUC10i3FN, NUC10i5FN and NUC10i7FN.
All the three include kit: NUC10i3FNH/K, NUC10i5FNH/K or NUC10i7FNH/K and mini-PCs: NUC10i3FNHxx, NUC10i5FNHxx, NUC10i5FNKxx, NUC10i7FNKxx or NUC10i7FNHxx. These new Intel-powered devices will be code-named as Frost Canyon and the Intel NUC 10 Performance series will be the first to feature USB Type C port in the front of the case.
The Core i3-10110U is a dual-core CPU with 4 threads and 2.10 GHz base clock speed and turbo up to 4.10 GHz. This CPU has 15 W TDP and 4MB cache memory. On the other hand, the Core i5-10210U is a powerful one with 4 cores and 8 threads. The CPU comes with 1.60 GHz base clock speed and 4.20 GHz boost, with 15 W TDP it packs 6MB cache memory.
The top-of-the-line Core i7-10710U is equipped with 6 cores and 12 threads, carrying a base frequency of as low as 1.10 GHz and can boost to a whopping 4.70 GHz. Having the same TDP envelope of 15 W it packs a cache memory of 12MB. All these CPUs come with Intel UHD Graphics with graphics frequency ranging from 1.00 GHz to 1.15 GHz.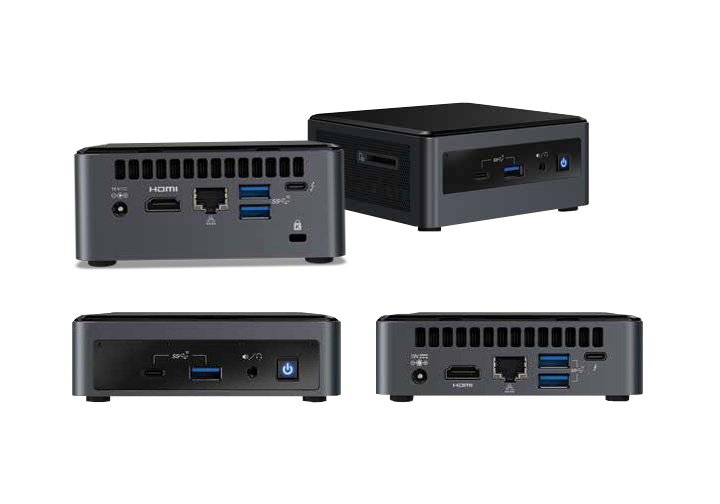 The Intel NUC 10 Performance series has some handsome connectivity features including Thunderbolt 3, HDMI 2.0, Bluetooth 5, Wi-Fi 6 and 3.5mm stereo headphone ports. So, these mini PCs and NUC kits are a great option for home & office use and the new generation of Intel CPUs will definitively help for everyday computing.
Intel even claims that their wireless data-transfer rate (the new Wi-Fi 6 compared to older Wi-Fi 802.11ac) has improved by 3 times. These PCs have the potential to deliver 8 times the bandwidth due to the presence of the new Thunderbolt port rather than the standard USB 3.0. No official words about the pricing or availability have been announced by Intel yet.
Do check out:
😎TechnoSports-stay UPDATED😎