Rain stopped play with India in control against New Zealand in their semi-final at Old Trafford on Tuesday.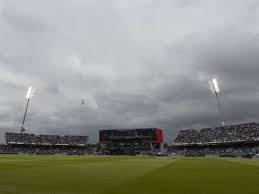 The rain stopped play with 3.5 overs left in New Zealand's innings in their semi-final against India at Old Trafford in Manchester on Tuesday. There was a threat of rain on the semi-final and it finally stopped play with New Zealand on 211 for 5.
Rain has come back to haunt cricket fans in the World Cup 2019 and that too in the first semi-final itself between India and New Zealand in Manchester.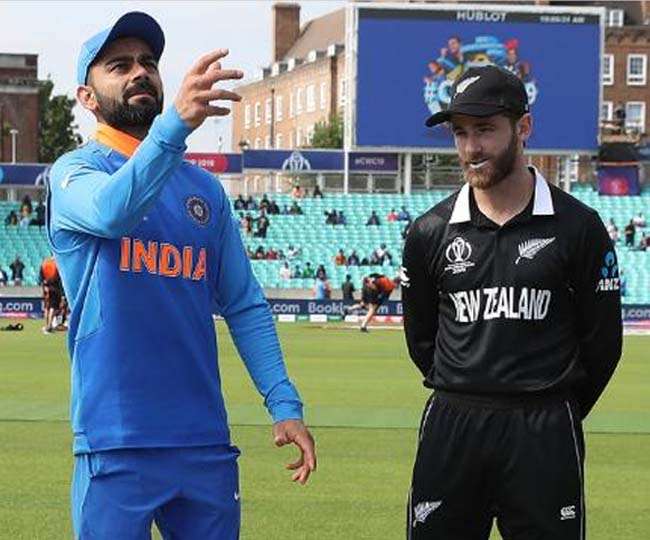 New Zealand won the toss and opted to bat first. They merely able to score runs at a rate of 3.5.
Kane Williamson scored a steady half century,before he fall at 67 to Yuzvendra Chahal. Williamson lead New Zealand's fightback after Jasprit Bumrah and Bhuvneshwar Kumar had started off well for India.
Bumrah struck early to remove Martin Guptill. Ravindra Jadeja bowled a marvelous delivery and took the wicket of Henry Nicholls. Jadeja broke his dangerous stand with Williamson.
After the wicket of Nicholls, Ross Taylor and Williamson took charge. Kane Williamson and Ross Taylor were looking to knuckle down before Yuzvendra Chahal removed the New Zealand captain.
Play had to be stopped after 46.1 overs in the first innings when New Zealand had reached 211 for 5 with Ross Taylor (67*) and Tom Latham (3*) on strike. Bhuvneshwar Kumar, Jasprit Bumrah, Hardik Pandya, Ravindra Jadeja and Yuzvendra Chahal had picked up a wicket each till that point for India.
Now, if New Zealand does not get to bat again (they are currently 211 for 5 off 46.1 overs), how much does India need to chase down?
In that case, India's DLS-adjusted target for 46 overs would be 237.
More significantly, India will need to score 148 according to their DLS target if their innings is reduced to 20 overs.
In case New Zealand doesn't bat again, India's target in
46 overs will be 237
40 overs will be 223
35 overs will be 209
30 overs will be 192
25 overs will be 172
20 overs will be 148
Do check out:https://technosports.co.in/2019/05/22/ms-dhoni-world-cup-shastri/
For more information visit our site, TechnoSports. And download our app from the Google Play Store for more real-time updates. To download the app, click here.