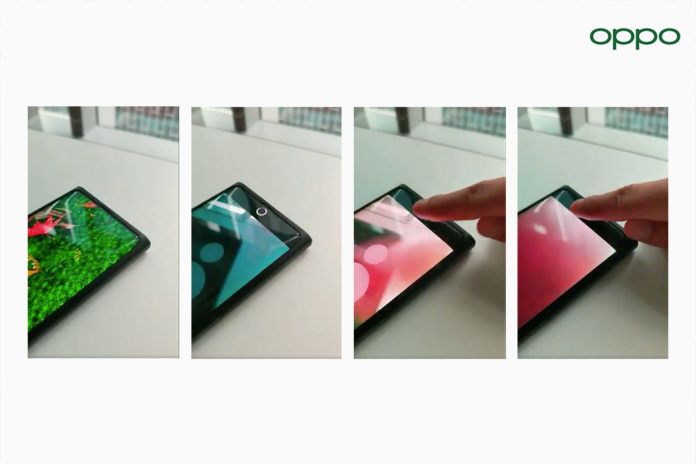 Oppo : MWC Shanghai 2019 updates.
Oppo showed off a device at the Mobile World Congress in Shanghai, June 26 that proves to the mobile phone industry that under-screen front cameras are no longer a technology reserved for the future. 
The teaser video, which was shared by Oppo's official Weibo account and also in its official Twitter account, shows the evolution of a design with respect to the front camera adopted by Oppo phones over the years. It starts with a phone with thick top bezels and then shows Oppo's rotating camera solution, a phone with a conventional boat-shaped notch, a waterdrop notch, the Oppo Find X's sliding camera design, and the Oppo Reno's shark fin pop-up camera design. Lastly, we see a phone with an under-display camera with a glowing ring around it.
As smartphone displays continue to grow and manufacturers try to utilize every square millimetre of their screens, notches have become necessary obstructions required to house front cameras.
Oppo has a long history of trying to eliminate notches from their smartphones before finally arriving at this point: The Find X's front camera is positioned on a device-wide slide-up mechanism, the Reno 10X Zoom Edition's front camera has been placed on a component that slides up from behind the camera asymmetrically, and the F11 Pro simply features a small, lens-wide mechanism that pops up from the centre of the top edge of the phone.
In response to the unpopularity of these solutions, Chinese tech firm Oppo on Wednesday unveiled a smartphone with a full-screen display whose front camera has been placed beneath the screen. 
The section of the screen where the camera is located beneath has been modified to improve the transmission of light. When the display is in use without the camera-enabled, this small section is a little darker than the rest of the screen, but it still offers users an unobstructed image. 
At the MWC, Oppo did not say when this technology would be integrated into a commercial device, but they did note that it will hit the market in the "near future". – AFP Relaxnews
Tell us how much you liked the Oppo's Under Screen Camera (USC) phone in the comments section below. For latest Tech & Sports Updates hit the bell icon and Subscribe to our website TechnoSports. For more information visit our website, TechnoSports. And download our app from the Google Play Store for more real-time updates. To download our TechnoSports app click here.
For the latest tech news and reviews, follow TechnoSports on Facebook, Twitter, Instagram. We are also available now on YouTube, Subscribe and press the bell icon in our channel for more Tech and Sports updates.
TechnoSports – Stay UPDATED