2020 was an important year for console gamers. Both Microsoft and Sony removed the cover from their next-gen consoles Xbox Series X and PS5 respectively. The PS5 has already released in November 2020 globally, but at that time the console didn't release for the market of India due to an unexpected trademark reason. Entering 2021, Sony seems to have sorted out the issue in the country and has confirmed the launch date of PS5 in India.
PlayStation 5 Launch Date in India
Sony has confirmed via an official tweet from the PlayStation India account by saying that the sale of PS5 in India is going to start from 2nd February. You can pre-order the console via all major offline and online retailers from the 12th of January at 12 PM.
There are multiple options available, from where you can pre-order the PS5 like Flipkart, Amazon, Croma, Reliance Digital, Vijay Sales, Shop at Sony Center, Game The Shop, and other retailers.
Price of PlayStation5 and Accessories in India
The PlayStation 5 is going to launch in the Indian market with a price tag of Rs. 49,990. But if you are ready to consider the game discs and can exchange them with friends then you have an affordable option – PS5 Digital Edition. This version has been priced at Rs. 39,990 in India.
For the DualSense controller, you have to pay Rs. 5,990 in the Indian market. The clean white aesthetic look gives a premium feel. Also, it features a built-in microphone, a USB Type-C for charging, and a new adaptive L2 and R2 trigger system. Check out the price list attached below: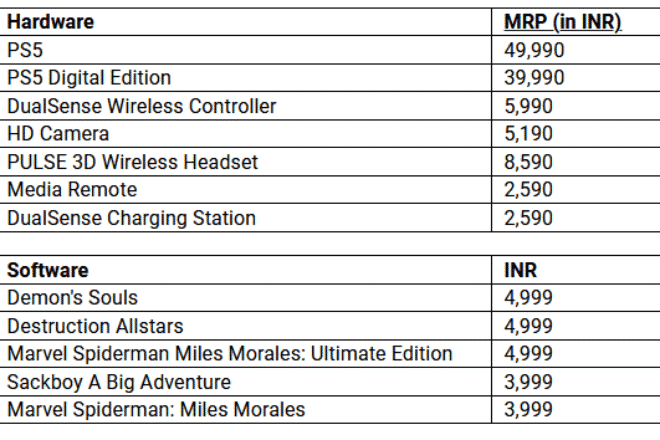 Sony hasn't confirmed the quantity available for sale. You need to be so quick if you really want to enjoy this winter with the next-gen console.