Recently various sites have been showing the news of the Redmi K30 Pro and the specs that surfaced recently on the website of Geekbench. Geekbench is one of the most reliable websites where the specs uploaded of any upcoming smartphone can be trusted easily. Now recently the Redmi K30 Pro has been spotted on the Geekbench website with Snapdragon 865 and more.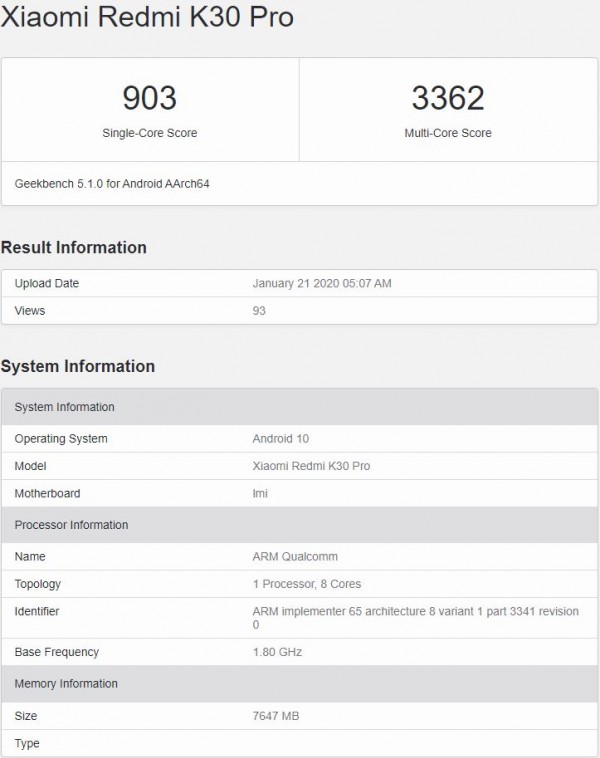 The Redmi K30 Pro just popped up on Geekbench 5.1 with a Snapdragon 865 and 8GB of RAM and posted a score of 900/3300 single and multi-core, which is a healthy increase over the Snapdragon 855 scores in the 500/2200 ballpark. Naturally, the K30 Pro is running Android 10 and will be another mid-range masterpiece.
Both Xiaomi and Redmi has a very occupied and crowded road map down this year with the Snapdragon 865 chipset. Starting from the Redmi K30 Pro, Mi 10 and Mi 10 Pro, though POCO is now a sperate brand, still one of the devices in the POCO F2 series will come with Snapdragon 865. This year it is going to be the year of Qualcomm Snapdragon 865 chipset.
Tell us how much you liked this information in the comments section below. For the latest Tech & Sports Updates hit the bell icon and Subscribe to our website TechnoSports. For more information visit our website, TechnoSports. And download our app from the Google Play Store for more real-time updates. To download our TechnoSports app click here.
For the latest tech news and reviews, follow TechnoSports on Facebook, Twitter, Instagram. We are also available now on YouTube, Subscribe and press the bell icon in our channel for more Tech and Sports updates.
TechnoSports – Stay UPDATED