The Noise Halo Plus Elite Edition Smartwatch is a premium smartwatch that comes with a range of features designed to help you stay connected, track your fitness, and monitor your sleep. It has a 1.46″ Super AMOLED display and a stainless steel finish metallic strap that makes it both stylish and functional.
The Noise Halo Plus Elite Edition Smartwatch is priced at Rs 4,999.00 incl. GST and you can save Rs 4,000 (44%) when you buy it. You should buy this smartwatch because of its premium features, including heart rate monitoring, sleep tracking, Bluetooth calling, volume control, and IP68 water resistance. It also has 100 sports modes, making it perfect for anyone who wants to track their workouts and stay active.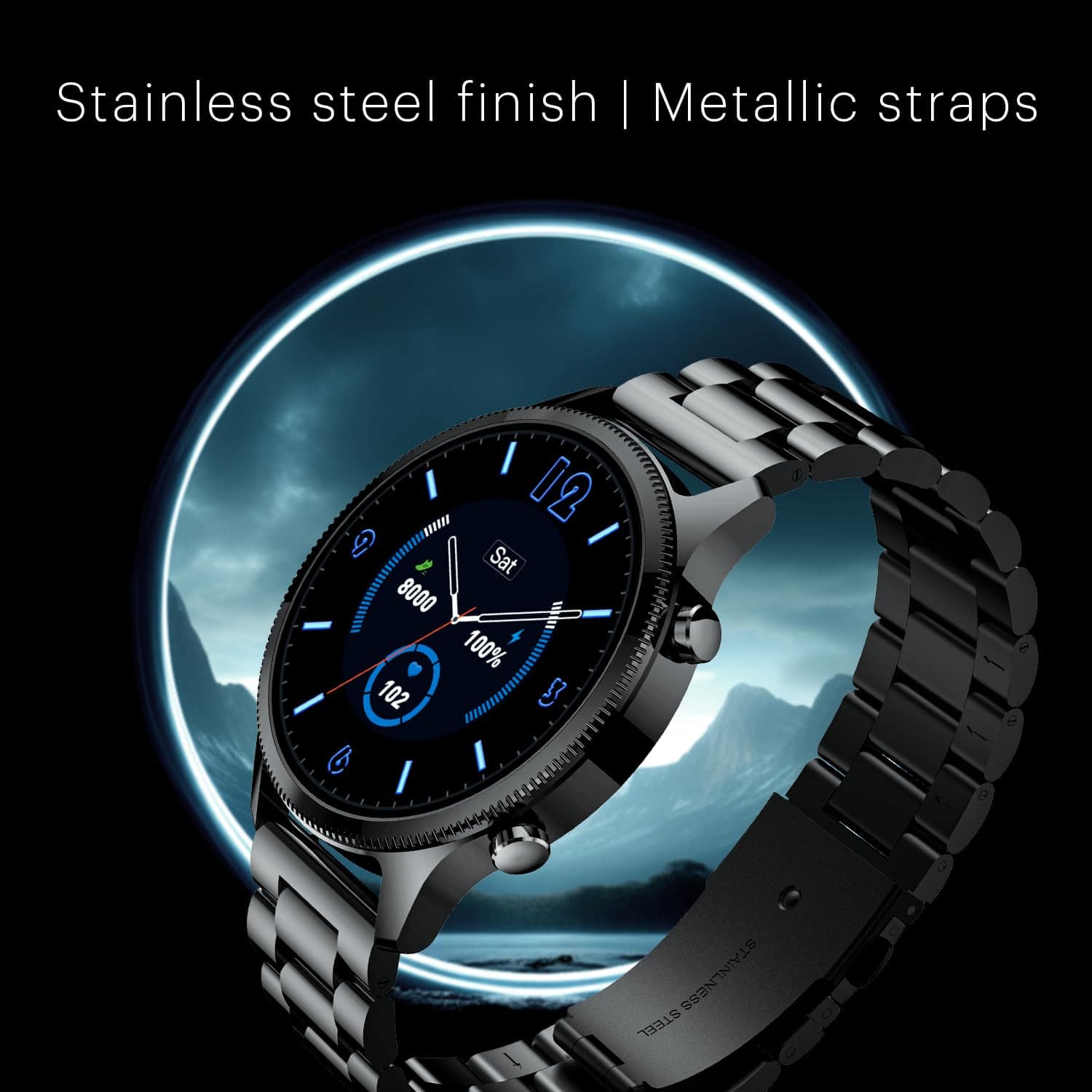 Specifications on Noise Halo Plus Elite Edition Smartwatch with 1.46″ Super AMOLED Display, Stainless Steel Finish Metallic Straps, 4-Stage Sleep Tracker, Smart Watch for Men and Women (Elite Blue)
1.46 inches (3.7cms) AMOLED display, 466*466px, Always on display – Yes – Enjoy clear and immersive visuals on its round AMOLED display.
Up to 7-day battery life – Get up to 7 days of battery life & up to 2 days of power with calling activated. (Battery life can vary due to multiple factors such as turning on continuous HR tracking or turning up the brightness)
Charging – The smartwatch comes with a 300mAh battery that takes approx. 2 hours to fully charge. It is recommended that you use a 5W power adapter. Please avoid using a fast-charging adapter to prevent future watch damage.
Music playback – The smartwatch features remote music control that lets you control music played on your phone as long as your smartphone and smartwatch are in Bluetooth range. However, it cannot be used to store music.
Volume control – You can control the volume both during music playback and while attending calls.
NoiseFit app – Pair the smartwatch to the app to track your progress overtime, get health updates, compete with friends and share your achievements.
Bluetooth calling – Experience advanced calling with the addition of Tru SyncTM powered Bluetooth calling.
Health & fitness features – Pursue an active lifestyle with Noise Health SuiteTM, 100 sports modes and IP68 water resistance.
Additional features – Make the most of 100+ cloud based watch faces and explore several productivity tools including – reminder, weather, calculator, quick replies, alarm, timer, stopwatch & world clock.
In-the-box – The contents in-the-box include the NoiseFit Halo Plus smartwatch, a magnetic charging cable, strap tool kit & the user manual.
- Advertisement -

Buy from Amazon: https://amzn.to/464ppxT
- Advertisement -