The Largest Lakes In The World in 2023 list is here
Are you a nature lover? Love lakes and wanna explore all of them? Well, here we are for you bringing you an extensive list of the Largest Lakes in the world to satisfy all your needs. If you are a traveller as well, don't forget to make a new checklist to visit these lakes or check them if you have already crossed paths with these incredible lakes.
With its stunning shorelines, lush foliage, and abundant aquatic life, lake Baikal in Siberia, Russia is the largest lake on Earth. But that's not all it has to offer! Dive into this guide and explore the world's biggest lakes and learn about their unique features.
The Largest Lakes In The World as of 2023:
Lake Baikal – Russia
Lake Baikal is a breathtaking lake located in the Russian region of Siberia. It's the Largest Lakes In The World by volume, containing more than 20% of the world's freshwater supply. The lake is also one of the oldest and deepest lakes around, with an average depth of 744 meters and is believed to be 25-30 million years old. From enchanting walks along its stunning shoreline to spotting fascinating wildlife such as seals and fish, Lake Baikal is a natural wonder and should not be missed!
At a maximum depth of 1,642 meters, Lake Baikal is the world's deepest lake. It forms part of the Great Lakes of Russia, which is a series of interconnected freshwater lakes located to the east of the Ural Mountains. The lake covers an area of 31,500 km² and contains about 250 tributaries which feed it from all sides. The region around Lake Baikal is home to unique species that can be found nowhere else on Earth and it is estimated that 1,340 species exist in the lake itself!
Caspian Sea – Between Europe and Asia
The Caspian Sea is the world's largest inland body of water, stretching between Europe and Asia. This lake is vast, its area reaching an impressive 371,000 square kilometres. It's also double its nearest rival in size as it contains around 78,200 cubic kilometres of water. The Caspian Sea is home to some of the most exotic wildlife around and is known for its excellent fisheries and huge deposits of oil and natural gas in its depths.
The Caspian Sea is a body of water surrounded by five countries that have very different cultures and traditions. These countries include Azerbaijan, Iran, Kazakhstan, Russia, and Turkmenistan. As a result, there are numerous attractions throughout the region like cruise ships that explore the shores or fishing boats that take people on traditional fishing trips.
Along with the cultural diversity, it also provides a beautiful backdrop for those looking to relax or explore nature during the summer months. Whether you plan on taking a boat cruise or hitting an Iranian fish market there's always something exciting to experience at this incomparable lake. Undoubtedly, the Caspian Sea makes itself into the Largest Lakes In The World list.
Lake Superior – USA and Canada
The second one in our Largest Lakes In The World list is Lake Superior, which borders two countries – a part of the USA and Canada. This lake covers an area of 82,414 square kilometres with a maximum depth of 406 meters. With over 10,000 islands scattered around its shores, it's easy to see why this lake is so popular for recreational activities such as fishing, sailing and swimming. It also contains some unique species including freshwater sharks and other fish varieties.
Lake Superior is home to abundant wildlife, not just aquatic species such as various types of fish but also animals that live on the islands or nearby. The largest island in the lake is Isle Royale National Park—part of Michigan in the USA— which has a large population of Algonquin wolf and moose, as well as over 100 species of birds. It's not surprising that this spectacular lake is often referred to by geographers as 'the gem of the continent.'
Lake Victoria – Tanzania, Uganda, and Kenya
With an area of more than 68,800 square kilometres and a depth of 84 meters, Lake Victoria is the largest lake in Africa by both surface area and volume and deserves a place in the Largest Lakes In The World in the 2023 list. It straddles three countries in East Africa – Tanzania, Uganda, and Kenya. It's known for its rich biodiversity with many endemic species including Nile Perch and Nile Tilapia.
Fishing is an important economic activity in the region with over 200 species of fish caught every year. There are also numerous activities to enjoy around the lake such as boating, swimming, sailing and exploring.
Lake Victoria is home to the Ssese Islands, a group of 84 islands in the northwestern region of the lake. These islands offer a unique natural habitat with rare vegetation and birdlife, offering a peaceful refuge from urban life. With its diverse wildlife, crystal clear waters and more than 3100 kilometres of shoreline, Lake Victoria is an idyllic destination for lovers of nature, fishing enthusiasts and adventurers alike.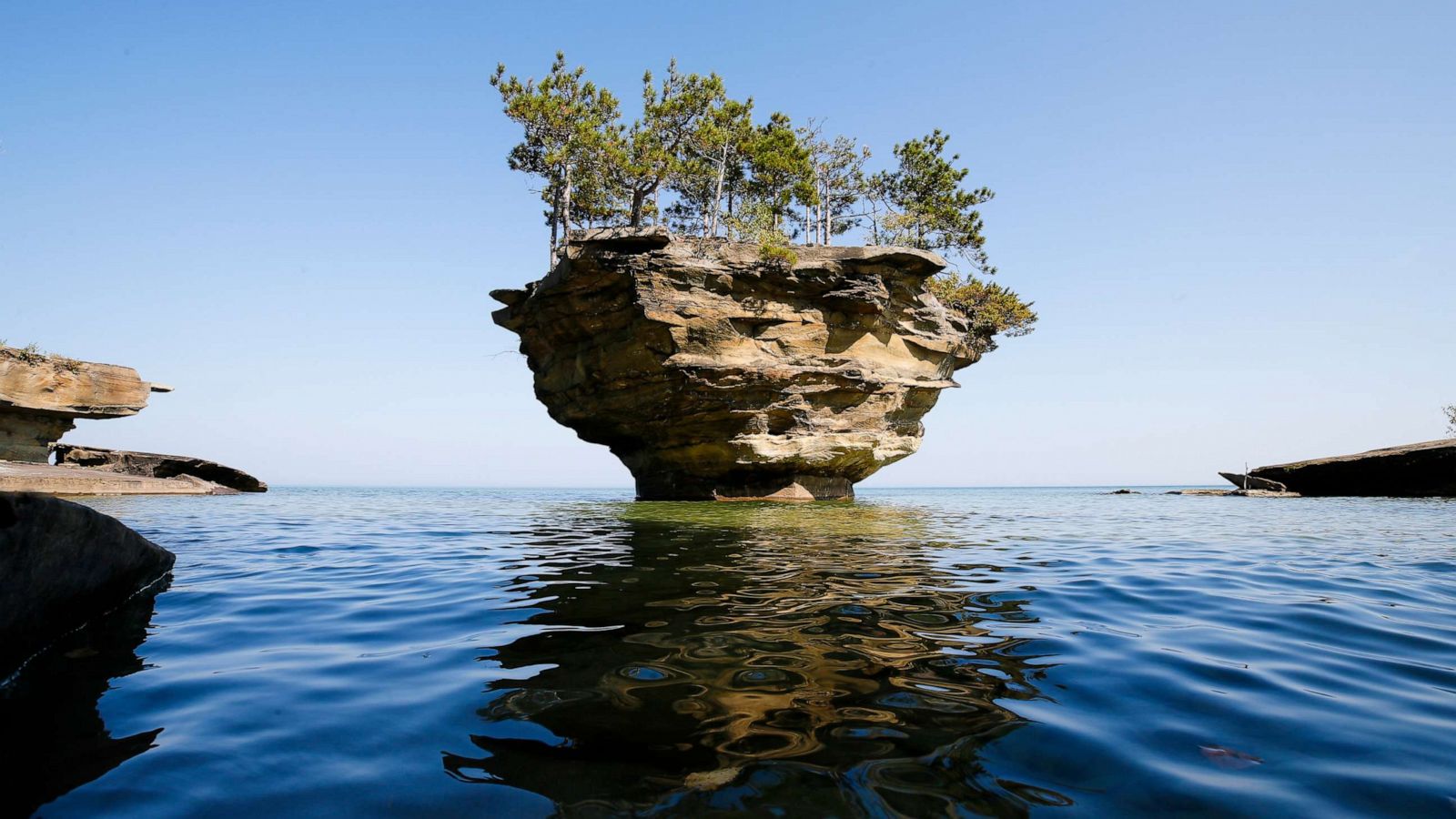 Lake Huron – USA and Canada
Located on the border between the USA and Canada, Lake Huron is the second largest of the Great Lakes with an area of 60,000 square kilometres. It is 400 meters deep at its deepest point and holds more than 3,000 islands within it. Its crystal clear waters are extremely popular among tourists and locals alike. Among them, Manitoulin Island stands out as one of the largest freshwater islands in the world. Visitors can visit beaches and take part in activities such as fishing or kayaking for a unique experience.
In addition to its numerous islands, Lake Huron is also known for its long shoreline, with no two sections of the coastline looking identical. Spectacular views include the impressive Thunder Bay near Alpena and the Chippewa Islands near Mackinaw City. With over 200 species of fish found in this lake, fishing enthusiasts will never run out of options!
Some popular species found in Lake Huron are walleye, lake trout and smallmouth bass. Anglers can also find northern pike if they're lucky enough. This incredible lake guarantees an unforgettable stay year-round! So, its lucky to get into the Top 5 of our Largest Lakes In The World list.
---
Loved our Largest Lakes In The World list? Also, check out: