ASUS has launched a plethora of ROG gaming laptops at CES 2022 and that includes their new ROG Strix SCAR and Strix G gaming laptops with new 12th Gen Intel processors and new NVIDIA RTX 30-series GPUs. Here's all you need to know about these new gaming laptops:
ASUS ROG Strix SCAR 15/17
The brand-new ROG Strix SCAR is designed with esports enthusiasts in mind, powered by top-tier components, Windows 11 Pro, a high-refresh display, and ROG Intelligent Cooling with Liquid Metal Conductonaut Extreme.
The laptop sports a 12th Gen Intel® Core™ i9-12900H processor and an NVIDIA GeForce RTX 3080 Ti laptop GPU at 150W with Dynamic Boost, the Strix SCAR is designed for high-refresh gaming. A MUX Switch ensures top-tier GPU performance, PCIe® 4.0 x4 storage boosts lightning-fast load times, and DDR5 4800MHz RAM provides plenty of memory for multitasking.
- Advertisement -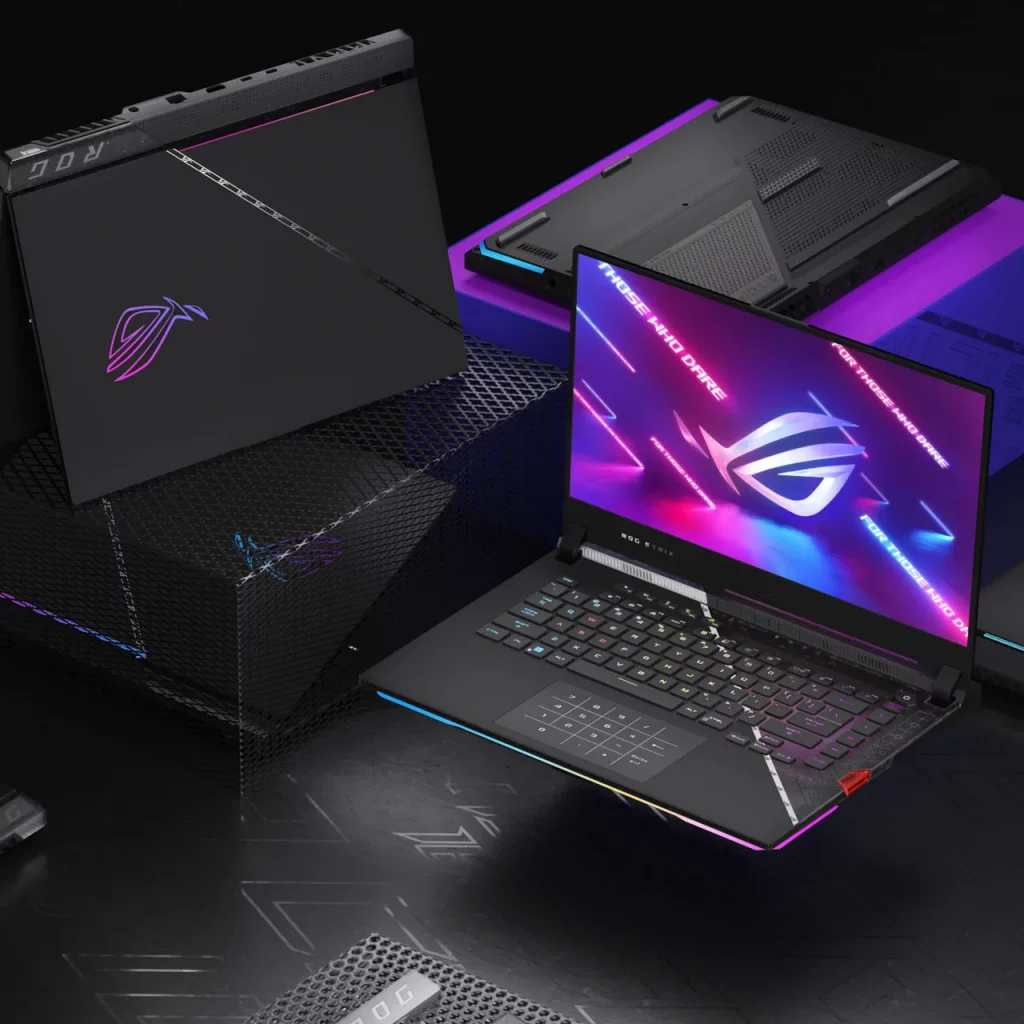 The Strix SCAR is available in 15-inch and 17-inch models, with the 15-inch offering three IPS-level display choices: QHD 240Hz, Full HD 300Hz, and QHD 165Hz. The 17-inch SCAR offers QHD 240Hz or Full HD 360Hz.
The Strix SCAR models all support Dolby Vision® HDR for full-spectrum visuals, together with Adaptive-Sync in the display, delivering stunning picture quality without tearing or stuttering. A 3ms response time assures clear movement so gamers can make pixel-perfect decisions in frenetic firefights.
A larger trackpad ensures fine-grained control over precision movements when not using a traditional mouse. Sporty dot-matrix styling, Aura Sync-compatible per-key RGB lighting on the keyboard and lightbar, and customizable armour caps ensure gamers can flex their own personal style.
ASUS ROG Strix G15/G17
The new ROG Strix G15 and G17 are powered by up to an AMD Ryzen 9 6900HX processor and an NVIDIA GeForce RTX 3080 Ti laptop GPU at 150W with Dynamic Boost for similarly high-end horsepower.
The G15 offers Full HD 300Hz and QHD 165Hz display options, while the G17 offers Full HD 360Hz and QHD 240hz for competitive gaming. All of the Strix G models support Dolby Vision® and come with 3ms response times, and Adaptive-Sync. The Strix G also comes in Eclipse Gray as well as two neon colour choices, Volt Green and Electro Punk, which will stand out from the crowd.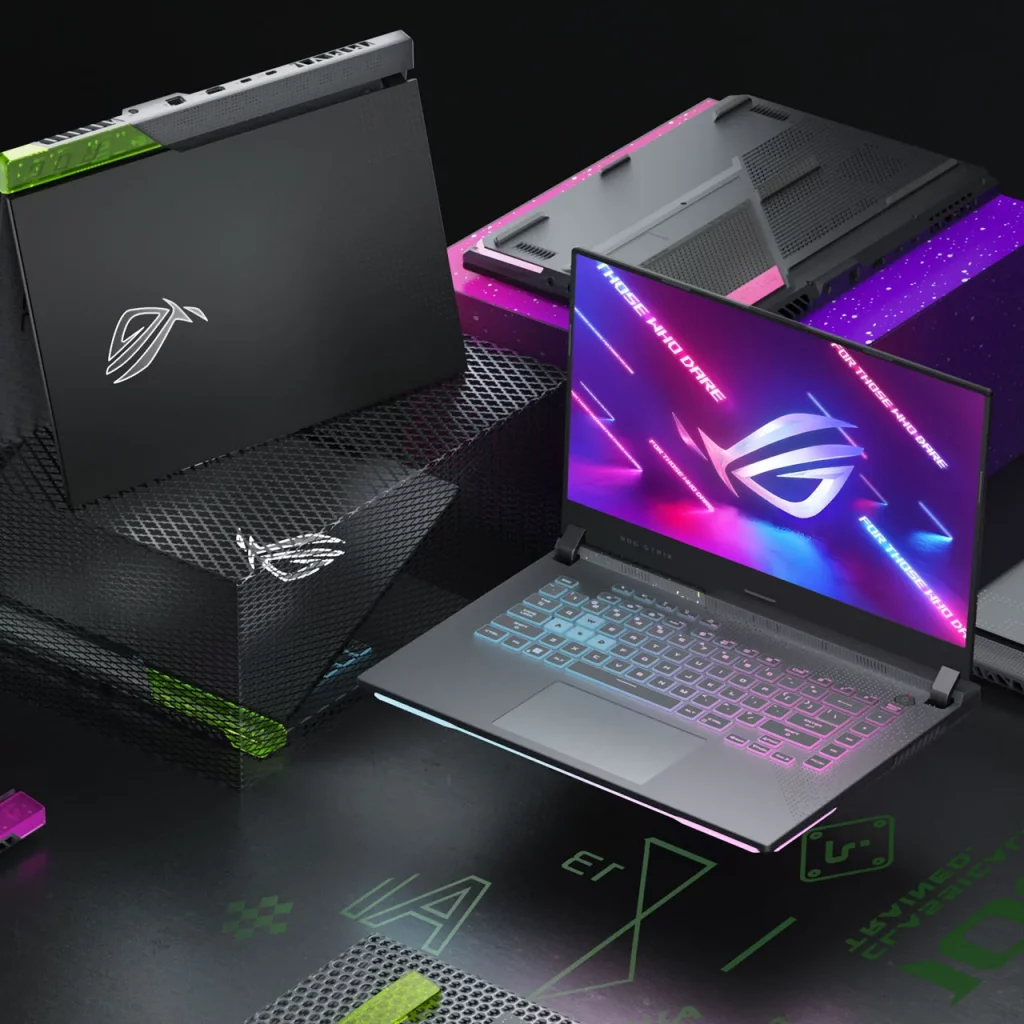 All Strix models are equipped with a quad-speaker design and Dolby Atmos® spatial sound, which brings soundstages to life with immersive, crystal-clear, and lifelike realism in the heat of battle. Two-way AI Noise Cancelation filters out background noise for both ingoing and outgoing communications, so everyone's voice comes through loud and clear.
In addition, Strix models come with a 90Wh battery, plus 100W Type-C charging for on-the-go usage. WiFi 6E and 2.5G LAN provide cutting-edge networking for minimal lag on both wired and compatible wireless networks.
ROG Strix SCAR 15 and SCAR 17 (2022)
Processor
Up to 12th Gen Intel® Core™ i9-12900H Processor
Graphics
Up to NVIDIA® GeForce RTX™ 3080 Ti Laptop GPU GDDR6 16GBTGP 125W (150W with Dynamic Boost)
Operating System
Windows 11
Display
15.6-inch Full HD (1920×1080) 300Hz/3ms, 100% sRGB, IPS-level panel with Adaptive-Sync and Dolby VisionQHD (2560×1440) 240Hz/3ms, 100% DCI-P3, IPS-level panel with Adaptive-Sync and Dolby Vision17.3-inch Full HD (1920×1080) 360Hz/3ms, 100% sRGB, IPS-level panel with Adaptive-Sync and Dolby Vision (Limited countries available)QHD (2560×1440) 240Hz/3ms, 100% DCI-P3, IPS-level panel with Adaptive-Sync and Dolby Vision
Memory
Up to 64GB DDR5 4800MHz
Storage
Up to 2TB PCIe® 4.0 SSD
Keyboard
Backlit chiclet keyboardPer key RGB with Aura Sync
Audio
4x speakers, high performance speaker support Dolby AtmosHi-Res audioTwo-Way AI Noise Cancelation
Wi-Fi / Bluetooth
WIFI 6E (802.11ax) Bluetooth v5.2
I/O Ports
2 x USB 3.2 Gen 1 Type-A 1 x USB 3.2 Gen2 Type-C with DisplayPort 1.4 and Power Delivery1 x USB Type-C with Thunderbolt™ 4 1 x RJ-45 (LAN 2.5G) 1 x HDMI 2.1b 1 x 3.5mm combo Audio jack 1 x DC-in
Battery
90Wh
Dimensions
15.6-inch354.9 (W) x 259.9 (D) x 22.69 ~ 27.2 (H) mm17.3-inch395 (W) x 282.1 (D) x 23.4 ~ 28.3 (H) mm
Weight
15.6-inch2.4 kg 17.3-inch2.7 kg

ROG Strix G15 and G17 (2022)
Processor
Up to AMD Ryzen™ 9 6900HX Processor
Graphics
Up to NVIDIA® GeForce RTX™ 3080 Ti Laptop GPU GDDR6 16GBTGP 125W (150W with Dynamic Boost)
Operating System
Windows 11
Display
15.6-inch Full HD (1920×1080) 300Hz/3ms, 100% sRGB IPS-level panel with Adaptive-Sync and Dolby VisionQHD (2560×1440) 165Hz/3ms, 100% DCI-P3, IPS-level panel with Adaptive-Sync and Dolby VisionFull HD (1920×1080) 144Hz, 62.5% sRGB, IPS-level panel with Adaptive-Sync
17.3-inch Full HD (1920×1080) 360Hz/3ms, 100% sRGB, IPS-level panel with Adaptive-Sync and Dolby VisionQHD (2560×1440) 240Hz/3ms, 100% DCI-P3, IPS-level panel with Adaptive-Sync and Dolby VisionFull HD (1920×1080) 144Hz, 62.5% sRGB, IPS-level panel with Adaptive-Sync
Memory
Up to 32GB DDR5 4800MHz
Storage
Up to 1TB PCIe® 4.0 SSD
Keyboard
Backlit chiclet keyboardPer key or 4 Zone RGB supports Aura Sync
Audio
2x speakers, high performance speaker support Dolby Atmos Hi-Res audio Two-Way AI Noise Cancelation
Wi-Fi / Bluetooth
WIFI 6E (802.11ax) Bluetooth v5.2
I/O Ports
2 x USB 3.2 Gen 1 Type-A 1 x USB 3.2 Gen2 Type-C with DisplayPort 1.4 and Power Delivery1 x USB 3.2 Gen2 Type-C 1 x RJ-45 (LAN 2.5G) 1 x HDMI 2.0b 1 x 3.5mm combo Audio jack 1 x DC-in
Battery
90Wh
Dimensions
15.6-inch354 (W) x 259 (D) x 206 ~ 259 (H) mm17.3-inch395 (W) x 282 (D) x 234 ~ 283 (H) mm
Weight
15.6-inch2.3 kg 17.3-inch2.8 kg
- Advertisement -