ASUS ROG Strix G17 (2023) review – Everything You Need to Know
In 2023, gaming laptops have been upgraded with the latest RTX 40-series GPUs for deadly performance boost in games thanks to DLSS 3 and also the new CPUs from AMD. Here the ASUS ROG Strix G17 comes with a full-fledged Ryzen 9 7945HX processor, now boasting up to 16 cores and 32 threads, giving over 5GHz boost, based on the latest Zen 4 architecture to give this gaming laptop edge over others.
Paired with up to RTX 4070 (for our review unit) you can expect good QHD performance and enjoy that on a big 17-inch display with 240Hz refresh rate. So, if you are also looking for a laptop with a bigger display and hefty specs this one is one of them, but is it worth the buy? Our variant retails for around ₹2,15,990, which is a good price for the specs offered I would say, and having using these ROG laptops for years now, this ROG Strix G17 has the same foundation as its predecessors.
- Advertisement -

However, is this 2023 variant good enough for daily usage, having used this ROG Strix G17 gaming laptop for two weeks now, let's see how it performs in all aspects of usage and whether it's worth the buy in 2023 or not: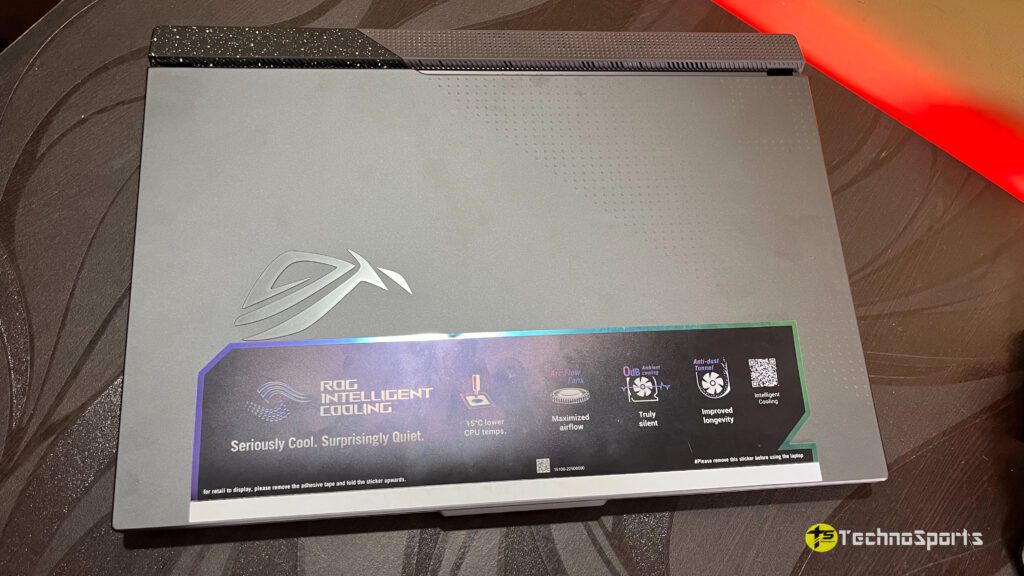 ASUS ROG Strix G17 (2023) Specifications
Processor: AMD Ryzen 9 7945HX Mobile Processor (16-core/32-thread, 64MB L3 cache, up to 5.4 GHz max boost)
Memory: 32GB (16GB SO-DIMM *2) DDR5 4800 MHz Support Up to 32GB 2x SO-DIMM slots | Storage: 1TB PCIe 4.0 NVMe M.2 SSD
Graphics: NVIDIA GeForce RTX 4070 Laptop GPU with MUX Switch + NVIDIA Advanced Optimus 8GB GDDR6 VRAM ROG Boost: 2225MHz at 140W (2175MHz Boost Clock+50MHz OC, 115W+25W Dynamic Boost)
Display: 17.3-inch WQHD (2560 x 1440) 16:9, 240Hz IPS-level Anti-glare display, 3ms, 300nits 1000:1, 100% DCI-P3 %
Keyboard: Backlit Chiclet Keyboard Per-Key RGB
Design: 2.34 ~ 3.08 cm | 2.80 Kg weight | 90WHrs, 4S1P, 4-cell Li-ion
Operating System: Pre-installed Windows 11 Home with Lifetime Validity | Software Included: Pre-installed Office Home and Student with Lifetime Validity | McAfee (1 Year)
I/O Port:1x RJ45 LAN port, 1x USB 3.2 Gen 2 Type-C support DisplayPort / G-SYNC, 1x USB 3.2 Gen 2 Type-C support DisplayPort / power delivery / G-SYNC, 2x USB 3.2 Gen 1 Type-A
Design & Build Quality
By the look of it this ROG Strix G17 (2023) you will realize this is the same look you have seen with the predecessors, not much of a change though. Made up of hard plastic but the finish is of high quality, the lid and the hinge of this gaming laptop is again strong, can be opened with one hand, and you can customize the armor cap as per your mood.
The aluminium chassis builds the foundation and the laptop is heavy, giving it a gaming boldness and personality, surrounded by an Aura lightbar, you have RGB everywhere to make your laptop stand out of the crowd. Weighing 2.8 kg, it's quite a heavy one, and with the adapter brick, carrying this anywhere could be a pain obviously, but it's worth it, not the best design I would say but looks and feels premium nevertheless.
Display
If you love playing games on a big display, this ROG Strix G17 is tailored for you, boasting a huge 17.3 inches QHD display but with a 16:9 aspect ratio, which could have been 16:10. Still, this is a quality IPS panel with 240Hz refresh rate and up to 300nits of peak brightness, ASUS even says the display is 100% DCI-P3 color accurate and I could say the panels looks very color perfect honestly.
So, if you love to play games on bigger displays, the ROG Strix G17 (2023) is one made for you as you can enjoy gaming at QHD which is much better than FHD and has kind of become a standard on flagship laptops these days. Also, with the new RTX 40-series you can to some extent utilize the massive 240Hz refresh rates these panels have, ASUS also has launched 16-inch, this 17-inch, and 18-inch gaming laptops to target all kinds of audiences.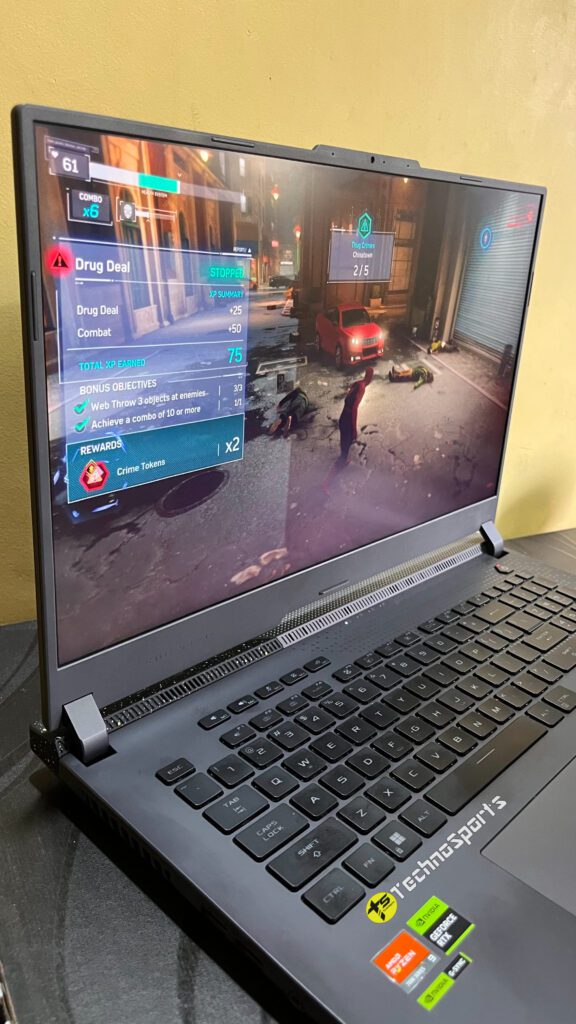 We also tried the ROG Strix G16 which had a better ROG Nebula Display and optional Mini-LED option as well, so, this depends upon your budget and choice of which gaming laptop you want to pick in terms of display. For most gamers, I would say the laptop's display is adequate both in terms of quality and specs, even for media consumption, the colors look great, and you will enjoy watching Netflix movies or web series definitely.
Here are some display benchmarks of this ROG Strix G17 (2023) that ran on our SyperX Pro: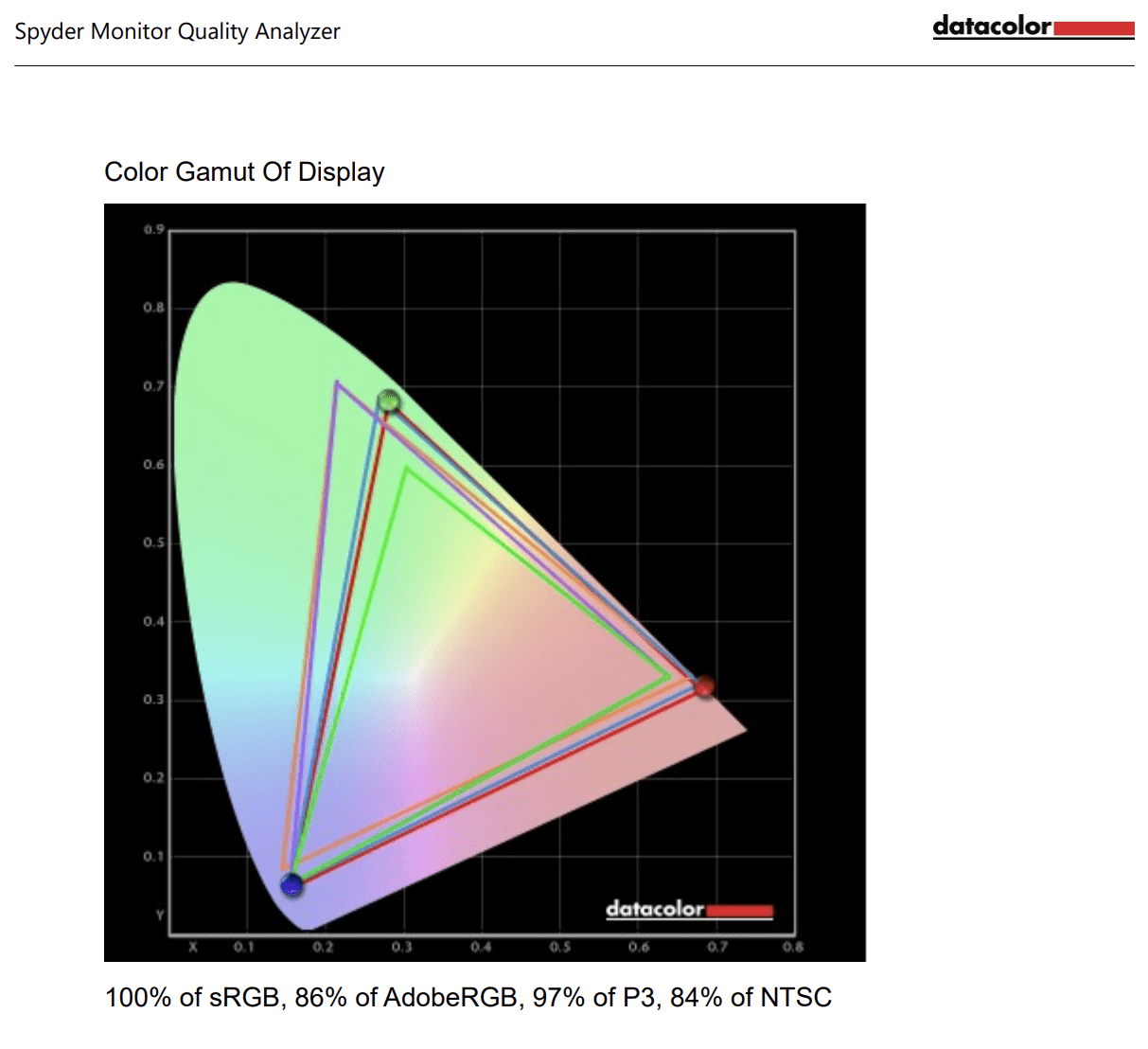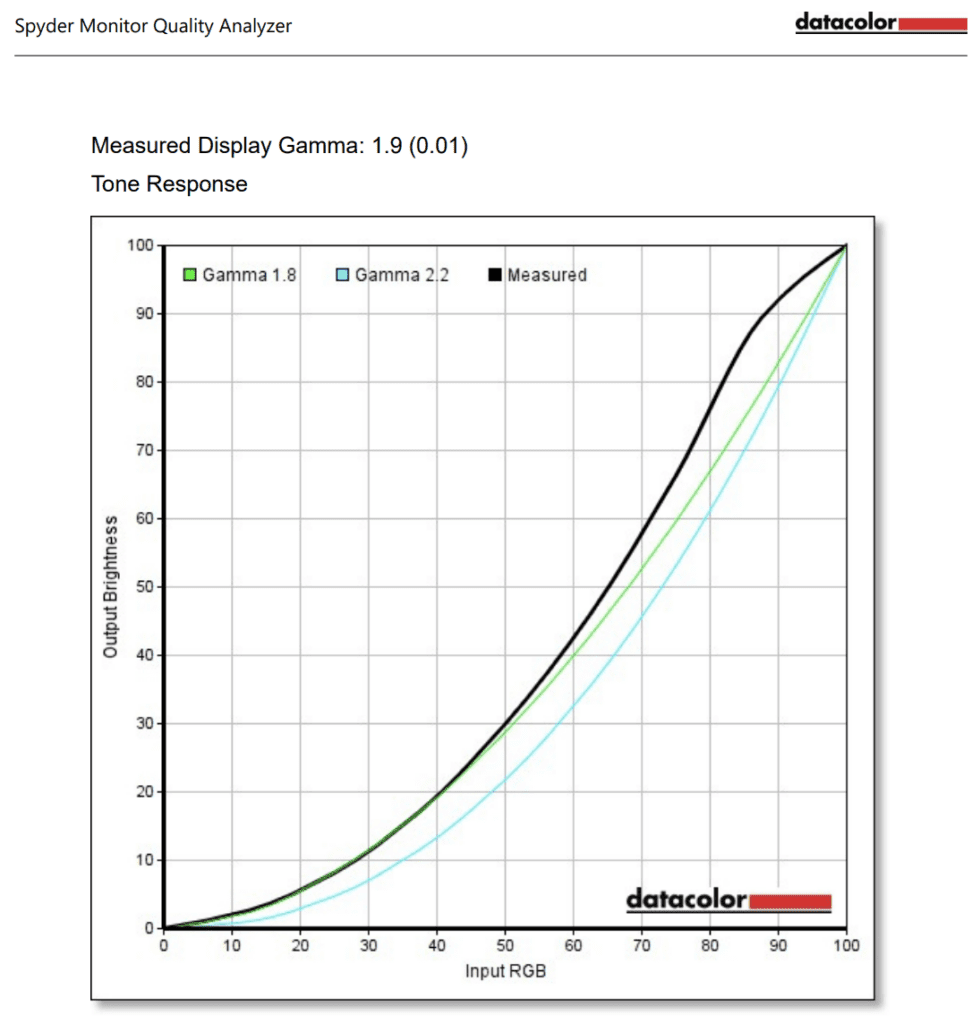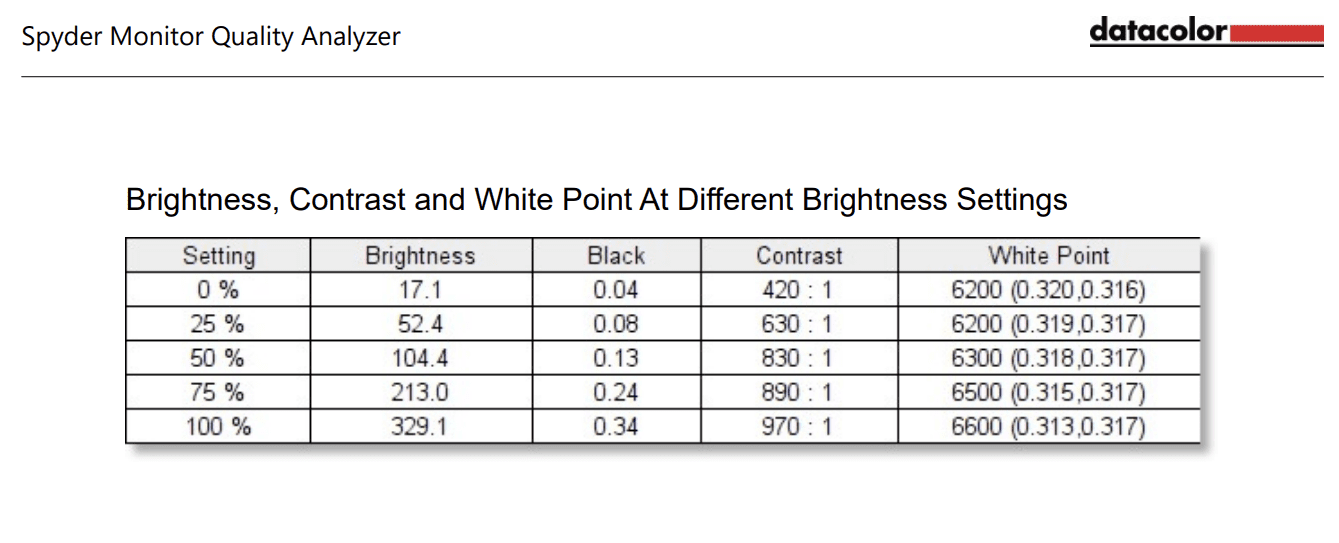 As you see in the display tests, this ROG Strix G17's display performs as expected giving great color accuracy, 100% sRGB, and 97% color gamut, which for most gaming laptops is quite good. Also the contrast and other aspects like peak brightness is same as advertised which is a good thing but not using the better ROG Nebula Display on this AMD variant is kind of sketchy for ASUS and should have been provided as that has better peak brightness and looks even better.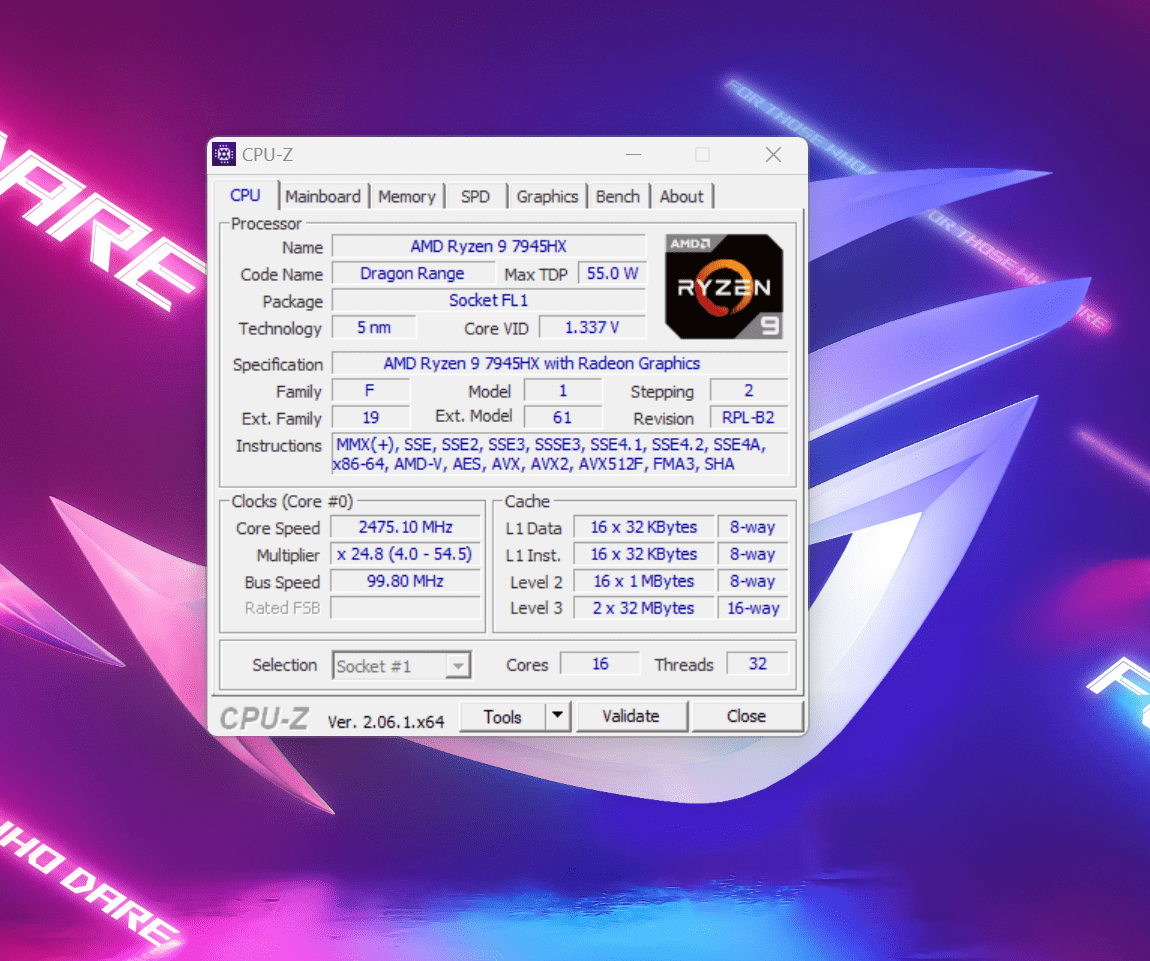 Performance
This new ASUS ROG Strix G17 (2023) is powered by the new AMD Ryzen 9 7945HX processor based on Zen 4 architecture, which gives the right balance between performance and efficiency. But with 16 cores, this is a monster inside and gives almost similar performance to the Core i9s, now this comes paired with the new GeForce RTX 4070 GPU with MUX Switch to kill off the GPU when not needed.
Now thanks to NVIDIA Advanced Optimus alongside ROG Boost, the RTX 4070 Laptop GPU inside reaches up to 140W TDP and a max boost clock speed of 2225MHz to let your performance reach the next level. So, apart from gaming too, applications that can utilize this raw GPU horsepower will benefit from this for sure, we have tested the performance in both productivity and gaming, and the results seem positive and are truly in line with what you expect in 2023.
| | |
| --- | --- |
| ROG Strix G17 (2023) Synthetic Benchmarks | Scores |
| Geekbench 6 Single-Core | 2876 |
| Geekbench 6 Multi-Core | 16146 |
| Geekbench GPU Compute | 117917 |
| Cinebench R20 Single-Core | 579 |
| Cinebench R20 Multi-Core | 12562 |
| Cinebench R23 Single-Core | 1850 |
| Cinebench R23 Multi-Core | 33140 |
| CPU-Z Single-Core | 705 |
| CPU-Z Multi-Core | 10862 |
In the most common synthetic benchmarks you see this Ryzen 9 7945HX is on par with the new Core i9s and delivers similar flagship performance you expect from a gaming laptop which costs this much. So, expect significant performance in productivity work as well as gaming thanks to AMD's new chip.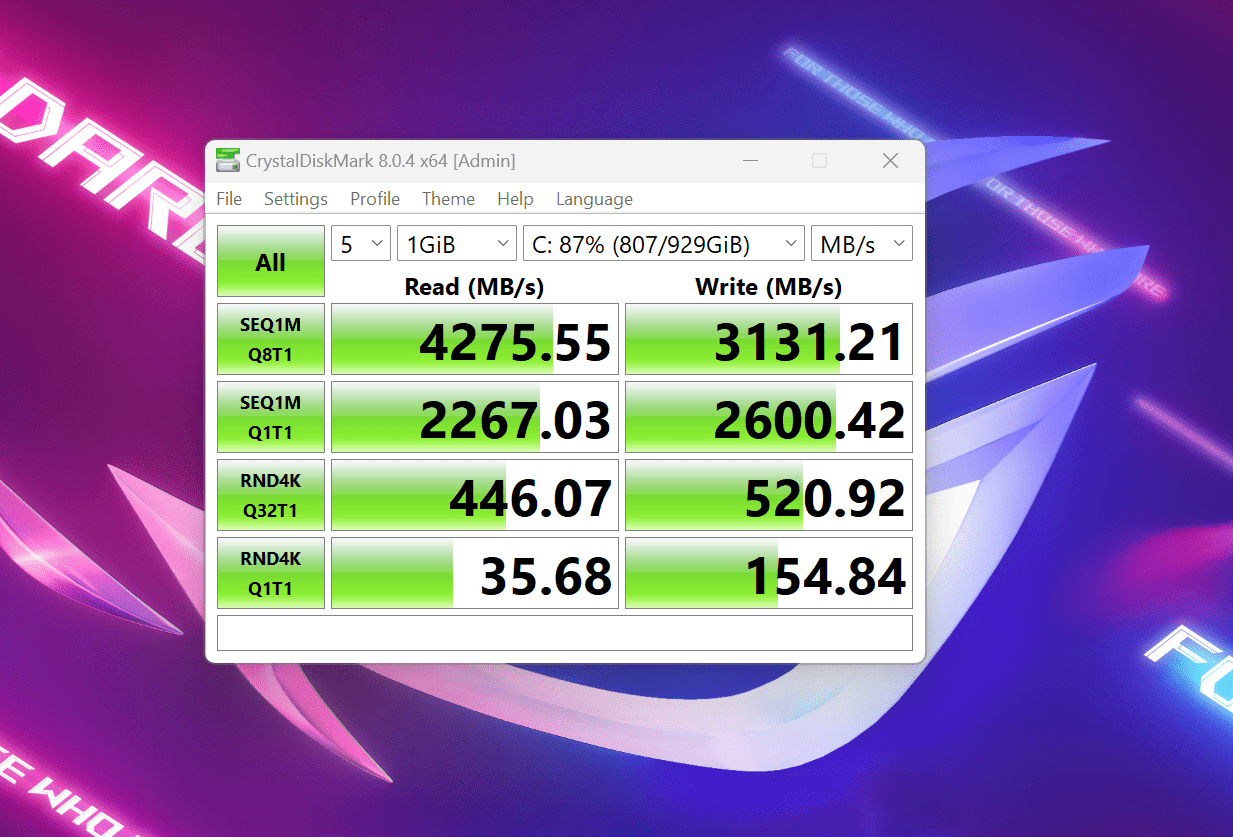 The SSD performance here is also not the best I would say especially at the price, the 1TB Gen 4 SSD gives a read speed of up to 4275MB/s which looks to be a budget SSD, and the writes of up to 3131MB/s. In this regard, ASUS could have given a better SSD, to be honest, however, in daily usage, the difference is not very huge I would say as you still have fast boot and low game loading time.
Gaming
In terms of gaming, the ROG Strix G17 (2023) is clearly a monster with this Ryzen 9 7945HX + RTX 4070 combo that ensures 100+ FPS at the highest possible settings for QHD. While gaming in Performance or Turbo mode you will have no hiccups at all and you will get good frame rates consistently though draws more power but will give the best performance in games.
As most games in 2023 come with DLSS support and as this gaming laptop has the RTX 4070 inside, you can enjoy both DLSS 2 and 3, to upscale games at the highest possible settings to get max frame rates out of it. I played PUBG to Assassin's Creed Valhalla, everything ran smoothly on this ROG Strix G17, and here are the FPS numbers for your reference at QHD:
| | | | |
| --- | --- | --- | --- |
| Game | High/Medium | Very High/High | Ultra/Highest |
| Marvel's Guardians of the Galaxy | 163 | 161 | 159 |
| World War Z | 151 | 139 | 132 |
| CS:GO | 327 | 315 | 311 |
| Tom Clancy's Rainbow Six Extraction | 138 | 114 | 109 |
| Far Cry 6 | 112 | 102 | 88 |
| Assassin's Creed Valhalla | 101 | 85 | 78 |
| Apex Legends | 226 | 194 | 166 |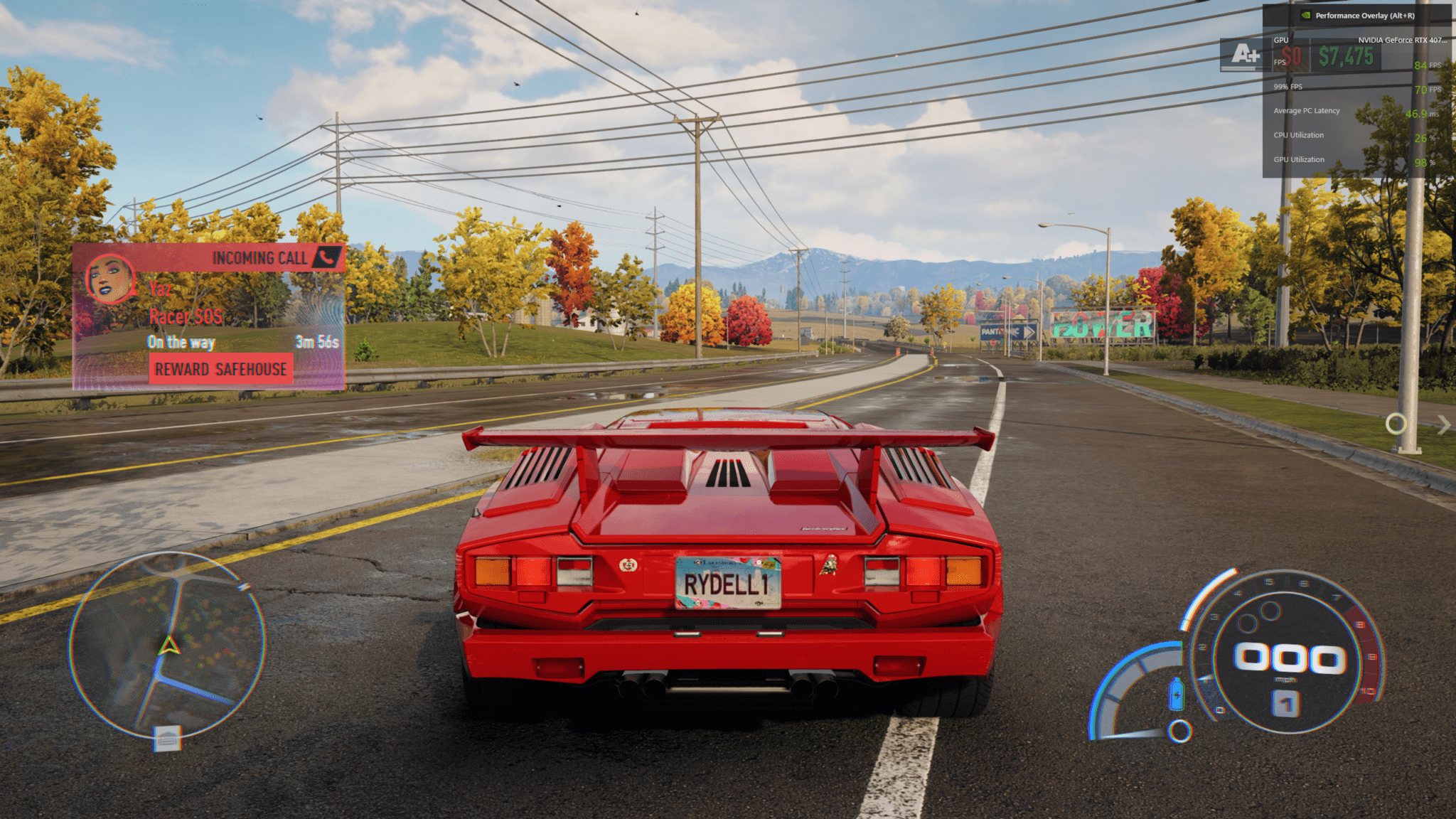 As you see in most games you are getting 100s of FPS at QHD without using DLSS and new games with do support them here is how you can expect this gaming laptop to perform:
| | | | |
| --- | --- | --- | --- |
| Game | High/Medium | Very High/High | Ultra/Highest |
| Shadow of the Tomb Raider | 126 | 121 | 109 |
| Shadow of the Tomb Raider (with DLSS 2) | 159 | 152 | 141 |
| Watch Dogs Legion | 104 | 90 | 67 |
| Watch Dogs Legion (with DLSS 2) | 118 | 111 | 88 |
| F1 23 | 197 | 160 | 55 |
| F1 23 (with DLSS 3) | 205 | 177 | 86 |
| Need for Speed Unbound | 109 | 91 | 77 |
| Need for Speed Unbound (with DLSS 3) | 128 | 104 | 86 |
In games that do have DLSS, you get free FPS and with the new DLSS 3 which is even more evident because of Frame Generation, without almost any visual difference, you are getting hundreds of FPS at the highest settings possible thanks to this. So, if you do not have the budget for an RTX 4080 or 4090, this ROG Strix G17 RTX 4070 variant will also do your job in the most stubborn games as well.
I/O & Connectivity
Coming to the I/O, the new ROG Strix G17 will leave you no place to complain as ASUS has given all the ports you do need on a gaming laptop, including two USB 3.2 Gen 1 Type-A ports and 3.5mm headphone jack on the left-hand side while you have the vents for airflow all around the laptop. The remaining ports are at the rear end of the laptop including two Type-C ports that support display, HDMI 2.1, RJ-45 port, and power delivery so that you won't have any issues while playing games.
In terms of connectivity, the ROG Strix G17 sports Wi-Fi 6E(802.11ax) (Triple band) 2*2 and Bluetooth 5.3 for best performance, well, to my usage, both WiFi and Bluetooth worked pretty well.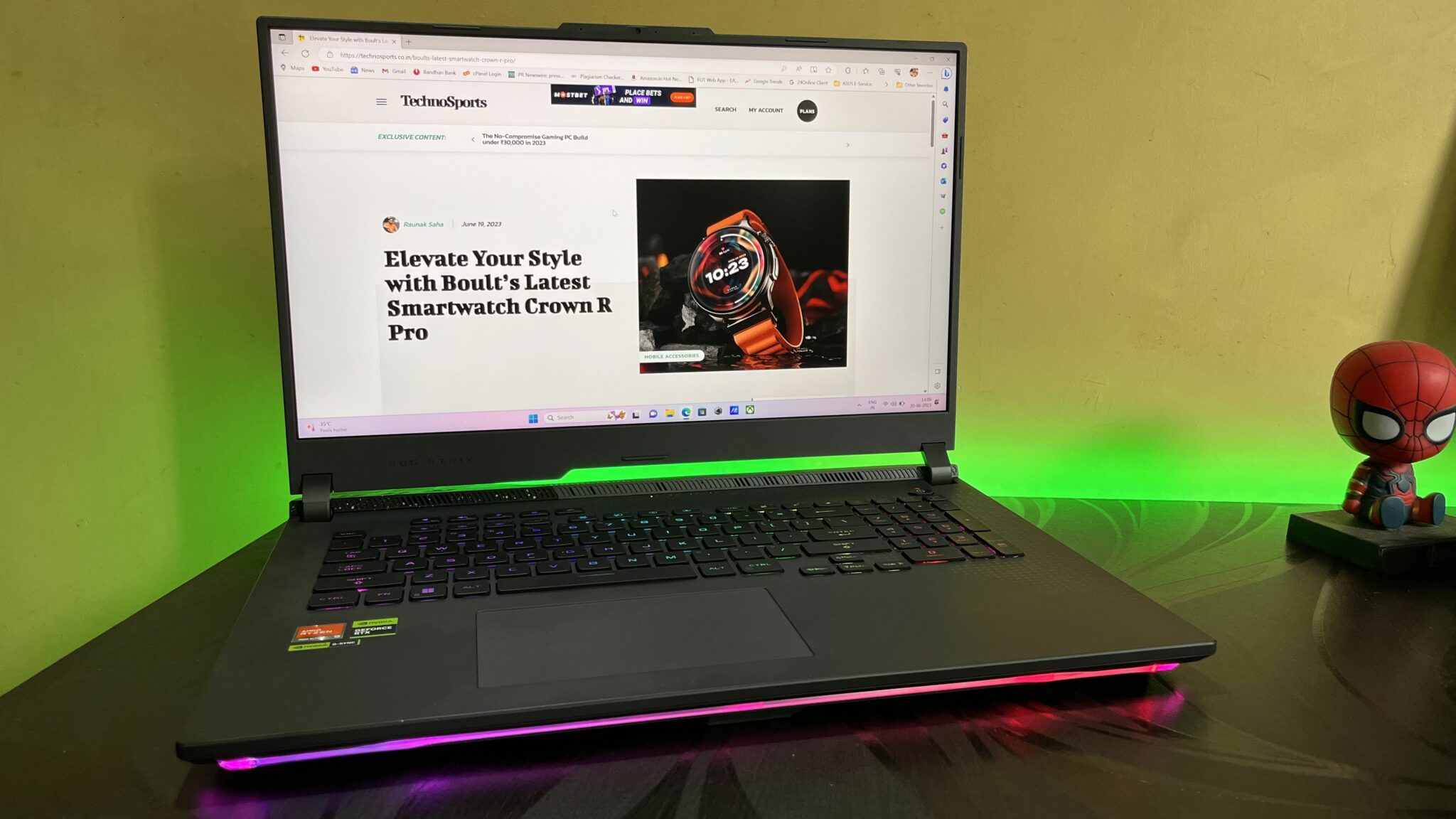 Thermals & Upgradability
One of the key areas of a gaming laptop is its thermals and ASUS knows how to balance it, using liquid metal cooling for the CPU, curved fans for good airflow, and in most cases the fan is silent. However, the heat dissipation is good, but the heat generation is quite aggressive because of having a 16-core chip but could have been more efficient otherwise, still for most gamers even during high-end gaming should not be a problem.
Now, also for upgradability too, you will love the wide range of paths that ASUS is offering with this ROG Strix G17 (2023), you can upgrade the RAM up to 64GB DDR5 4800MHz and 2TB PCIe Gen 4 SSD storage, both have dual slots for you to easy installation.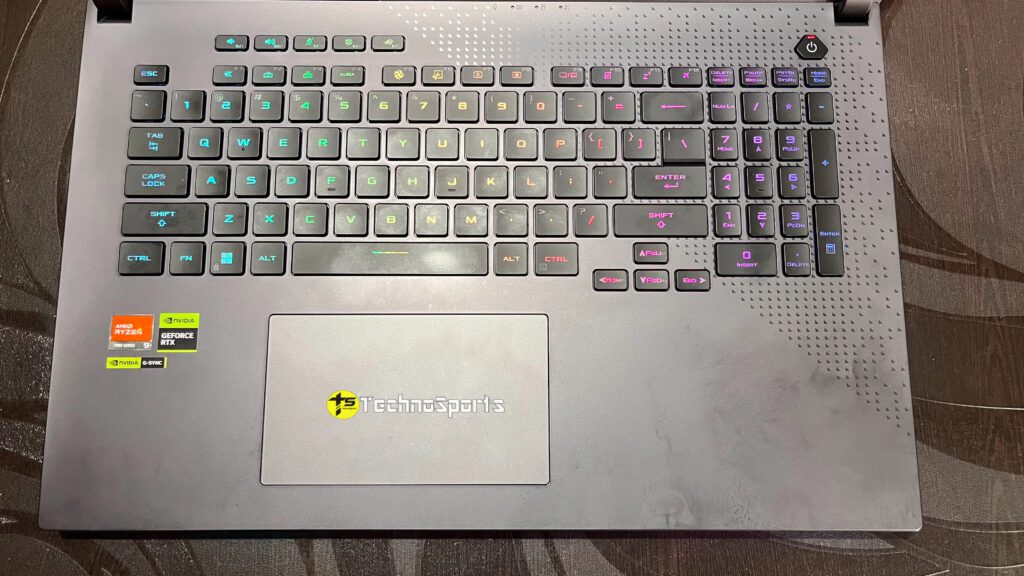 Keyboard & Trackpad
The keyboard used here is a full-size Backlit Chiclet Keyboard with Per-Key RGB and you have RGB all across the laptop which makes it look even special, blending in with the keyboard colors, looks sick at night. Talking about the quality of the keyboard, it's the same I saw with previous ASUS gaming laptops, mushy & clicky, could have had more key travel but will do the job for most gamers I feel.
The trackpad here on this ROG Strix G17 is a quality one but could have been bigger like we have on the Zephyrus M16, it's usable for basic work but most users will use a dedicated mouse anyways.
Audio & Webcam
Coming to the audio, the new ASUS ROG Strix G17 has dual stereo speakers with 5.1.2 channel virtual sound and Dolby Atmos support, which should have been quite loud but to my surprise it's not the best. The sound is good but could have been better I feel when you compare other gaming laptops, now, the webcam here is again the same old 720p camera and should have been upgraded this time around.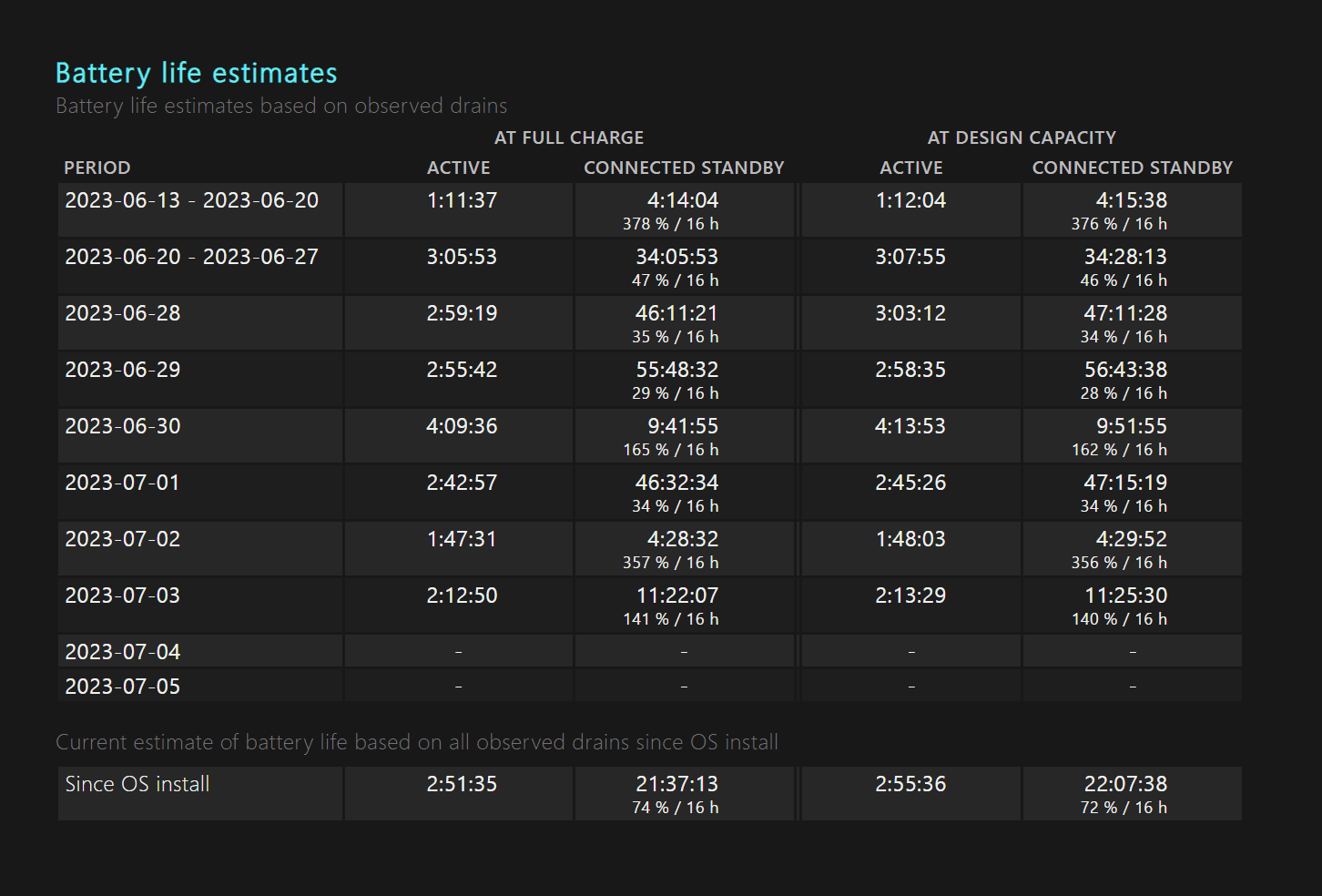 Battery Life
Well, considering this is an AMD-powered gaming laptop I expected better performance in terms of efficiency but having 16 cores for the first time it seems AMD Ryzen 9 7945HX is also a pretty hot one and doesn't give the best battery life as I saw previously on the ROG Zephyrus ones. You can expect to get an average of 3-4 hours of battery life if you disable the GPU and can get even worse when the GPU is needed so you would need the ROG Strix G17's heavy 280W AC Adapter wherever you go but can charge the laptop within an hour.
Verdict
Now, should you buy this new ASUS ROG Strix G17 (2023) gaming laptop? Well, this depends on your use case, if you need a 17-inch gaming laptop you can consider this and also if you are tight on the budget yet need good performance this could be a great choice. If you need more battery life consider the ROG Zephyrus ones, if you need performance choose this one, because this is one of the cheapest RTX 4070-powered gaming laptops.
Or if you genuinely love bigger laptop screens you can also consider the new ROG Strix G18 with similar specs and a little over the budget of this one, also the display quality is better as well. Overall, the ROG Strix G17 packs all the good hardware you love on a gaming laptop with a pretty good upgrade path but has its own flaws like weaker audio, and thermals that could have been better, however, if you can bear with this, the gaming laptop is one to go for.
Buy from Amazon India: https://amzn.to/3PPVtAC
- Advertisement -