Recently few renders and reports were surfacing on the internet regarding a new Apple iPhone. Not until now, anyone was sure about the name of the device but recently a report claimed that the new iPhone will be an iPhone SE 2020, a revamped model of the 2016 Apple iPhone SE.
We also came across a render of the back cover as well as the display protective film which indicated the size and shape of the device from both front and back. Previously the device was rumored to the missing link – iPhone 9 which the company has missed which nomenclature.
But now after so many rumors and renders, Apple is finally here with some official news in our favor. The promo video does not mention the exact name of the device clearly. The video is captioned as "The new iPhone SE – Apple", so, we can guess that Apple is not going to change the name of the device and will keep it as iPhone SE and we have to call it likewise. According to us Apple iPhone SE 2020 will be decent while identifying.
- Advertisement -

Now coming to the video, it mentions and reveals quite a lot of things about the new iPhone SE. First of all, we saw three different colours of the device – Black, Red, and Silver, then we saw the 4.7″ display with a compact design of the smartphone. After that, it focused on the Touch ID of the iPhone which will be placed at the good old chin, which is then followed by the powerful latest A13 Bionic chip which will be present in the device to deliver an impressive performance.
Coming to the camera portion the phone will come with a single rear sensor that will have enhanced and modified portrait mode and will be able to capture flawless 4K videos. There will be a selfie camera at the front but its specs are not mentioned here. The device will be water-resistant up to 30 minutes in a 1-meter depth of water. The video also mentioned the new SE will get longer battery life. At the end of the video, we can see the company mentioned "Lots to Love" and "Less to Spend". This means that the smartphone is an extremely power-packed device within your budget, a budget-friendly iPhone indeed.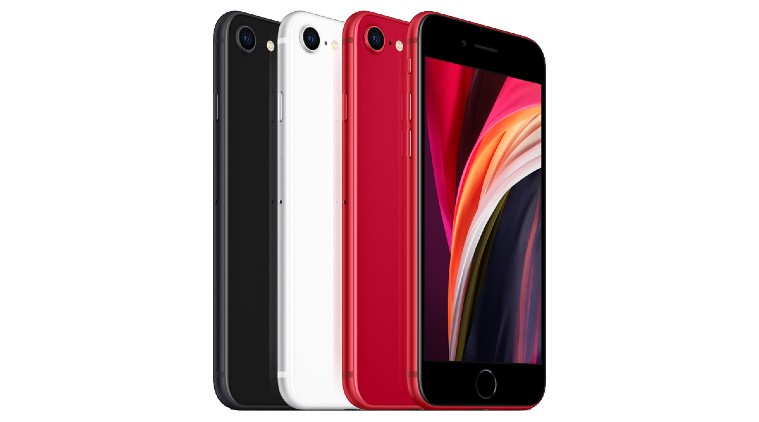 Apple iPhone SE 2020 is technically launched today with less noise and more dignity and it will go on pre-order from Friday, on April 17 around 40 countries. It will then start shipping one week after that, on April 24 onwards.
If you are wondering about the pricing of the device then here it is covering some main countries around the world. The device will be available in three storage options. Note: The pricing for both 128GB and 256GB versions of the device is yet not officially available for India.
| | | | |
| --- | --- | --- | --- |
| Country | 64GB | 128GB | 256GB |
| US | $399 | $449 | $549 |
| Canada | CAD 599 | CAD 669 | CAD 809 |
| Australia | AUD 749 | AUD 829 | AUD 999 |
| Germany | €479 | €529 | €649 |
| France | €489 | €539 | €659 |
| Italy | €499 | €549 | €669 |
| UK | £419 | £469 | £569 |
| Russia | RUB 39,990 | RUB 44,990 | RUB 53,990 |
| UAE | AED 1,699 | AED 1,909 | AED 2,329 |
| Hong Kong | HKD 3,399 | HKD 3,899 | HKD 4,699 |
| China | CNY 3,299 | CNY 3,799 | CNY 4,599 |
| India | INR 42,500 | N/A | N/A |
#StayHome
#StaySafe
- Advertisement -