Last year, the demand for Apple iPhone 11 was very high, it was also ranked in the top position in the charts of the bestselling smartphones. After that, the device becomes one of the most shipped smartphones of the entire year. Counterpoint Research has revealed in a report about the global top 10 bestselling smartphone models for 21st January, and in this list, Apple just neat up the iPhone 12 and holds the top position.
Reports claim Apple iPhone 12, iPhone 12 Pro, and also iPhone 12 Pro Max have been accounted for 71% of the total sales of Apple for the month and acquired the first three position in the list of top 10 smartphones. Earlier, it was heard that the demand was very high for the 5G Apple devices due to the late launch in 2020.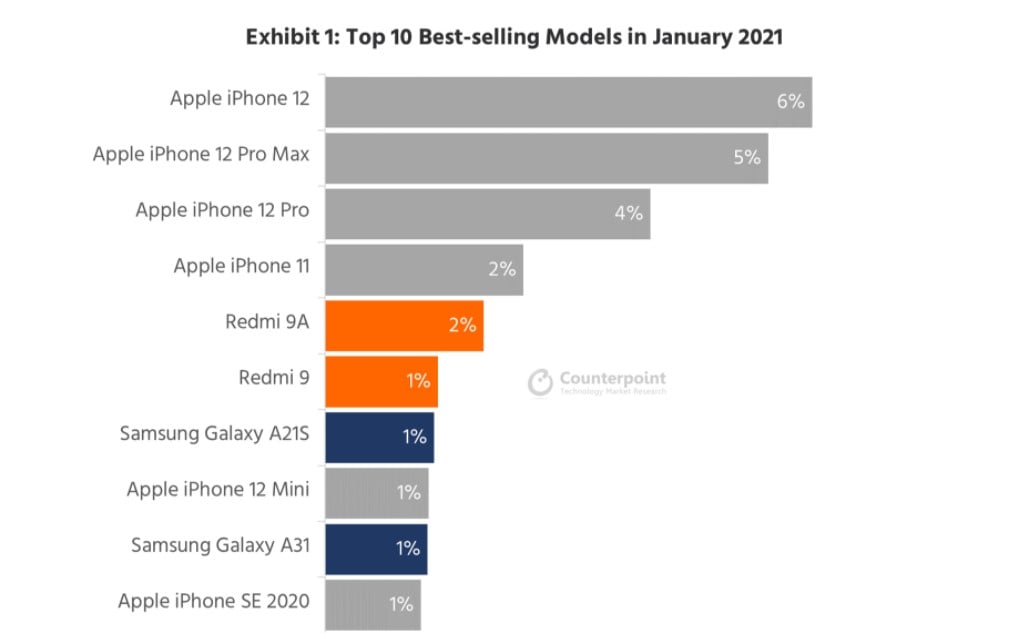 However, last year's Apple iPhone 11 still holds the fourth position and it is not quite surprising that considering the device still holds its value for money for the Apple lovers. The report reveals that one-third of the total sale of Apple supplies from the US.
- Advertisement -
In the list of the top smartphones, there are also two more devices on the list of which is the iPhone 12 mini. According to many reports, it has been heard that Apple may discontinue the mini version by Q2, but now it looks like the phone got some sales in January along with the iPhone SE 2020.
There is also another top 10 list which is shared by Samsung and Xiaomi and does not include Apple. In this list, Redmi 9A and Redmi 9 holds the fifth and sixth positions. It confirms that the sub $150 phones are accounted for 25% of the entire sales of Xiaomi for January.
Now, if we say about Samsung, the Galaxy A21s and also the Galaxy A31, which has currently got the reduction of price in India, these models hold the seventh and ninth position respectively. The tech-giant Xiaomi is developing gradually in the region of MEA while Samsung is trying to fetch more with the Galaxy A devices.
Many reports are confirmed that more 5G mid-range devices are going to launch in the upcoming months, it is expected that the newer devices will dominate the current toppers in the list of this year.
Also Read:
- Advertisement -