Mivi has come a long way in the Indian audio market till now. It has a sizable portfolio with TWS, wireless neckband, speakers, and the recently added soundbars. In the truly wireless section, the latest addition was the Mivi DuoPods A350 which was launched on 9th July via Amazon India at an introductory price of Rs.999 only. There are five colour options – Black, Blue, White, Mint Green, and Space Green.
I have been using this DuoPods A350 for quite a few days and now, let me tell you the inside out of this audio product.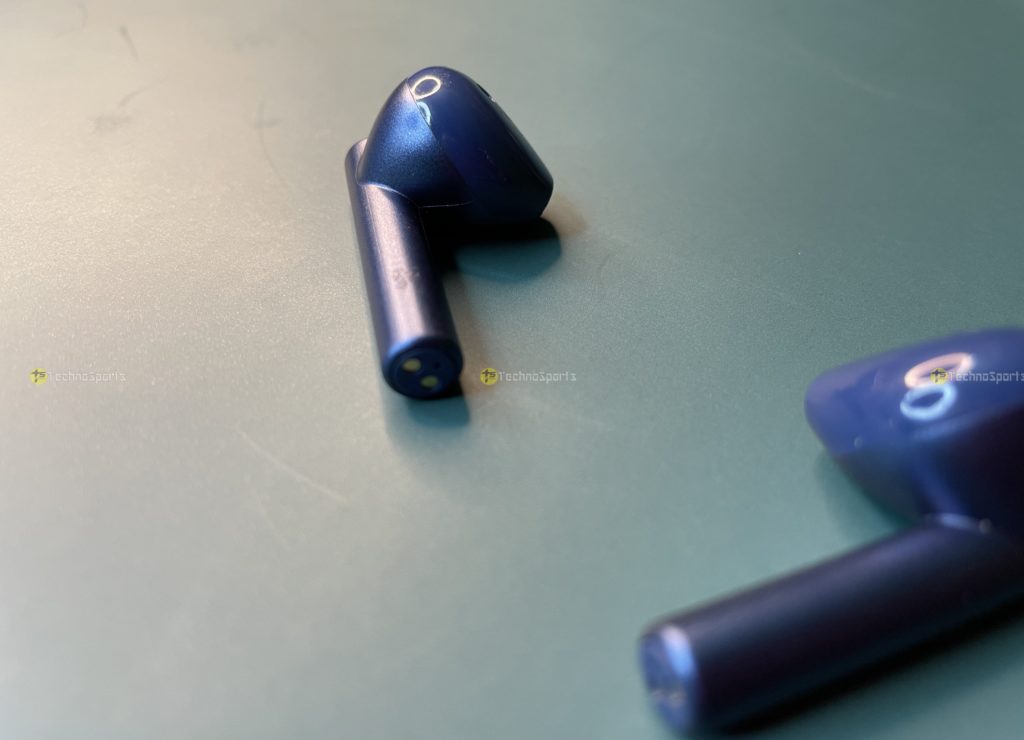 Features:
Supreme Bass: The Mivi DuoPods A350 earbuds have supreme Bass audio with All-Powerful 13 mm electro-dynamic bass drivers to make sure you enjoy a jaw-dropping Bass sensation that'll take your breath away.
50 Hours of combined Play Hours: These TWS earbuds come with a 500mAh battery to give a combined 50hrs of playtime so that you can jam, chat and binge watch for a whole week on a single charge.
Fantastic Sound Quality: With the Mivi A350 pods, you are treated to truly exceptional, standout audio sound that brings your favourite music or the latest blockbuster movie to life, making entertainment as immersive as possible.
Premium Metallic Shades: True Wireless Earbuds Mivi Duopods A350 are available in 5 premium metallic shades you'll immediately fall in love with. Its minimalist matte finish looks like you've never seen anything like it before.
Crystal Clear Calls: These Bluetooth earphones are equipped with two very powerful MEMS microphones for crystal clear calls that help you hear and be heard clearly.
Always In Place: True wireless earbuds Mivi A350 pods come with a 45 curved design. Sports, work out or dance, whatever your movement, these wireless earbuds are always snug and secure in your ear.
Instant Voice Assistant: With these TWS earbuds, Just one push and you have instant access to your default smart voice assistant.
Strong Connectivity: The Bluetooth 5.1 in these wireless earbuds give them a stronger, better connection for a smooth listening process
In the Box:
Mivi DuoPods A350
Charging Case
Type-C charging cable
Paperworks
Design & Build:
Mivi has done an impressive job in this section. However, this was started with the earlier DuoPods F60. But for this DuoPods A350, they have added a slightly matte finish. So, a mixture of matte and glossy finish is visible. Though, after regular usage, I noticed a few minor scratches on it. I have the Blue variant. Due to the deep colour, those were not easily detectable, but may not be the same for the light colour models.
The charging case is round in shape containing four vertical LEDs for battery level and charging indicator, Mivi branding just under that, and a Type-C port at the bottom. The buds with the stick and no silicon ear-tips design have the same outer finish as the case. The touch-sensitive area is slightly curved for better findability and has a multi-colour LED indicator as well.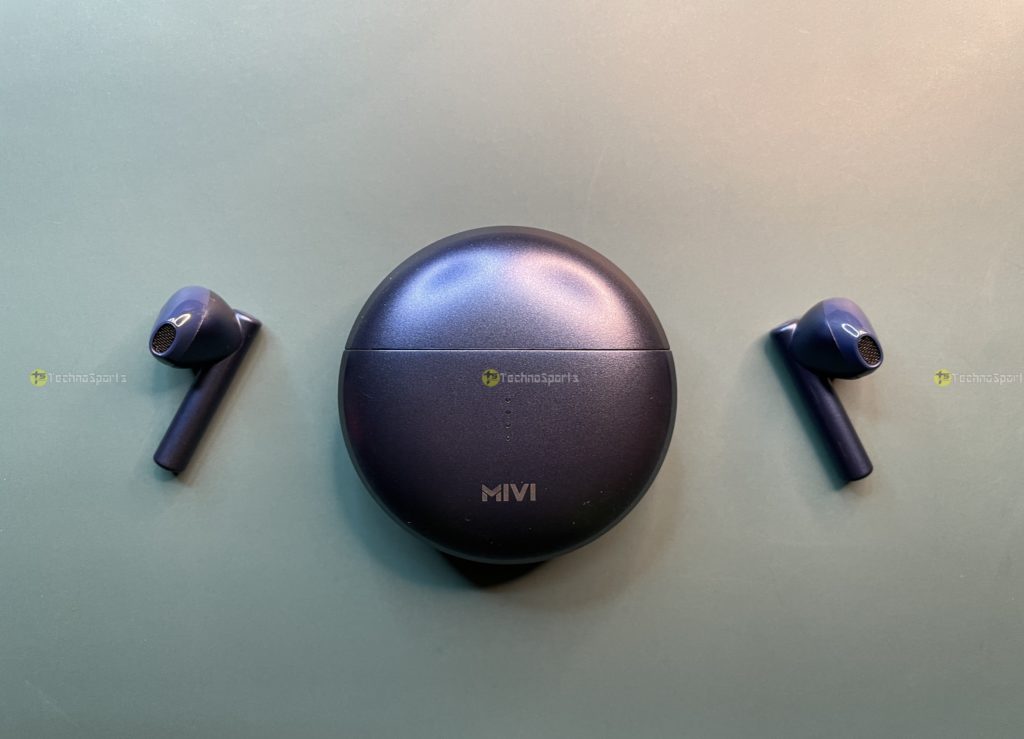 Audio:
The DuoPods A350 houses a 13mm massive audio driver inside each bud. It promises to deliver a powerful audio output blended with proper bass. As usual, I have checked all types of media content including tracks, movies, and audio stories.
There is no doubt the audio output is very loud. I used it at around 60% volume while listening to tracks or any audio stories, however, while watching any movies need to keep the level at 100%.
The output produced by the 13mm audio driver feels flat most of the time where all the audio components come out at the same level and it's the same across the contents. Once you used to it, will start enjoying your favourite show. For me, it didn't take that much of time.
Overall, the audio quality is decent and acceptable. Though, Mivi has offered better audio earlier at almost the same pricing.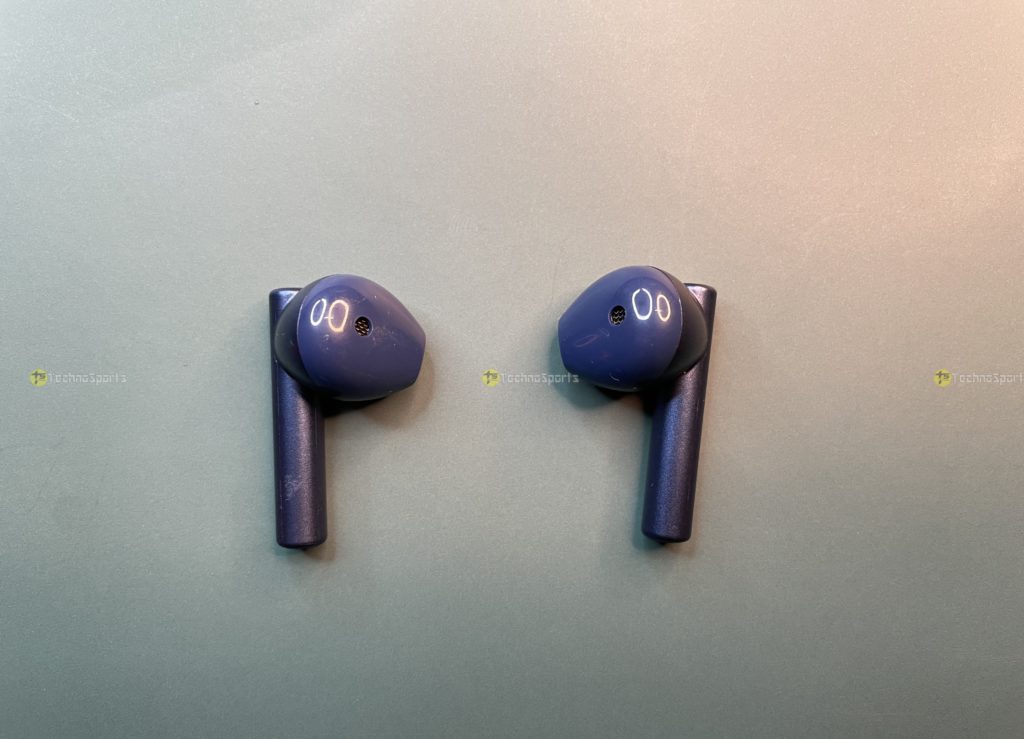 Microphone & Calling:
There is a dual MEMS microphone setup to take care of the calling experience. It is able to catch and process all communications over a call every time during my testing. No resentment was expressed by the opposite persons. Along with the microphone, the drivers are equally important here. As the audio output is loud, I hardly get any difficulty to hear. Now, coming to the surrounding noise, again it was decent. The person on the call can clearly spot that something noisy is there around you. It is acceptable from any budget TWS. So, I'm also okay with it.
Connectivity:
The Mivi DuoPods A350 offers Bluetooth 5.1 along with the support of AAC and SBC audio codecs. It follows the usual way to pair with any device, which needs to take out the buds from the charging case to pop us on the Available Devices list. The buds get paired automatically from the second time. The pairing process for the first time takes around 5 to 6 seconds, whereas the second time onwards it gets reduced to up to 3 seconds.
While any media consumption there was negligible latency, however, around a couple of seconds were required to react to the touch gestures. The pairing stays intact with a range of around 10 feet.
Comfort & Usage:
There is two type of buds available on the market – one with silicon ear tips and with a complete plastic design. In most cases, especially in the budget segment, a TWS with silicon ear tips provides better comfort and stability. The DuoPods A350 has a fully plastic body design with no ear tips. It fits in ears with ease and has no tendency to drop; however, it feels the exact opposite.
Due to the design, this TWS is easily portable in your pockets. The magnets in the charging case resist accidental drops for the buds when you are travelling. Through touch control, all the media and calls can be managed including playing/pausing music, skipping the track, adjusting volume, answering/rejecting calls, and activating voice assistants.
Battery:
Here comes the impressive part of the DuoPods A350. The 40mAh batteries inside the buds and 500mAh battery inside the charging case are working exceptionally well to deliver up to 50 hours of playtime on paper.
The buds are fulfilling the promise in practical life as well. After casual usage for a week with an average of 3 hours per day of playtime, it had juice left to supply. This sizable battery life gives peace of mind, ensuring the earphones are there to back you during any long boring journey.
There is the universal Type-C port for charging and the LED indicators in the charging case display how far you are to play with it. A small implementation, yet useful.
Verdict:
The Mivi DuoPods A350 is the latest addition to the below Rs.1,000 price segment. Despite the affordable pricing, it offers super long battery life, a good calling experience and attractive design compare to its competitors at the same pricing.
It could be one of the best truely wireless earphones if you want to move on from your wired earphone and have limited budget. You will get multiple colourful options too on Amazon at a cost of just Rs.999 only.
Buy Link: https://amzn.to/3vBlFEx
Mivi Store: https://amzn.to/3d370eA
Also Read: MIVI EXTENDS ITS SOUNDBAR SERIES WITH FORT S16 AND FORT S24