After waiting for a long-time favorite supervillain pair, Harley Quinn finally returns. Recently the first trailer of the third season has been dropped, the famous adult animated show going to debut on HBO Max Original. Now focusing on the third season, the new adult animated comedy will bring more gut punches filling with pleasure and pain. However, the animation is now set to give actually what we are desired, the trailer opens with Harley aka Kaley Cuoco, and Poison Ivy aka Lake Bell's relationship reveals into the forefront just after dangling it in front of the daces since last two seasons.
The cute couple once again will be seen in Gotham City, and return to their come to collaborate with Clayface, King, Shark, Frank the Plant, and Bane. The brand-new trailer also lays the plot of the latest season containing Ivy's aim of changing Gotham City, that's going to be dangerous for humans and can end the entire mankind. The new trailer also reveals the Joker's bid to run for the Mayor's city.
As soon as they start their planning to go awry, it is looking like Harley also may have a huge change with the heart. The third season also can hit the series and we will see many guest star lineup filling of Diedrich Bader like batman, Chris Meloni like Commissioner Gordon, Sanaa Lathan like Catwoman, Briana Cuoco will appear as Barbara Gordon aka Batgirl, and also Harvat Guillen as Nightwing While James Gunn appears as the director that just builds his path in this animated world of DC. This series also gives queer story arcs, starting with Harley and Ivy as just friends when Harley tries time and time again to reveal her toxic relationship with Joker.
In the last two seasons, we have seen the two-woman growing closer with the friendship, having each other backs when the romantic feelings start to bud. The second season follows Harley and Ivy as they started to make romantic feelings for each other, with the finale watching Ivy for her wedding along with Kite man to left Gotham with Harley.
The third season will follow the two as they navigate their newfound love drama when continuing to rule Gotham's criminal underworld.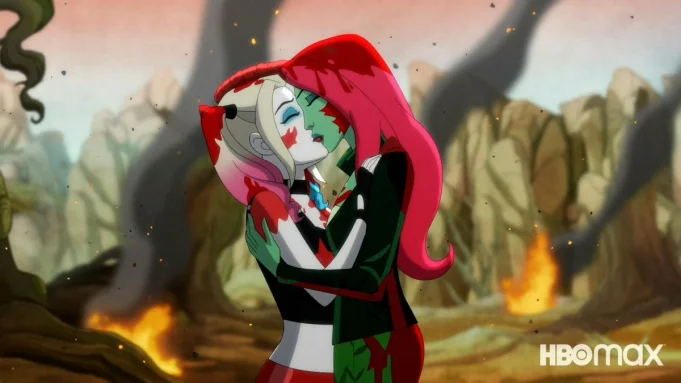 The new trailer reveals Harley and Ivy also doing mayhem jointly as a couple They have kidnapped Amanda Waller who is also head of the Suicide Squad and real-life director James Gunn. The latest season also introduces DC characters just like Swamp Thing and the Court of Owls
Harley Quinn (Season 3): Release Date
The third season of the supervillain adult animated series Harley Quinn will drop on HBO Max on 28th July 2022.
Here is the trailer:
A big thanks for the source.
Also Read: Top 7 Marvel Movies that got the Lowest Rating Ever