In the realm of mobile gaming, there's a new newcomer that wants to take on the world. It's the AYN Loki this time. A next-generation handheld that intends to compete with recent handhelds such as the AYANEO, ONEXPLAYER, and Valve's Steam Deck. This device also advertises itself as the cheapest Windows handheld ever developed.
There are five different variants of the AYN Loki handheld available. Each version has its own set of system requirements. The Loki Mini, the cheapest variant, would cost $299 and would use an Intel Alder Lake processor.
The higher-end variants will be equipped with an AMD Zen3+ processor and RDNA 2 graphics. The Loki, like the AYANEO 2 and, eventually, the AYANEO Next, is expected to feature a Ryzen 6000U series processor, according to Videocardz.
Below you can find the teaser of the AYN Loki

Each model's pricing varies, with the Loki Mini being the lowest and AMD CPU units fluctuating in price depending on how much storage they have. The AMD version would cost $499 for 64GB of storage, $599 for 256GB, $699 for 512 GB, and $799 for a 512GB Max edition.
At this time, it's evident who will win the race for PC handhelds. Many fantastic devices are starting to make their way into the market, and users will now have a lot of alternatives in terms of specifications and price. Of course, because the options are so diverse, there is no clear winner or loser yet.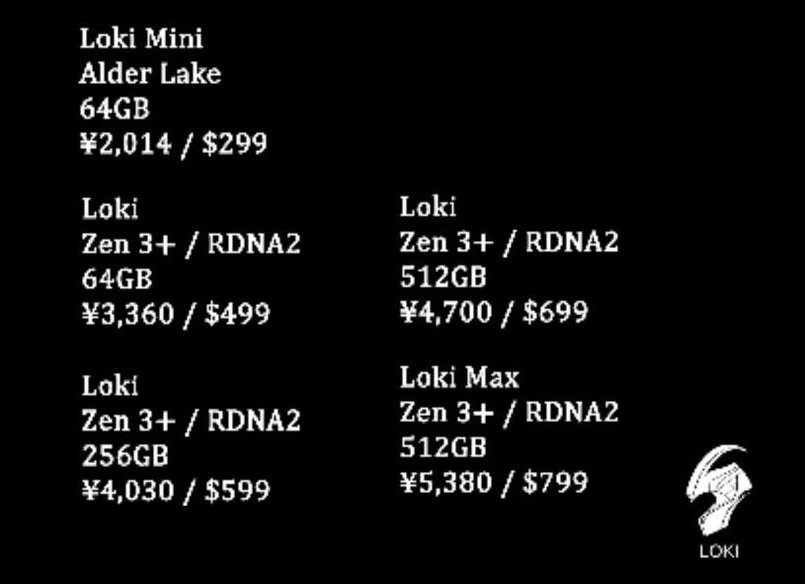 The design of the console is similar to that of its predecessor, Odin. The screen will most likely be 1080p, while the RAM will most likely remain at 8GB. Of course, this is only speculation, and we'll have to wait for additional information from AYN on the handheld's future location. One thing is certain: the battle for the best PC gaming portable is heating up.
also read:
Zotac ZBOX PI336 Pico has the size of a wallet but packs Dual 4K Outputs