Legacies Season 4 is one of the popular web series that was kicked off on The CW last year October and will come on Netflix in June 2022, but unfortunately, the current updates reveal this will be the last season of the show.
Since 2018, the series comes as a spin-off to the Originals that itself so an adaptation of the Vampire Diaries.
The cast of this latest spin-off contains Danielle Rose Russell, Aria Shaha Ghasemi, Kaylee Bryant, and Jenny Boyd.

The dourah season returns with its regular slot on The CW in October after the third season that also getting delayed into January 2021 due to a delay in shooting. You may know, that The CW is currently canceled Legacies after the fourth season. This news has already started some huge renewal campaigns for this series as many are still hoping that Netflix will bring the series for season 5.
Season 3 was a little late for Netflix albeit like we don't expect that it not going to happen once again. While the season 4 first time kicked off, season 3 of Legacies was not present on Netflix, but the entire 16 episodes were added on 18th October 2021.
Season 4 is the last and final season of Legacies of the show, it was hit alongside such other important titles from The CW containing Roswell, New Mexico. In The Dark and Legends of Tomorrow.
Legacies Season 4: Release Date
As a contract of The CW with Netflix, the new seasons going to an end on Netflix shortly after wrapping up the shows. It mainly indicates that the show arrives on Netflix 8-9 days after the final season but it is not the case for season 3. The fourth season finale is planned for twenty episodes, and it will available on 16th June 2022, which indicates we were expecting season 4 of Legacies on Netflix in the US to come on 24th June 2022.
It's not the actual scenario as Legacies is going to get such an early release on Netflix US. There is a notice showing on the Netflix page reveals Legacies season 4 will come on 3rd June 2022.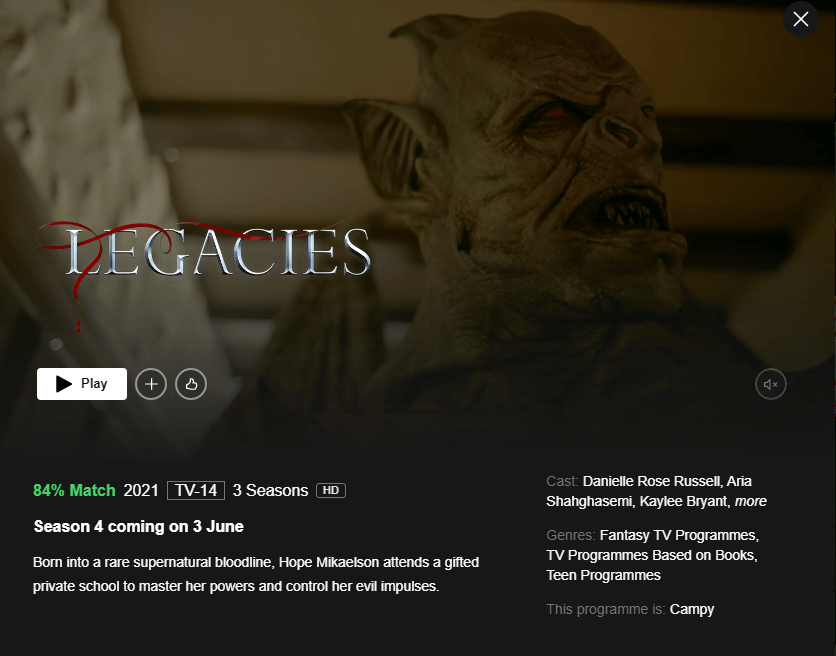 Legacies Season 4: Global Release on Netflix
Netflix has not got any of the major titles from The CW in current years and relicensed The Vampire and The Originals, Legacies has not been taken so far. After the show's cancellation, it's high and unlikely to confirm that we can watch it to be added on Netflix globally.
In the UK, the shows are still unsold which means there is still no legal way to stream them and even watch them on traditional television.
A big thanks for the source.
Read: Sex Education (Season 4): Netflix has Renewed the series could hit in 2023