Maradona: Blessed Dream, A biographical series of Diego Maradona releases today on Amazon Prime Video on 29th October 2021. Maradona: Blessed Dream is an upcoming biographical drama-based TV series. It is a series based on the life of a football legend named Diego Maradona. The series is written by Guillerno Salmeron and Silvina Olschansky. It is directed by Alejandro Aimetta and produced by BTF Media, Dhana Media, and Raze. This series is originally in Spanish and is titled Maradona, sueño bendito.
The series has promised to reveal all little details about his turbulent life and the times of the legendary football player who has already caused controversy in his homeland.
The series was filmed in Argentina, Spain, Italy, Uruguay, and Mexico and has already stirred debate in his homeland where Maradona is a folk hero and considered the greatest footballer of all time.
Diego Maradona has died in November 2020 due to a heart attack. It told us about how he rises from humble origins on the outskirts of Buenos Aires to a global superstar who battled alcohol and drug addiction.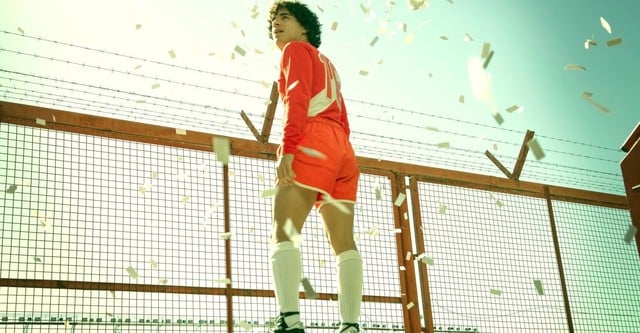 Maradona: Blessed Dream: Release date, Episodes, and duration
Maradona Blessed Dream: The Amazon Prime Video series releases on Friday, 29th October 2021 all over the world. The series mixed with archive footage with dramatized scenes. The series contains 10-episodes. The running time or duration of each episode is 1-hour.
Four different actors play Maradona at various stages of his life, and others appear as former players, coaches, agents, and family.
Nicolas Goldschmidt, one of the actors who has played the role of Maradona has said in an interview with Reuters that "Would he have liked it?" "I hope with all my heart the answer is yes."
The famously unpredictable Maradona approved the script before his death, prompting speculation that some of the details will surprise.
Plot
Maradona: Blessed Dream is a series that shows us Maradona's life, triumphs, embarrassments (like drug abuse), controversies (like assault allegations by his girlfriend and of course the infamous hand of God) that have been extensively documented in books and the press.
The official synopsis of the series reads, "Maradona: Blessed Dream follows the controversial life of legendary footballer Diego Armando Maradona. A boy from Argentina with a dream of greatness, made his mark in the international football league, earning himself a well-deserved place in history. Living a life strewn with drugs, sex, and public scrutiny, he played by his own rules regardless of the consequence. Watch the man who took the football world by storm and made his way into the hearts of millions."
The series also shows us dramatic fashion, with a 40-year-old Maradona who was on a beach who was overweight and out of breathing, taken to hospital after overdosing on cocaine. His business manager tried to hide the event from the world's media.
Here we present the trailer:-
Cast
The biographical series stars Juan Palomino as Diego Maradona, Nazareno Casero as young Diego Maradona, Nicolas Goldschmidt as Diego Maradona (child), Julieta Cardinali as Claudia Villafane, Laura Esquivel as young Claudia Villafane, Rita Cortese as older Dalma Salvadora Franco, Mercedes Mordan as Dalma Salvadora Franco, Claudio Rissi as older Diego Maradona's father "Don Diego", Pepe Monje as Diego Maradona's father "Don Diego", and many more. Alejandro Aimetta also serves as the showrunner.