Intel's upcoming ARC Alchemist GPU line-up is the recent hot-topic of the market and recently many of the Intel executives including Raja Koduri talked about the upcoming GPUs. There were many more things discussed in the interview on topics such as HPC and HPG graphics architectures which include Ponte Vecchio & ARC GPUs.
The first thing here is to understand why Intel chose TSMC over its Fabs to manufacture ARC GPUs and the reason was that during the development of ARC GPUs for the gaming segment, the top priority was given to the process that offered a good manufacturing capacity.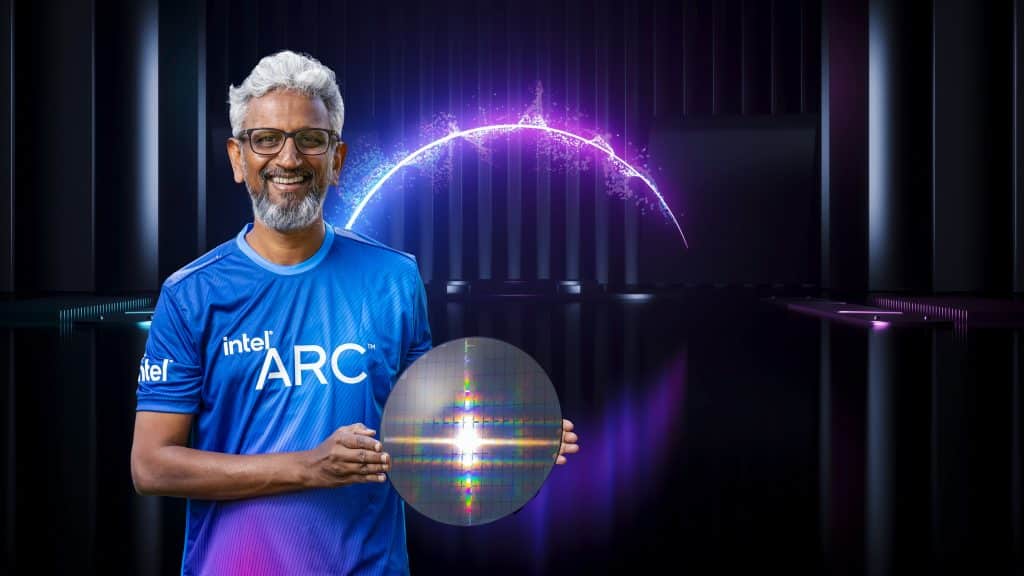 So for this reason Intel's executives simply decided that intel's process was not a great fit for ARC GPUs due to the insufficient capacity of the Intel 7nm node process. Other characteristics such as the operating frequency and cost were also factored in & the company decided it was the best to outsource the manufacturing to TSMC as its N6 (6nm) node offered the best balance.

Intel Xe-HPG ARC Alchemist GPUs To Offer More Than 32 Xe Cores?
The executives also went on to further state that its Xe-HPG architecture is very scalable and by this information, we can assume that the 8-slice Xe-HPG ARC Alchemist GPU shown to the press was the flagship 32 Xe-Core config and we can expect to get a higher-end SKU sometime in the future.
Intel ARC Alchemist vs NVIDIA GA104 & AMD Navi 22 GPUs
GPU Name
Alchemist DG-512
NVIDIA GA104
AMD Navi 22
Architecture
Xe-HPG
Ampere
RDNA 2
Process Node
TSMC 6nm
Samsung 8nm
TSMC 7nm
Flagship Product
ARC (TBA)
GeForce RTX 3070 Ti
Radeon RX 6700 XT
Raster Engine
8
6
2
FP32 Cores
32 Xe Cores
48 SM Units
40 Compute Units
FP32 Units
4096
6144
2560
FP32 Compute
~16 TFLOPs
21.7 TFLOPs
12.4 TFLOPs
TMUs
256
192
160
ROPs
128
96
64
RT Cores
32 RT Units
48 RT Cores (V2)
40 RA Units
Tensor Cores
512 XMX Cores
192 Tensor Cores (V3)
N/A
Tensor Compute
~131 TFLOPs FP16
~262 TOPs INT8
87 TFLOPs FP16
174 TOPs INT8
25 TFLOPs FP16
50 TOPs INT8
L2 Cache
TBA
4 MB
3 MB
Additional Cache
16 MB Smart Cache?
N/A
96 MB Infinity Cache
Memory Bus
256-bit
256-bit
192-bit
Memory Capacity
16 GB GDDR6
8 GB GDDR6X
16 GB GDDR6
Launch
Q1 2022
Q2 2021
Q1 2021
Intel ARC Already Has A Reference Graphics Card Design But Partners are Open To Custom Models
according to information gathered from the executives its made clear that Intel has already shipped its reference design to its partners. As we know from the interview, the company is currently investigating if it's worth launching a reference-only flavor similar to NVIDIA's Founders Edition or allows partners (ODMs) to manufacturer their custom variants.
Intel XSS Is Backwards Compatible With DG1 'Xe-LP' & 11th Gen CPUs
XSS has been one of the most interesting technologies of the upcoming Xe-HPG ARC graphics lineup. And the silicon giant has now officially confirmed that the technology will be backward compatible with both Xe-LP-based DG1 GPUs & iGPUs on the 11th Gen Tiger Lake GPUs.