The European Super League is probably now a part of the vast footballing history that never happened. Big names suggested that the league was a necessary step, that it was for the betterment of the game. But was it?
While some questions are better left unanswered for the greater good, this question has been a talking point for a while now. Florentino Perez, the leader of this troop still firmly believes in his idea. In his view, the financial effects of the COVID-19 pandemic led to the inevitable. But was it COVID-19 or their own financial mismanagement which is their biggest problem?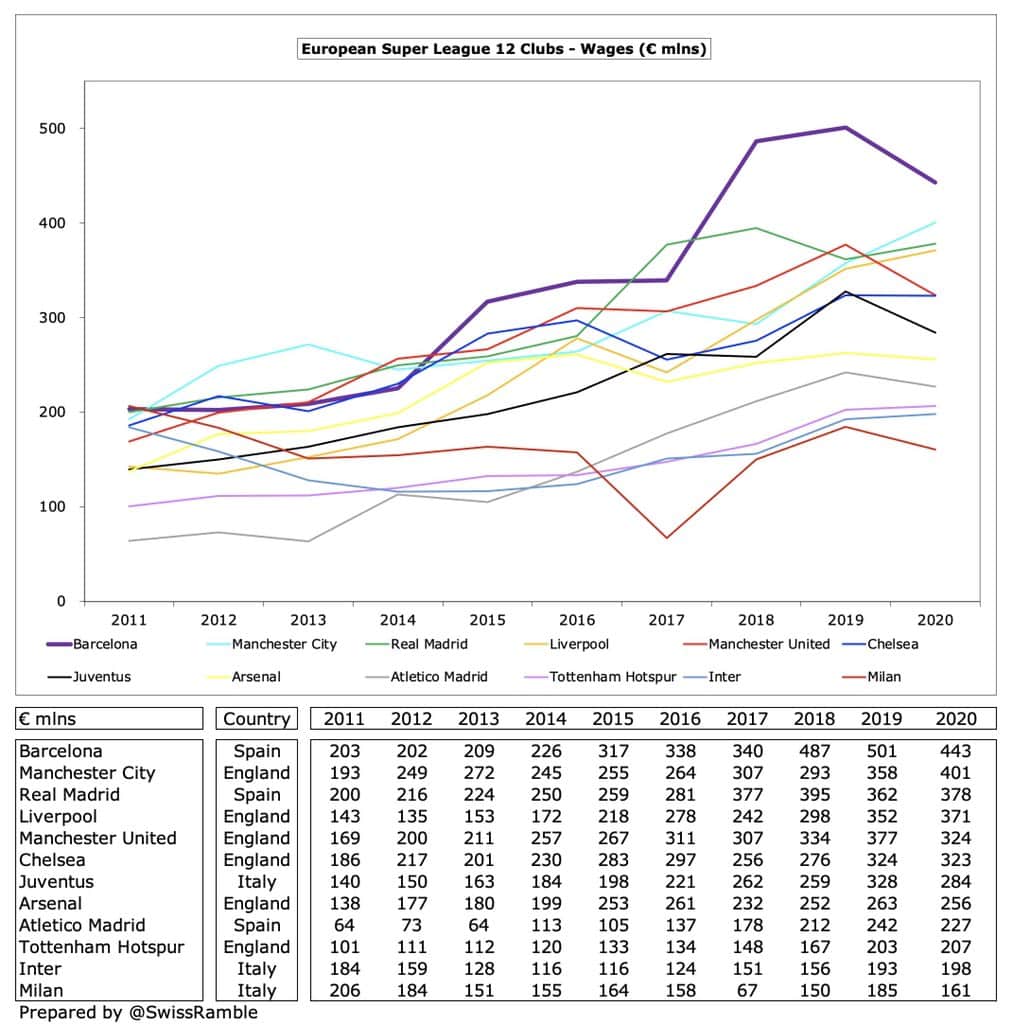 Swiss Ramble's Twitter account collected data on the wage bills of the 12 break-away clubs. Let us take a look at the financials of the member clubs of this breakout league.
Spanish Sides
Let's talk about Barcelona first, a club ridden by financial problems. Barcelona visibly led the way in hefty wage bills. From a €203m per year in 2011 to a humongous €443m in 2020. But this was still not their highest. In 2019, the Catalan club shelled out €503m as wages. This is the highest of any of the mentioned clubs in the same period.
Real Madrid's figures also grew manifold. They broke the €300m mark in 2017. This went up to a point where Los Blancos are now pushing €400m. This is almost double what they paid in 2011.
In the same city resides Atletico Madrid. Atletico started with a comparatively smaller wage bill of €64m in 2011. This has now gone up to €227m. This only showcases the plethora of investments Diego Simeone has enjoyed in the last decade.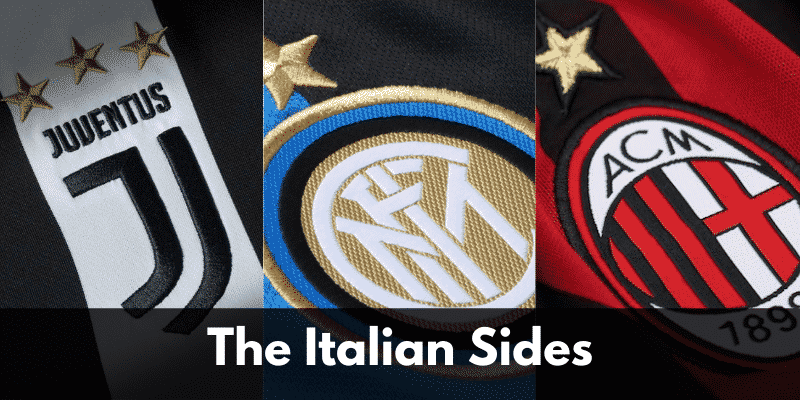 Italian Sides
Juventus were once the masters of the transfer market but it isn't quite the same now. They signed names like Andrea Pirlo, Paul Pogba, and Dani Alves for free! The Old Lady were heralded for their transfer window strategies which helped them dominate Serie A. But since the signing of Cristiano Ronaldo in 2018, a lot has changed. Their main aim of winning the Champions League with the Portuguese legend by their side has failed again and again. In 2015 their wages were €198m which rose to €284m in 2020. All that money and still awaiting European glory!
Inter Milan finally won their first Serie A in ten years and it is quite a milestone. Inter has been continuously outsourcing aging players from European clubs to strengthen their side. This is why their wage bill bearing the €200m mark in 2011 hasn't been broken since. They did come close last time at €198m
AC Milan's recent dealing have been silent. Getting youngsters and developing them with a few low waged experienced players looks to be their recent style. Also, a reason why their total of €206m in 2011 has been their highest by a big margin.
English Sides
Manchester City has been happily spending money for more than a decade now. A club that was spending a total of €193m in 2011 has now risen the bill to a whopping €401m bill in 2020. While there has been no shortage of domestic trophies, winning the Champions League is still a dream. The club is sans a striker and their manager has publicly stated that they wouldn't be able to pay big for a striker.
Liverpool's wage bill has also seen a steep rise. A bill which stood at €143m in 2011 has risen to €371m in 2020. But one might still look at their recent Premier League and Champions League glory to justify the amount. After all, Jurgen Klopp ended their 30-year long wait for a Premier League title.
Manchester United is a regular in the top 5 paying clubs in world football. Although the club's €324m bill in 2020 was their lowest in the past 3 years. United's level of investment has been good. The only problem is the lack of an end product: Silverware.
Chelsea has always been among the big numbers. A wage bill that broke the €300m mark in 2019, increased to €323m in 2020. This is also considering their spending spree last summer bringing in big names to the club. Their Champions League victory could be used as an excuse though.
In north London, the inclusion of both Arsenal and Tottenham in the ESL was roundly laughed at, such has been their struggles for any kind of meaningful silverware in recent years. In terms of spending on wages, these are unprecedented times for both clubs with Spurs' €207m last year being the highest bill in their history.
Arsenal's reached their record-high in 2019 when they shelled out €263m in wages. Since then there has been a decline. But recent protests against the owner could see them launching a new recruitment drive.