As Portugal has been eliminated from Euro 2020 after losing to Belgium in the final 16, here is a look back at the reigning European champions' dismal record at each Euro since 1984.
1984: West Germany – Group stage
In Euro 1984, Germany did not go past the group stage. Spain defeated West Germany in the final game thanks to a 90th-minute goal by Antonio Maceda. In each of the previous three European Championship finals, the Germans had advanced to the final, winning in 1972 and 1980.
1988: France – Failed to qualify
Les Bleus won Euro '84, but had a difficult qualifying season for Euro '88. They came in third place in their group, trailing only the Soviet Union and East Germany.
1992: Netherlands – Semi finals
In 1992, the Netherlands advanced to the final four of the European Championship. They were defeated on penalties by Denmark, who went on to defeat Germany in the final. Peter Schmeichel stopped Marco van Basten's penalty as the Dutch were eliminated. The competition was won by the Danes.
1996: Denmark – Group stage
Denmark's Euro '96 fairytale came to an end in the group stage. The Danes were held to a 0-0 draw by Portugal and blasted by Croatia. The Danes were eliminated from the group stage despite winning their match against Turkey.
2000: Germany – Group stage
At Euro 2000, Germany was knocked out of their group. With only one point, Die Mannschaft finished last in the death group.
2004: France – Quarter finals
At the turn of the millennium, France was the best international team in the world. Despite winning the European Championship in 1998 and 2000, Les Bleus were unable to defend their title. In the quarter-final, France was defeated 1-0 by Greece.
2008: Greece – Group stage
Greece's Euro 2004 campaign is regarded as the tournament's biggest upset. Four years later, the holders were unable to disrupt the established order once more. Greece was eliminated without a point after losing all three group round matches.
2012: Spain – WINNERS
Spain won the European Championship for the second time in a row in 2012, becoming the first team to accomplish so. In the final, La Roja defeated Italy 4-0 to retain the cup. Spain's all-conquering team is still regarded as one of the best international teams in history.
2016: Spain – Last 16
In the Euro 2016 last-16, Spain met Italy. Goals from Georgio Chiellini and Graziano Pelle gave La Roja a 2-0 defeat.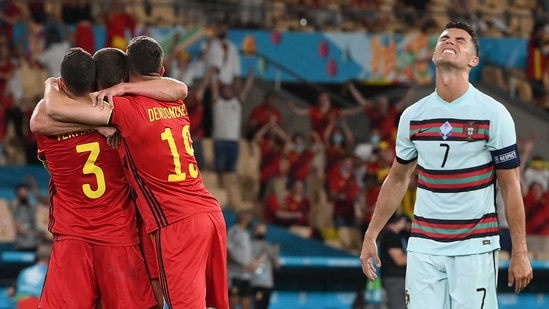 2020: Portugal – Last 16
Portugal's Euro 2020 defence came to an end in the last-16 when they were defeated by Belgium. The Belgians advanced to the quarter-finals thanks to Thorgan Hazard's excellent goal. This summer, Cristiano Ronaldo scored five goals for Portugal, but he was unable to duplicate his feats.