One of the most reliable tipster @_rogame has started his own blog and his first article provide some interesting facts and figures about the upcoming AMD Navi 21 often referred to as "Big Navi" and he also confirmed that AMD will be refreshing it's Navi 10 GPUs for the budget gamers.
The Navi 2x will actually have three GPU lineups: Navi 21 (505 mm2), Navi 22 (340 mm2), & Navi 23 (240 mm2). All these GPUs will be based on AMD's upcoming RDNA 2 architecture which is said to bring a lot of new improvements over last-gen and will support ray tracing as well.
AMD Navi 21
We have been hearing a lot about the "Big Navi" for quite some time now, as far as we know it is actually the next-gen Navi 21 GPUs which will feature up to 80 Compute Units along with 5120 Stream Processors. These Navi 21 GPUs will be offering 50% better performance per watt.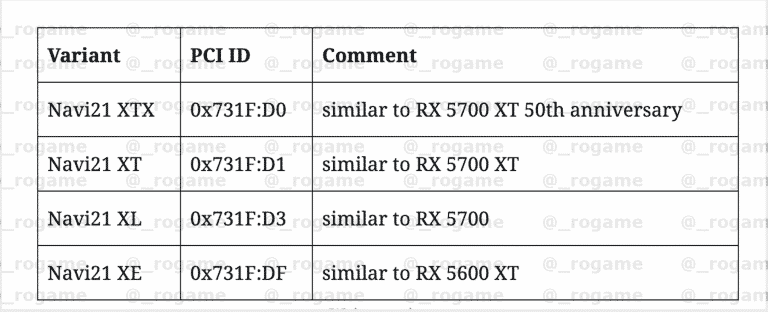 @_rogame has specified that the Navi 21 will have specific gaming variants, Pro variants & some Apple-specific variants as well. According to the tipster, the gaming GPUs will have Navi 21 XTX, XT, XL, and XE SKUs similar to Radeon RX 5700 XT Anniversary Edition, RX 5700 XT, RX 5700, RX 5600 XT respectively.
Obviously, the XTX variant seems strange, might be a higher-end variant with better clock speeds and more number CUs.

There will also be something for the Professional market as well with the Navi 21 Pro XT and XL SKUs aimed for workstations quite similar to the present Radeon Pro W5700X and the Radeon Pro W5700 GPUs respectively.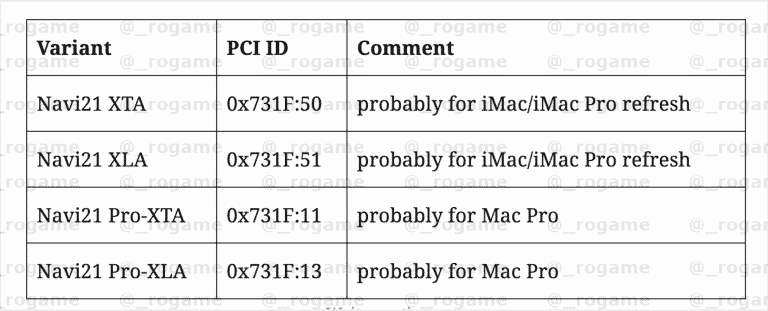 AMD's partnership with Apple has been there for quite some time now and this time too Apple will get access to newer cutting edge silicon from AMD. They will get early-access exclusive Navi 21 XT and XL silicon as well as to their Pro variants aimed for the upcoming iMac/iMac Pro Refresh and the next Mac Pro.

AMD Navi 10 Refresh
Instead of going for the smaller Navi 23 based GPU architecture for their budget-end graphics cards, AMD will be opting to refresh its Navi 10 architecture to reduce costs. The AMD Navi 10 XT+ will be replacing the RX 5700 XT, while Navi 10 XM+ will replace the RX 5600M, and the Navi 10 XTE+ will replace the RX 5600 XT, no words on the RX 5500 XT.
If this is so, budget gamers will be disappointed of not experiencing the actual next-gen Navi architecture on low-end GPUs. Hopefully, in coming days we can get some more info about the Navi 23 and Navi 10 Refresh GPUs and their existence.
Do check out:
😎TechnoSports-stay UPDATED😎