AMD raises the game with its 7nm based Ryzen 4000 mobile SKUs: up to 8C/16T, 4.2GHz boost, 1750MHz graphics frequency
The Red team has made a bold start to the CES 2020 by announcing its new top of the line AMD Ryzen 4000 mobile processors. AMD never did really dominate Intel in the laptop market but did really made an impact with its cheaper Mobil processors.
In 2019, AMD blew Intel in the desktop CPU market with its Ryzen 3000 processors. Last year in CES, AMD only gave a demo of its Ryzen 3000 processors and when in July they actually launched in the market, gamers to productivity focussed people, everyone just shifted to Ryzen.
With Zen 2 not only did AMD increased its multithreading performance but also made a significant improvement in single-core performance, which eventually allowed gamers to utilize the chips to the full potential.
Receiving such an overwhelming response from people, AMD this year started by bringing the 7nm goodness to mobile. During AMD's keynote, Dr Lisa Su said that the laptop industry never did really experience a bump in performance, which I totally agree.
Intel faced a hard time in upgrading its CPUs to 10nm which they did a year ago for mobile processors but they are eventually high priced and limited up to 4 cores only.
This situation is much more appropriate for AMD to announce the next-gen Mobile processor's based 7nm platform. At CES 2020, AMD has given a positive start to the computing industry.
AMD Ryzen 4000U Mobile Processors
The new processors are typically designed for laptops to perform significantly more than last-gen under the 15W envelope. The Ryzen 4000U series APUs form the 3rd generation of laptop processors, its basically a fully integrated monolithic piece of 7nm silicon, featuring up to 8 Zen 2 cores and up to 8 compute units of enhanced Vega graphics. 
We see 2x more cores from last-gen but 3 fewer compute units, this is because the newer and enhanced Vega graphics based out of the 7nm die can perform even better than 11 CUs. We see a huge increase in clock speeds both on the CPU front as well as on the iGPU side.\
The Ryzen 4000U stack contains a lot of options for the users:
AMD Ryzen 4000 15W U-Series CPUs
Cores
Threads
Base
Freq
Turbo
Freq
L2
L3
Compute
Units
IGP
Freq
Ryzen 7 4800U
8C / 16T
1800
4200
4 MB
8 MB
8 CUs
1750
Ryzen 7 4700U
8C / 8T
2000
4100
4 MB
8 MB
7 CUs
1600
Ryzen 5 4600U
6C / 12T
2100
4000
3 MB
8 MB
6 CUs
1500
Ryzen 5 4500U
6C / 6T
2300
4000
3 MB
8 MB
6 CUs
1500
Ryzen 3 4300U
4C / 4T
2700
3700
2 MB
4 MB
5 CUs
1400
AMD is following the same CCX layout as present on its desktop CPUs which suggests that the 8 cores are split into two CCX units which can communicate over AMD's Infinity fabric. We also see that the Red team has adjusted the L3 cache amount to 4 MB per CCX unit i.e. half as that of its desktop line.
If we look through the stack we can see the Ryzen 7 4800U with 8 cores and 16 threads, that too on a laptop!! This is truly insane, keeping in mind it only consumes 15W of TDP and it has also a powerful iGPU. The Ryzen 7 4800U has a 1.8GHz base clock speed and a 4.2GHz boost along with 12MB of the total cache.
We see 8 Compute units of Vega graphics clocked at a higher frequency of 1750MHz which is just awesome considering the fact that it is targetted for ultra-thin notebooks and laptops. Even the Ryzen 3 has now got 4 cores and the Ryzen 5 features 6 cores, now consumers get way more options to choose from than Intel.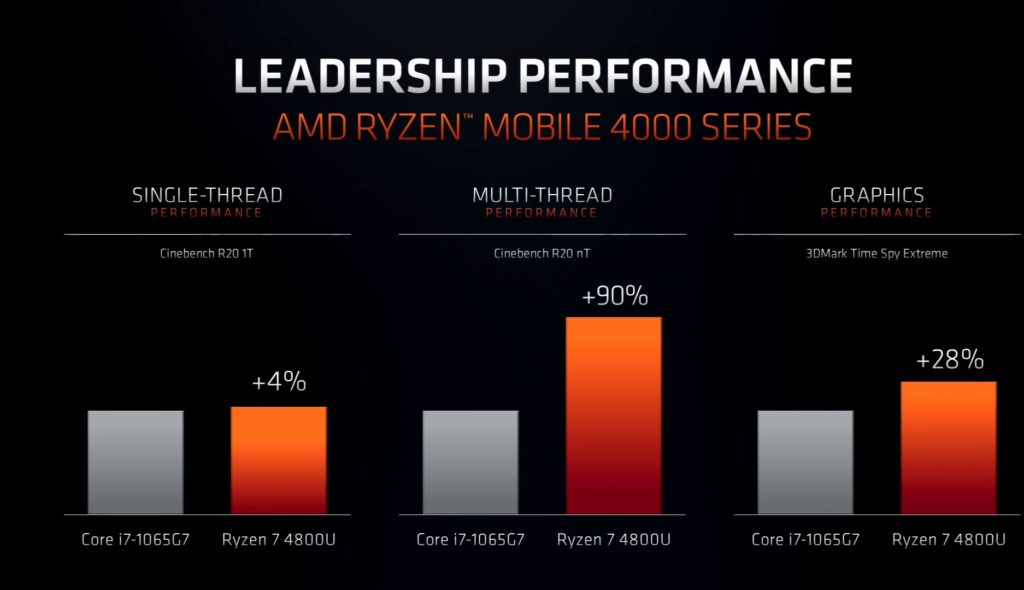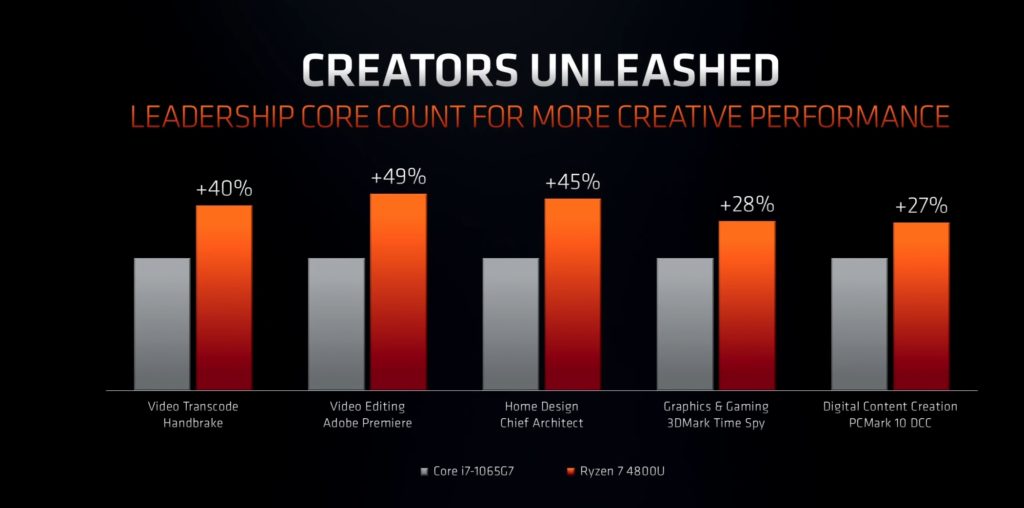 AMD also showed that the new iGPU provides +28% better GPU performance in 3D Mark Time Spy against Intel's Core i7-1065G7. When compared in the single-threaded performance, the Ryzen 4000 processors dominate over both Ice Lake and Comet Lake.
In multi-threaded workloads, the Ryzen 7 4800U just blows Intel's flagship Core i7-1065G7 away from the competition. The Ryzen 4000 APUs support up to 64 GB LPDDR4X memory and AMD has also clarified that the infinity fabric has not been tied to this memory clock to help draw lesser power in its idle state.
Talking about efficiency, AMD says these new chips are 30% more efficient from the last-gen because of the new SoC design and 70% more efficient in the process compared to the previous processors. Overall the SoC power for the same frequency of the APU is down by 20%, which allows AMD to push more out of the hardware.
AMD promises to provide more battery life than ever on ultra-thin notebooks, thanks to its new design & improvements and the 7nm process. Overall, the Ryzen 4000 Mobile processors are very impressive and I cannot wait to get 8 cores on a laptop!
The Red team also assure the community that they have secured over 100+ design wins for 2020 and we could expect laptops with these processors later in Q1 2020 and in Q2 as well.
Do check out:
😎TechnoSports-stay UPDATED😎