The Red Team has finally launched the much-awaited Radeon RX 5500 series based on 7nm Navi GPUs. AMD had an amazing 2019 for both its CPUs and GPUs, going 7nm for all of its new products that in turn gave us an incredible performance for desktop.
AMD also showed off their RDNA architecture when they launched the RX 5700 GPUs which made its mark in the market giving a stiff competition to NVIDIA's RTX lineup even though being priced at $349 onwards. It was expected by the company to offer something cheaper for its consumers in the coming days.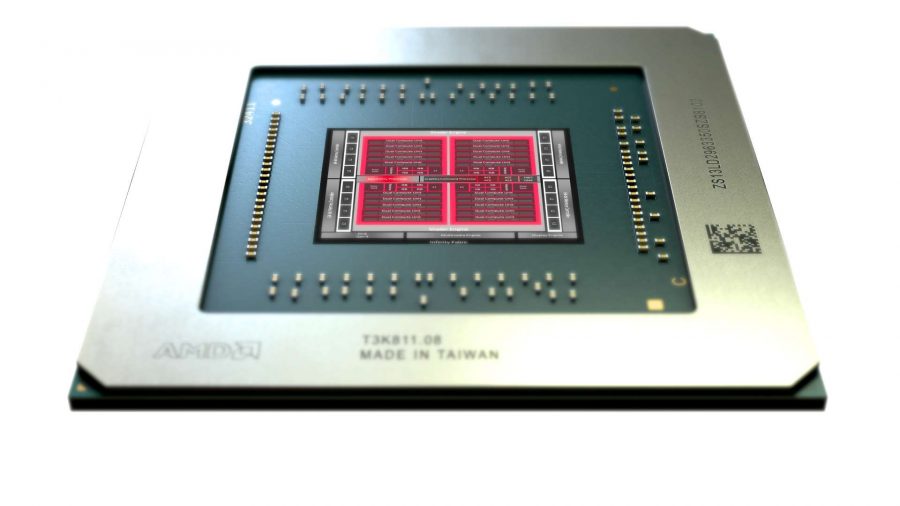 Today at its auspicious 7th October, AMD has launched the RX 5500 GPU series that is built around a new, smaller Navi GPU that will allow AMD to bring their latest Radeon technologies down to more affordable, mainstream video cards, as well as laptops for the first time.
AMD is launching the RX 5500 series based on Navi 14 in three different parts, the Radeon RX 5500 XT, the Radeon RX 5500 and the Radeon RX 5500M. The first two of them are desktop focussed budget GPUs which directly competes with NVIDIA's GTX 1650 and GTX 1660 series.
The Radeon RX 5500M is focussed towards gaming laptops and this will be the first time Navi GPU will be used on a mobile platform. This new GPU series focusses on smooth 1080p gaming at a budget range.
AMD even clarifies that the RX 5500 series aims for 60 fps (frames per second) in AAA games and 90-plus fps in eSports titles at 1080p, which is still a dominant resolution for most PC gamers. For both the Radeon RX 5500 XT and Radeon RX 5500 GPUs, we will only see GPUs from OEMs with custom cooling designs and clock speeds.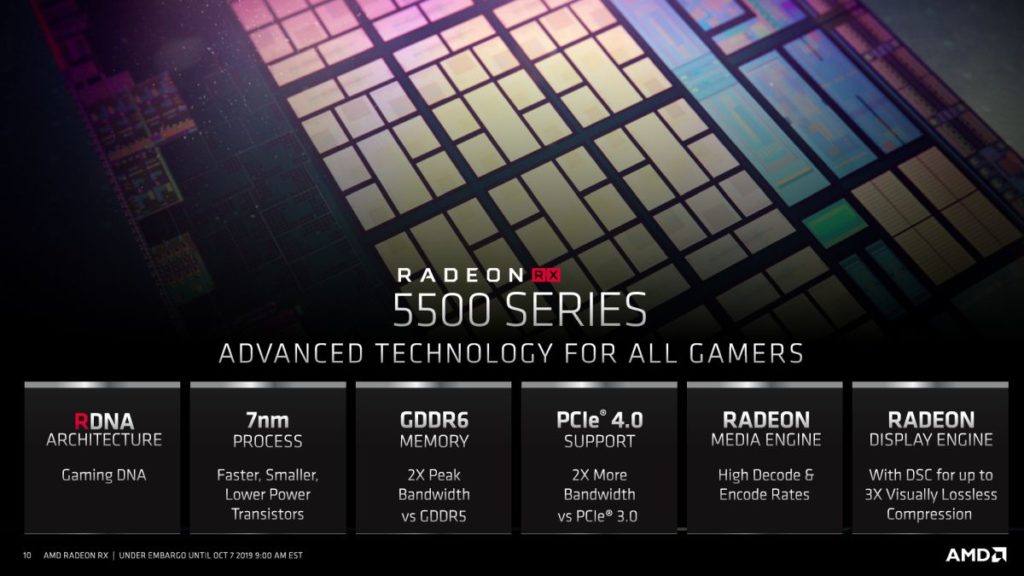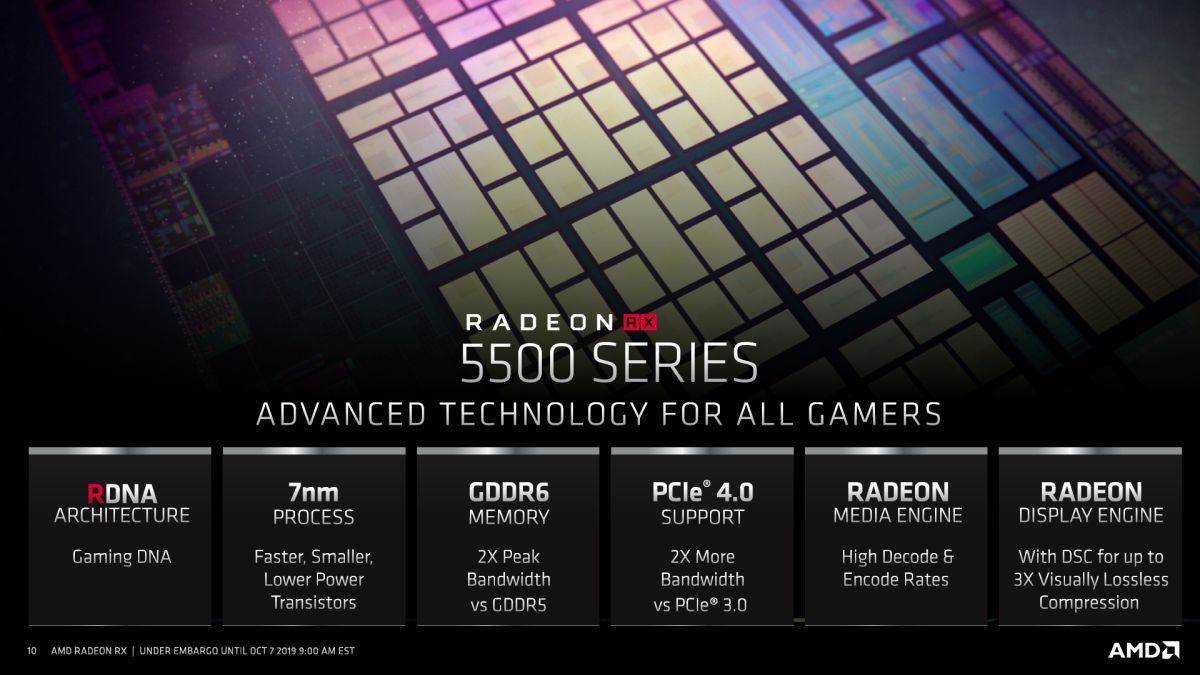 The Navi 14 is a very typical slimmed-down version of AMD's leading-edge technology that is based on RDNA architecture. In terms of die size and transistor counts, AMD has dropped about 3.9B transistors from Navi 10, which comes to 38% fewer transistors overall. This makes the die size around 158mm2, almost 37% smaller than Navi 10.
Thanks to TMSC's 7nm process, AMD has been able to stack more transistors in a small die. Compared to Polaris 11 (used in RX 460/560), the company has increased its transistor count by 113% while only increasing the die size by 28%.
Navi 14 is a full-fat Navi GPU in terms of architecture and features like its brother RX 5700 series. The Navi 14 GPUs will support PCIe 4.0 as well as AMD's new display processing (Radeon Display Engine) and video processing (Radeon Media Engine) blocks.
The Navi 14 can support up to 5 monitor streams, on the other hand, the video processing block remains entirely unchanged from Navi 10 and should offer the same encode and decode performance as AMD's higher-end cards.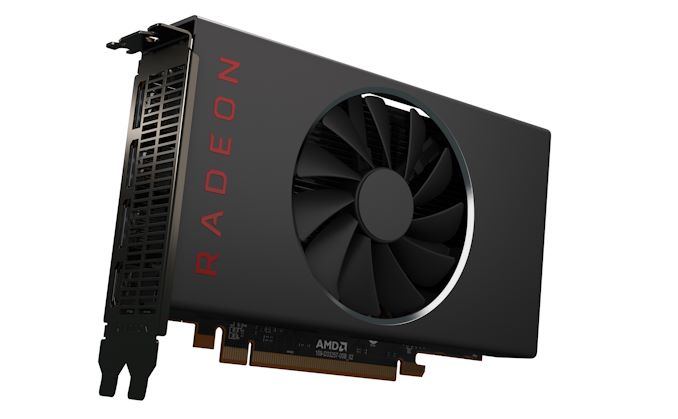 AMD Radeon RX 5500 Series Specifications
With the newest additions to the Radeon family, AMD is bringing its advanced RDNA gaming architecture and industry-leading 7nm process technology to legions of mainstream gamers worldwide in exciting new form factors and systems
Being powered by RDNA architecture, the Radeon RX 5500 provides up to 1.6X higher gaming performance-per-watt than current Radeon graphics cards based on the Graphics Core Next (GCN) architecture.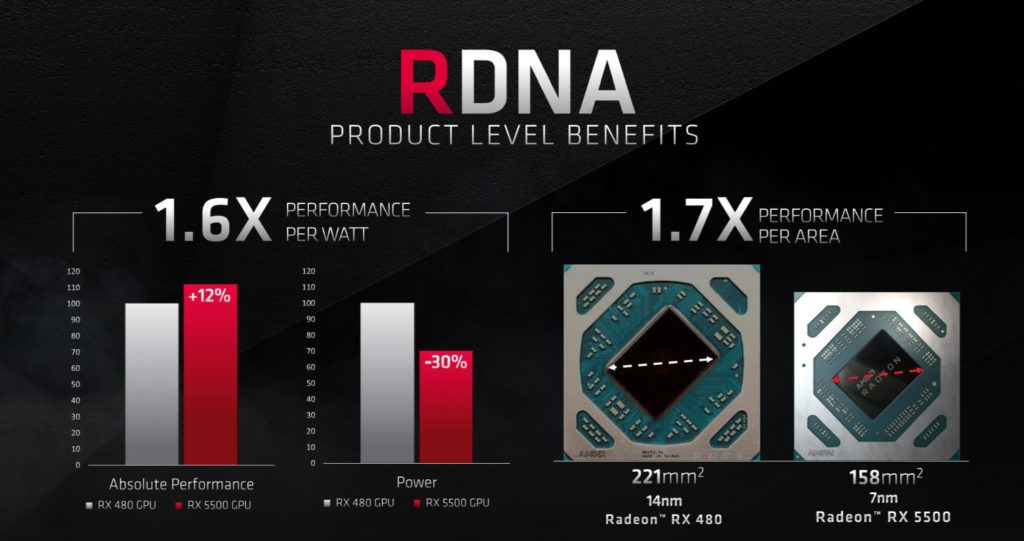 Comparing the new card to the RX 480, AMD is touting a 30% drop in power consumption coupled with a 12% increase in absolute performance. AMD is posting gaming figures in recent games at 1080p Medium, with gains over the RX 480 in the 15-20% range.
| | | | | |
| --- | --- | --- | --- | --- |
| | Radeon RX 5500 | Radeon RX 5500M | Radeon RX 5700 | Radeon RX 5700XT |
| Architecture (GPU) | RDNA (Navi 14) | RDNA (Navi 14) | RDNA (Navi 10) | RDNA (Navi 10) |
| ALUs | 1408 | 1408 | 2304 | 2560 |
| Peak FP32 Compute | 5.2 TFLOPS | 4.6 TFLOPS | 7.5 TFLOPS | 9 TFLOPS |
| Tensor Cores | N/A | N/A | N/A | N/A |
| RT Cores | N/A | N/A | N/A | N/A |
| Texture Units | ? | ? | 144 | 160 |
| Base Clock Rate | 1670 MHz | 1670 MHz | 1465 MHz | 1605 MHz |
| Nvidia Boost / AMD Game Rate | 1717 MHz | 1448 MHz | 1625 MHz | 1755 MHz |
| AMD Boost Rate | 1845 MHz | 1645 MHz | 1725 MHz | 1905 MHz |
| Memory Capacity | 4/8 GB GDDR6 | 4 GB GDDR6 | 8GB GDDR6 | 8GB GDDR6 |
| Memory Bus | 128-bit | 128-bit | 256-bit | 256-bit |
| Memory Bandwidth | 224 GB/s | 224 GB/s | 448 GB/s | 448 GB/s |
| ROPs | 32 | 32 | 64 | 64 |
| L2 | ? | ? | 4MB | 4MB |
| TDP | 110W | ? | 180W | 225W |
| Transistor Count | 6.4 billion | 6.4 billion | 10.3 billion | 10.3 billion |
| Die Size | 158mm² | 158mm² | 251mm² | 251mm² |
All of these cards will ship with 22 CUs, 14 fewer CUs (-39%) than the next card in AMD's stack, the Radeon RX 5700. The new GPUs have higher clock speeds carrying a maximum game clock of 1717MHz, 92MHz (6%) higher than the RX 5700, also the maximum boost clock is higher as well, of 1845MHz.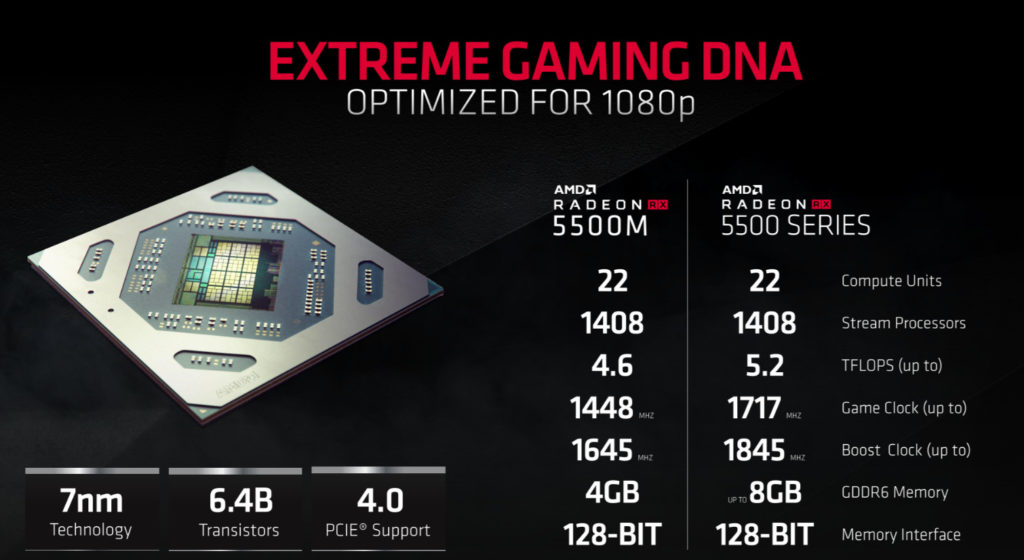 The RX 5500 series will have a peak compute/shader throughput of 5.2 TFLOPs and will come with a 128-bit memory bus. AMD will be using the faster GDDR6 memory and a 224GB/sec memory bandwidth.
The desktop GPUs will have both 4GB and 8GB of VRAM options. AMD's product pages list the Radeon 5500 series with a 110W TDP and AMD has recommended a single 8-pin power connector for them to boot.
Talking about the RX 5500M, it has similar specs like the desktop variants, it will have a base clock speed of 1.4GHz and 1.64GHz boost. It will feature 4GB of VRAM and a lower 4.6TFLOPs, rest all specs remains the same.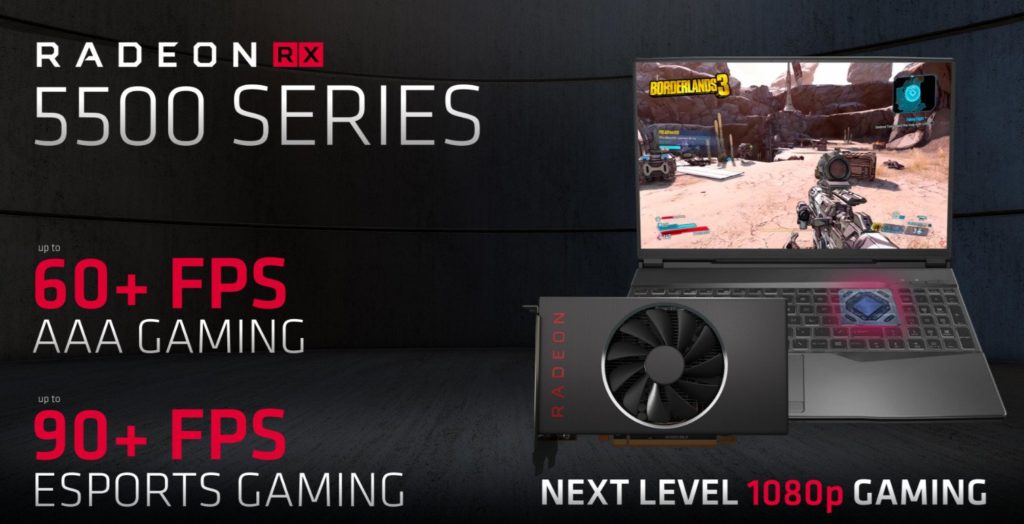 Performance Benchmarks
When it comes to real performance, the 4 GB Radeon RX 5500 offers better performance than the 8 GB Radeon RX 480 and is also being compared to the NVIDIA GeForce GTX 1650 4 GB which retails for around $150.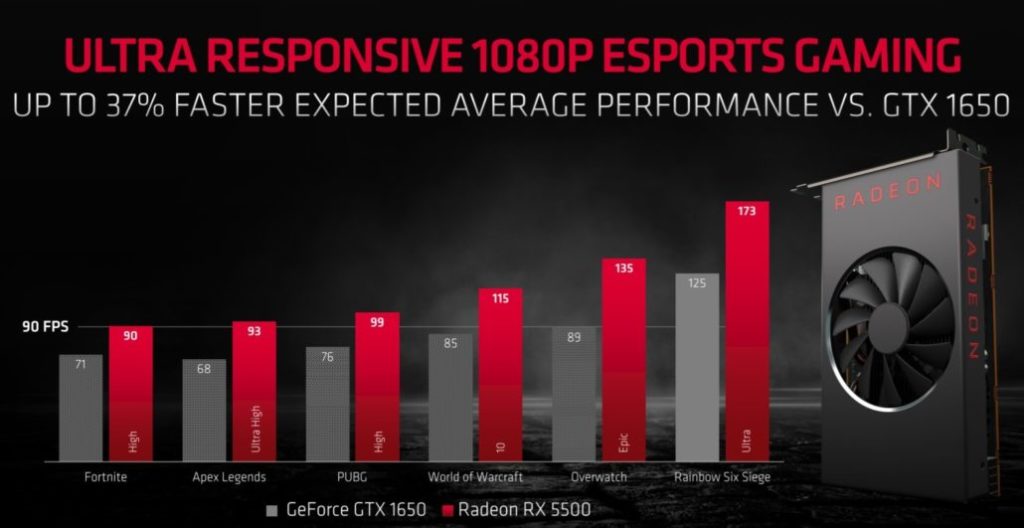 AMD claims you'll see around 92 FPS in Gears 5 and 60 FPS in Ghost Recon Breakpoint while running in DirectX 11 with medium settings. The RX 5500 hits 135 FPS in Overwatch compared to NVIDIA's 89 FPS, and it also outpaces the GTX 1650 by nearly 50 FPS in Rainbow Six Siege.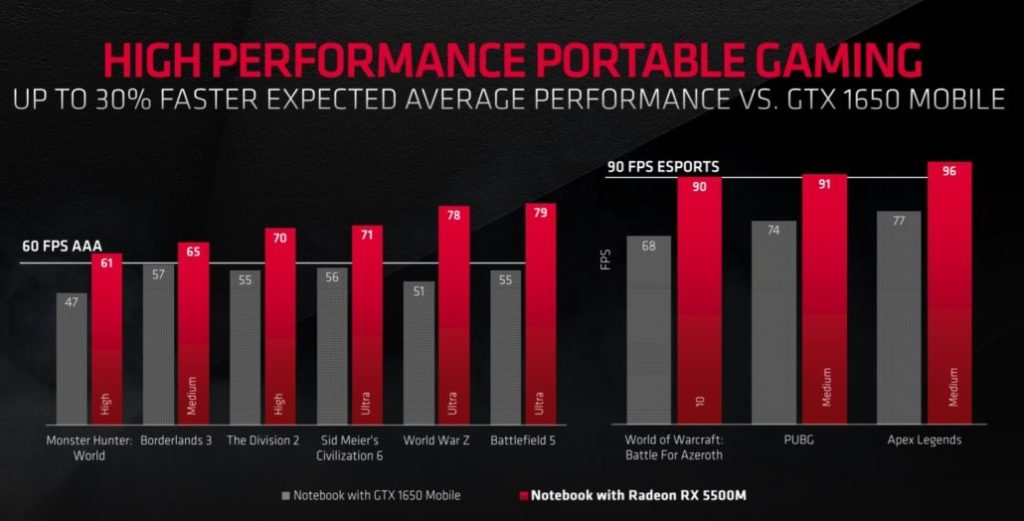 On the laptop side, you can expect the RX 5500M to be around 30 per cent faster than the GTX 1650. For mobile gaming, a laptop configured with the Radeon RX 5500M GPU provides up to 30 per cent faster performance on average than the competition and delivers up to 60+ FPS in select titles and up to 90+ FPS in selected games.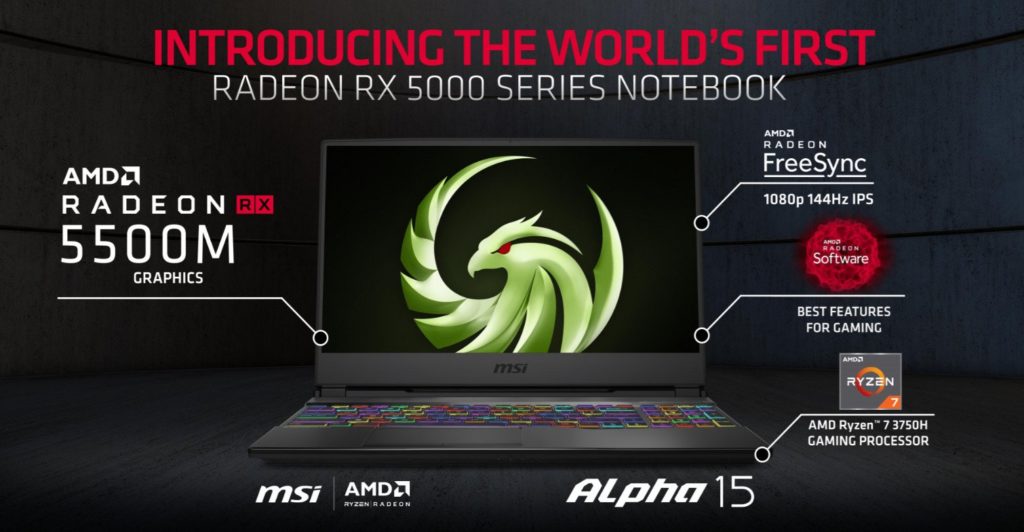 MSI Alpha 15 will be the first gaming laptop to use the RX 5500M, and it'll also feature a Ryzen 7 3750H processor and a FHD 144Hz display. AMD says you can expect to see other laptop makers using the RX 5500M soon.
These new GPUs might feature in the upcoming HP Omen Obelisk and Pavilion desktops and the Lenovo Legion T530 and IdeaCentre T540 gaming PCs. The desktop RX 5500 will be available in Acer Nitro PCs starting from December onwards.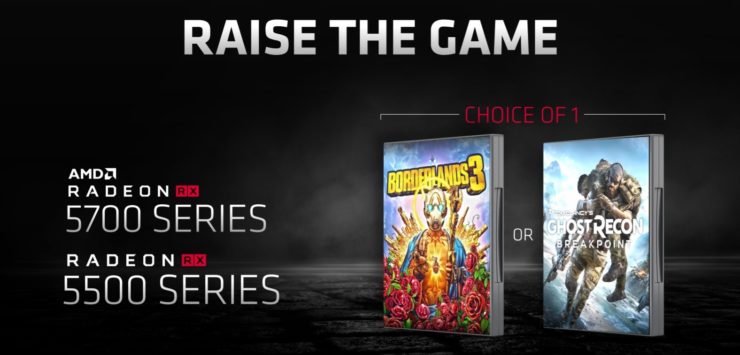 No official pricing has been released yet but we expect it to be competitive to the 150$ GTX 1650. AMD is also offering either Borderlands 3 or Ghost Recon Breakpoint with a purchase of 5500 or 5700 series cards as part of its ongoing Raise the Game bundle.
Do check out:
😎TechnoSports-stay UPDATED😎