At the COMPUTEX 2019, the Silicon giant AMD has announced its latest 7nm 3rd gen Ryzen Desktop CPUs, 12 cores and 24 threads only at $499
The day finally arrived which we all had been waiting for, the Red Team has announced the latest 7nm 3rd gen Ryzen products at the COMPUTEX 2019. The first keynote of the event was delivered by Dr Lisa Su, CEO of AMD.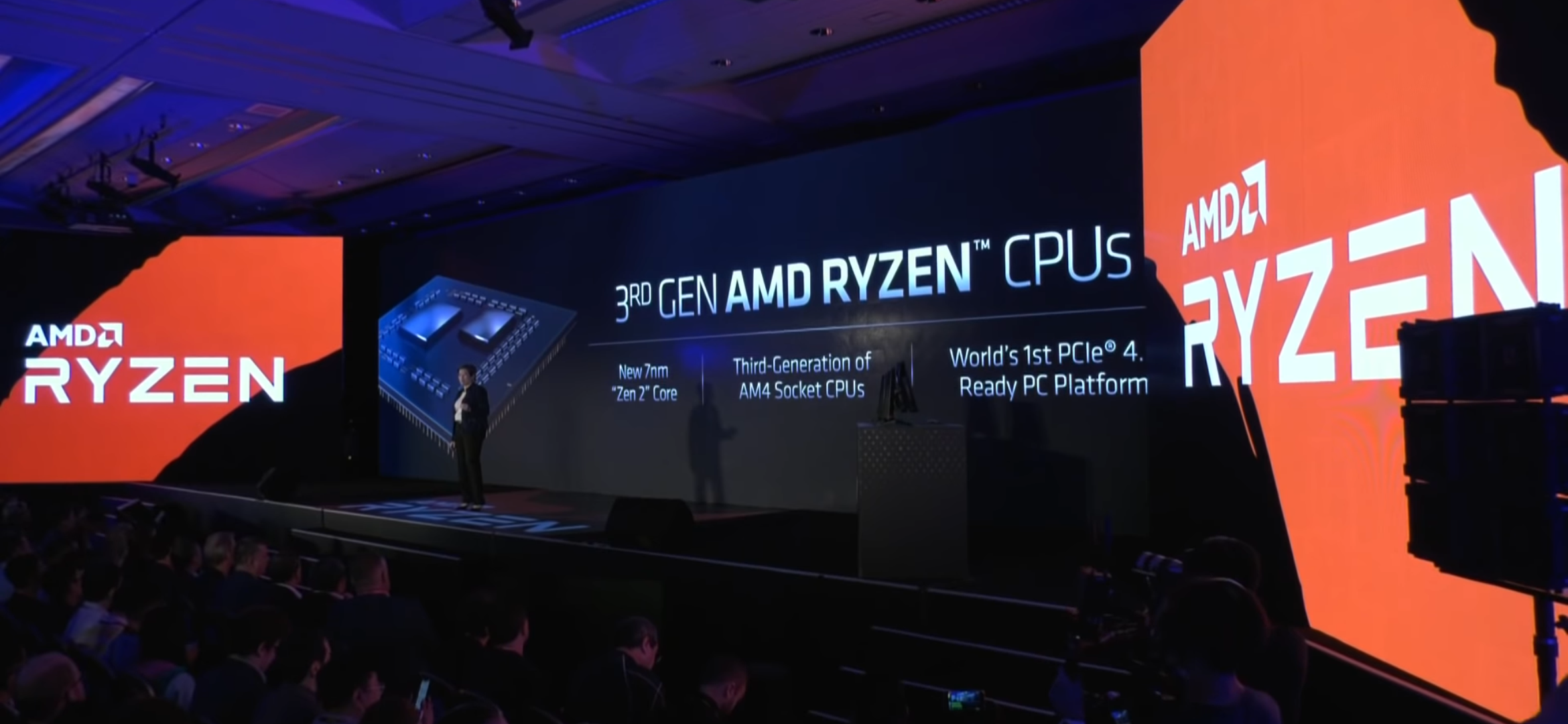 Apart from other launches by the company and announcements what really has made the headlines is the new gen Ryzen Desktop CPUs based on the much anticipated 7nm process. These CPUs are based on the company's Zen 2 architecture which is expected to provide much better performance from the previous generation ones.
Much like their competitor Intel, Dr Lisa has only previewed the higher end CPUs and promises to bring or rather reveal all of them at the E3 of 2019 which will be held on 7th July. The things that we noticed in the CPUs are: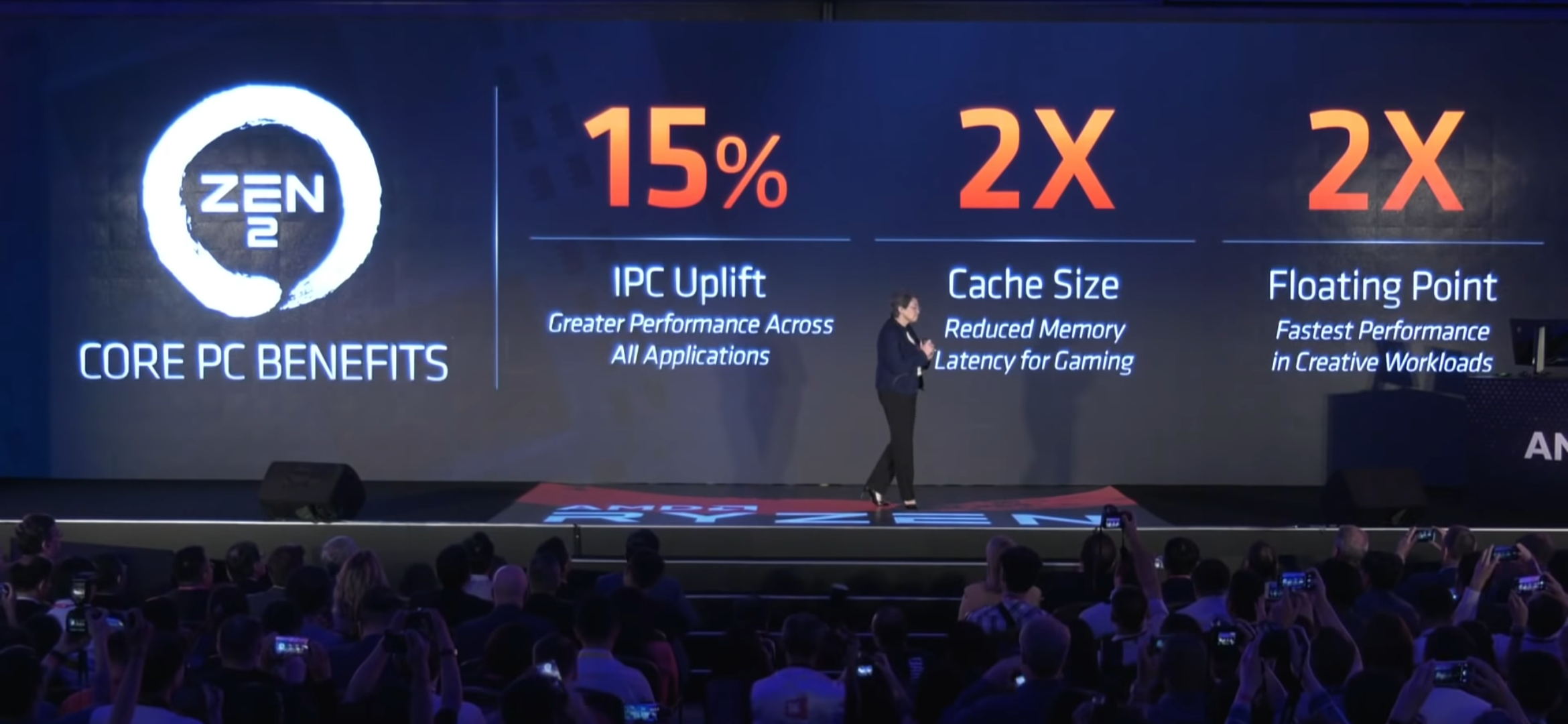 15% IPC uplift
2X more Cache memory
2X Floating Point performance
Better Single core performance
Higher clock speeds
Lower power consumption
PCIe 4.0 support
The amazing thing that you may notice is that we only though AMD would stack up more cores to beat its rival Intel, but its a smart move by them to increase the single core performance and help to increase the gaming performance.
Intel always boasted of their gaming performance of its CPUs because of their better single thread performance. Now, with the 3rd gen Ryzen CPUs, you'll notice a huge increase in gaming performance than ever before.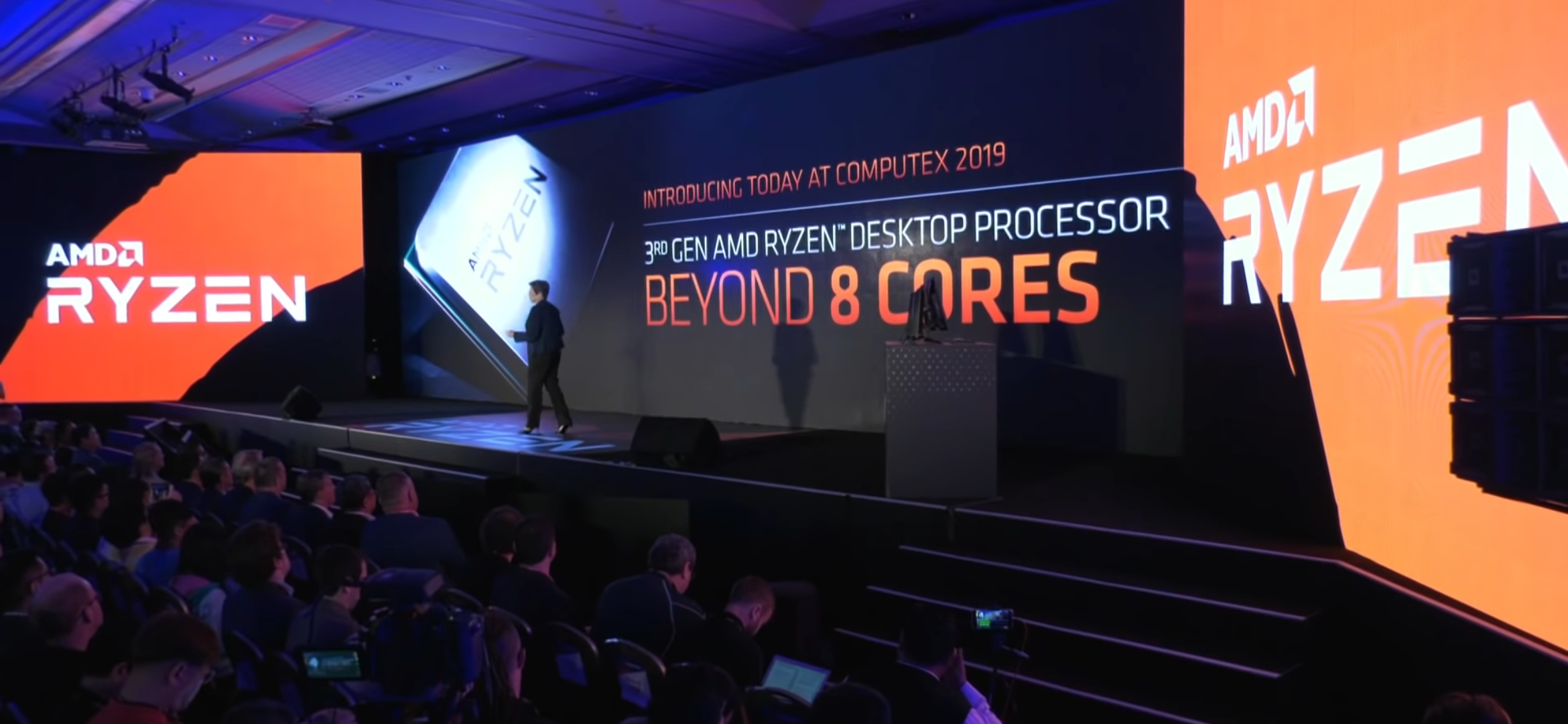 Also, the fact remains that the 3rd gen Ryzen CPUs will provide you with an immense multi-threaded performance that will critically help you in content creation or facing higher-end workloads, much better than Intel.
The inclusion of extra cache and higher clock speed has helps these new CPUs to achieve heights in matter of compute performance. Also the fact remains these CPUs stack up less space helping the company to play with the number of cores in future.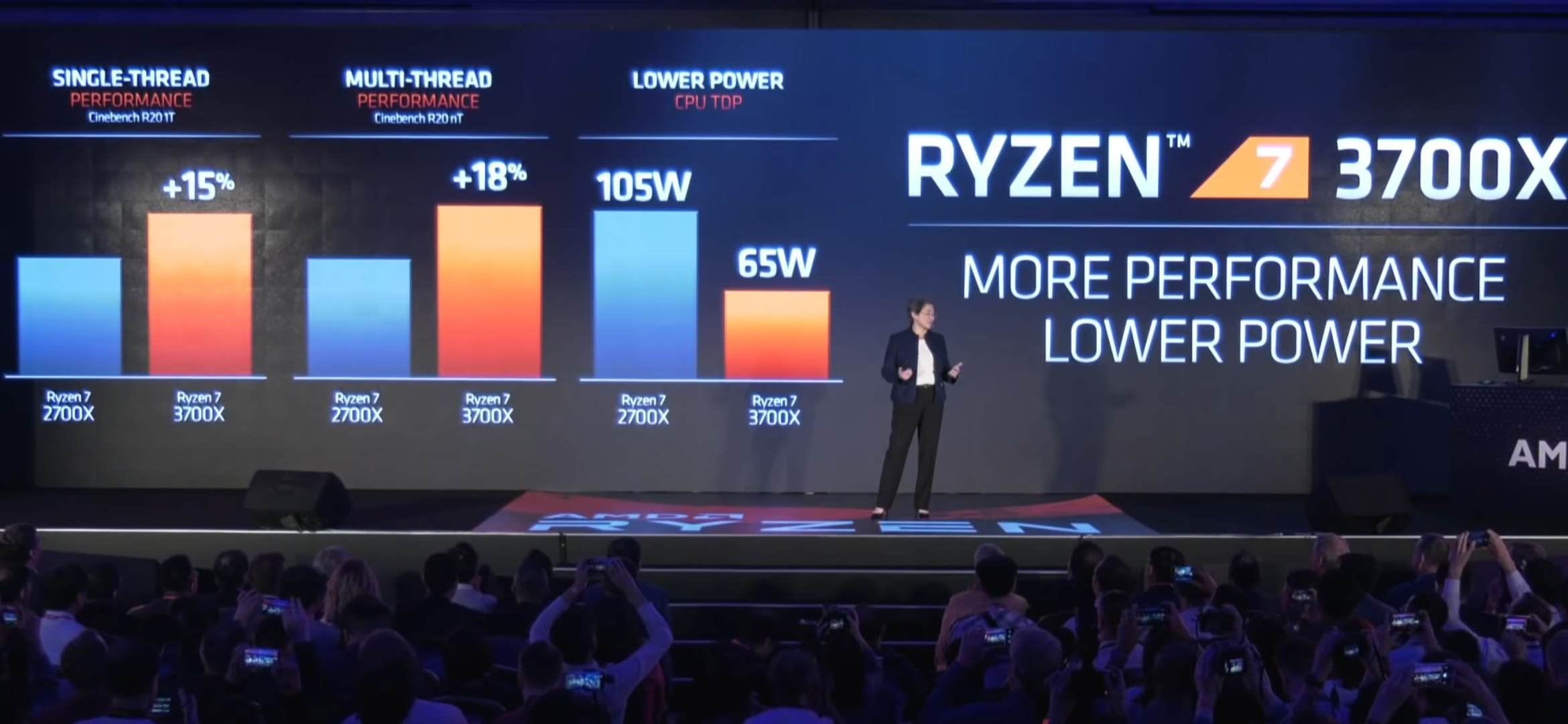 Another big point of the new CPUs is that the power consumption, which Intel always boasted of. We have seen AMD processors previously to use more power and faced heating issues. But with 7nm, the scenario has completely changed, adding more cores has not yet affected the power consumption at all.
So, here's the complete list of processors announced: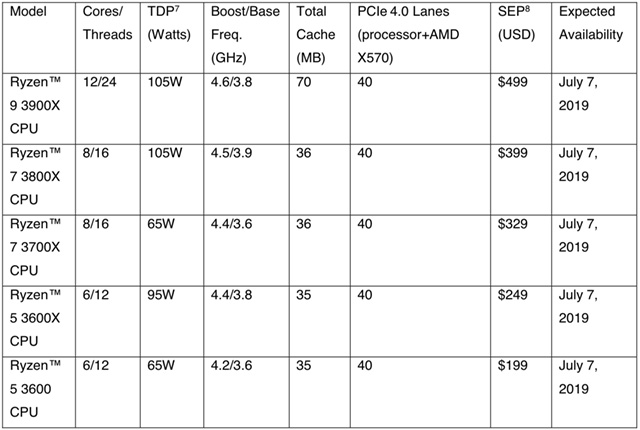 Let's break down those three processors that had been demoed today at the COMPUTEX: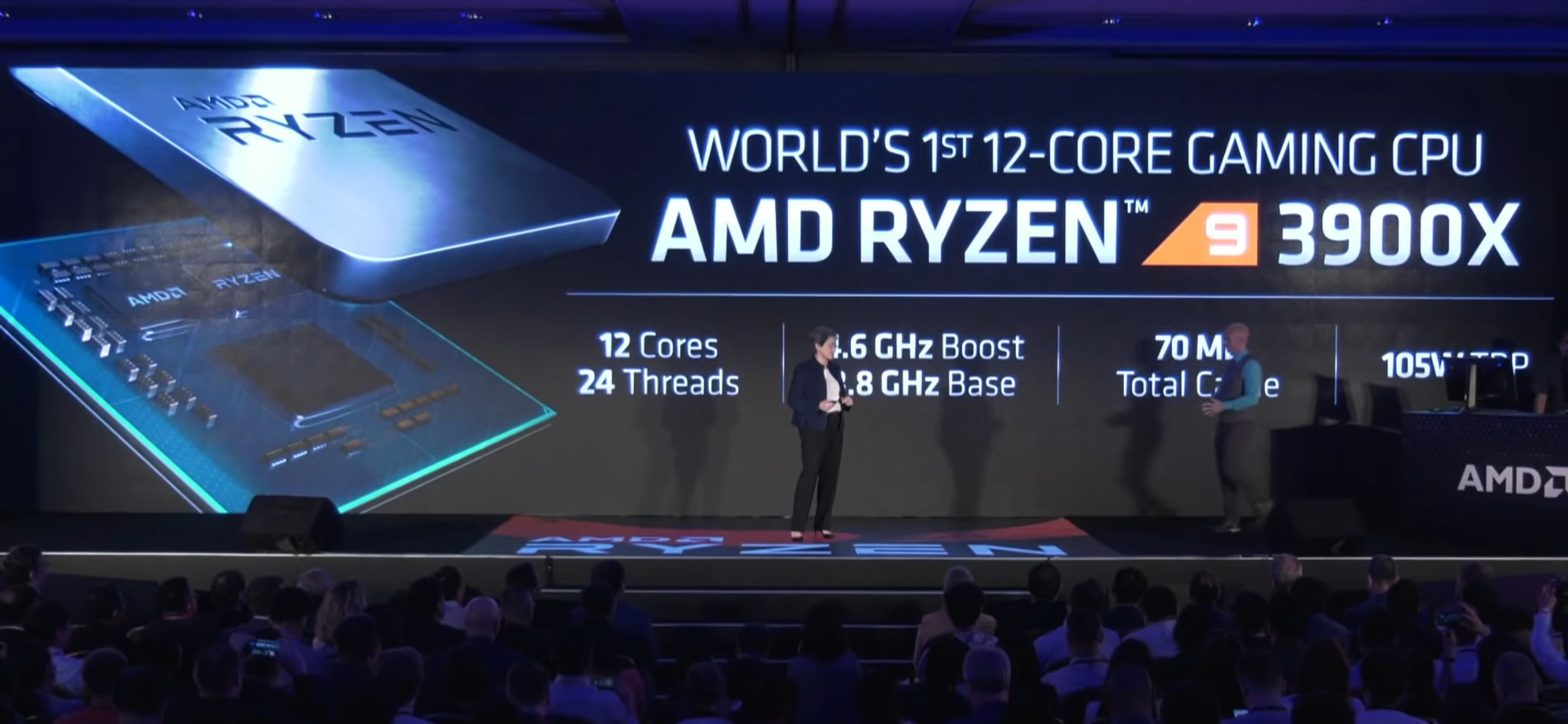 AMD Ryzen 9 3900X
This is the CPU that has completely changed the computing scenario, yes now you can get a total of 12 cores and 24 threads on a desktop CPU. Previous leaks also suggested of a Ryzen 9 lineup with 12 cores and later we also may see a 16 core CPU as well.
The chip has a TDP of 105 W and a huge cache of 70 MB. This beast has a base clock speed of 3.8 GHz and can reach up to 4.6 GHz on boost. This CPU has been priced at just $499 US and will be available from 7th July.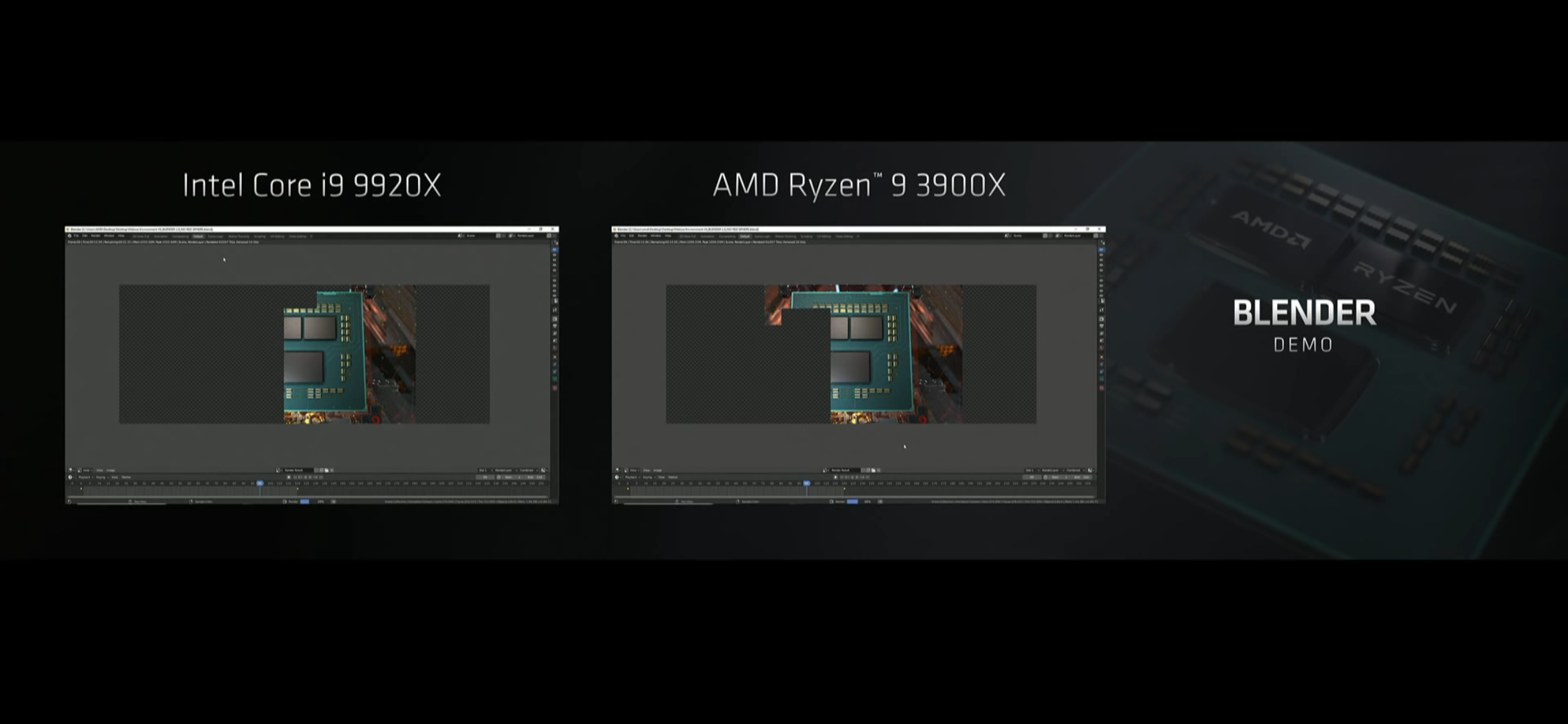 AMD showed off a demo of this CPU beating its competitor chip Intel Core i9 9920X (that costs almost double the price) in Blender Render Test by over 16%.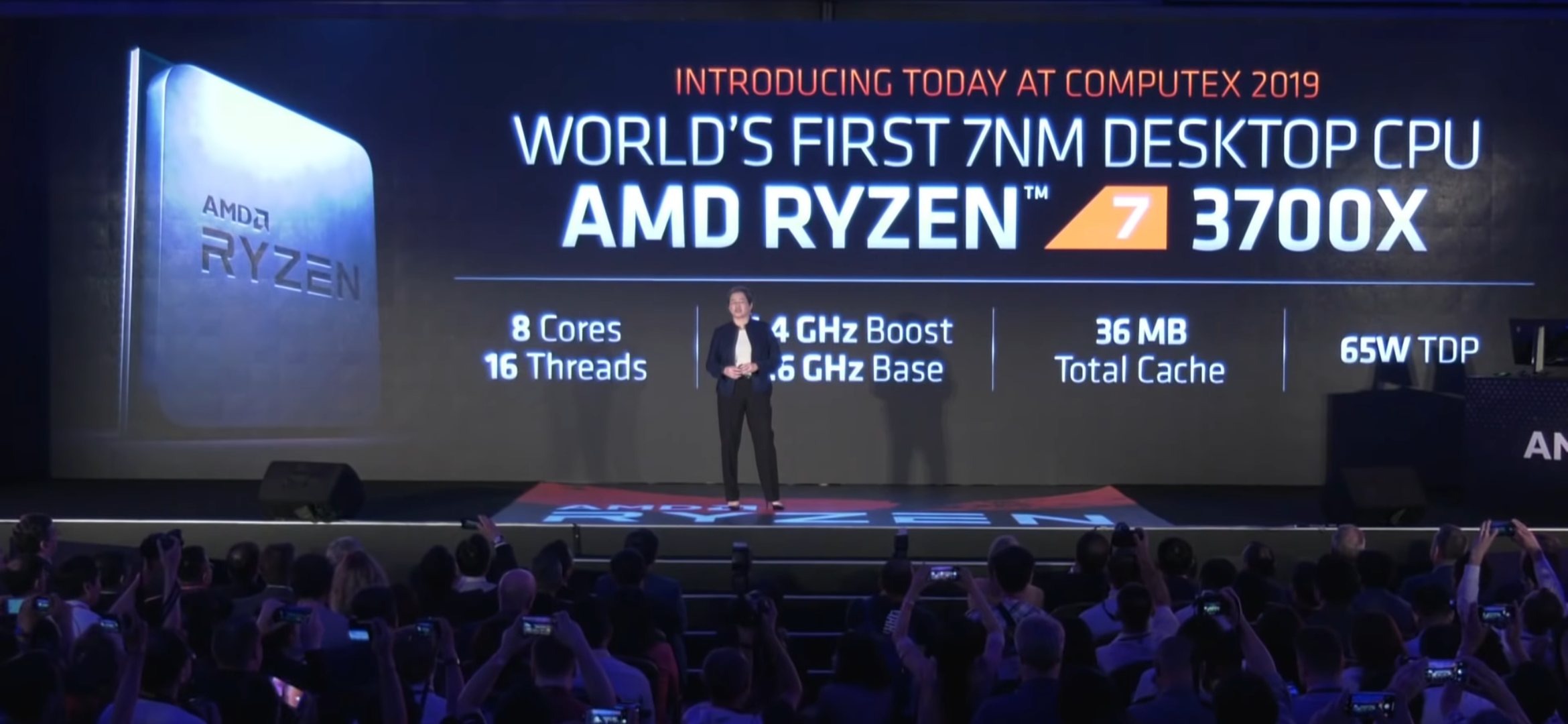 AMD Ryzen 7 3800X & 3700X
Both these CPUs continue the high performing legacy of the Ryzen 7 lineup, providing enough power to drive both the productivity and gaming performance.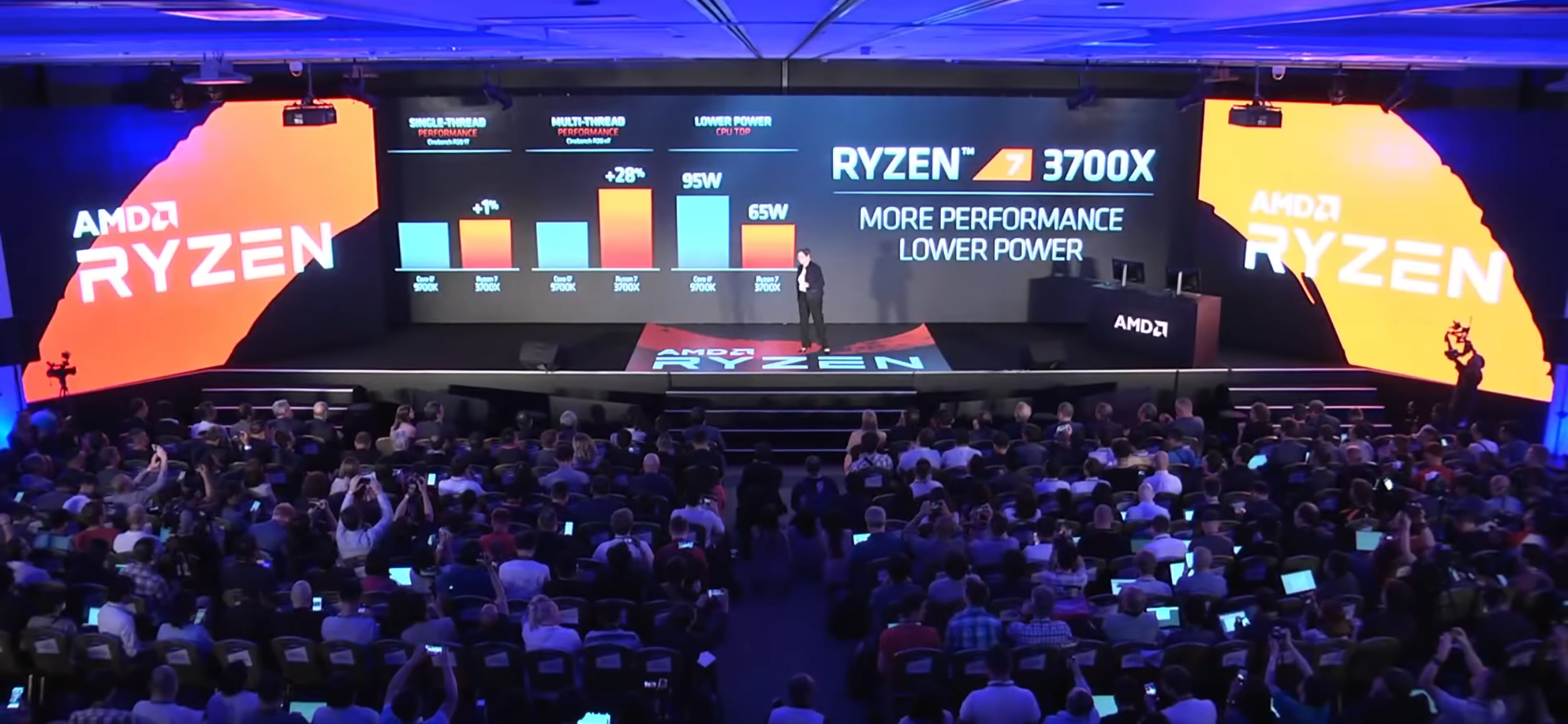 The AMD Ryzen 7 3700X is an 8 core, 16 thread CPU with a TDP of 65 W. It has a base clock speed of 3.6 GHz and a boost clock speed of up to 4.4 GHz. The cache memory here is also very high, as high as 36 MB.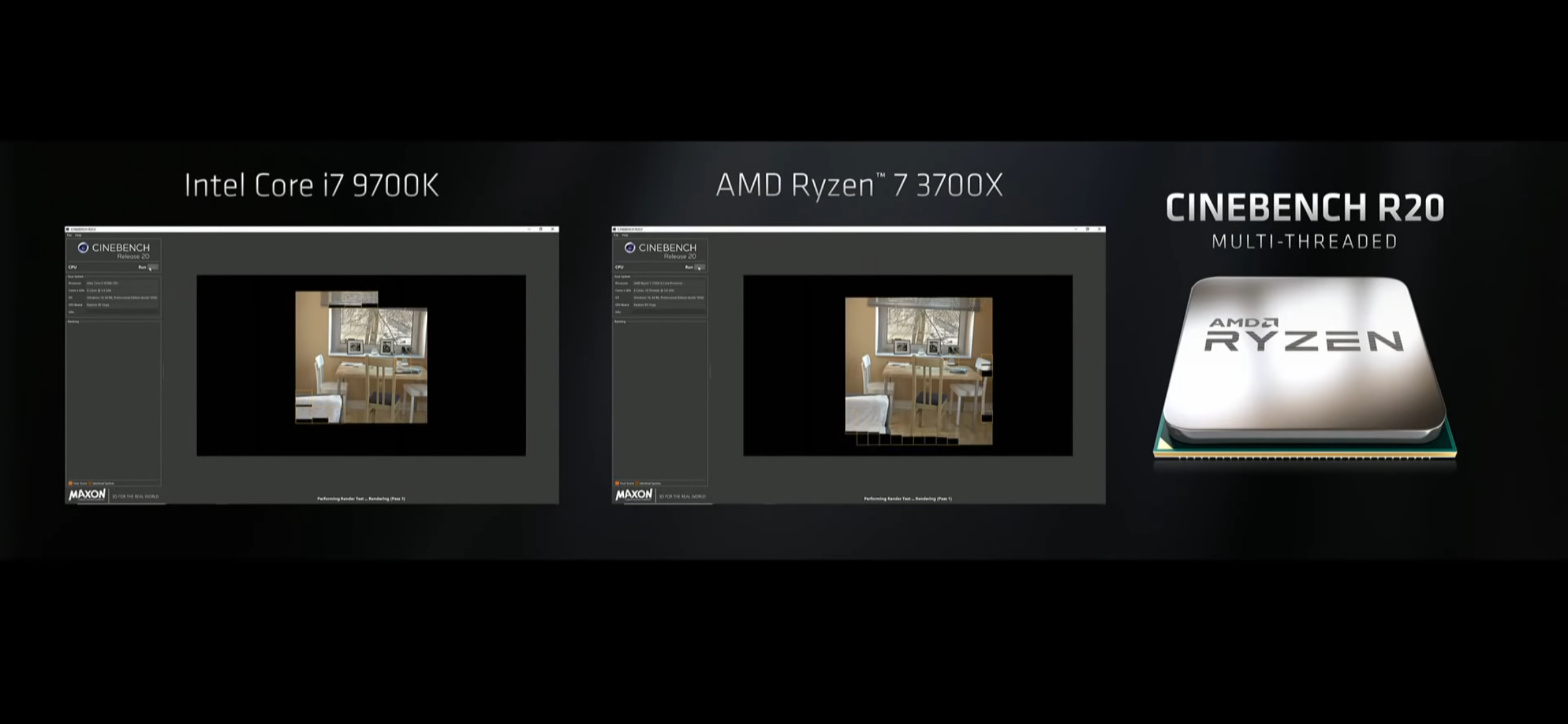 When compared with the Intel Core i7-9700K, this beast totally outperforms it. It is 28% faster in multi-threaded workloads and just levels the Intel one in single-threaded tests, which is truly amazing, finally, AMD levelling Intel on single core performance.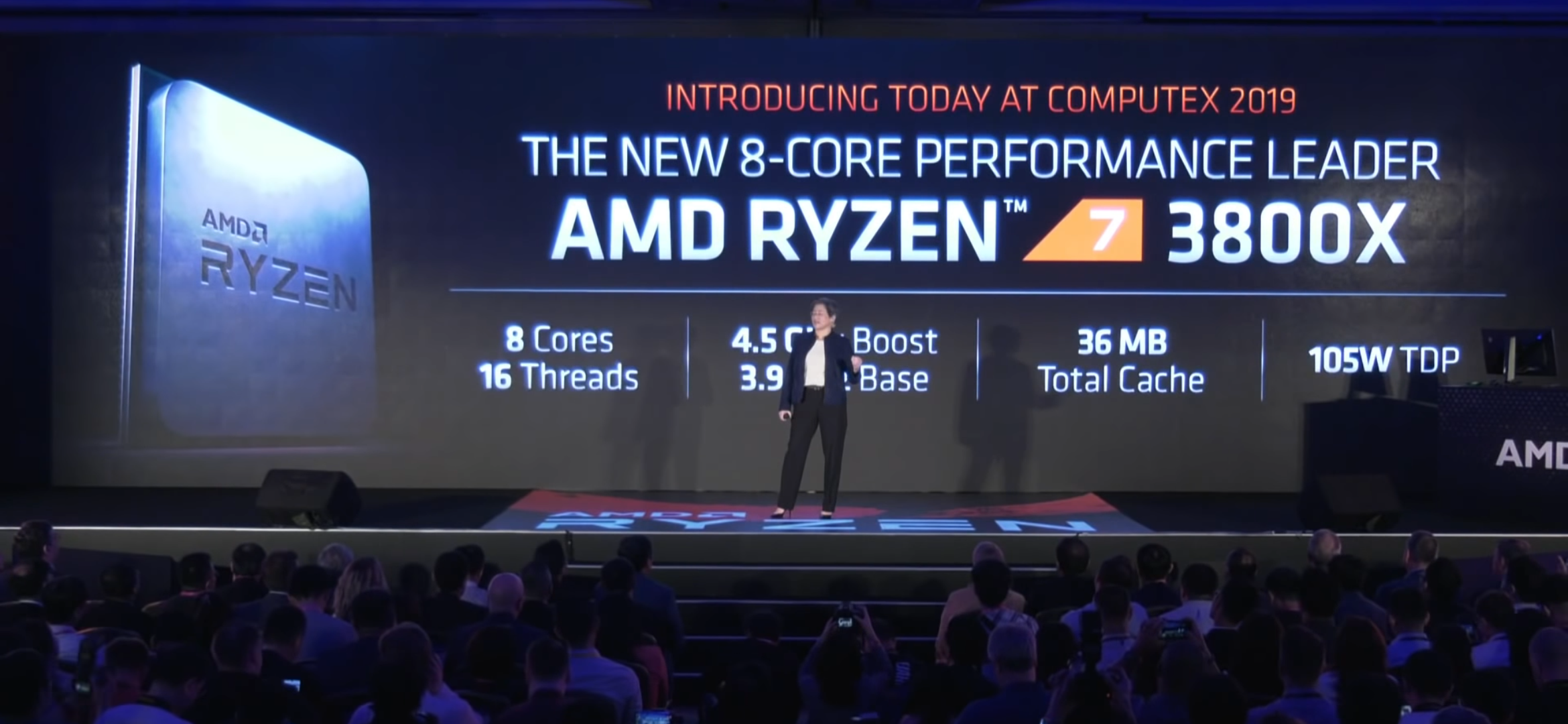 Coming to the Ryzen 7 3800X, this CPU is being branded to "the AMD gaming CPU" to look out for, as this provides a comparable performance to the high end i9 9900K at a lower price.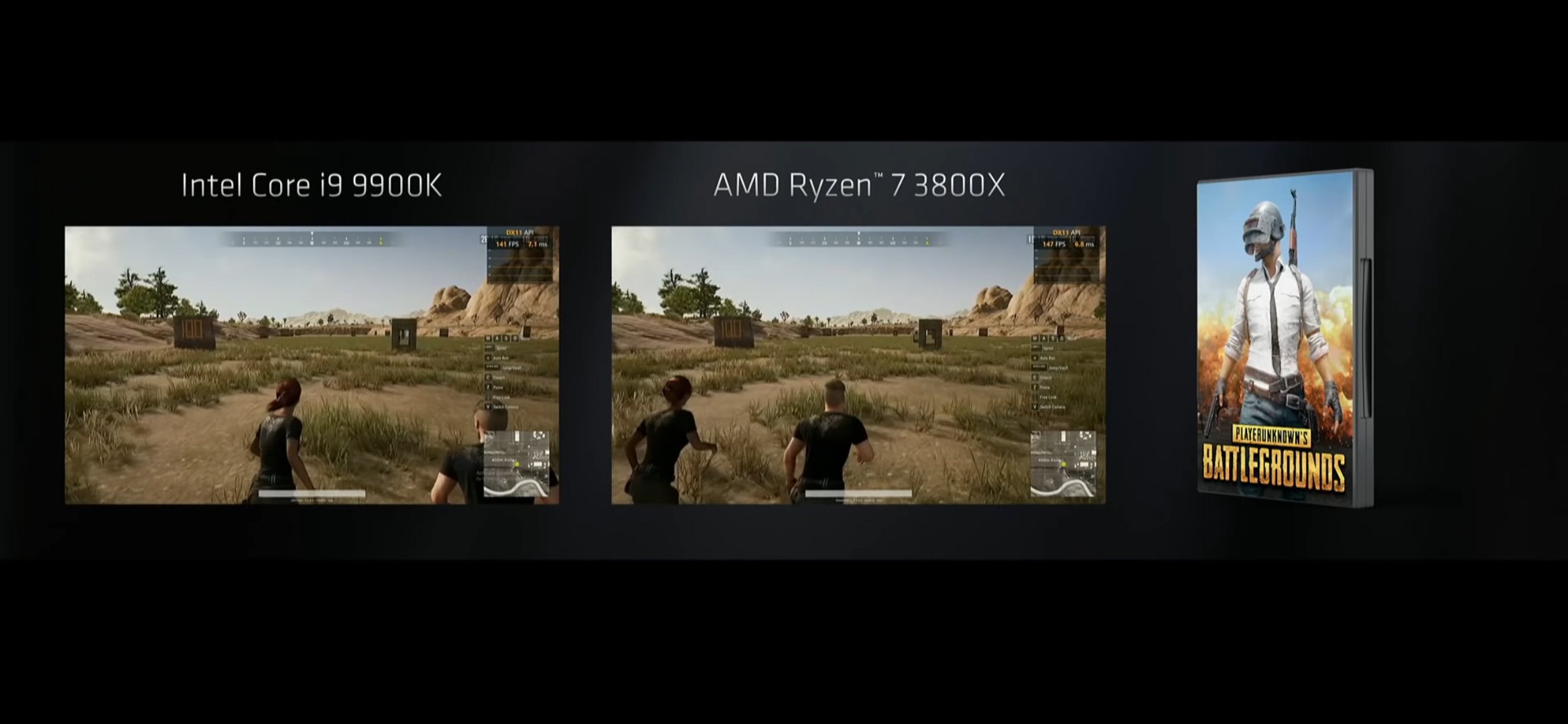 The 3800X bears the same 8 cores and 16 threads with higher clock speeds of 3.5 GHz base and a boost clock speed of 4.5 GHz. This higher clock speed increases the TDP to 105 W with 36 MB of cache memory.
The Ryzen 7 3700X will be available for a price of $329 US while its brother 3800X will cost you $399 US.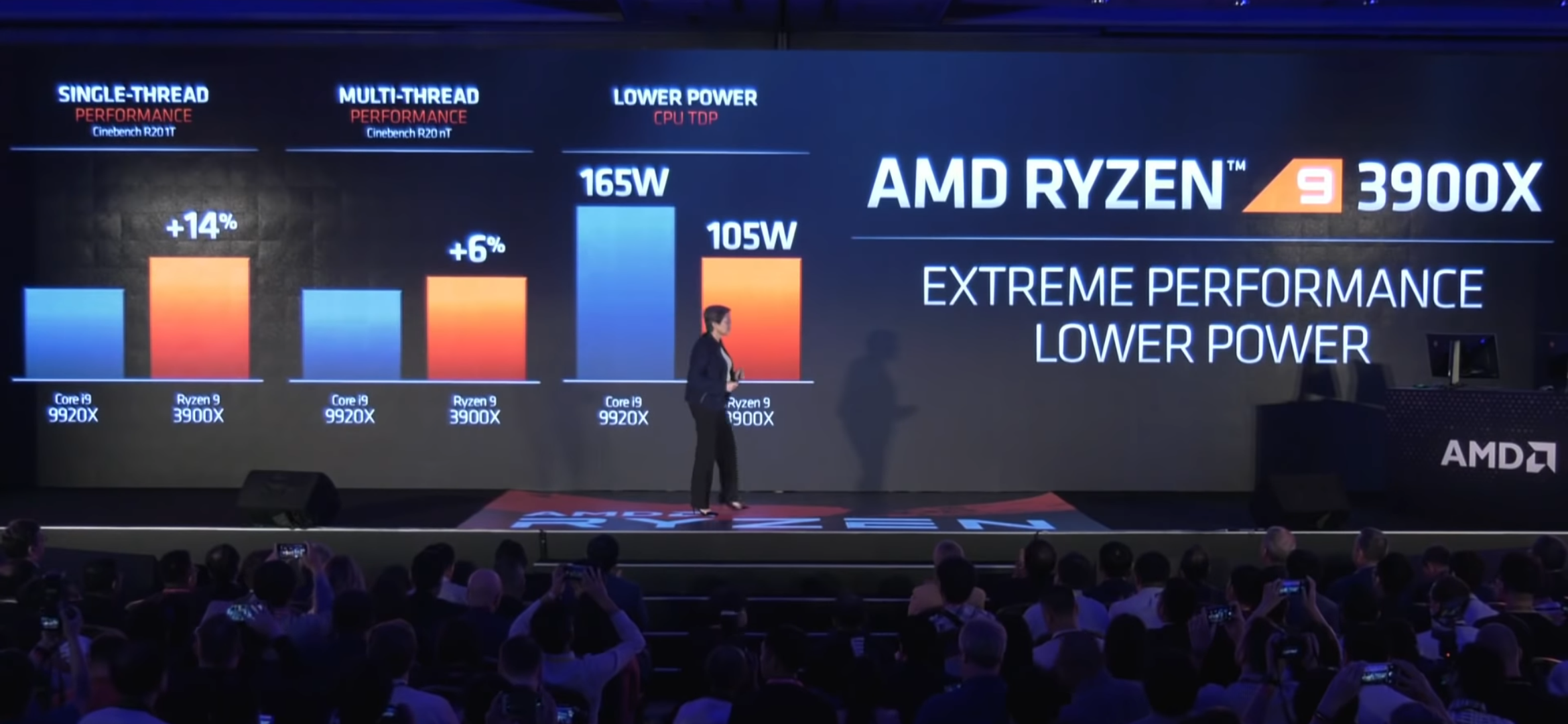 Well, this was a simple overview of the product launch, in coming days we will discuss more facts about the Zen 2 architecture and the improvements laid by it on the new 3rd gen Ryzen CPUs.
So, are you excited about the new 7nm 3rd gen Ryzen CPUs? Tell us in the comments below… 🙂
Do check out:
😎TechnoSports-stay UPDATED😎