Football, the most popular sport in the world, has seen extraordinary teams throughout its history that have demonstrated the verve and artistry of the beautiful game. The best football teams need to have played attractive but effective football in a climate of high technical standards and also win trophies while enduring an era of stiff competition and intense rivalry.
Here are the top 10 best football teams of all time that meet those criteria, chosen from the entire history of international and club football. 
Top 10 Best Football Teams Of All Time
10. Arsenal (2004)
What better team to start off the list than with 'The Invincibles'. This Arsenal team went through the entire 2003–04 Premier League season unbeaten. Almost three decades since the Premier League began, and 2003-04 Arsenal is still the only team to win the league without incurring any defeats.
The team included a strong strike force of Theirry Henry, Dennis Bergkamp, and Robert Pires with the fierce captain Patrick Vieira. Arsenal's swift, attacking style of football destroyed the opposition, taking them to the league title in emphatic fashion with 26 wins and 12 draws. Their 49-game unbeaten record led to them being declared the Premier League's best-ever team.
Top 10 Best Football Teams Of All Time
9. Milan (1988–1994)
During the illustrious 6-year period from 1988 to 1994, AC Milan won the European Cup, now known as UEFA Champions League, thrice and the Italian League four times. AC Milan was the powerhouse of European football at that time thanks to coach Arrigo Saachi, who revolutionized football by introducing the pressing game. The team consisted of world-class players like Ruud Gullit, Paolo Maldini, Frank Rijkaard, Marco Van Basten, and Franco Baresi.
Top 10 Best Football Teams Of All Time
8. Ajax (1965-1973)
In coach Rinus Michels, the club's trademark 4-3-3 formation was established. With chaotic position switching and teamwork, 'Total Football' was invented. Drifting centre-forward, a legend of the game, Johan Cruyff was the undoubted star, conducting his orchestra with typical pomp. Arie Haan and Gerrie Muhren the tactical discipline, Johan Neeskens provided midfield legs, and centre-back Velibor Vasovic the Yugoslav steel.
Ajax's 4-3-3 remains football's most flexible formation even after 4 decades after its pinnacle when they won the European Cup in 1973, their third in a row. But it's the way they made you feel – the long hair, rock-star swagger, and beautiful play – that sets them apart.
Top 10 Best Football Teams Of All Time
7. West Germany (1972–1974)
Some of the best football players of all time were part of this German team that won the 1972 European Championships and the 1974 World Cup. Led notably by 'Der Kaiser' (The Emperor) Franz Beckenbauer, the team also included Berti Vogts and their prolific striker, Gerd Müller. This historic team denied Johan Cruyff's famous 'total football' Dutch team with a 2-1 victory in the final of the 1974 World Cup. The video below shows the highlights from this epic final.
Top 10 Best Football Teams Of All Time
6. France (1998–2000)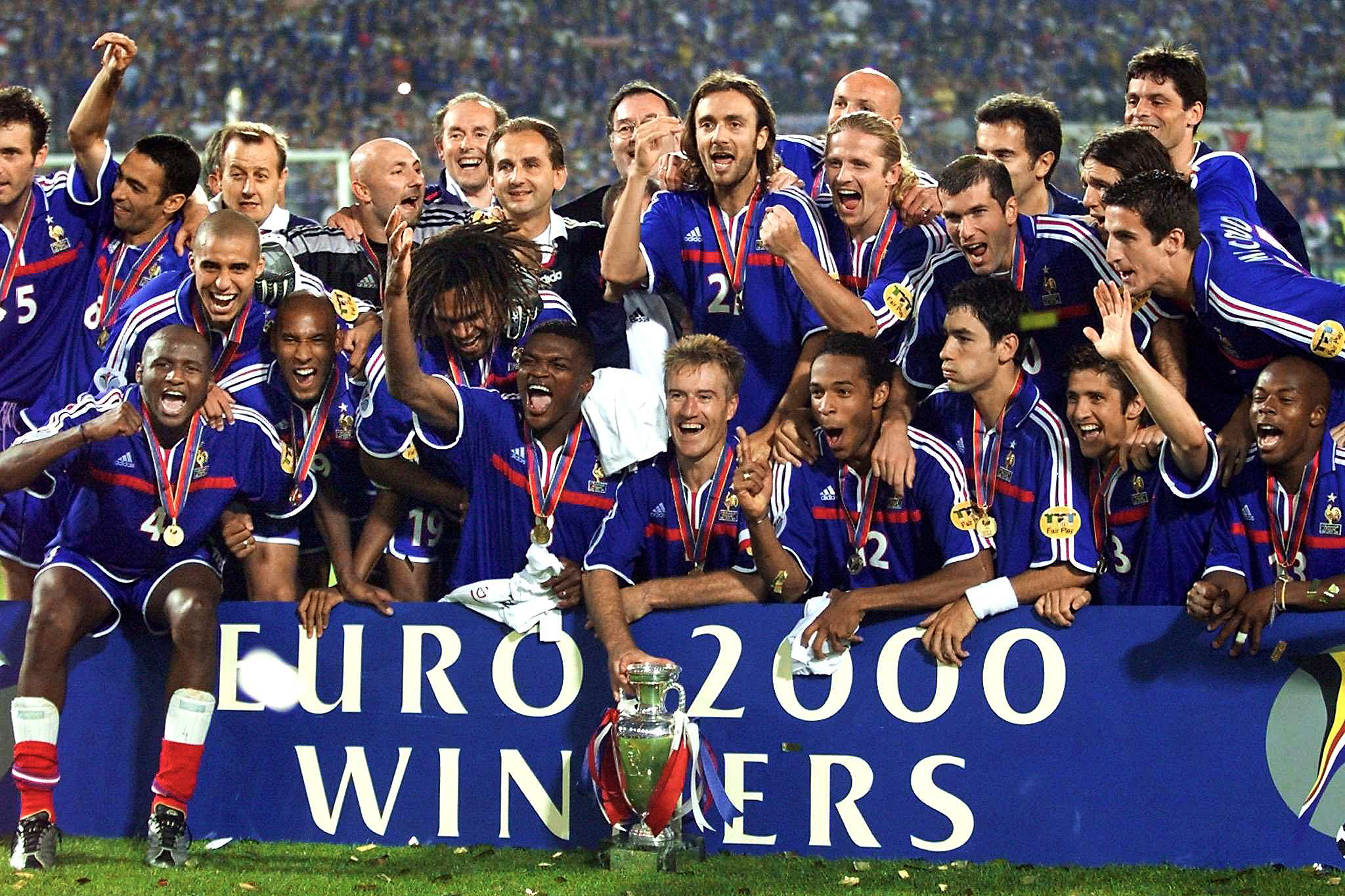 France won the 1998 World Cup and 2000 European Championships. They beat the hot World Cup favourites Brazil 3-0 in the final and defeated Italy 2-1 with a golden goal from David Trezeguet in the Euros. An absolutely star-studded team saw them having world-class players in every position. Thierry Henry, Zinedine Zidane, Didier Deschamps, Lauren Blanc, and Lilian Thuram were among them.
Top 10 Best Football Teams Of All Time
5. Real Madrid (1955–1960)
The oldest team on our list, the Real Madrid team of the late '50s dominated world football led by names we still hear today, Alfredo Di Stéfano and Ferenc Puskas. They won the European Cup (Champions League) five times in a row from 1956 to 1960. The video below shows the 1960 final when they beat Eintracht Frankfurt 7-3 in one of the greatest footballing displays of all time.
Top 10 Best Football Teams Of All Time
4. Manchester United (1999)
The only English Premier League team to win the prestigious treble, the Manchester United team of 1998–99 won the Premier League, FA Cup, and Champions League in a single season. The speciality of this team was that it included homegrown talent at its core, the Class of '92, David Beckham, Nicky Butt, Ryan Giggs, Gary Neville, and Paul Scholes.
It included other greats of the game such as Roy Keane and Peter Schmeichel. Like many of Sir Alex Ferguson's teams of 26 years, they fought until the last whistle, and this was demonstrated in no greater way than the 1999 Champions League final. Against Bayern Munich, they came from a goal behind to win with two late goals from Sheringham and Solskjær.
Top 10 Best Football Teams Of All Time
3. Barcelona (2009)
Ten years after Manchester United's historic achievement, Barcelona created history by becoming the first-ever Spanish club to win a treble. Ironically, they beat United in the final of the Champions League 2-0, while also winning La Liga and the Copa Del Rey. This season saw the emergence of Lionel Messi as the best player in the world under the guidance of one of the world's best football managers, Pep Guardiola. Pep brought about the emergence of Barcelona's tiki-taka style of play. This ensured that they also won the domestic and UEFA Super Cups and the FIFA Club World Cup in 2009, turning their treble into a 'sextuple'.
Top 10 Best Football Teams Of All Time
2. Brazil (1970)
Arguably, the greatest World Cup performance of all time, Brazil's 1970 World Cup team was a joy to watch. They scored 19 goals in six games, culminating in a 4-1 hammering of Italy in a final where Carlos Alberto scored one of the best goals of all time. The beautiful brand of attacking football was displayed by greats such as Pele, Gerson, Jairzinho, Rivelino, and Tostão.
Top 10 Best Football Teams Of All Time
1. Spain (2007–2012)
For winning three successive international football tournaments in the recent cutthroat era of competition, the best football team of all time has to be Spain. They won the 2008 and 2012 Euros and the 2010 FIFA World Cup. They went unbeaten for 35 games between 2007 and 2009 including winning all ten of their 2010 World Cup qualification games.
This team's speciality and maybe a reason for their achievements is that it was formed almost exclusively from the Barcelona and Real Madrid teams. David Villa, Xavi, Andres Iniesta, Carles Puyol, Sergio Ramos, Pique, and Xabi Alonso, are some of the big names led by Goalkeeper and captain Iker Casillas.
Do check out: Top 10 most popular sportsmen in the world