The Playoffs will feature 6 invited teams from India and 1 from Bangladesh and Sri Lanka each
The Finale will feature 2 qualified South Asian teams from playoffs and 2 invited Southeast Asian teams
Gaming and esports company, Penta Esports has announced the launch of its latest IP, the 'Penta Pro Series'. The tournament is a Riot Games' VCT Off//Season Official event and features a prize pool of $30,000.
Starting on 12 December, 8 South Asian teams – 6 from India and 1 from Bangladesh and Sri Lanka each, will battle it out in the playoffs till 18 December, in a double elimination format. Two teams that will qualify from the playoffs will join 2 invited Southeast Asian teams at the Finale. The Finale will be played from 21 to 24 December. The 4 teams will play in a round robin format from 21 to 23 December, with top 2 teams from the round robin playing the Grand Finals on 24 December.
- Advertisement -

The 8 South Asian teams that have been invited for the tournament are Velocity Gaming, One Chance, Revenant Esports, Gods Reign, Wide Swing and Reckoning Esports from India. Exceeli Esports and Vorpal Swords will join in from Bangladesh and Sri Lanka respectively. The 2 Southeast Asian teams invited for the Finale are Boom Esports from Indonesia and Bleed Esports from Singapore.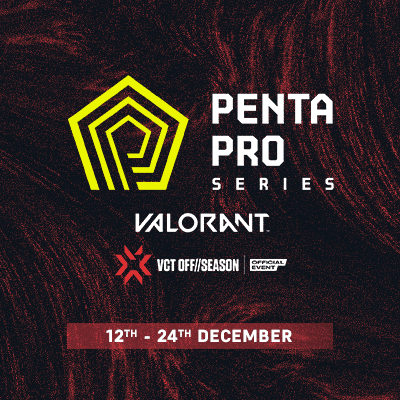 Says Penta Esports, CEO and founder, Anurag Khurana, "With the 'Penta Pro Series – Valorant' we want to push geographical boundaries and provide Indian players with an opportunity to compete with international teams. This would be a great way for players and fans alike to end the year on a high note! I would like to thank Riot Games for giving us this opportunity to host a VCT off season event."
All the matches will be broadcast live on Penta Esports' official Facebook page, YouTube, Twitch, in english while the Hindi broadcast will be done exclusively on Penta Esports' channel on Loco.
The complete details of the tournament are available on Penta Esports' platform, pentaesports.com. The platform is a one stop destination for all things Penta, including match schedules, match results, VODs of tournaments and leagues, content, news, announcements and much more.
Founded by industry veterans Anurag Khurana, Kiran Noojibail, Akshay Paul and Krishanu Ghosal, Penta Esports aims to disrupt the ecosystem in India with a holistic approach towards the sector, including leagues, tournaments, content and much more.
- Advertisement -