At last, the trailer of Akhil Akkineni and Pooja Hegde's upcoming film has been released. The story is based on the tale of Harsha and Vibha.
It has been touted as such a romantic entertainer, and the story of the movie revolves around the tale of the young NRI Harsha who has faced many struggles to find out the real soul mate. She has, at last, find her soul mate and falls in love with the stand-up comedian Vibha.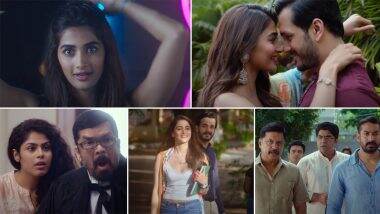 In this, we will see the romantic love chemistry of Harsha and Vibbha who will make an amazing bond over many things, but one problem is their opinions are different bin the concept of marriage. Now we have to wait to see that Harsha will be able to manage the things or not. This movie will contain such hilarious events that are definitely can evoke laughter among the audience.
- Advertisement -
Cast
This film will feature Eesha Rebba, Faria Abdullah, Aamani, Murali Sharma, Vennela Kishore, Jayaprakash, Pragathi, Amit Tiwari, and Posani Krishna Murali in the lead role. It has been directed by Bommarillu Bhaskar and GA2 Pictures. This movie has been cinematographed by Pradeesh Varma. On the board of the music, there is Gopi Sundar. It is reported that this shoot and the post-production works have been completed.
Release date
This film will release in the theater on 15th October 2021. There is also a new theatrical trailer revealed about 30th September.
Here is the trailer:
A big thanks for the source.