There are so many smartwatches and a few fitness trackers that arrive in the Indian market in the last few weeks. Those products also will be there on sale during the Amazon Prime Day sale. So, here are the newly launched wearables you can get from Amazon on 26th and 27th July.
HUAWEI Band 6
Offer Price – Rs.4,490
Spo2 Monitoring Throughout the Day:Huawei band 6 has a built-in spo2 detection system that monitors your blood oxygen saturation 24/7. If it falls too low the band will vibrate, so you can take time to breathe and regain your balance.(Note:This product is not a medical device, and is not intended to diagnose, treat, cure or prevent any disease. )
All Day Heart Rate Monitoring: HUAWEI Fitness Tracker TruSeen 4.0 heart rate monitoring technology uses an optical lens and data-based data processing to accurately monitor your heart rate 24 hours a day. Be instantly alerted when your heart rate drops below or rises above safe levels.
1.47'' FullView Screen: Huawei band 6 has a 1.47-inch amoled fullview screen, the size of the display area is 1.48 times larger, and a low-frame 64% screen-to-body ratio. Combine that with the high-resolution 194×368 display at 282 ppi and you have something really impressive to look at on your wrist.
2 Week Battery Life: The endurance athlete in the wearables world, HUAWEI band 6 offers an incredible battery life of 14 days for typical use, and 10 days for heavy ones. When you run out of battery, no problem – you can get 2 days of rom use just 5 minutes of charging time with magnetic charger. Life is too short to always be without it.
96 Different Exercise Modes: When you're putting all your effort into working out, let huawei band 6 take care of the rest. Choose from up to 96 different exercise modes, and keep track of your heart rate, calories and more. All your data can be stored and analyzed in easy-to-read graphs, so you can chart your fitness journey and set goals that inspire you.
Link: https://amzn.to/36ZFCYO
Chumbak Squad 
Offer Price – Rs.4,499
This Squad Smartwatch- Tropical Paradise by Chumbak powered by Pebble comes in 6 iconic original Chumbak Bands, a 1.4′ full touch screen with dynamic display and full touch control along with 100+ Watch faces
It offers real time and 24X7 health monitoring, continuous blood oxygen monitoring SpO2, tracks menstrual cycle, monitors sleep quality, continuous heart rate & blood pressure tracking.
With a step pedometer, it monitors your calorie burn for 7 sport modes- walking, running, cycling, skipping, badminton, basketball, football & calorie burnt monitoring.
It provides seamless sync with WhatsApp, EMAIL, SMS, social media, call notification, google fit app and music control.
The powerful 150 mAh battery along with the advanced smart sensors give the Chumbak Squad a massive stand by battery backup of 14 days along with 7 days of active use.
Link: https://amzn.to/3kTTk7C
Gionee Stylfit Series
Offer Price – Rs.2,999 (starting price)
Link: https://amzn.to/3zsNAps
Crossbeats Orbit
Offer Price – Rs.4,499
The Orbit comes with a highly responsive 1.3" full touch IPS display with an all-metal casing. Greater resolution for a more precise color output along with a smooth UI adds up to a perfect combination. A classic smartwatch for men & women.
Integrated with motion sensors, the Orbit can track your steps, calories, distance and all other sports activities and workouts with utmost precision. For detailed analysis of your workout check the smart app.
You can now attend or dial voice calls from your Orbit smartwatch. Powered by Bluetooth, all voice call can be answered on your smartwatch without needing to take your smartphone out from the pocket. NOTE: Phone and smartwatch needs to be paired.
Orbit comes with a HD mic and speaker setup on the watch to ensure everything you communicate through the watch is crystal clear. It has a touch dial pad in case you need to dial a call. You can also play music via the watch speaker.
Fully water and swim proof, the Orbit smartwatch comes with nano sealing technology around the bezel and the casing to ensure there is no water seepage whatsoever. Enjoy outdoors bolder with the Orbit on your wrist.
Link: https://amzn.to/3kV0I2G
Crossbeats Orbit Sport
Link: https://amzn.to/3i3aFcp
Probble Cosmos
Link: https://amzn.to/3BHBYRE
Amazfit Zepp Z 
Offer Price – Rs.25,999
Sophisticated Titanium Alloy Crafting
SpO2
12 Sports Modes
5 ATM Waterproof
Over Two Weeks of Battery Life
Link: https://amzn.to/3kSFnqA
Honor MagicWatch 2
Offer Price – Rs.10,999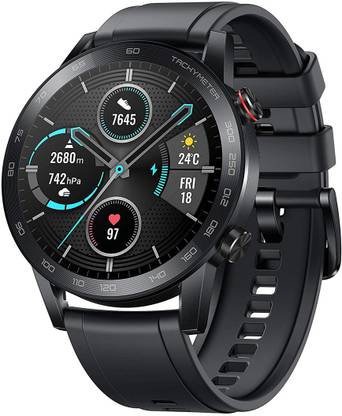 46mm (1.39-inch) AMOLED Color Full Touch Screen
SpO2 Monitor It Detects the Oxygen Saturation Levels
Bluetooth Calls: Call, Answer, Decline calls & Call Waiting, Contacts list, Call Records
Watch Faces Store: Multiple & Customizable Watch Faces 100+ Workout Modes
Music Playback Control music and 4GB built-in storage
Battery Life 455 mAh Battery lasts for up to 2 Weeks
Other Health Monitors: 24/7Heart Rate Monitor, TruSleep Monitor, Stress Test
With Call Function
Touchscreen
Fitness & Outdoor
Battery Runtime: Upto 14 days
Link: https://amzn.to/3kPK8kR