Looking for an absolute gaming beast? The new ASUS ROG Zephyrus M16 launched in 2021 came with a lot of valuable upgrades over its predecessor, the most significant upgrade being the display. Now, boasting a modern 16:10 aspect ratio, this small change gives gamers more screen to game on.
Also, now ASUS has used Intel's latest 11th Gen Intel Tiger Lake-H processors based on 10nm process, this brings best-in-class gaming performance, also thanks to new NVIDIA GeForce RTX 30-series GPUs. This incredible combo brings significant gaming numbers in most games, and you can comfortably play at 1440p for almost all games.
The Zephyrus M16 is a viable successor to last year's Zephyrus M15 and is the world's first gaming laptop to feature a 4-sided super narrow bezel display. In terms of performance, it is very similar to the more economical ASUS TUF Gaming F15; however, here, you can opt for a more powerful RTX 3070 GPU.
- Advertisement -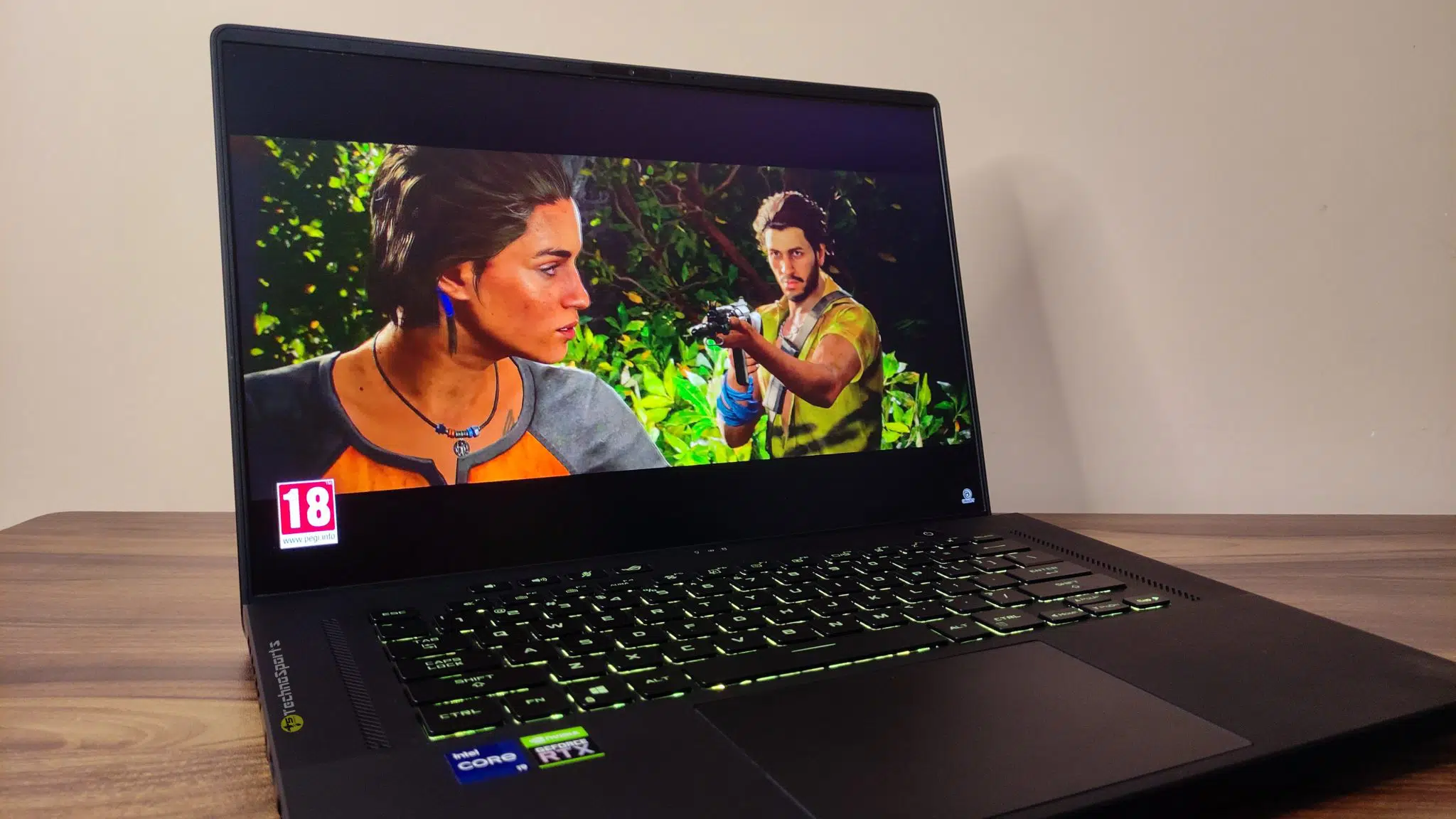 With a wide variety of I/O ports, the latest connectivity options, significant gaming performance under 1.9kg, this is undoubtedly one of the most premium gaming laptops I have ever tested. Here are the specs of the laptop we received for the review:
Specifications
16-inch IPS-level, 16:10, Pantone validated, 100% DCI-P3, 2560 x 1600p 165Hz (3ms)
Intel Core i9-11900H Processor 2.3 GHz (24M Cache, up to 4.8 GHz, 8 Cores)
32GB DDR4 RAM, 2*PCIE SSD Slot M.2 2TB capacity
NVIDIA GeForce RTX 3070, 8GB GDDR6 (80+20) W [TGP + Dynamic Boost]
1x HDMI 2.0b / 1x USB 3.2 Gen 2 Type-A / 1x USB 3.2 Gen 1 Type-A / 1x USB 3.2 Gen 2 Type-C support DisplayPort – power delivery / 1x RJ45 LAN port / 1x card reader (microSD) / 1x Thunderbolt 4 support DisplayPort / power delivery
Windows 10 Home, Ms-Office Home & Student 2019
Keyboard: Backlit chiclet keyboard with single zone RGB
Connectivity: Wi-Fi 6 802.11AX (2×2) + Bluetooth 5.2, support Range Boost
Audio: 2x 2W tweeter, 4x 2W woofer with Smart Amp Technology, Audio by Dolby Atmos, AI mic noise-canceling, Built-in array microphone
90Whr battery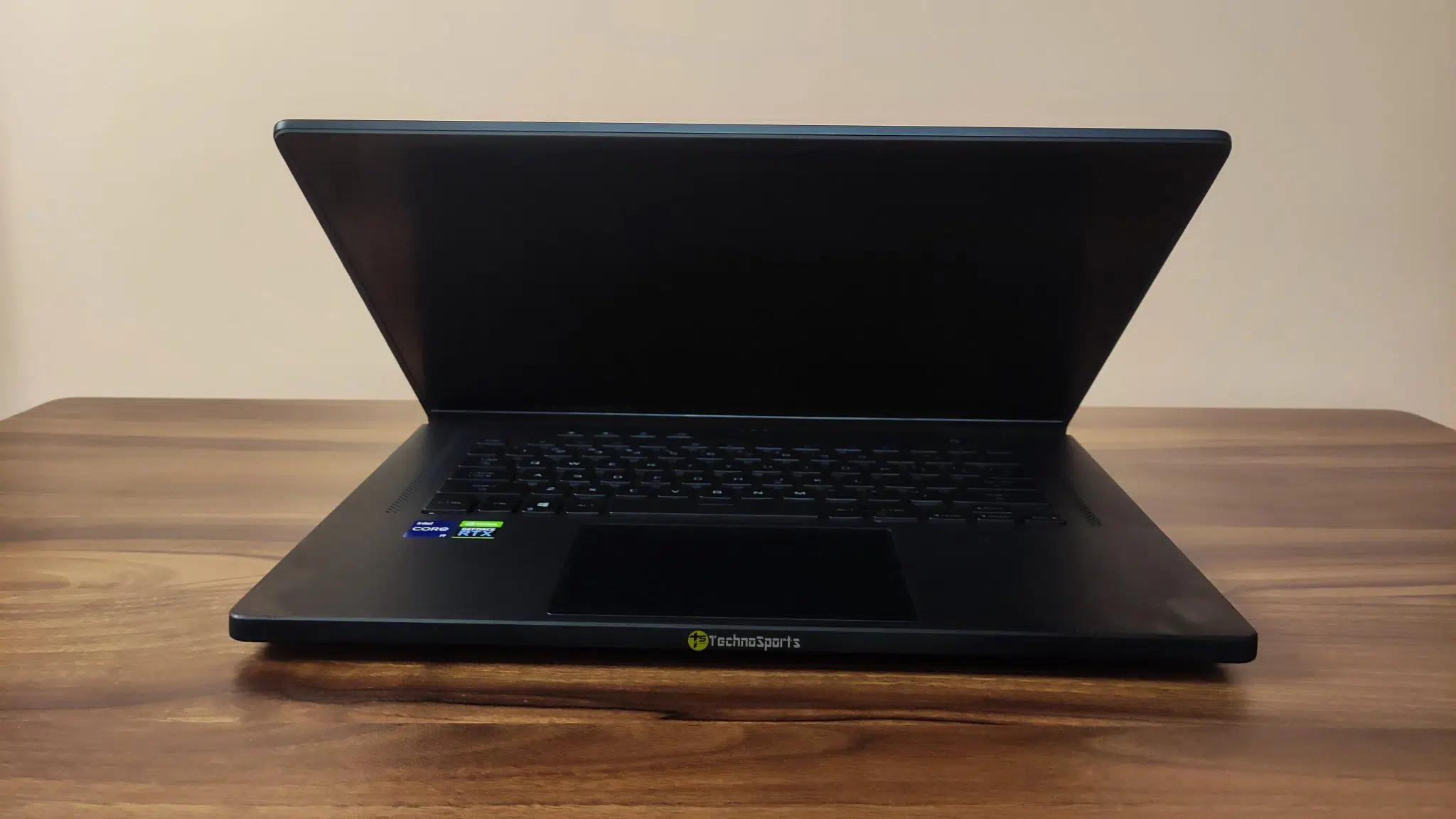 Design & Build
When you look at it straight off the back, you will notice the ROG Zephyrus M16 is clearly a premium designed gaming laptop with a solid metal body. So, there's no flex, no creek; you can open the display with one hand, one of the best weight balances on a gaming laptop.
The lid has this asymmetrical dot matrix design you generally see on the ROG Zephyrus G14; it is made with a precision CNC milling process that creates 8279
perfectly spaced perforations across an incredibly compact surface area.
Also, it is one of the few gaming laptops to have a 180° ErgoLift hinge that lets you flip the screen all the way back to share with a group or to get a better angle for your own viewing, whether you're catching streams in bed or while actually using it on your lap or even during gaming. Overall, still weighing 1.9kg, ASUS has done a great job designing this gaming laptop with a slightly new design upgrade.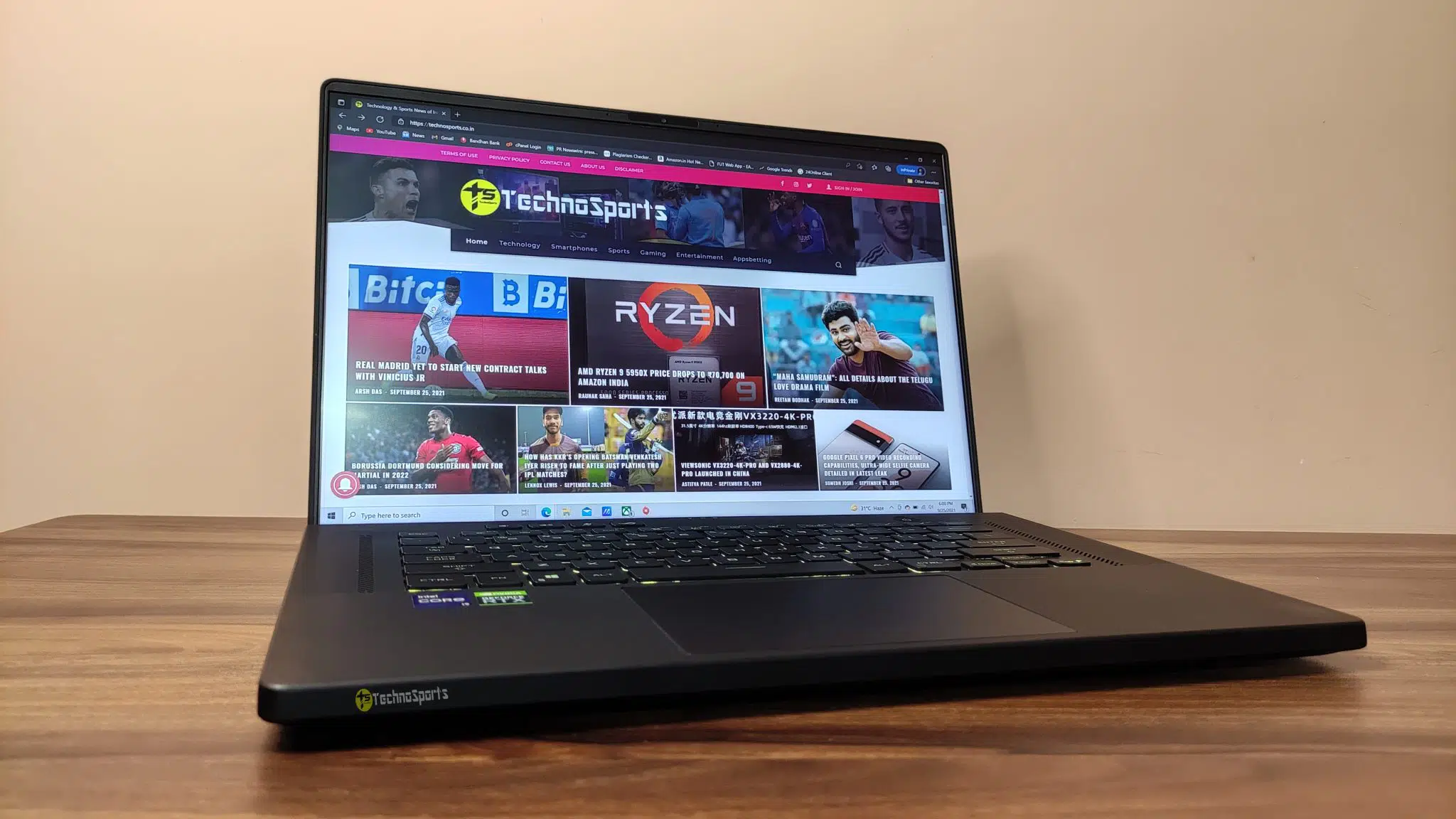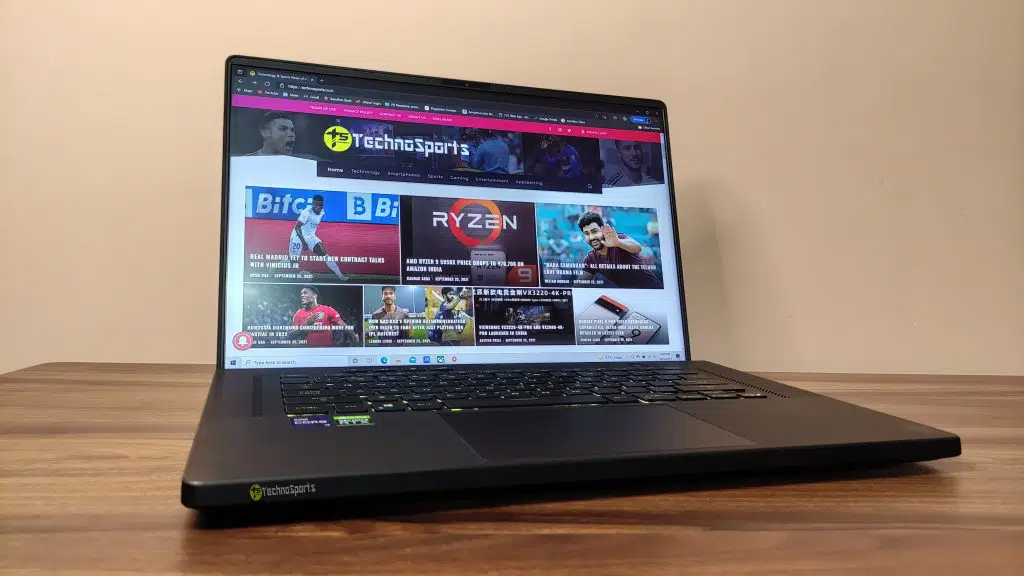 Display
The main highlight of this gaming laptop is the 16:10 aspect ratio 16-inch QHD display that refreshes up to an incredible 165Hz, justifying its premium pricing. The display is even more, colour accurate and better than what we saw with the ROG Zephyrus G14, covering up to 100% DCI-P3 colour gamut.
The ASUS ROG Zephyrus M16 is meant for gamers and creative professionals who need a very colour-accurate display with high refresh rates. Thanks for being the world's first gaming laptop with a 4-sided super narrow bezel display; this is a real experience for both working and gaming.
Here are the display test results we ran on the ASUS ROG Zephyrus M16 (2021) using the Datacolor SypderX Pro: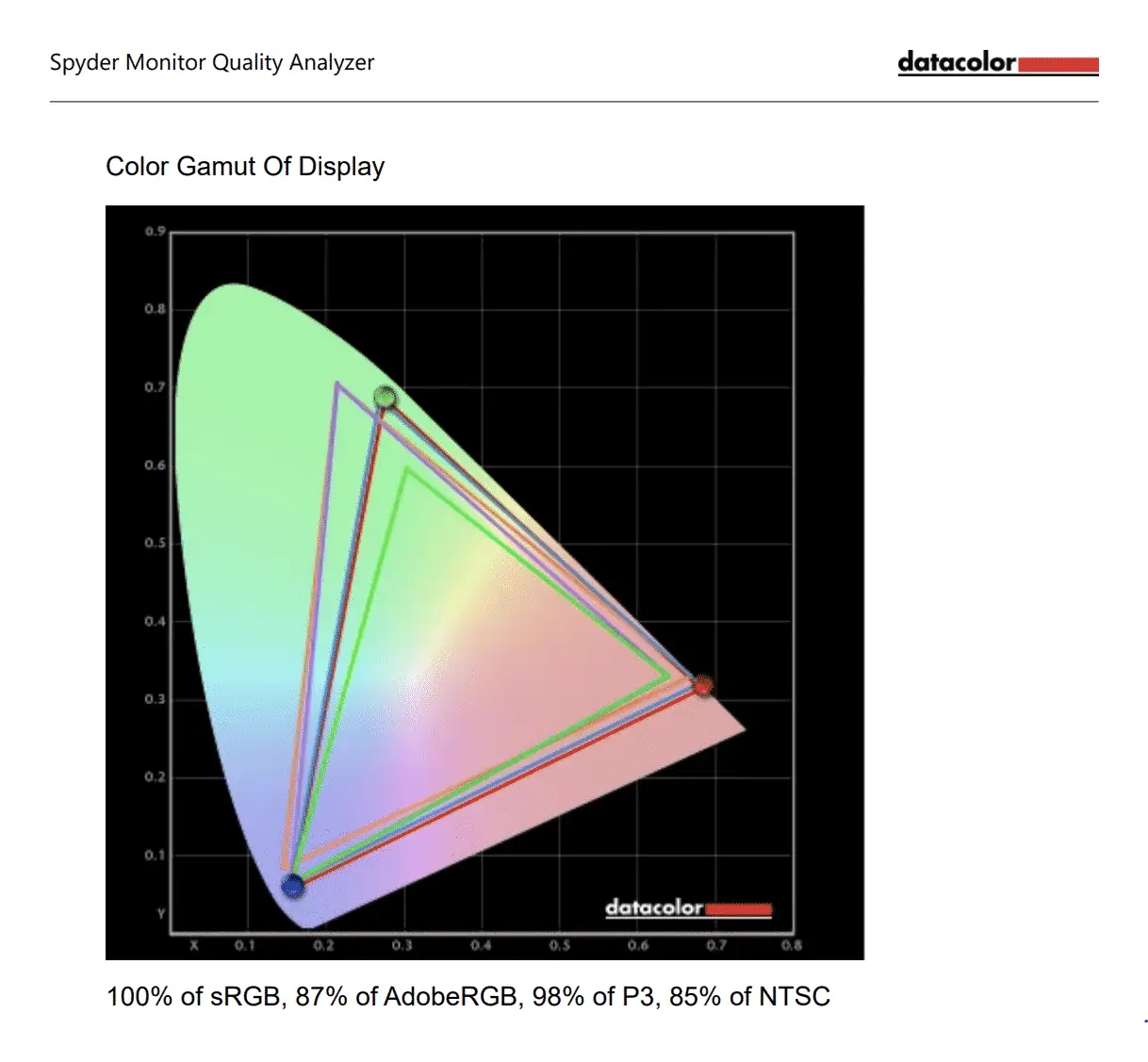 As you see, the display covers 100% of the sRGB colour gamut, now covers 87% AdobeRGB, 98% DCI-P3 and 85% of NTSC colour gamut. So, overall, from gaming to productivity, the new ROG Zephyrus M16 (2021) is indeed one of the best options out there.
Here are some of the other display tests we ran on this laptop: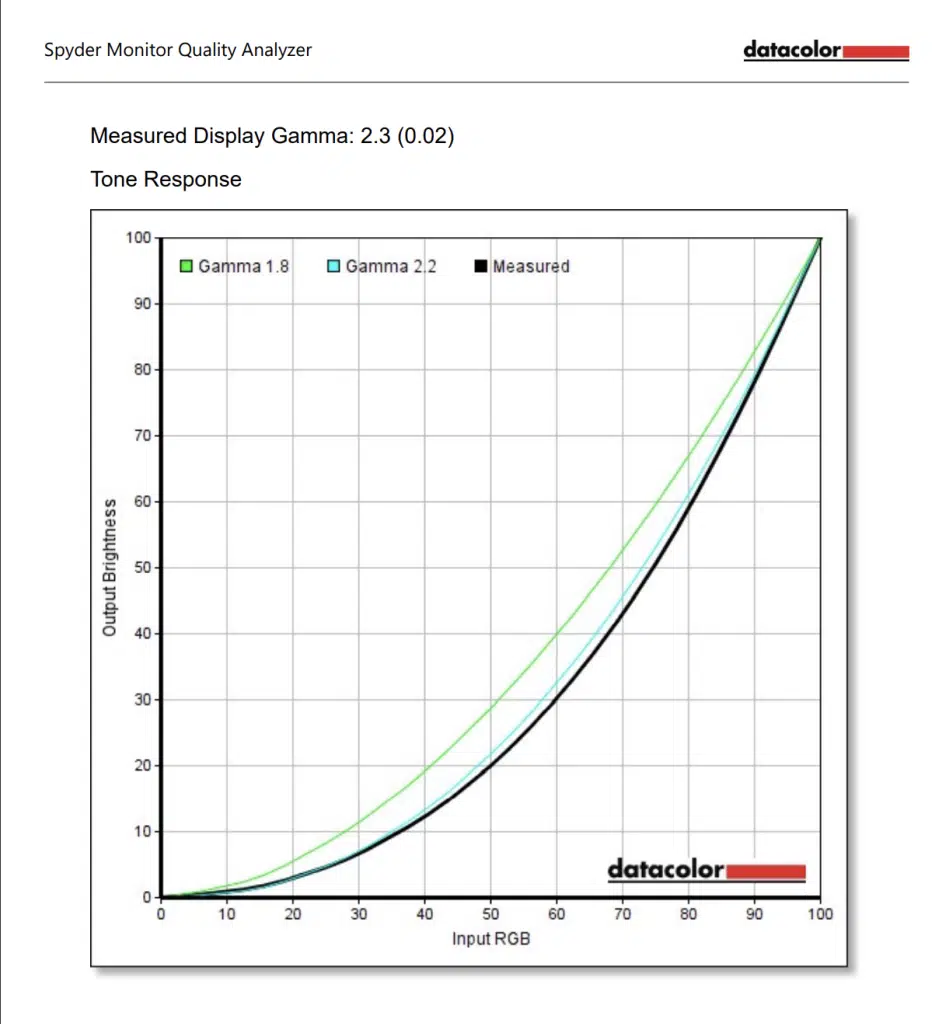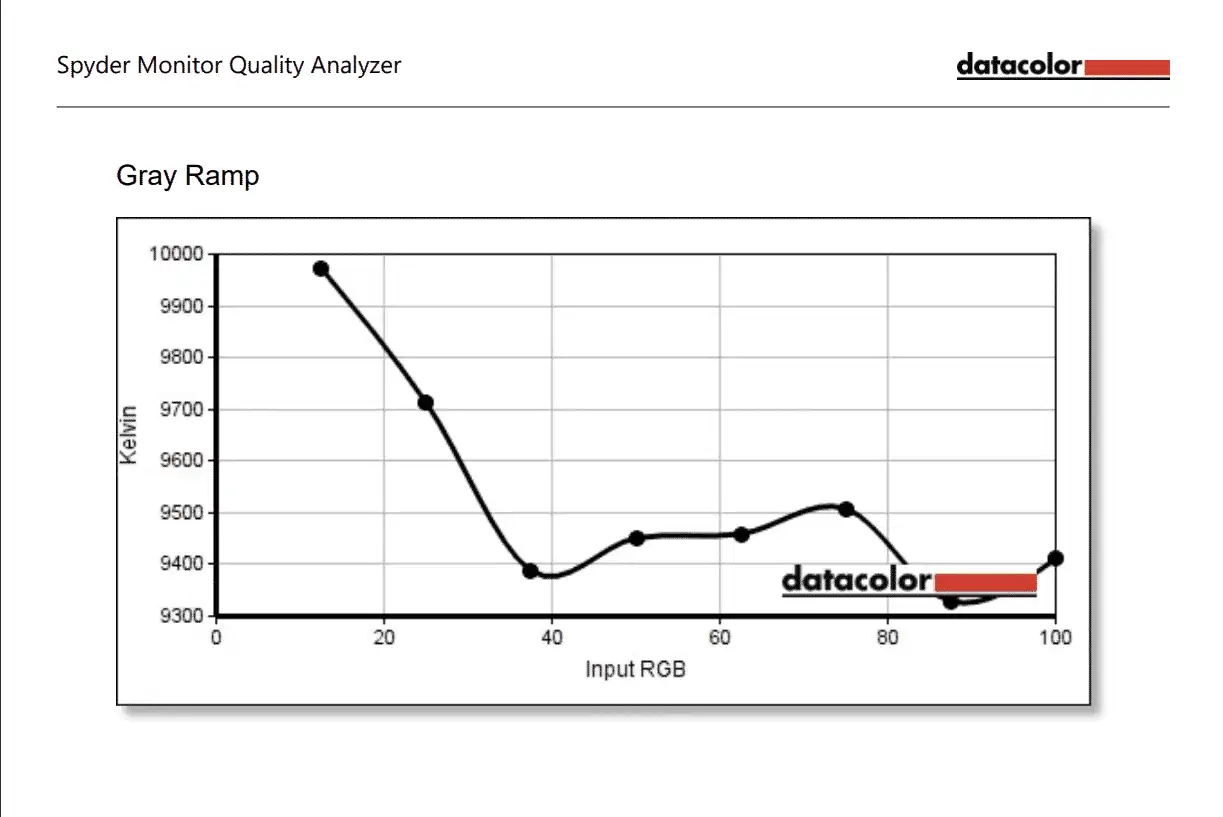 As you see in the results, the display is a good quality one, more in line with the ROG Zephyrus G14 and is a lot brighter with up to 480 nits peak brightness and has good contrast ratios as well. Overall, for productivity-related work that needs an accurate colour display, this is a good option for media consumption.
For gaming, it is also one of the most responsive panels I have ever seen, with just a 3ms response time. The best thing is, all of this is accomplished within a highly slim chassis that is 5% lighter and smaller than its predecessor; essentially, it's a 16"
display in an ultraslim 15" form factor.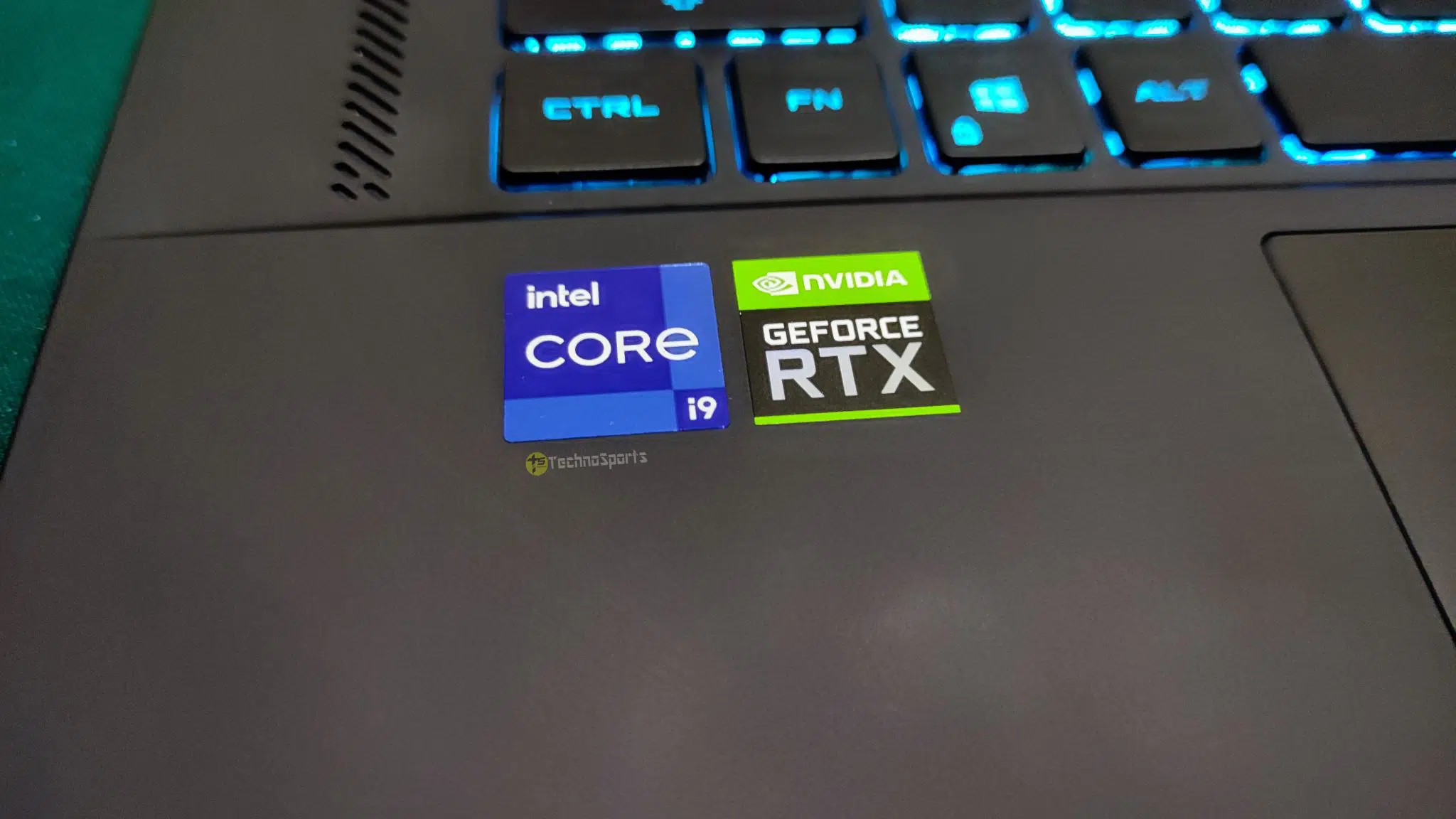 Performance
This is literally one of the most powerful gaming laptops out there, powered by the new 11th Gen Intel® Core™ i9-11900H processor and paired with an Nvidia GeForce RTX 3070 GPU. This comes with support for up to 48GB of DDR4-3200 memory here (32GB onboard) and up to 2TB of ultrafast PCIe Gen 4 storage.
The ASUS ROG Zephyrus M16 is a true powerhouse with insane performance; however, being an Intel CPU, it gives excellent scores in benchmarks and games. Compared to the AMD Ryzen 5000H processors, the new Intel ones beat them in performance; however, they are less efficient than AMD's.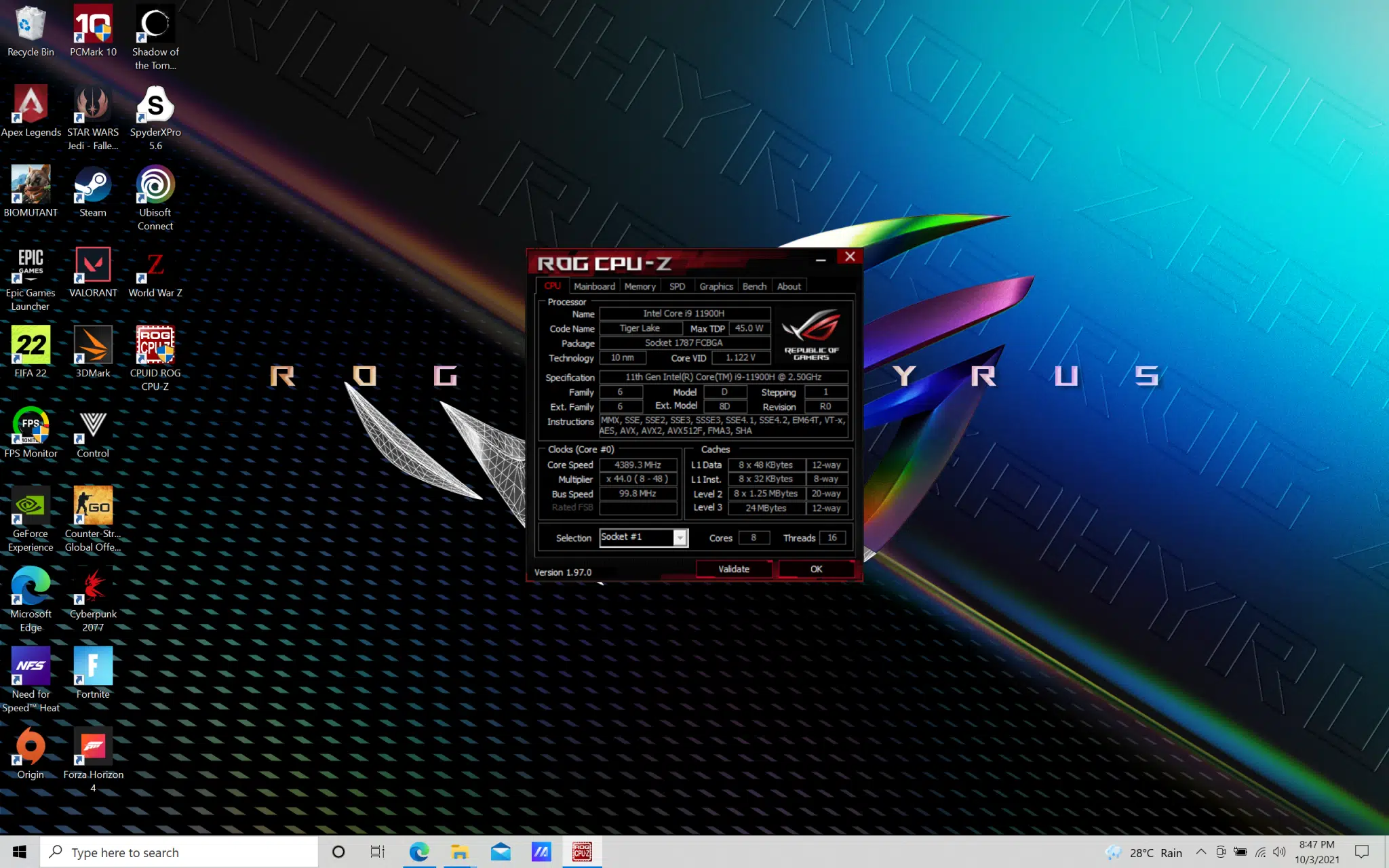 So, all of the eight cores in this TigerLake-H chip gives desktop-like performance drawing 45W TDP, while the GPU is also mighty. The laptop RTX 3070 GPU with 8GB GDDR6 memory draws (80+20) W [TGP + Dynamic Boost], giving incredible gaming as well as productivity-related performance.
Here are some of the benchmarks of the ASUS ROG Zephyrus M16 (2021):
This gaming laptop easily beats every machine out there and posts incredible scores in every benchmark possible. This goes to show how properly ASUS has managed to cool the laptop and optimize the thermals to make it even more powerful in a 15-inch laptop chassis. If you need sheer performance, the ASUS ROG Zephyrus M16 is one of the most powerful machines currently in the market.
Now here are some 3DMark benchmarks for your reference:
As you see, we have some excellent numbers and thanks to Intel's Tiger Lake-H chips; we really get good single-core performance that helps in a lot of applications. Now, coming to the SSD used here, this is the fastest SSD I have ever seen used on a laptop: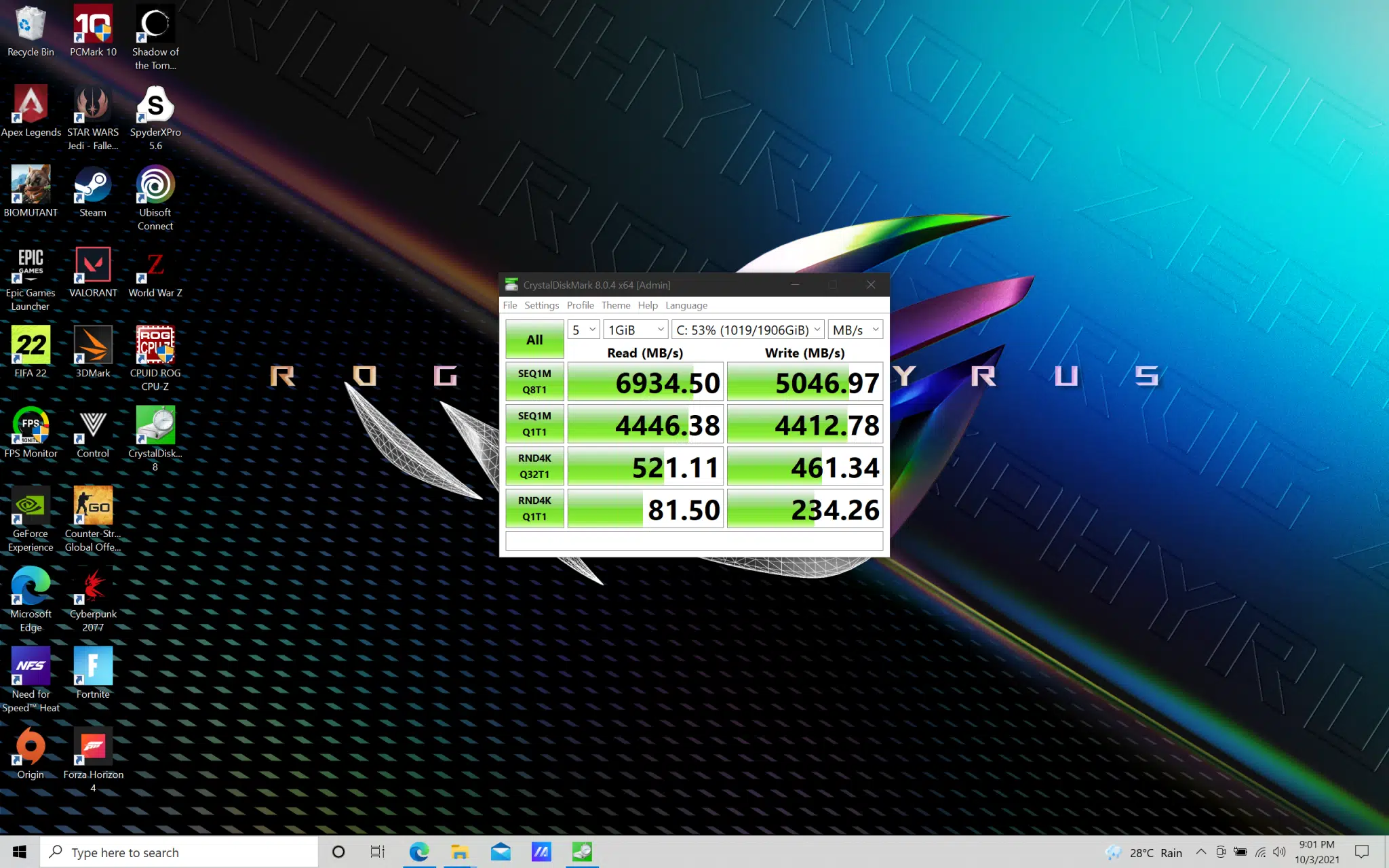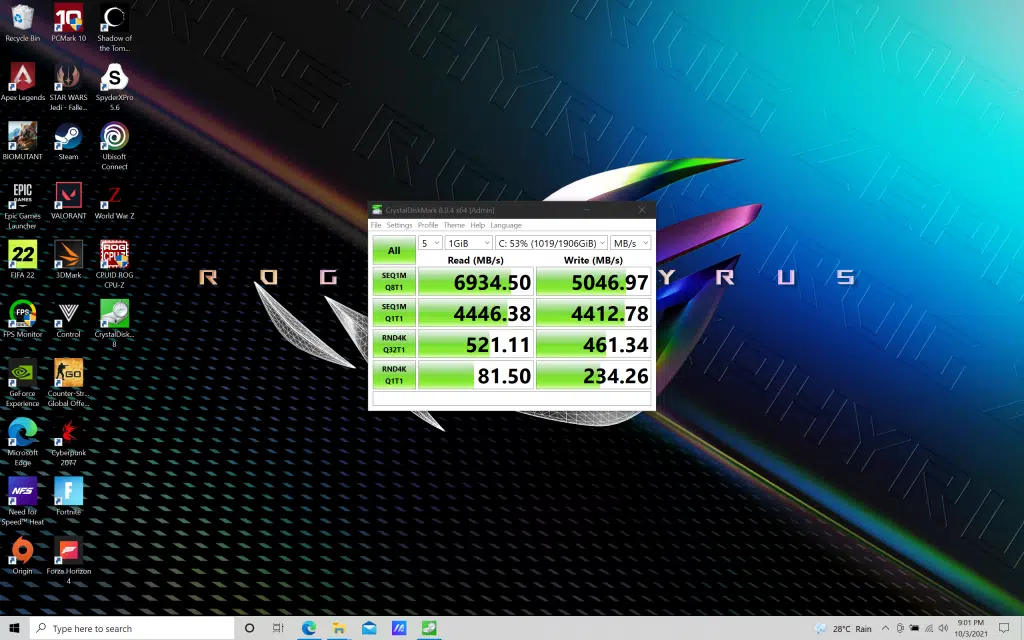 Yes, you saw it right a 2TB NVMe SSD with up to 7000MB/s read speed, thanks to PCIe Gen 4 support that Intel processors bring to laptops. The write speeds are also excellent with 5000MB/s, and when Windows 11 uses the DirectStorage feature, you can take full advantage of it with this laptop.
Game loading speeds are blazing fast, and for any intensive tasks, you will face no issues at all; kudos to ASUS for making the performance the best out there.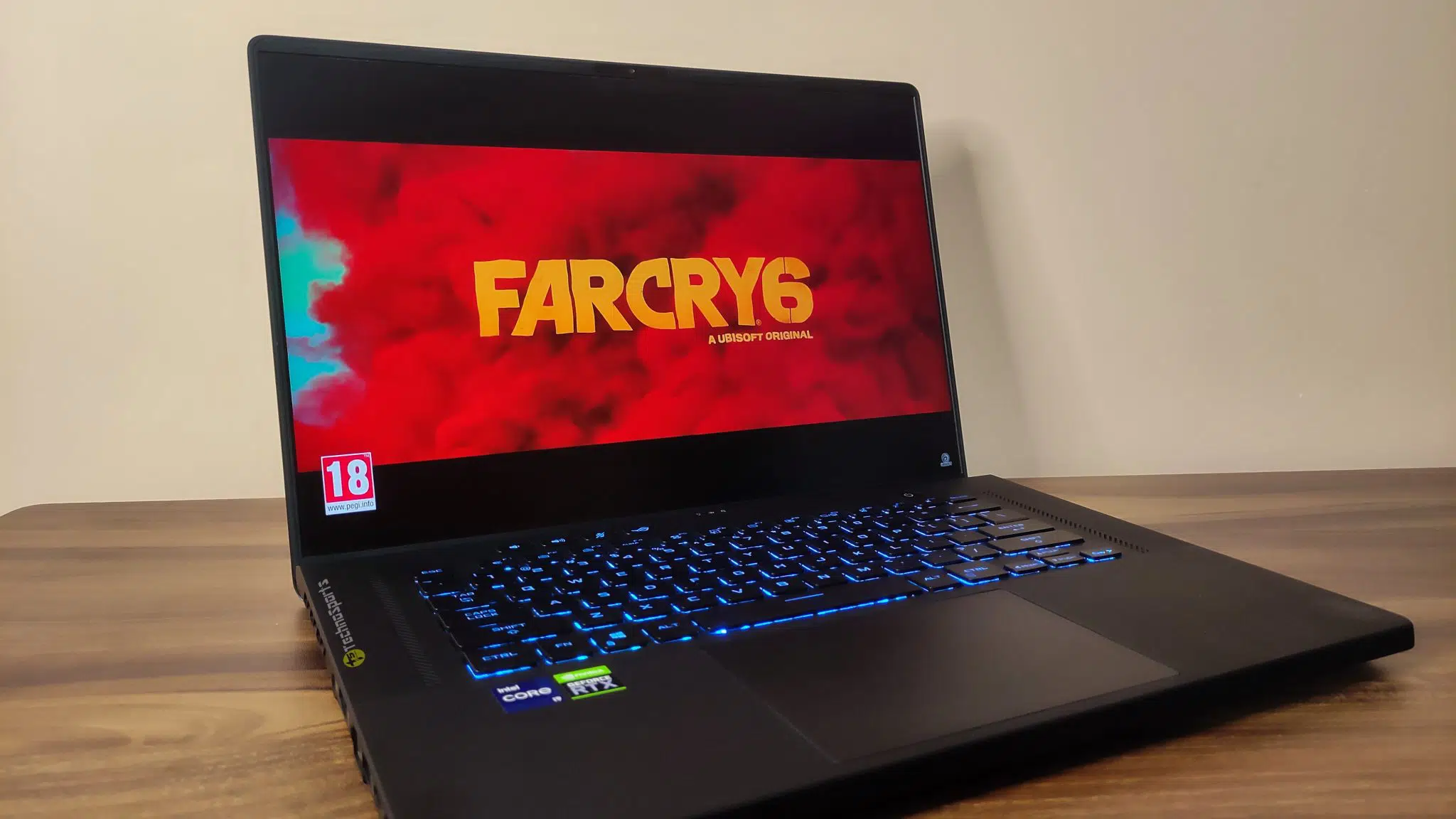 Gaming
Coming to the main feature of this laptop, i.e. gaming, the ASUS ROG Zephyrus M16, while still maintaining a low profile, gives great results. Thanks to Intel's strong single-core performance and the powerful RTX 3070, this is a compelling gaming laptop that lives up to its expectations.
Be it 1440p or 1080p; you get insane gaming performance thanks to the RTX 3070, which gives extra oomph; this helps you take advantage of the 16:10 aspect ratio and give you an immersive gaming experience.
Honestly, playing games like FIFA 22, Control, Cyberpunk was bliss on this ROG Zephyrus M16, and I truly appreciate the massive display with minimal bezels. If you want to buy a laptop, I request you to go to stores and just experience the laptop before buying.
Thermals & Upgradeability
As the gaming laptop is relatively compact and not bulky, having a good cooling system really matters, so, as you see, there are two fans with a lot of heat pipes and copper cladding on the removable back of the laptop. In terms of upgradeability, you have an extra NVMe SSD slot with up to 2TB capacity and upgradable RAM options as well.
For the Zephyrus M16, the liquid metal compound cools the CPU while a customized self-cleaning 2.0 thermal module clears dust to improve long-term stability. According to ASUS, the Arc Flow fans are designed to generate impressive airflow with reduced turbulence, ensuring powerful yet quiet cooling.
I noticed the laptop was getting less heated up quickly, and I could hear the fans only when it was necessary during gaming or intensive work. The special element for cooling ASUS used is the liquid metal compound from Thermal Grizzly, which reduces temperatures by around 10 degrees compared to the standard thermal paste, and I did see the temperatures were relatively controlled.
Generally, I have two complaints with any typical gaming laptop – one being the hot air gushing through the right vent, making it difficult to use the mouse for gaming, second, the laptops tend to heat up significantly high, and after intense gaming sessions, it gets even worse.
In this case, the first one doesn't apply as the airflow has been distributed from the back, while in terms of the second issue, the laptop gets heated up undoubtedly, however, much less than the TUF Gaming F15 with the same Core i9-11900H, thanks to better thermals.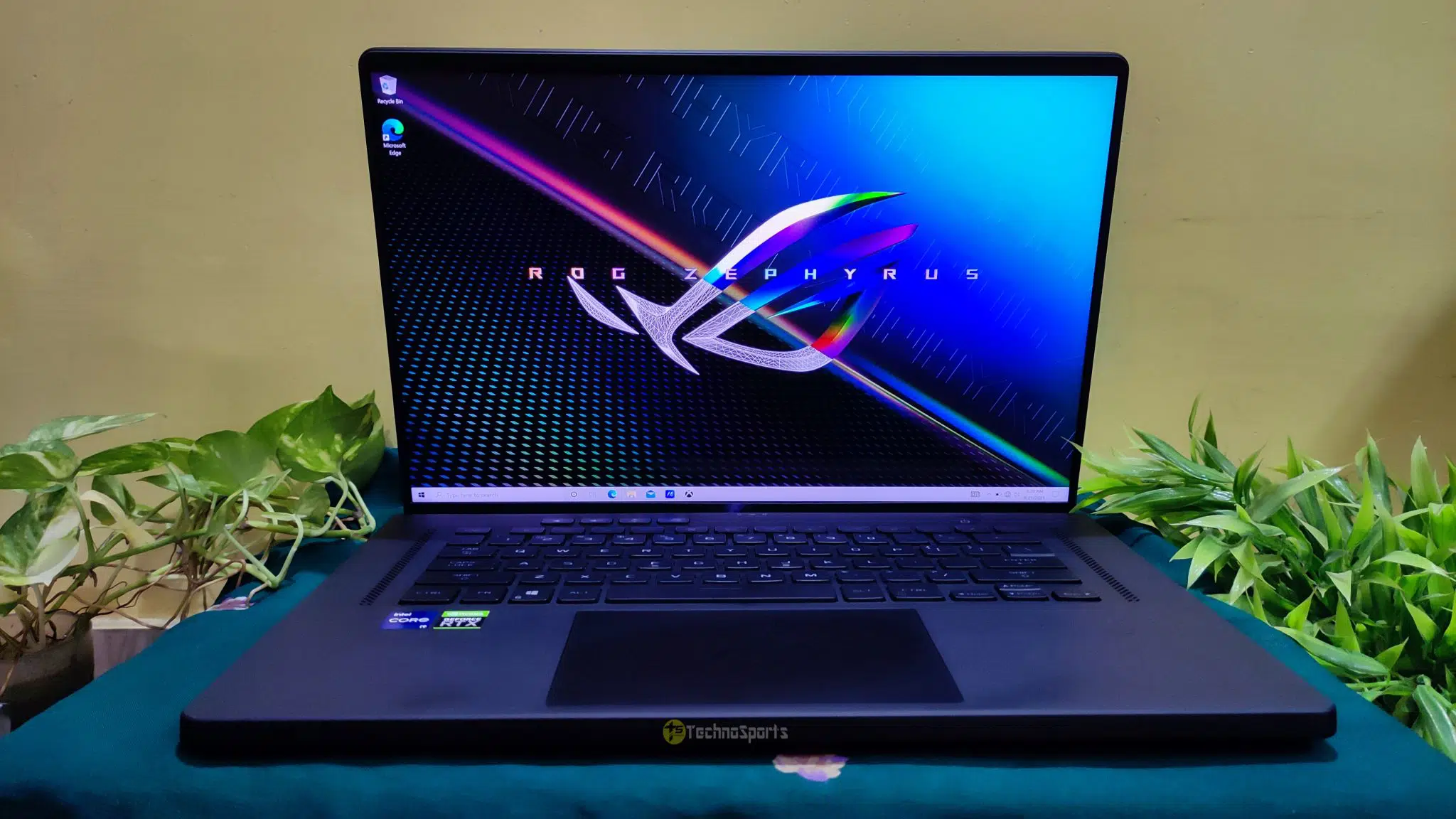 Ports & Connectivity
The Zephyrus M16 is flooded with ports and powered by an Intel processor, which means you have Thunderbolt support, in this case, the latest Thunderbolt™ 4 support, which has both DisplayPort™ / power delivery options. You have the important 1x 3.5mm Combo Audio Jack with Dolby support and 1x HDMI 2.0b port.
Other ports include 1x USB 3.2 Gen 2 Type-A and 1x USB 3.2 Gen 1 Type-A, then you have 1x USB 3.2 Gen 2 Type-C port, which supports both DisplayPort / power delivery, a dedicated RJ45 LAN port and a microSD card reader. Overall, with ample ports, undoubtedly, the ASUS ROG Zephyrus M16, while still keeping a low profile, has all that you can ask for.
On the connectivity front, you get the latest Wi-Fi 6 802.11AX (2×2) and Bluetooth 5.2 support, making it the ultimate gaming battle station for gamers!
Keyboard & Trackpad
ASUS has maintained the same keyboard layout, which I feel lacks some important keys like PrintScreen and others. However, they have improved the overall quality of these keys, now with a new Stealth Type keyboard that keep keystrokes under 30dB. Input complex.
The input commands at speed with N-key rollover that ensures every press is registered, and Overstroke technology that lowers each key's actuation point for effortless input. Though the keyboard layout seems a bit awkward to me, the typing experience was good, and the keyboard didn't get warm during heavy gaming.
Now, you have a vast trackpad, reminding me of using a MacBook Pro; the navigation is also smoother and easier as you have a 20% larger touchpad. In terms of typing and doing normal work using the trackpad on this ROG Zephyrus M16 seems comfortable, but I would like to see ASUS using a bigger keyboard instead.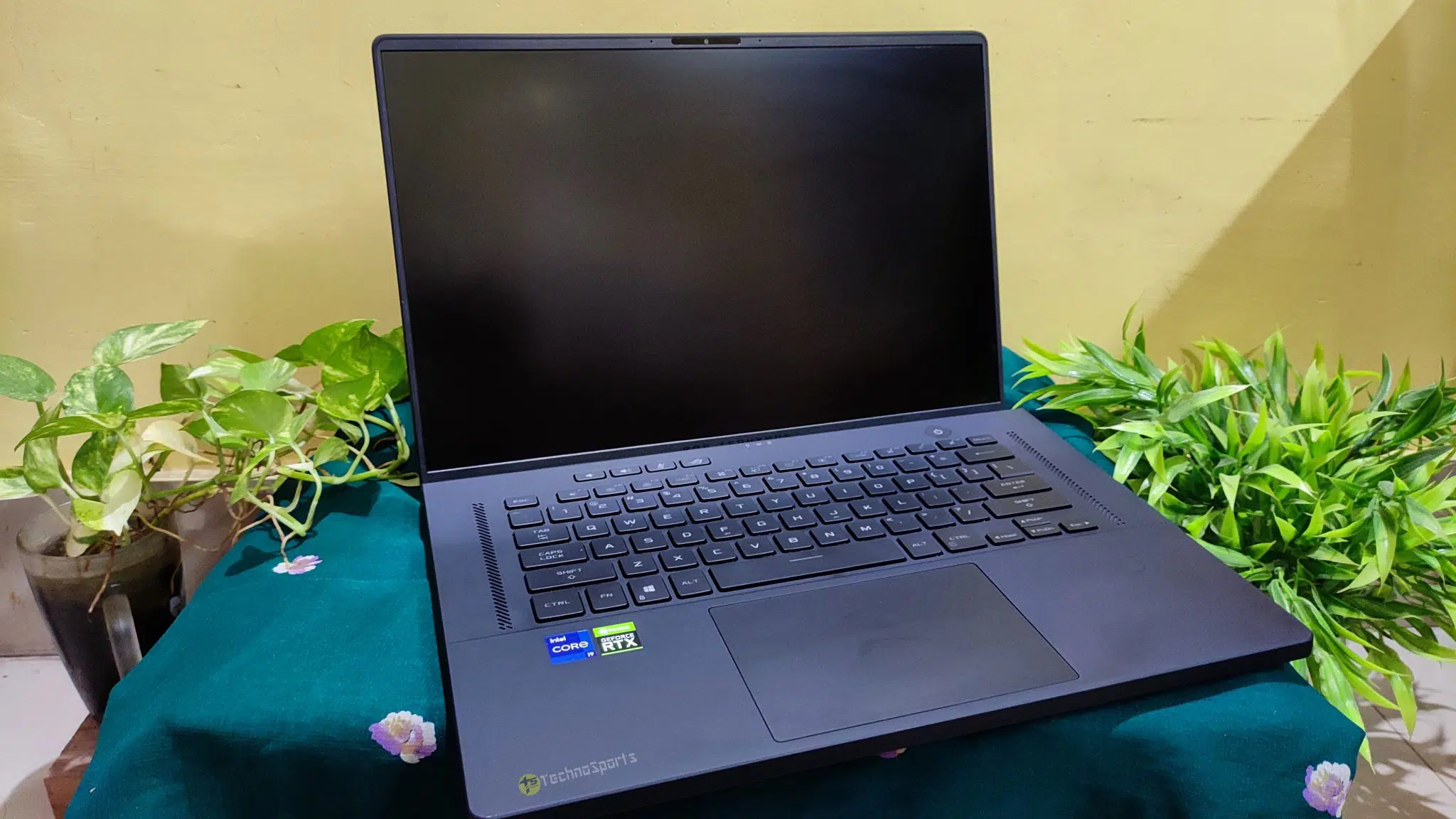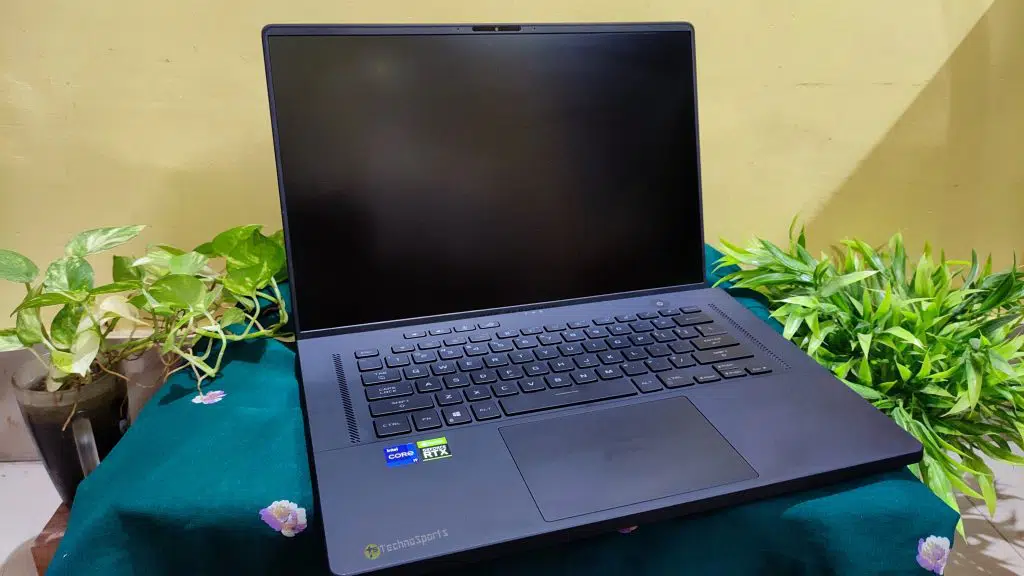 Audio & Webcam
Coming to the audio of this gaming laptop, much like other ASUS ROG gaming laptops I've tested, I am impressed with the quality of the speakers. The multi-faceted audio system, boasting Dolby Atmos® technology, twin tweeters and dual force-cancelling woofers, offers beautifully balanced acoustics, with Hi-Res certification that supports media at the highest fidelity.
The Two-Way AI Noise Cancelation technology works with any input device and output audio, letting you remove noise from both your own mic input and from incoming feeds. It works good to an extent and is a handy option for gamers who are using headphones to stream or play, communicating with fans or friends.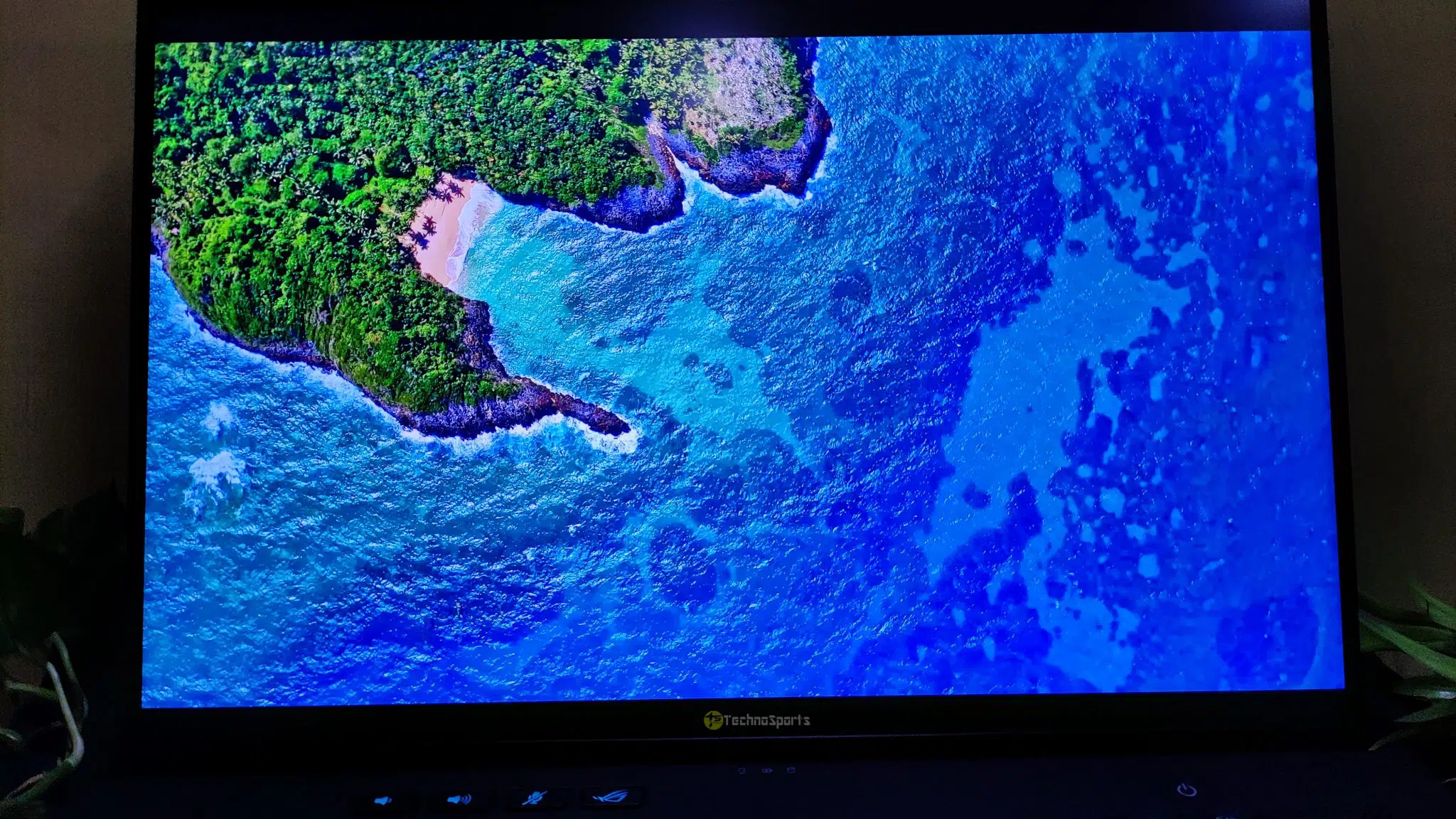 The complaint I had with ROG Zephyrus G14 was mainly the webcam; however, you have an integrated 2MP webcam into the slim top bezel. ASUS says the webcam uses a combination of 2DNR and 3DNR noise reduction technologies to improve overall fidelity.
So, yes, you don't need a separate external webcam in order to do any video calls and to be fair, the standard of the webcam is excellent, especially when the environment is dark. The noise reduction really matters if you are a game streamer or just want to attend video calls with good clarity.
Battery Life
The ASUS ROG Zephyrus M16 is equipped with a 90Whr battery, which on paper looks gigantic; however, the Core i9-11900H is not as efficient as new AMD Ryzen 5000H processors are, even though Intel is more powerful. So, if you want to use it all day for work, you cannot, which you can only do on the ROG Zephyrus G14, comfortably gave me 10 hours of battery life.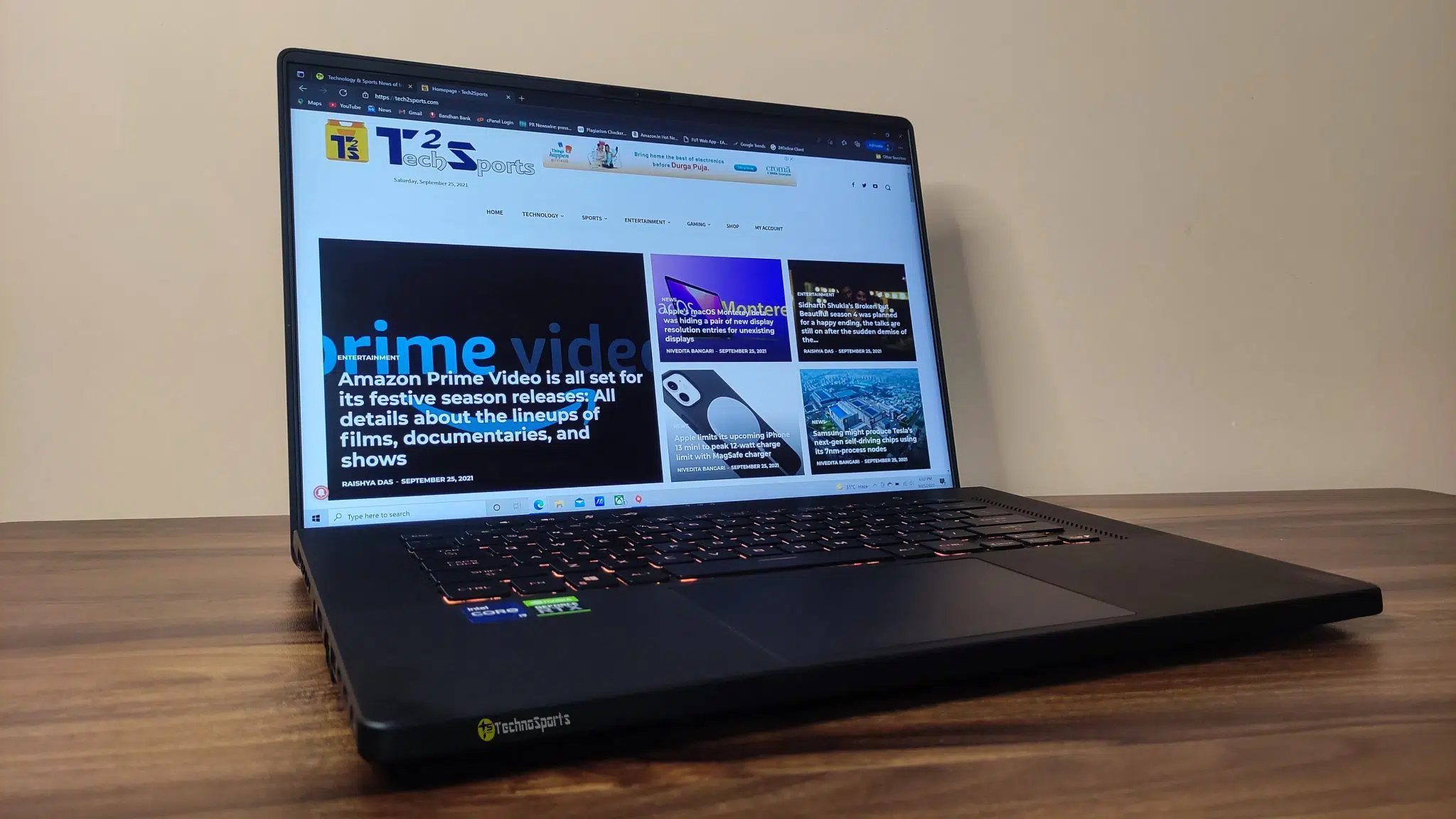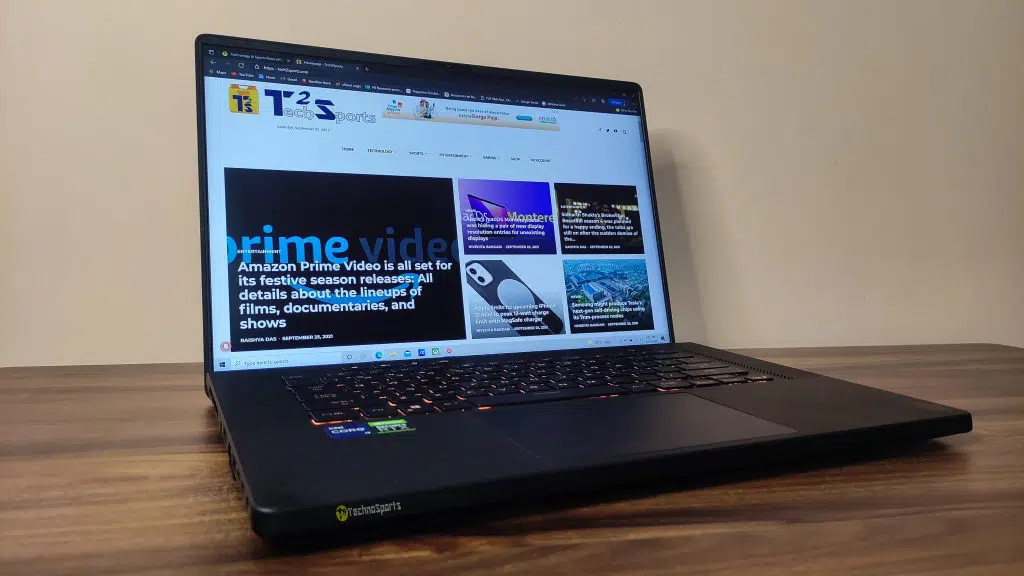 On the other hand, the ASUS ROG Zephyrus M16 lasted for only 4-5 hours when kept on iGPU mode, identical battery life I saw on the TUF Gaming F15 with the same Intel CPU. On an ASUS gaming laptop, to increase battery life, you should do two things:
Open ARMOURY CRATE software and turn on the iGPU mode while on battery
Install Intel graphics software to help the laptop use the iGPU when you are not gaming
So, bear in mind, this is a full-fledged gaming laptop, and it drains a lot of power; you do get an insane performance, however, at the cost of your battery life. You can drain 100% of the battery life when you play games in Performance mode, so you have to carry that 240W charging brick with you always, which is a hassle.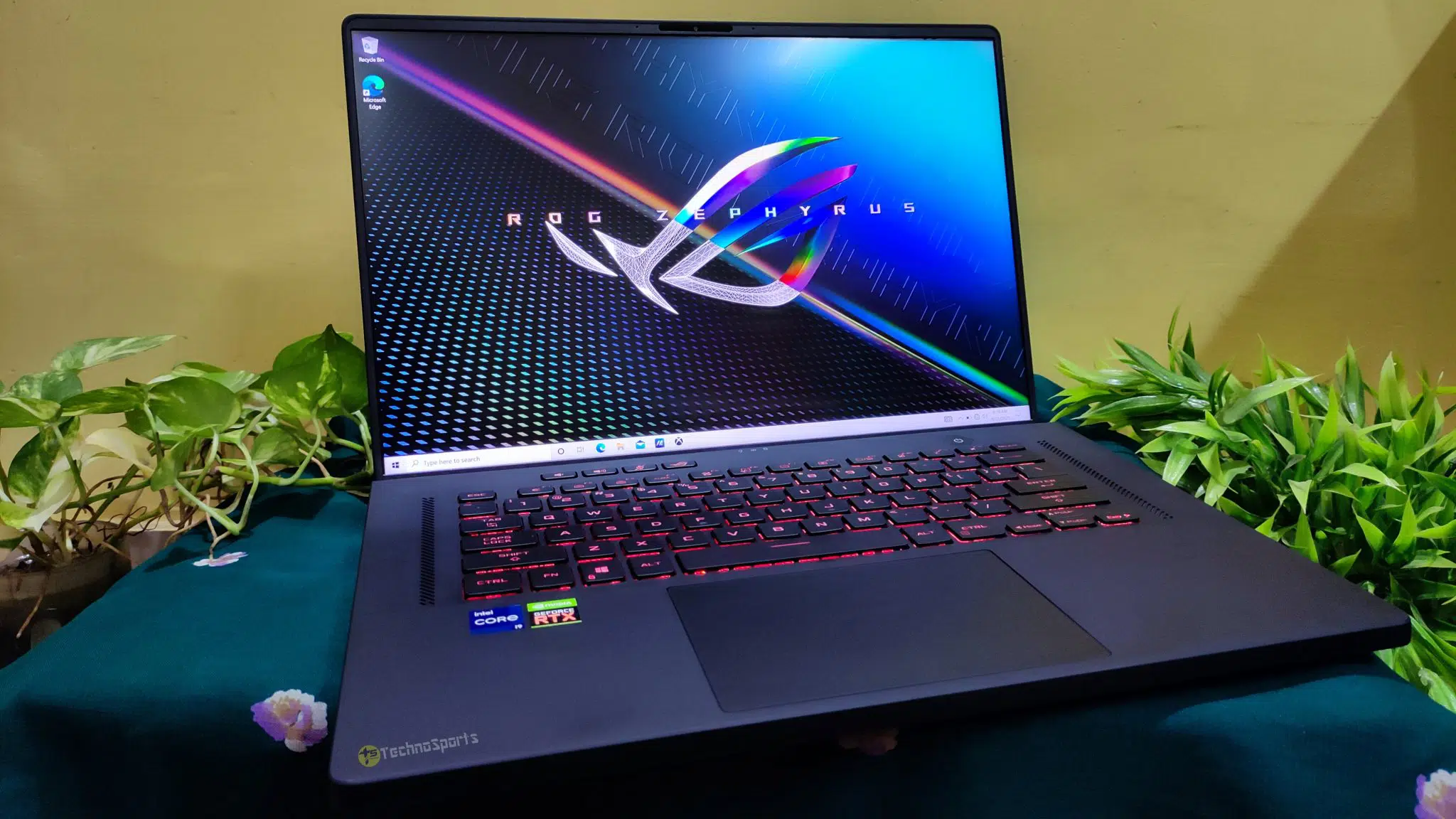 Pros & Cons
Here are the things which I liked and disliked the most about the ASUS ROG Zephyrus M16 (2021):
Pros
Good build quality and design
Modern 16-inch QHD display with 16:10 aspect ratio and 165Hz refresh rate
Very colour accurate for both gaming and productivity
Insane performance thanks to Core i9-11900H and RTX 3070
Well-managed thermals and upgradable options
Comfortable keyboards and large trackpad
A lot of ports and high-speed connectivity options
Good webcam and audio/mic, giving a great gaming experience overall
Cons
The battery life is poor
Keyboard layout could have been better
The 11th Gen Intel Tiger Lake-H processors brings exclusive benefits and great performance, however, much less efficient compared to AMD Ryzen 5000H processors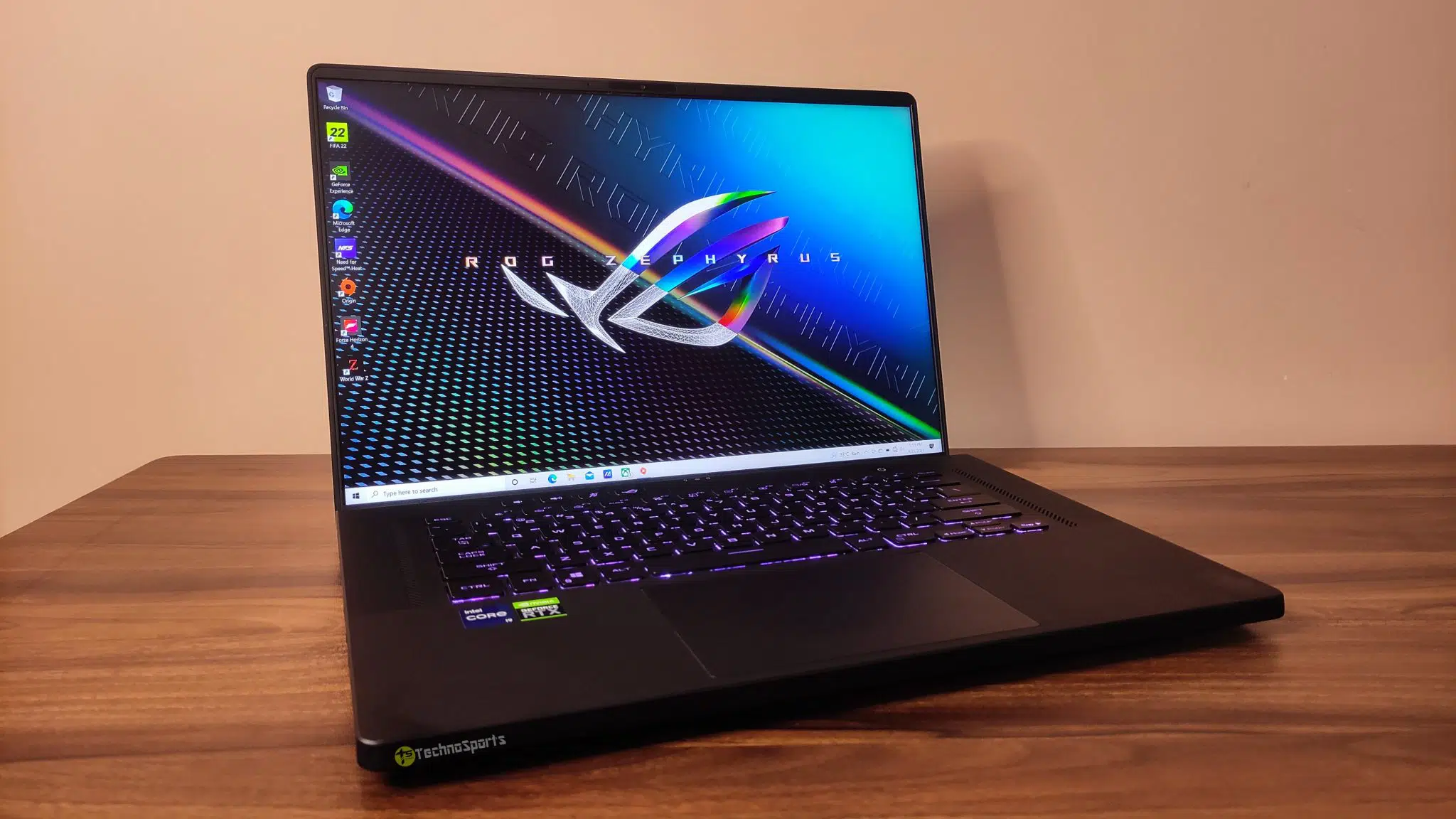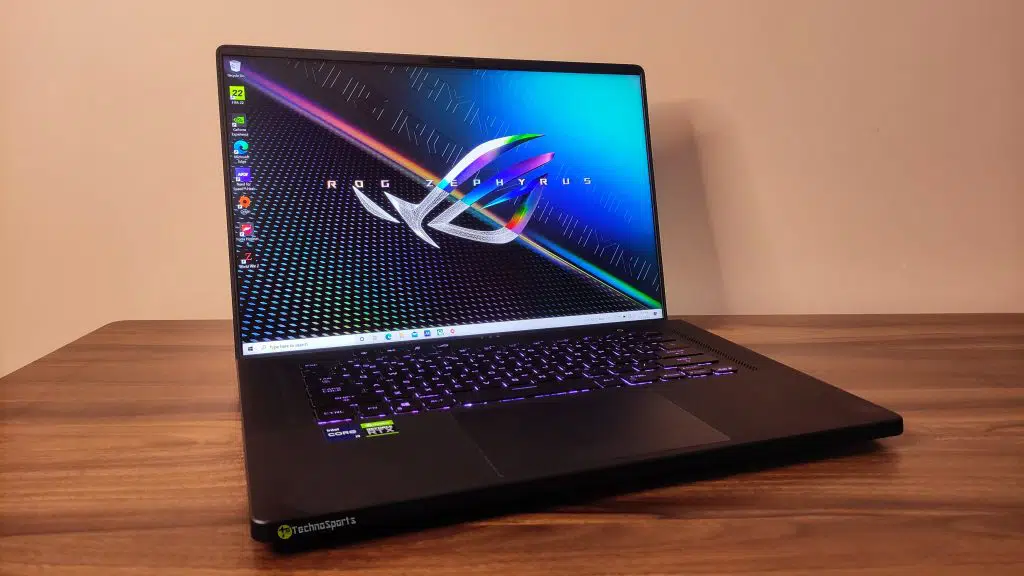 Verdict
ASUS has made giving the verdict of this laptop very easy for me; having used this for two weeks as my primary gaming gear, I thoroughly enjoyed the experience. Generally, I am a PC gaming guy who has a big monitor and powerful GPUs to crunch numbers; however, this is only one laptop which helped me forget that I am not playing on a PC but on a laptop.
The 16:10 aspect ratio with minimal bezels helps reduce the overall width of the laptop, and the ROG Zephyrus M16 effortlessly became my primary gaming machine. I enjoyed to immerse in the big display, be it for gaming or watching movies. Though the performance is at some other level, the laptop gets hot during intensive work, but the thermals are well-managed, but battery life is poor.
Everything is very well managed, covering every other aspect like webcam, microphone, connectivity, ports, and trackpad. One request to ASUS will be increasing the size of this comfortable keyboard; however, overall, the ROG Zephyrus M16 with a 16:10 aspect ratio is a gaming beast with an immersive display.
If you want performance and a full-fledged gaming experience, look no further as the premium ASUS ROG Zephyrus M16 (2021) is a good choice investing upon.
Buy from here: https://amzn.to/3BarZTV
- Advertisement -