ASUS is known to provide great gaming laptops, and under their TUF branding, they provide more value-for-money options to gamers. So, when it announced the TUF Gaming F15 (2021) with the latest Intel Tiger Lake-H processors, I had to try it out, thanks to ASUS India for providing us with the top-of-the-line variant.
Well, the biggest highest of these new TUF Gaming laptops has to be the all-new design, the upgraded Intel CPUs paired with NVIDIA GPUs. As an overall package, these Intel-powered gaming laptops come with all the Intel benefits, and for gaming, you know they have no comparison.
Initially, at launch, these laptops had a starting price of ₹1,04,990; however, a lot of new variants of the ASUS TUF Gaming F15 have been introduced, making them affordable. Another thing to like about is ASUS is using RTX 3050's, 3050 Ti's and RTX 3060's a lot, helping to give the best price-to-performance.

On paper, the new TUF Gaming F15 (2021) is really impressive; however, will they be as stunning as the specs given? Let's find out:
Specifications
Processor: 11th Gen Intel Core i9-11900H, 2.5 GHz Base Speed, Up to 4.9 GHz, 8 Cores, 16 Threads, 24MB Cache
Access to over 100 high-quality PC games on Windows 10
One-month subscription to Xbox Game Pass that's included with the purchase of your device
Memory: 16GB (8GB SO-DIMM *2) DDR4-3200MHz, Upgradeable Up to 32GB with | Storage: 1TB M.2 NVMe PCIe 3.0 SSD with additional 1x M.2 Slot for SSD storage expansion
Graphics: Dedicated NVIDIA GeForce RTX 3060 GDDR6 6GB VRAM, With ROG Boost Up to 1630MHz at 90W TGP + 5W with Dynamic Boost
Display: 15.6-inch (39.62 cms), FHD (1920 x 1080) 16:9 250nits, 144Hz Refresh Rate, vIPS-level Anti-glare Panel, 1000:1 Contrast Ratio, 45% NTSC, 62% sRGB, 47.34% Adobe with Adaptive-Sync Technology
Operating System: Pre-loaded Windows 10 Home with lifetime validity | Software Included: Software Included: Pre-installed Office Home and Student 2019 with Lifetime validity
Design: 2.28 ~ 2.43 cm Thin | Honeycomb Grip base & Hexagon reinforcements chassis Design | 2.3 kg weight | 90WHrs, 4-cell Lithium Polymer Battery | Up to 14.7 hours battery life; Note: Battery life depends on conditions of usage
1x HDMI 2.0b | 1x RJ45 LAN port | 1x Thunderbolt 4 support DisplayPort | 3x USB 3.2 Gen 1 Type-A | 1x 3.5mm Combo Audio Jack
Other: Backlit RGB Keyboard | Wi-Fi 6(802.11ax)+Bluetooth 5.2 (Dual band) 2*2 | 720P HD webcam | 2x 2W Speaker | Built-in array microphone | DTS Audio Technology | Wi-Fi 6 (802.11ax) 2*2 | Bluetooth 5.2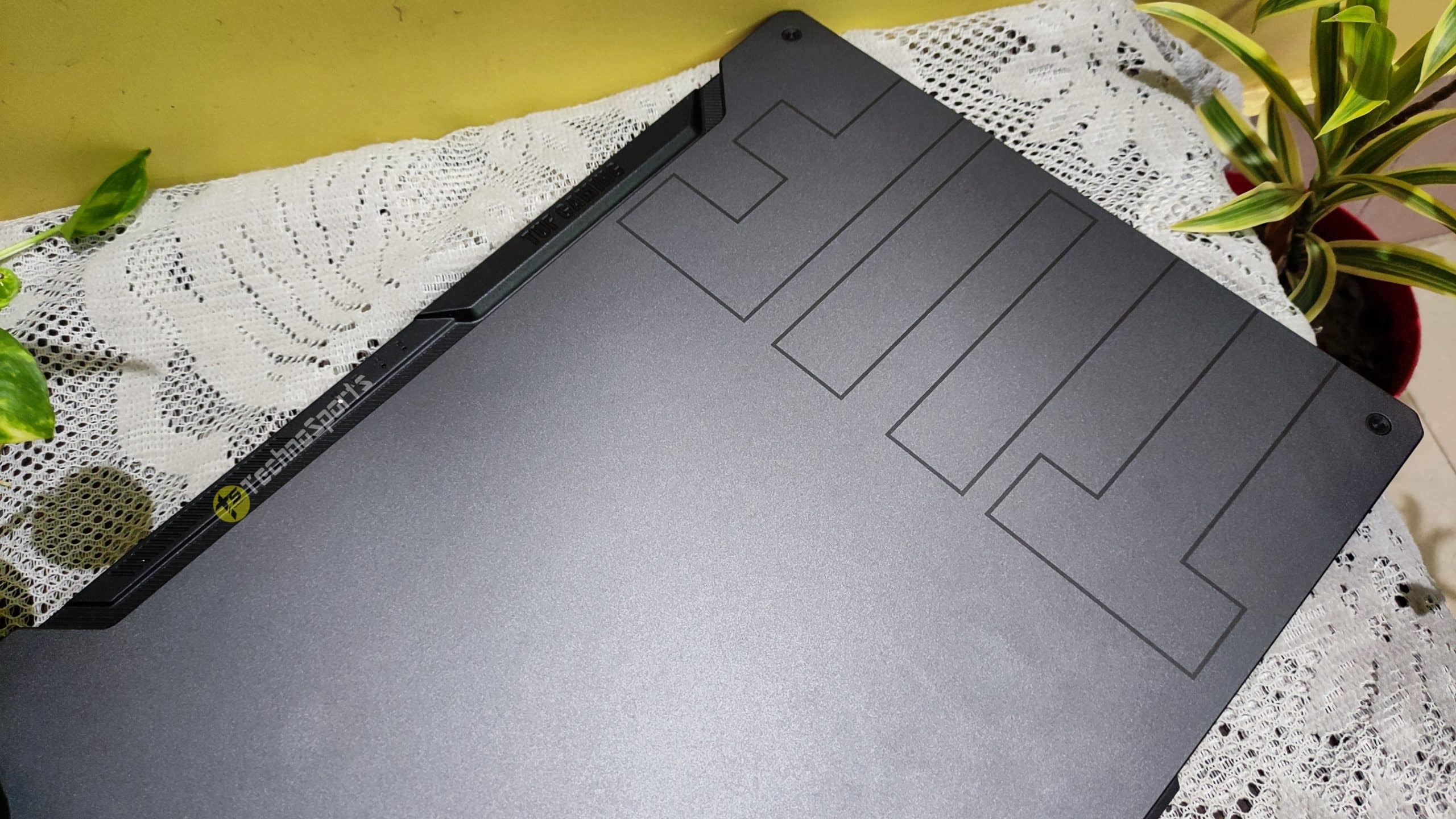 Design & Build
In terms of design, I really appreciate the upgrade over the last-gen because the ASUS TUF Gaming F15 (2021) now has a more modern and bold design. The new TUF logo adds a premium vibe; the Eclipse Gray variant here has a bold TUF branding all over the metal lid.
This is one of the few gaming laptops with a good weight balance so that you can open the lid with one hand. Also, the textured honeycomb design on the base adds grip and echoes the hexagon reinforcements around the chassis.
Even though it weighs 2.3 kg, it is still easier to carry because of its good weight balance; overall, the design overhaul is really appreciated as it adds a premium feel this time. Also, being named TUF, the gaming laptop is MIL-STD-810H certified for best durability at all conditions, including drops, vibration, humidity, and extreme temperatures.
Display
The gaming laptop features a 15.6-inch FHD (1920 x 1080) display with a 16:9 aspect ratio and a peak brightness of up to 250 nits. It comes with a much-needed 144Hz refresh rate and bears an IPS-level Anti-glare Panel that helps a lot like the display's brightness is low.
There's the best variant with a 300 nits display, covering 100% sRGB and 240Hz refresh rate, which costs a lot at ₹ 1,87,990; however, this variant we got gives a general perspective as this is available as a standard on all the TUF Gaming F15 models. The display here is not the most colour-accurate, covering 45% NTSC, 62% sRGB, 47.34% Adobe colour gamut.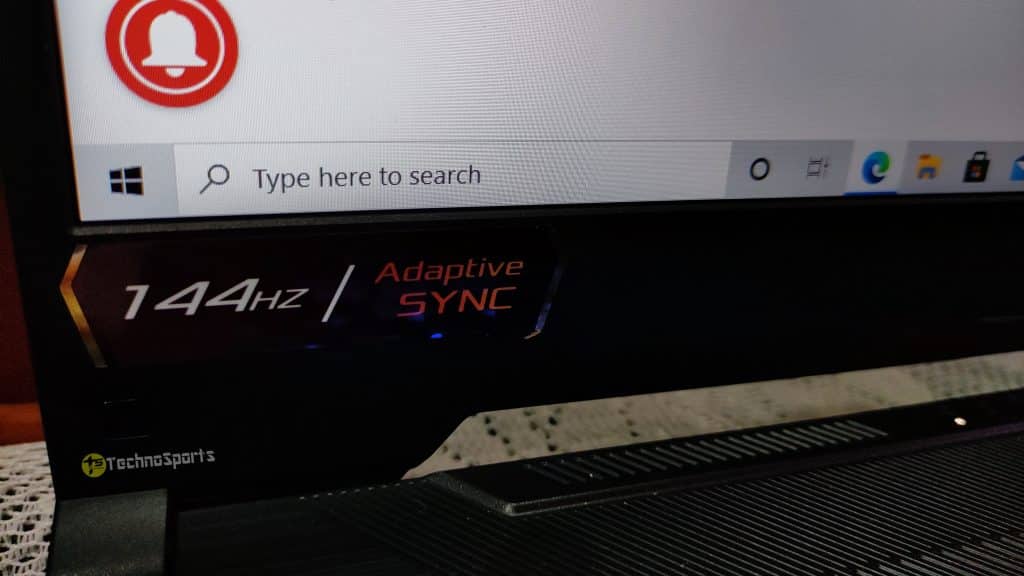 In gaming, using the Performance mode at full brightness, the display is adequately bright for long gaming sessions unless you are outdoors. Also, thanks to the 144Hz refresh rate and low 3ms response time, gaming on this display are very fluid, and I enjoyed playing both triple-A and battle royal games, which require ultra-low response time.
With Adaptive-Sync Technology, the display's refresh rate synchronizes with the GPU's frame rate to reduce lag, minimize stuttering, and eliminate visual tearing for ultra-smooth and immersive gameplay. However,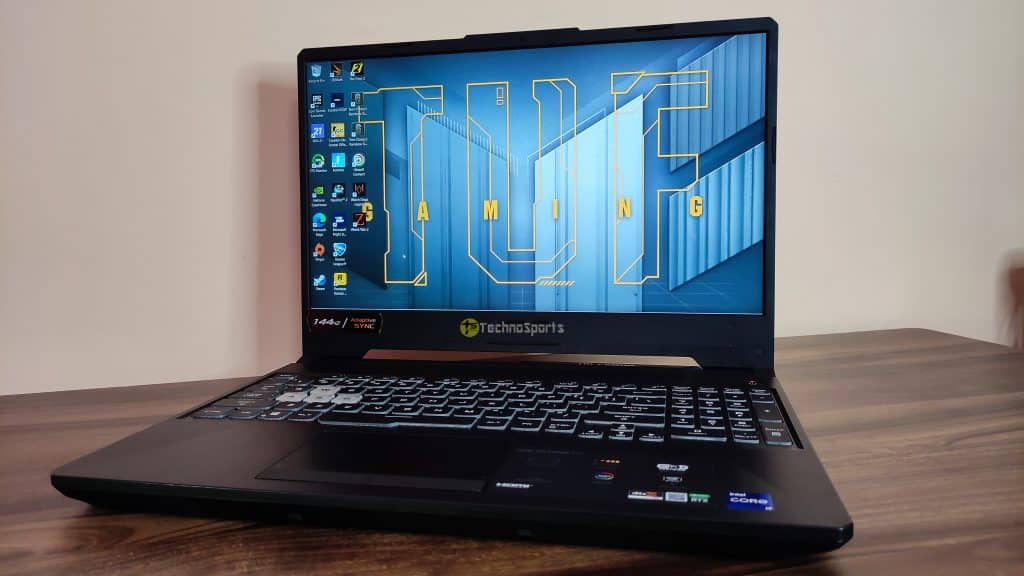 Performance
This segment is the one I am all excited to talk about as many tech enthusiasts, including me, had been criticizing Intel's not-so-efficient 10th gen SKUs for mobile and the 11th Gen quad-core chips. However, finally, the 10nm based Tiger Lake-H series processors with up to 8 cores delivers incredible performance bump without sacrificing on efficiency.
Finally, these Core i7s and Core i9 SKUs for mobile are fantastic in terms of gaming and productivity performance. The single-core performance boost is beneficial while gaming, and for productivity, the multi-core performance is one of the fastest out there, beating the Ryzen 5000H processors as well.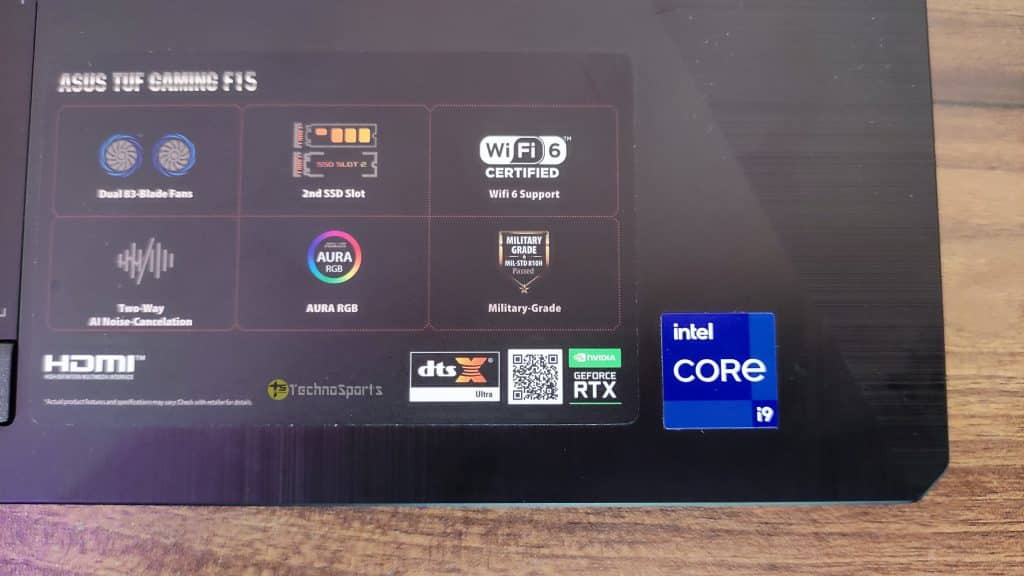 Also, these Intel CPUs are PCIe Gen 4 compatible, so they support faster SSDs, and as these are paired with the latest NVIDIA GeForce RTX 30-series GPUs, the combo performs really well in gaming. So, there's the brand-new Ampere GPU architecture, which combines traditional CUDA cores for programmable shading with new RT and Tensor cores for real-time ray tracing and AI.
Here we have the powerful RTX 3060 mobile GPU, which is great for 1080p gaming at the highest settings possible, and you also have Resizable BAR support. The voltage given to the GPU unlocks better performance, and exclusive NVIDIA features like DLSS, Reflex, NVIDIA Studio, and others really help during gaming.
There are few Performance modes that are already tuned for balance clock speeds and acoustics for the task at hand, customizable to your needs. So, you can switch between Silent, Performance and Turbo quickly as per your need.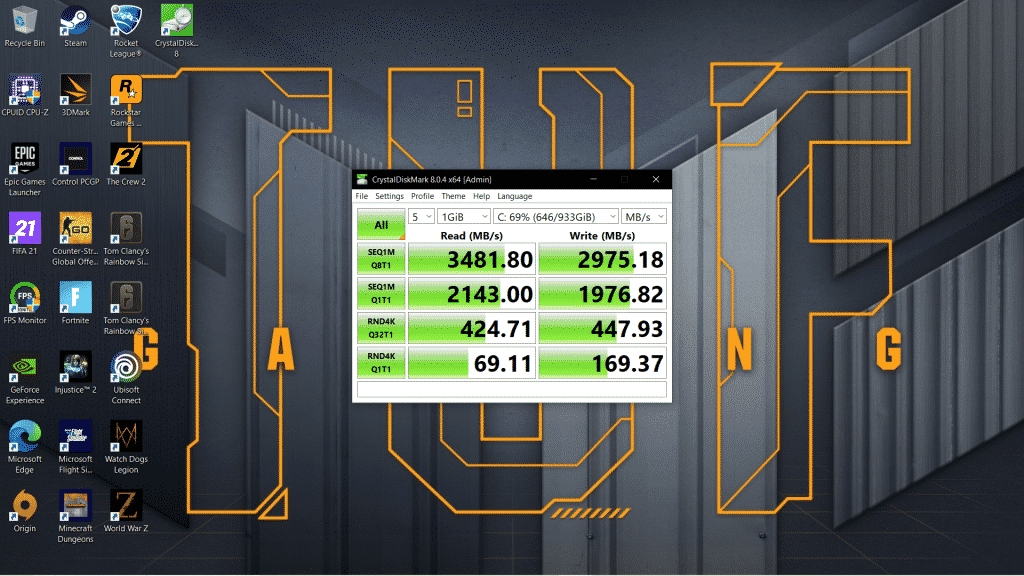 The 1TB NVMe SSD here is also quite fast, reaching up to 3481MB/s in terms of read speeds and up to 2975MB/s for write speeds. So, you won't face any hiccups to load or install games and heavy games like Cyberpunk 2077 load in few seconds.
These are some of the performance benchmarks that will give you an idea of how the new Intel Core i9-11900H performs:
As you see, the Intel chip used here is mighty in the traditional benchmarks, blowing out all the laptops we have tested before.
Here are some 3DMark benchmarks for your reference:
It comfortably seats a record single-core as well as multi-core scores, leading the line with powerful 8 cores and 16 threads. So, in terms of sheer performance, the ASUS TUF Gaming F15 with Core i9-11900H & RTX 3060 is one of the most powerful gaming laptops out there in the market.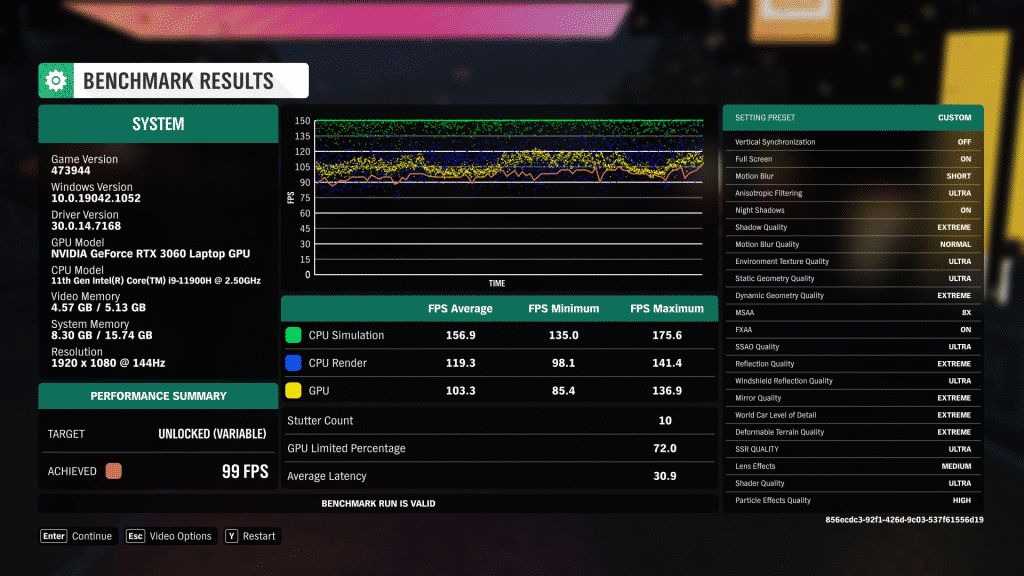 Gaming
The single-core improvements really help in gaming, and the high boost frequencies help in games that still favour single-core performance. So, in most games, the ASUS TUF Gaming F15 give mind-blowing frame rates, and you can comfortably play 1080p games at max settings with no hiccups at all.
I even used DLSS, Ray tracing to enjoy the heavy games like Cyberpunk 2077, Control with max possible settings. You see in the screenshots, the shadows, reflections pop up perfect in ray tracing enabled games, and you can enjoy games to the fullest with a life-like feel.
Here are all the gaming benchmarks of almost all modern games you can possibly play these days:
In all of them, you see you can comfortably get high frame rates, also take into count those extra NVIDIA features; the overall gaming experience on this laptop is awesome!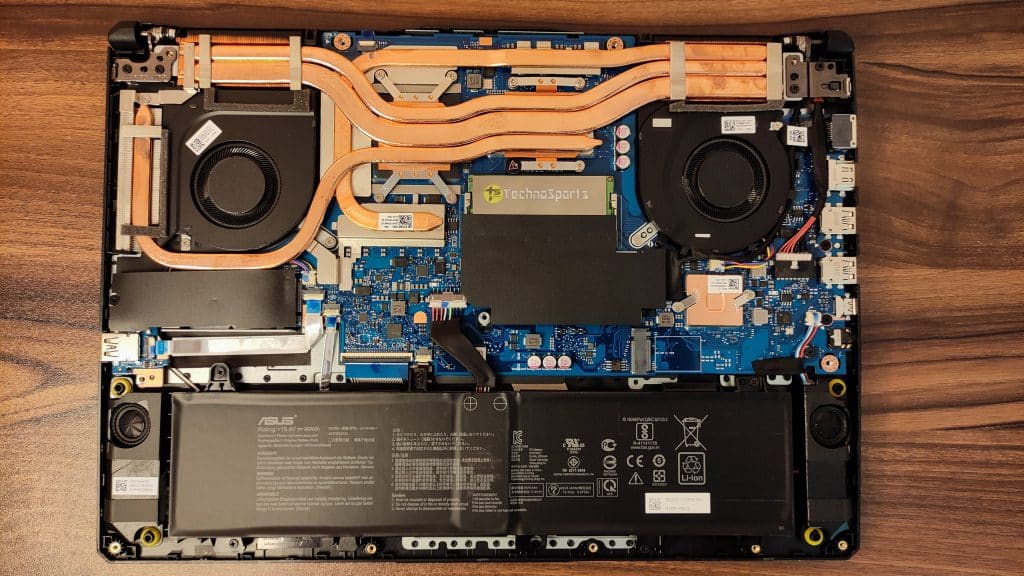 Thermals & Upgradability
In terms of thermals, there is a huge upgrade over last-gen as a gaming laptop's cooling is very important for sustained performance and longevity. ASUS has implemented four heat pipes this time, and three heatsinks draw heat away from your hardware and dissipate it quickly.
Now, you have a self-cleaning cooling design that ensures your cooling system stays debris-free for full functionality for the long haul. The gaming laptop now bears two 83-Blade fans that are 55% thinner than before but gives 15% better performance, so ASUS claims lower fan noise than before.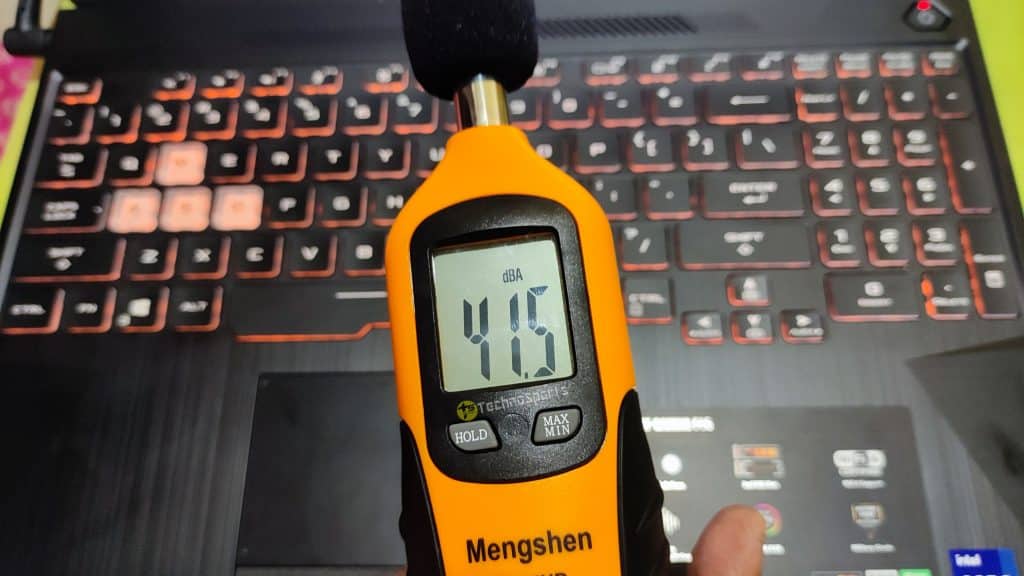 Indeed this is true as in Silent mode, you won't hear any fan noise at all, while in Performance mode, ASUS claims it's 11% quieter and 6% quieter in Turbo mode. Indeed I felt this true because there was a lot less fan noise even you had been playing for hours.
While normal work or benchmarks, the laptop's temperature never went above 40-42 degrees celsius and while gaming, the max temperature that went was 48 degrees celsius. Also, as promised, the fan noise never went more than 40 decibels, whereas, during gaming, the noise was limited to 51 decibels.
In my long FIFA sessions, I didn't even hear any fan noise, a bit hot as you expect to be but in terms of thermals, ASUS has done a good job. You have two SO-DIMM slots, and if you want, you can upgrade the RAMs up to 32GB in total, and you also have an extra open M.2 SSD slot for future SSD expansion.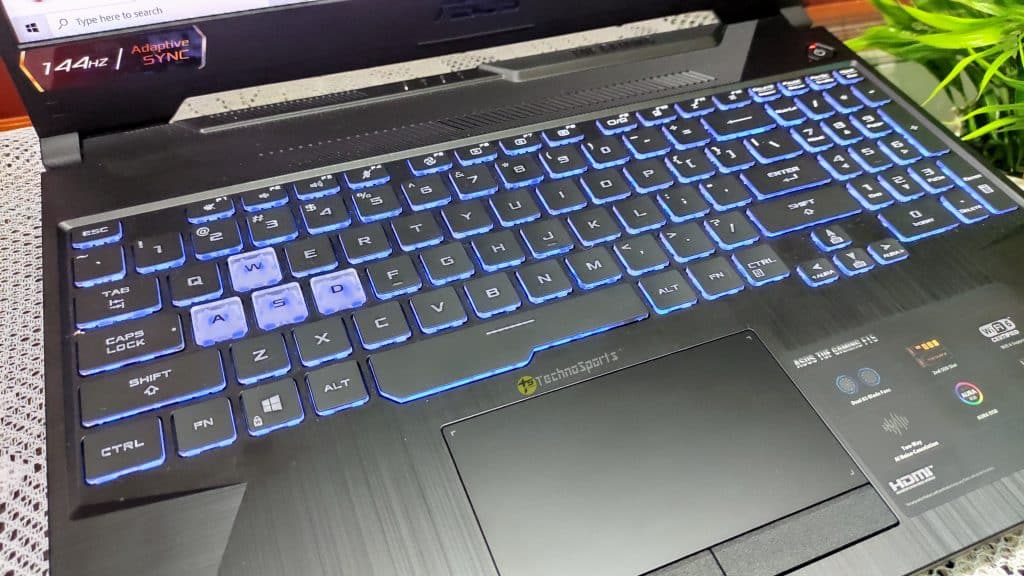 Keyboard & Trackpad
This time, ASUS has given perfect keys to the TUF Gaming F15 laptop with a desktop-style keyboard optimized for gaming. Having used a lot of gaming and mechanical keyboards, this laptop's keyboard is comfortable and mushy.
It has the highlighted WASD accents to give you a visual shortcut to key movement commands and a full-style layout, though the keys are a bit small but have 1.8mm key travel, one of the best key travels on a gaming notebook.
I like the spacing between the two keys, and it feels distinct; a I type the review on this keyboard, the experience is excellent. The keyboard comes with Overstroke technology triggers higher in each keystroke for faster responsiveness and effortless control along with certified durability, rated to last 20 million presses.
Also, ASUS has addressed the heating issues on the keyboard, while prolonged gaming makes it hard to touch keys sometimes. However, the venting via the WASD keys allows the fan beneath to generate airflow through the board, keeping crucial inputs cool, so the keyboard remains quite cool even after playing games for a long time.
The RGB backlit keyboard here is a great one with three backlighting levels, and like premium ROG laptops, you have various lighting modes. You can easily switch between various lighting effects or set your own using the AURA SYNC software and customize it.
The trackpad is decent, not the largest or the most accurate, but still usable, but I prefer a dedicated gaming mouse.
Ports & Connectivity
ASUS has given you many I/O ports with the laptop: 1x HDMI 2.0b, 1x RJ45 LAN port, 1x Thunderbolt 4 support DisplayPort, 3x USB 3.2 Gen 1 Type-A and a 1x 3.5mm Combo Audio Jack. Obviously, the pros of having an Intel-powered laptop is the Thunderbolt 4 port on the TUF Gaming F15.
The versatile Thunderbolt™ 4 port lets you connect to the latest devices and supports DisplayPort 1.4, so you can plug in two 4K displays at 60Hz, or one 8K UHD TV or monitor for immersive visuals. You also have the latest Wi-Fi 6(802.11ax) and Bluetooth 5.2 (Dual-band) 2*2 combo in terms of connectivity.
So, the network speeds are quite reliable and have fast connectivity wherever Wi-Fi is available, gives the maximum Wi-Fi speeds your router can provide you up to. Also, I appreciate giving the latest Bluetooth 5.2, which lets you connect devices simultaneously, be it mice, headphones, and other compatible devices.
Audio & Webcam
ASUS has used two 2W speakers with four cut-outs and comes with DTS: X™ Ultra support; however, I found it quite strange as I found the speaker very average during movies, music or casual YouTube sessions. However, while playing games, the speaker's fire to give a good sound, but they are downward-facing, so when kept on a table or the bed, the audio experience gets a bit disheartening.
Also, you have Advanced Two-Way AI Noise Cancelation works for both upstream and downstream connections, letting you remove noise from your mic input and incoming feeds. Again the 720p webcam here is pretty average and needs good lighting to make you look visible; it should be improved over time.
Battery Life
Though ASUS claims up to 14.7 hours of battery life (local video playback), I mostly used this gaming laptop while charging to get the best gaming experience. However, to increase battery life, you should do two things:
Open ARMOURY CRATE software and turn on the iGPU mode while on battery
Install Intel graphics to help the laptop use the iGPU when you are not gaming
However, if the system finds any apps like Origin or Epic Games downloading games, it will trigger the Performance mode to drain the battery. So, if you are browsing, watching movies, only then you be able to extend battery life up to 4-5 hours and even more with lower brightness.
Not as efficient as the AMD Ryzen 5000H powered gaming notebooks, but still, almost 5 hours+ of battery life on a gaming laptop is itself a good thing.
Pros & Cons
Here are the things which I liked and disliked the most about the ASUS TUF Gaming F15 (2021):
Pros
Decent display for gaming with an optional 300 nits 100% sRGB display option
A totally new design and a bold look with durability tests
Great gaming and productivity performance thanks to new 11th Gen Tiger Lake-H Intel chips
Comfortable keyboard and excellent thermals
Enough room for future upgradibility and will support next major Windows
Stuffed with all Intel goodness, has enough ports and lastest connectivity options
Cons
Poor audio quality and trackpad could have been better
The heat vent on the right side is tedious as you cannot use your mouse while playing at side
A bit expensive
Verdict
The new ASUS TUF Gaming F15 laptop (2021) with new Intel processors and NVIDIA graphics are great for gaming and productivity. You will have no complaints at all in terms of performance if you go with this laptop, and for everyday use as well as gaming, the TUF Gaming F15 is very powerful.
This is one of the best gaming laptops I have tested so far with a totally new look, ample ports, and the latest connectivity, stuffed with all Intel goodness. ASUS has totally changed the way people perceived this gaming laptop, and not only does it perform like a beast but also looks premium.
The TUF Gaming F15 is highly recommended for those who need the absolute best gaming performance with all Intel benefits. ASUS has a lot of variants to help you choose the one best suitable for you; however, for your benefit, we will list the variant we got for review and the others available on the market as well:
Our review unit: ASUS TUF Gaming F15 (2021) with Intel Core i9-11900H, RTX 3060, 16GB RAM/1TB SSD, FHD 144Hz display will cost you ₹ 1,75,990: https://amzn.to/2ThxLlK
Other variants:
ASUS TUF Gaming F15 (2021) with Intel Core i5-11400H, RTX 3050, 8GB RAM/512GB SSD, FHD 144Hz display will cost you ₹83,990: https://amzn.to/3yiHbgB
ASUS TUF Gaming F15 (2021) with Intel Core i7-11800H, RTX 3050, 8GB RAM/512GB SSD, FHD 144Hz display will cost you ₹96,990: https://amzn.to/3rNjBG5
ASUS TUF Gaming F15 (2021) with Intel Core i5-11400H, RTX 3050 Ti, 16GB RAM/1TB SSD, FHD 144Hz display will cost you ₹98,990: https://amzn.to/3jtnpZF
ASUS TUF Gaming F15 (2021) with Intel Core i5-11400H, RTX 3060, 16GB RAM/512GB SSD, FHD 144Hz display will cost you ₹1,04,990: https://amzn.to/3xhYtJs
ASUS TUF Gaming F15 (2021) with Intel Core i7-11800H, RTX 3050, 8GB RAM/1TB SSD, FHD 144Hz display will cost you ₹1,09,990: https://amzn.to/3A3cL22
ASUS TUF Gaming F15 (2021) with Intel Core i7-11800H, RTX 3060, 16GB RAM/1TB SSD, FHD 240Hz/3ms display will cost you ₹ 1,55,989: https://amzn.to/2TX6hlQ
The Flagship variant with the best display: ASUS TUF Gaming F15 (2021) with Intel Core i9-11900H, RTX 3060, 16GB RAM/1TB SSD, 240Hz/3ms display will cost you ₹ 1,87,990: https://amzn.to/3g9POn0