ASUS has entered the handheld gaming market with its new ASUS ROG Ally and has received a lot of appraisal for this and yes finally we have this wonder with us. Taking a step ahead of its arch-rival Steam Deck, the new ASUS ROG Ally 2023 is powered by the new AMD Z1 Extreme APU which promises much better performance than the rivals, thanks to a newer Zen 4 architecture CPU cores and RDNA3 graphics.
A lot of Chinese brands have entered this space but ASUS's experience with the ROG brand and technical prowess to also make smartphones has indeed helped the brand make a device like this out of nowhere. A Full HD display, strong hardware, ergonomic design, and the latest connectivity, make this a totally unique prospect altogether. Having used this for daily gaming needs, here's a quick review of what you can expect from this new ASUS ROG Ally:
ASUS ROG Ally 2023 Specifications
| | |
| --- | --- |
| Model | RC71L |
| CPU | AMD Z1 Extreme 4nm processor Zen 4 with 8 cores & 16 threads, 24M cache CPU Clock: up to 5.10 GHz TDP: 9 – 30 watts |
| GPU | Integrated AMD Radeon™ RDNA3 Graphics 4GB VRAM capacity / 8.6 TFlops 12 CUs GPU Clock: 2.7GHz |
| Panel | Full HD (1920 x 1080), 120 Hz / 7 ms eDP1.4b 500 nits IPS-panel with 100% sRGB FreeSync™ Premium, Gorilla® Glass Victus™ and Gorilla® Glass DXC, 10-point Touchscreen Gyro support |
| Memory | 16GB (LPDDR5 6400Mhz) dual channel LPDDR5 8GBx2 on board |
| Storage | 512GB M.2 2230 NVMe Gen4x4 SSD UHS-II SD card slot |
| I/O PORT | 1x ROG XG Mobile interface (8PCI express lanes) and USB Type-C combo port (with USB 3.2 Gen2x2, 20Gbps, DP 1.4 support) 1x 3.5mm Audio jack 1x Micro SD slot (UHS-II, Micro SD 4.0) |
| Audio | 2 x 1W speakers with smart amp technology Dolby Atmos®, Hi-Res Audio, AI Noise Cancellation |
| Wi-Fi / Bluetooth | WiFi 6E (802.11ax) / Bluetooth® v5.2 |
| Battery | 40Wh |
| Adapter | 65W PD adapter, supports pass through charging Output: 20V DC, 3.25A, 65W Input: 100~240V AC 50/60Hz universal |
| Dimensions and Weight | 28.0 x 11.1 x 2.12 ~ 3.24 cm (11.02″ x 4.37″ x 0.83″ ~ 1.28″) and 608 grams |
Design & Ergonomics
Asus has given careful consideration to the design of this new ASUS ROG Ally (2023). If you ask about the material used for the exterior build of the ROG Ally? Asus confirms that it is made of high-quality plastic, specifically reinforced white polycarbonate. It's worth noting that this material is white throughout and not painted, so any marks or damage would not reveal a different color underneath.
The screen is located on the front of the handheld device, featuring the ROG logo on the bottom bezel. The design choices on the front are clearly inspired by gaming themes, giving it a neat appearance. The thumbsticks are equipped with customizable Aura Sync RGB lighting that can be adjusted using the software, and they can also synchronize with other Asus peripherals.
The device offers a high level of comfort when held, and I didn't encounter any numbness in my fingers or arms even after extended gaming sessions, also once you get used to gaming on this ASUS ROG Ally, you won't have any issues generally. The placement of the two paddle buttons on the bottom of the device is not something I enjoyed, although holding the ASUS ROG Ally feels comfortable and provides a relatively firm grip.
Display
The 7-inch Full HD (1920 x 1080) IPS display here comes with a 120 Hz refresh rate and just 7 ms response time, making this an ideal choice for gamers to enjoy. Yes, the display is also bright, having a peak brightness of up to 500 nits, making the ASUS ROG Ally playable even outdoors and the best part is the quality of the display is great, boasting up to 100% sRGB color gamut.
Gaming on this one is absolutely majestic, both at 720p and 1080p, as the display is a small one, even if you play at 720p at higher frame rates, you will enjoy playing them. Whereas games that do not require much GPU horsepower can be enjoyed at FHD with utmost detail, the ASUS ROG Ally looks fantastic while gaming undoubtedly. Thanks to AMD FreeSync Premium, there is no stuttering or lag while gaming, and thanks to being an IPS display, you have little to no ghosting.
Performance
As you already know, the ASUS ROG Ally is a handheld console that runs on a full-fledged Windows 11, which means you can install anything on this device or play anything you wish. So, ASUS has made this handheld powerful enough for you to do anything using it, thanks to the AMD Ryzen Z1 Extreme processor at the heart of this console.
In terms of raw performance, the 16GB 6400MHz LPDDR5 DRAM, and an ultra-fast PCIe Gen 4 SSD make the ASUS ROG Ally a mini gaming desktop at your disposal. With instant wake and transfer of games, the handheld console will undoubtedly become your favorite, talking more about the synthetic benchmarks, the ROG Ally got a score of 1731 and 14101 points in single and multi-core scores of Cinebench R23.
Whereas even in Geekbench, the Zen 4 chip does bring in a healthy score of 2451 and 11221 points in Geekbench 6, making the console as powerful as an entry-level full-fledged gaming laptop.
Gaming
Yes, gamers will definitely love portable gaming on this ASUS ROG Ally, and you get three modes at your disposal to game as per your needs: 30W mode, 25W mode, and 15W mode. While the Turbo or 30W mode gives you the best performance but draws a lot of power, the 25W or Performance mode is the best option because there's only a 5-10% drop in performance, however, if you are looking for great battery life, the Silent or 15W mode is the best option for you but at the cost of 20-30% drop in performance.
| | | |
| --- | --- | --- |
| Game | Medium | High |
| Shadow of the Tomb Raider (FHD) | 40 | 38 |
| Shadow of the Tomb Raider (HD) | 65 | 61 |
| Cyberpunk 2077 (FHD) | 45 | 42 |
| Cyberpunk 2077 (HD) | 71 | 67 |
| Guardians of the Galaxy (FHD) | 39 | 38 |
| Guardians of the Galaxy (HD) | 59 | 57 |
| Forza Horizon 5 (FHD) | 63 | 61 |
| Forza Horizon 5 (HD) | 73 | 69 |
As you see in all of these popular triple-A titles, the new ASUS ROG Ally performs surprisingly well, giving you playable frame rates both at HD and FHD. While you can comfortably game over 60FPS at HD settings at FHD you will enjoy a bit lower frame rates although with greater quality. Whereas if you play in Silent mode, you get 1/3rd the performance while at Performance mode you get almost 60-70% of the performance. Also, you can use both AMD's FSR and RSR to improve game frame rates without affecting performance, which serves as a major boon in all the supported games.
I really enjoyed playing CS:GO on this ASUS ROG Ally and even the new Counter-Strike 2 as well, enjoying hundreds of frame rates both at HD and FHD settings, and once you get used to this new playing style, you will have no issues at all. Overall, in terms of gaming, the ASUS ROG Ally won't disappoint you at all, and indeed give you the best handheld gaming performance currently in the market.
Thermals
The ASUS ROG Ally utilizes a unique cooling system known as the 'zero-gravity' cooling system. This innovative technology ensures that the cooling system continues to operate efficiently regardless of the handheld device's orientation. This means that you can use the Ally in various positions, such as having your hands raised while using it in bed or even rotating the device, without experiencing any negative impact on the cooling performance.
The dual fans cooling the AMD Ryzen Z1 Extreme chip do a good job of taming this little guy from heating up too frequently, however, using a custom thermal option from the software does help you take the thermals to the next level.
Software Experience
ASUS deserves special credit in terms of making the ASUS ROG Ally very much usable for everyone and that starts with its improved software experience. On top of Windows 11, you have various ROG software to help you get the best gaming experience without much expertise, from using the Command Centre while gaming to the dedicated Armory Crate software to customize everything meticulously, you can do it all.
Well, you might notice some crashes or a bit of lag at times but mostly, the features like custom mapping ability on both desktop & gaming modes or the ability to set any game profile, and customize its performance or controls as per your choice make the ROG Ally really special.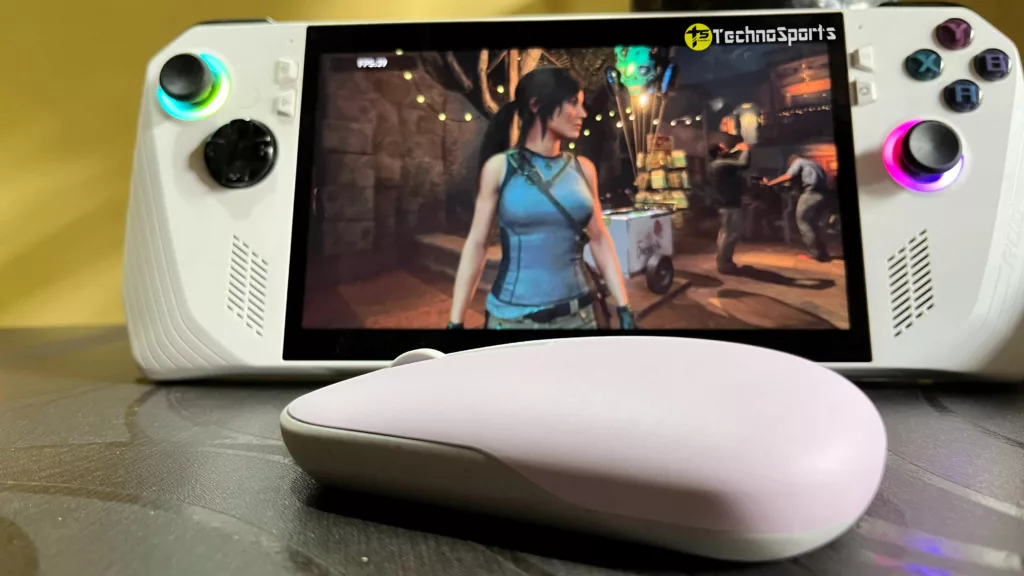 Audio & Connectivity
The new ASUS ROG Ally features dual microphones that effectively capture audio. These microphones are particularly useful for in-game communication and applications such as Microsoft Teams or Discord.
It is also equipped with two 1W dual speakers, surpassing expectations with their impressive sound quality and volume despite the device's compact size. Additionally, the ROG Ally is accompanied by Dolby Access, offering various modes tailored for movies, music, and immersive gaming experiences. In terms of connectivity, you have both Wi-Fi 6E and Bluetooth 5.2 alongside a USB-C port, a 3.5mm combo audio jack, and a microSD card reader.
Also, you have this port to connect to a dedicated ROG XG Mobile to give you desktop GPU-level performance in your ASUS ROG Ally.
Battery Life
This ASUS ROG Ally comes with a 40Wh battery which Asus claims should last pretty well for your daily gaming needs, however, that depends on you basically. As per the mode you select to play games, the battery life is equally proportional to that while using Silent mode for gaming you can stretch this one to almost 3 hours, whereas in Performance mode this can be stretched to almost 2 hours and finally in Turbo mode, while you enjoy the best gaming performance but the battery dies out in just an hour.
Yes, you can charge this ROG Ally using the Type-C port, which is a good thing though and it takes around an hour and a half to get it charged completely.
Verdict
Should you buy this new ASUS ROG Ally? Well, for ₹69,990, this is definitely not a cheap handheld gaming console but yes, gives you an experience that no other can for a suitable price. The marketing of this product is being done with ASUS claiming this same console can give you 3 modes: Me Time: Handheld Console, We Time: Home Entertainment System, and Pro Time: Desktop Replacement.
This makes sense as being a Windows-powered device, this same ROG Ally can be used for multiple purposes apart from gaming, making it a device that is in a league of its own. The latest hardware including the AMD Ryzen Z1 Extreme paired with a 7-inch IPS FHD display, makes this totally functional and worth it, though many did complain about software or optimization issues, with BIOS updates, for me the overall experience was surprisingly good.
Apart from a mediocre battery and weird placement of the two paddle buttons, for me, the ASUS ROG Ally was indeed a pleasurable experience. As the festive season kicks in India, this handheld gaming console should or could easily end up on your bucket list.
Buy from Flipkart: https://fas.st/k3JYE
- Advertisement -