Zebronics ZEB-MAX NINJA is the company's latest offering in the 60% wireless mechanical keyboard segment which also comes with RGB backlit keys and a total of 61 removable blue click keys. It has a feature to multi-connect up to 3 Bluetooth devices simultaneously, 2.4GHz Nano USB, Type C wired mode, built-in rechargeable battery, and N-key rollover. Zebronics ZEB-MAX NINJA is available in Black and White colours.
In this article, we will discuss in detail about this keyboard, and at the end, we will discuss if you should buy this keyboard or not.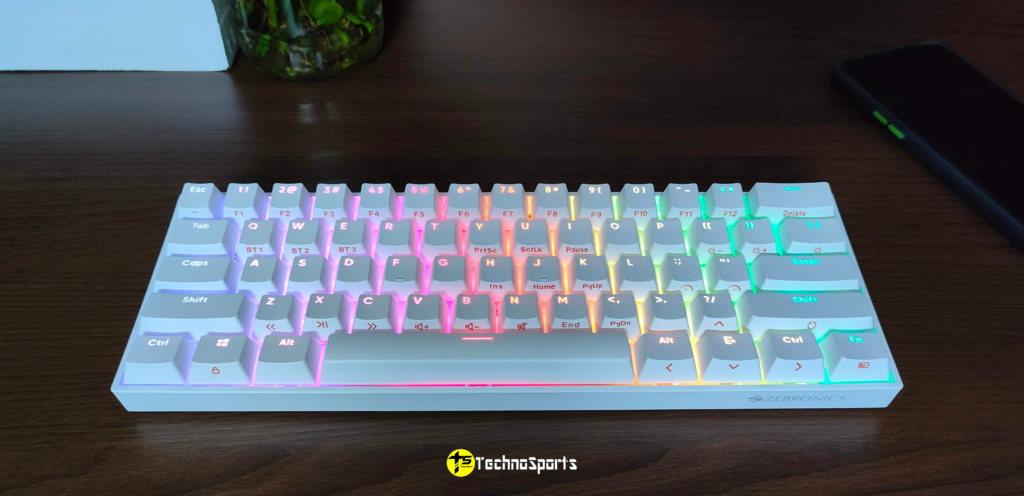 Specifications and Features of Zebronics ZEB-MAX NINJA:
60% (61 keys) wireless mechanical keyboard (Black / white color variants) to help you save space on the table with an easily portable size & a minimalistic design.
Multi connect / multi-mode usage with max. 3 Bluetooth connections, one 2.4GHz RF wireless nano receiver, and a detachable Type C cable for a wired mode of usage.
Fast switch between 3 Bluetooth connections (smartphone, tablet, Laptop etc.)
Compatible with various devices using Bluetooth (smartphone, tablet, laptop etc.,) 2.4GHz RF wireless (Laptop, PC computer) & removable type C cable for wired connection & use.
Easily change modes from BT, wireless & wired, with the Mode toggle switch provided on the rear panel of the keyboard.
Built-in rechargeable battery with low battery indication and charging indication.
Supports N key rollover. Integrated multimedia keys and Windows key enable/disable function.
Magnetic 2.4GHz RF wireless nano receiver – storage space on the back panel of the keyboard.
21 RGB LED-backlit modes
5 LED speed modes (for non-static LEDs) and 5 LED brightness modes.
Heavy-duty structure for durability and premium PBT keycaps
Up to 10-meter wireless range (without obstacles).
In the Box
Mechanical Keyboard
USB Type-C to USB A cable
2.4GHz RF nano receiver
Key removal tool
User manual
Design & Build

Zebronics ZEB-MAX NINJA is a mini mechanical keyboard. It is compact and on the other hand, serves all the gaming and day-to-day needs. The colour we purchased is white which gives the mini keyboard acute as well as an elegant look on the desk. On a day to day usage, the mini keyboard feels handy and comfortable as well. Design-wise we can see all the 61 key setups among which most of them have multiple functions that can be assessed by pressing different key combinations.
The keys are all white in colour with all the traditional QWERTY letters and numbers placed at the exact places similar to a traditional full-sized keyboard. Most of the keys also have second key functions that are marked red colour at the lower part of the keys.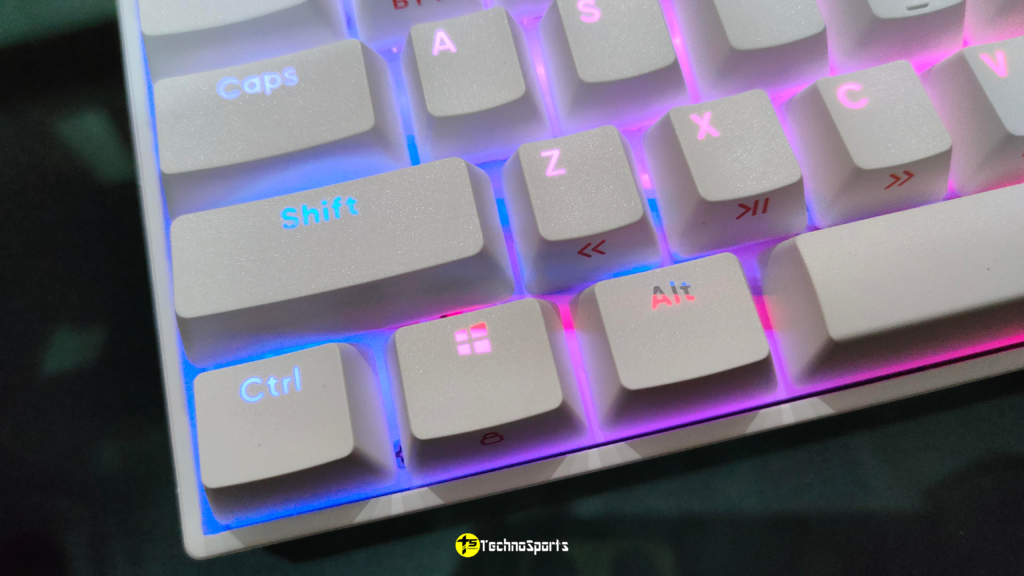 The keyboard is elevated naturally towards the upper key rows from the bottom, which gives proper writing comfort as it does not has the elevating mechanism like a traditional keyboard. At the front of the keyboard, we get a USB Type-C port, which can be used to connect the keyboard with the computer using the connector cable in order to use it as a wired one and also can be charged at the same time. As we are talking about the charge, then we can also focus on the point that this keyboard packs an inbuilt Li-ion battery that can be charged periodically when needed.
At the back of the keyboard, we can find some white rubber pads that keep the keyboard intact on the desk or any surface while working. We can also see some stickers that indicate the badging and number markings of this particular keyboard. Here you can also find a switch that helps to toggle between Bluetooth, wired and 2.4GHz wireless modes of this keyboard. There is a Zebronics branding on the lower side of the keyboard. The sides of this keyboard are clear.
Mechanical Keys and Typing
Zebronics ZEB-MAX NINJA comes with a heavy-duty 61 mechanical keys setup among which most of them have two or more functions attached to them. These keys are based on the blue switches that give the loud and satisfying click noises when pressed. This gives a proper feeling of a mechanical keyboard. Zebronics also promises N-Key rollover (NKRO) technology that ensures each keystroke gets registered, so even if you are typing casually or seriously, each of your keystrokes is indeed accurately reflected on the PC.
Coming to the typing experience, it is one of the most premium mechanical keyboards you can ever experience at this price range. The click sounds and response time, as well as the RGB lighting, gives a more satisfying experience while playing any games or doing any work with this keyboard.
Gaming and Work
Zebronics ZEB-MAX NINJA is a mini mechanical keyboard with RGB lighting. The blue switches on the other hand add more punch while clicking on the keys. You can obviously play games on this keyboard and on the other hand, you will not find it difficult to work with it.
The RGB lighting adds more punch while gaming and more RGB settings give a better experience while working the keyboard as well.
RGB
Coming to the RGB front, the Zebronics ZEB-MAX NINJA RGB comes with a ton of LED RGB lighting presets and modes. The keyboard comes with 21 RGB LED-backlit modes where you can set the modes as per your moods. It supports 5 LED speed modes (for non-static LEDs) and 5 LED brightness modes.
The backlighting strength is adequate, and usually, it seems perfect at max brightness.
| | |
| --- | --- |
| Pros | Cons |
| Premium quality keyboard with no flex | No Software |
| Modern design | No software customisation |
| Portable design | Slightly heavy |
| Comfortable Mechanical Keys | Brightness of RGB |
| Lots of Connectivity options | |
| RGB and customisations | |
Why should you buy this?
Overall, Zebronics ZEB-MAX NINJA RGB is a value-for-money RGB Gaming keyboard. This keyboard is priced at only Rs.3,699 for the black variant and the white colour option is priced at around Rs.4,100, which changes with the availability of the keyboard. if you consider the price point then this is one of the most feature-loaded wireless mechanical gaming RGB keyboards on the market right now.
Zebronics has really made a great mechanical gaming keyboard on this budget with a lot of features, and the typing or gaming experience on it is amazing. If you are fond of gaming mechanical gaming keyboards and also want RGB in them then you should definitely choose the Zebronics ZEB-MAX NINJA RGB which also supports wireless connectivity, this also gives a clean look to your gaming setup on the desk.
If you are planning to upgrade your keyboard or need a mechanical gaming keyboard badly, this is the one you should definitely look upon.
Buy the Zebronics ZEB-MAX NINJA RGB Wireless Gaming keyboard from Amazon: Click Here