The problem in the current PC market has been the chip shortage, and that has shown its effect with CPUs, and yes, GPUs the most; though you can still buy processors for your new PC at a reasonable price, buying a GPU is a nightmare. I personally wanted to buy an RTX 30-series or Radeon RX 6800 series GPU, and I had to struggle a lot; though I got a few options, the price was way out of my league.
So, I am still sticking to my old RX 580 anyhow, and I am sure there are a lot of people like me who have struggled for over a year now to get a CPU+GPU combo for their gaming PC. Fortunately, after the Ryzen 3000G APUs, this year, AMD has made its Zen 3 based Ryzen 5000G APUs available, and I mean available in huge quantities.
I already reviewed the Ryzen 5 5600G, and it seemed like a good option, but if you had asked me to buy it over the Ryzen 5 5600X, I wouldn't. Why? Because the iGPU doesn't perform as great as you expect in 2021, You better get a second-hand GPU and play games at 1080p low settings with Ryzen 5 5600X with new PCIe Gen 4 support.
The only downside of both these APUs is its PCIe Gen 3 and in future, you cannot use any GPU to its full potential even if you want to. Still, if you do not have a GPU or a decent CPU to play games with, these Zen 3 based Renoir APUs are great for entry-level gamers, and my suggestion has always been to prefer the Ryzen 7 5700G, which now retails for around ₹31k only.
For Rs.6k more, this is a more compelling option over the Ryzen 5 5600G in my frank opinion, so, finally, I got it to test it out on my PC for quite some time and give a verdict so if you should buy it or not and who should actually buy it.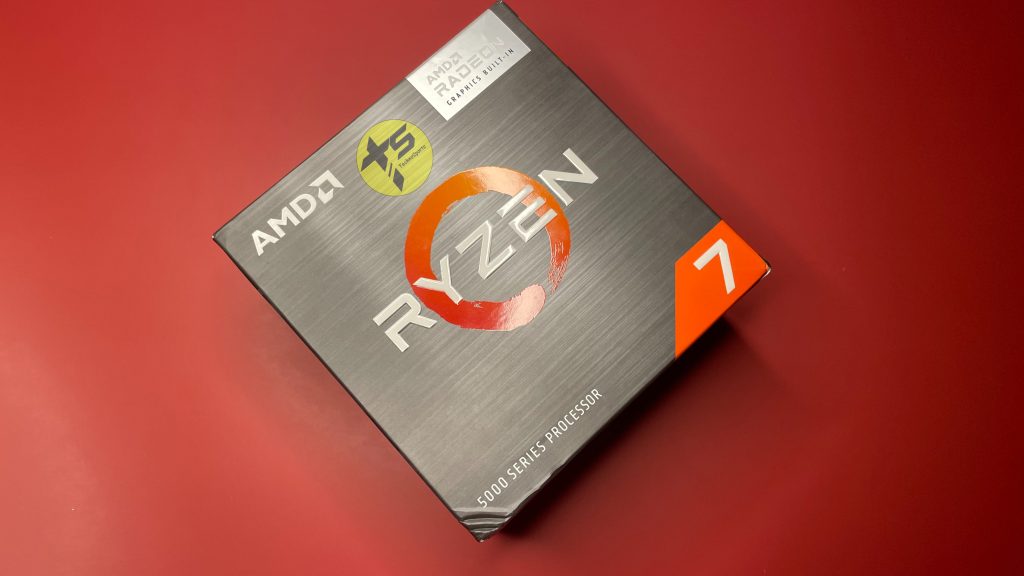 Test Config Specifications:
Motherboard: Gigabyte X570 UD
CPU: AMD Ryzen 7 5700G
RAM: 32GB 3200MHz memory
SSD: 240GB WD Sn550, 480GB Crucial SATA SSD
Power Supply: Cooler Master 750W
CPU Cooler: Deepcool Gammaxx GTE V2
Cabinet: MSI Mag Forge 100R
Specifications
Number Of CPU Cores
8
Number Of CPU Threads
16
Max Boost Clock
4.6GHz
Base Clock
3.8GHz
Integrated Graphics
Yes
PCIe Version
3.0
Thermal Solution
No
Total L2 Cache
4MB
Total L3 Cache
16MB
CMOS
7nm FinFET
System Memory Specification
3200MHz
System Memory Type
DDR4
Memory Channels
2
TDP
65W
cTDP
45-65W
Socket
AM4
Graphics Specifications
Graphics Frequency
2000 MHz
Graphics Model
Radeon™ Graphics
Graphics Core Count
8
Productivity
As I was saying previously, if you spend some more money, you are getting a modern APU with Zen 3 cores that proves beneficial for games, and in future, if you slot in a GPU, it would ideally satisfy your needs. However, do note, this APU is not meant for those who already have a GPU of some kind, like I have an old RX 580, so if you too have a GTX 1650 or such GPU, don't buy these APUs as they make sense, you can get better results with the cheaper Ryzen 7 5800X that now retails for only Rs.35k.
However, if you are someone new to a gaming PC and need a powerful processor to fasten your productivity workloads, I think paying the Rs.6k extra for the Ryzen 7 5700G makes sense. Here are some of the benchmarks and comparisons that show the APU's performance against its other AMD brothers:
As you see in the benchmarks, the Ryzen 7 5700G falls just in between the Ryzen 5 5600X and the Ryzen 7 5800X while giving decent performance drawing only 65W TDP. This is a great APU for gamers and even for productivity as you can do tasks like editing, rendering to some extent.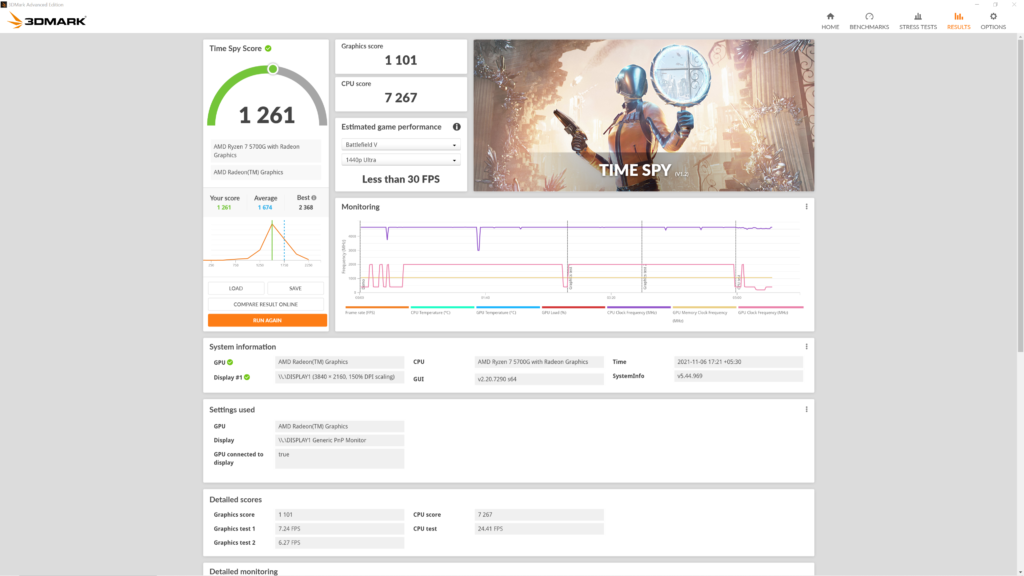 In TimeSpy benchmark as you see this iGPU helped to gather a score of 1261 points, not the best obviously, however, for an APU this is good. Overall, for productivity you should have ample amount of RAM to feed the iGPU, at least 16GB (better if dual channel), this should give you great overall experience.
Gaming
This APU is meant for those who cannot afford a GPU currently or looking to make a budget gaming PC by playing with the integrated graphics. However, do note that your expectation should be realistic enough because this APU is not decisive as an Xbox Series S that has RDNA2 graphics, this is still running Vega 8 iGPU, so 1080p low settings gaming is what you can expect from this.
This AMD Ryzen 7 5700G is obviously more powerful than the Ryzen 5 5600G costing a few more bucks extra, but it does slightly improve the gaming front. You need to know which set of games you can enjoy with these APUs; heavy games like Control, Cyberpunk 2077, and Watch Dogs Legion should be played at 720p for best results.
On the other hand, you can play at 1080p for games like Doom Eternal, FIFA 21, Fortnite, Valorant but up to 30-60 FPS, better-optimized games tends to run well with these GPUs. While a bit older, games like GTA V can run smoothly at 1080p without any issues, so you do need to optimize your game settings to get the best results with these APUs.
In my testing, I did test all the latest games; however, you should play according to what games the Ryzen 7 5700G handle the best. Here are the benchmarks:
As you see in the gaming benchmarks, you can enjoy games that are most optimized for APUs and less intensive; I enjoyed playing Battle Royal games like Fortnite, Valorant with great frame rates. Whereas optimized triple-A titles like Doom Eternal, World War Z and FIFA 22 runs best with this APU, overall, for basic gaming, this is a great APU for 1080p gaming. Do note choose games wisely to get the best performance!
Verdict
Overall, if you are looking for a short term and tired of waiting for a dedicated GPU, the Ryzen 7 5700G with all its 8 Zen 3 cores can take care of your problems. It can deliver a reasonable gaming experience on new games and a good performance on older titles, also considering the performance is somewhat close to the regular Ryzen 7 5800X, costing less than it is a great value-for-money product.
Now, retailing as low as ₹31,500, the Ryzen 7 5700G is a great option to buy and hardly spend around Rs.20-30k more and get an entire entry-level Gaming PC assembled.
Buy from here: https://amzn.to/3HfG4mF