Intel is gearing to launch its 12th Generation Alder Lake processors in the coming fall, and the silicon giant has been gearing for the launch for a long time, and the hype is real. We have seen the CPUs belonging to the 12th generation family appear in multiple benchmarks, and just recently, we saw the flagship Core i9-12900K appear in a benchmark test.
It gave AMD's Ryzen 9 5950X a run for its money in gaming. The results are collected from the latest Ashes of the Singularity benchmarks, and the hybrid chip had previously bested the Ryzen 9 5950X in Geekbench 5, as well, so I am getting excited for Alder Lake.
We already know what the specifications of the Core i9-12900K are going to be based on the retail information released earlier. As we know, the Alder Lake processor will be wielding 16 cores in total, out of which eight high-performance Golden Cove cores and eight energy-efficient Gracemont cores. The 125W chip's other specifications include 30MB of L3 cache, a 3.2 GHz base clock, and a 5.2 GHz boost clock.

On the other hand, AMD's Ryzen 9 5950X, which was used as intel's competitor, sports 16 Zen 3 cores with simultaneous multithreading (SMT) at 3.4 GHz with a boost clock speed 4.9 GHz. The 105W processor also has 64MB of L3 cache at its disposal.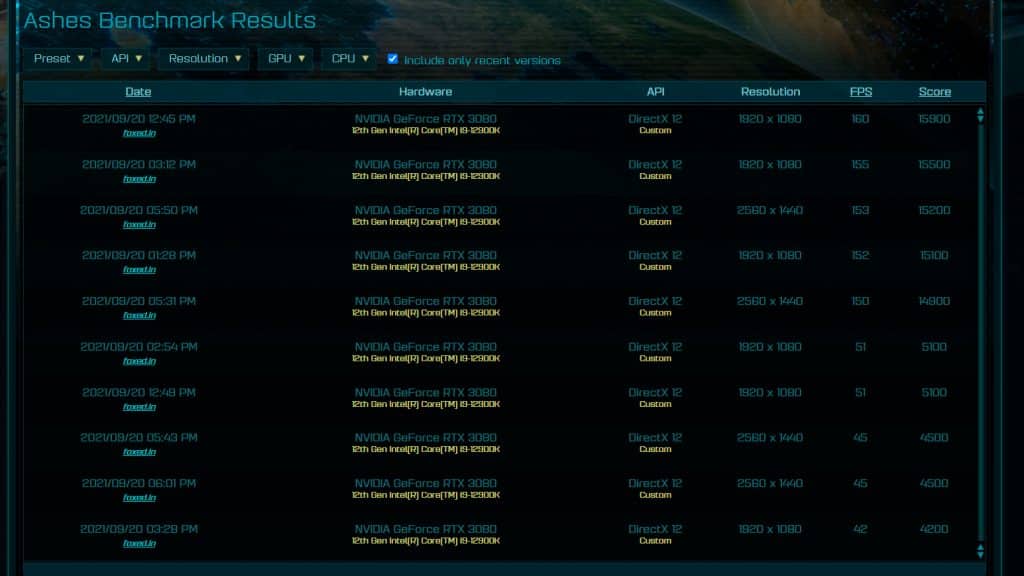 Coming to the benchmark scores at the Ashes of the Singularity, we have the Core i9-12900K with a GeForce RTX 3080, which managed to put up a score of 14,000 points with the High 1440p preset. On the other corner, we have the Ryzen 9 5950X and a GeForce RTX 3080, which has scored 10,100 points with the same graphics preset and resolution. So the final scorecard is pretty much evident, with Core i9-12900K emerging victorious by outperforming the Ryzen 9 5950X by 38.6%.
To make things clear, both the systems for the CPUs were using version 3.10.191346.0 of the benchmark tool; hence, the comparison was fair. Both methods also use the same GeForce RTX 3080, so the actual performance margin between the Core i9-12900K and Ryzen 9 5950X could be bigger or smaller.
Alder Lake will launch this Fall 2021, but there are strong rumours that an announcement is allegedly scheduled for the Intel Innovation event, which runs from October 27 to 28.