Huawei has started selling certified second-hand phones in China that comes with various level of standards at very reasonable prices. These phones are officially listed on Huawei's online e-commerce website. The models available for this official second-hand sales include Huawei P30, P30 Pro, Mate 30, Mate 30 Pro, etc.
According to the information, the certified Huawei second-hand phones include a series of cost-effective products launched by Huawei-certified partners. The company says that these phones have passed strict quality and function testing to ensure that product features and performance meet the quality standards of Huawei-certified second phones.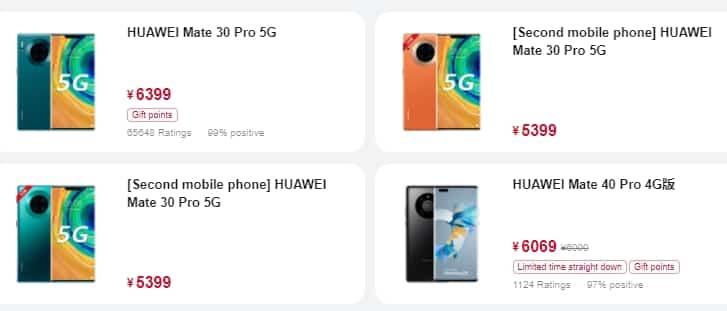 From the sales list, the cheapest device is the Huawei P30 6GB + 128GB and 8GB + 64GB versions. These models cost 2799 yuan ($431) and the shipper is Shenzhen Huihuibao Technology.
According to Huawei, the products are genuine and they come with brand new batteries and HarmonyOS 2. However, you will not get any accessories with this device. Furthermore, Huawei is offering a one-year warranty for these second-hand devices. The company is also offering a 7-day instant return if anything goes wrong. Besides, after purchasing them, the buyer will also get a 20% one-time repair service discount at the authorized service centers of the company.
There are two types of certified second-hand smartphones on Huawei Mall: 90% new and 99% new. The former has a few signs of use without dysfunction, and the latter has slight signs of use without dysfunction.
Also Read: