The Barcelona great is now the coach of Qatari club Al Sadd. After drawing curtains on his Camp Nou career, Xavi joined Al Sadd and is now coaching them.
Xavi Hernandez was the heartthrob of the Barcelona midfield. He dictated the play just like Guardiola did in his playing days. Under Guardiola's coaching and Xavi's control of the game, Barcelona had one of the most successful ears of their history.
Xavi was to Guardiola what Guardiola had been to Johan Cruyff. Now it seems Guardiola has passed the coaching gene to Xavi as well just like Cruyff did to him.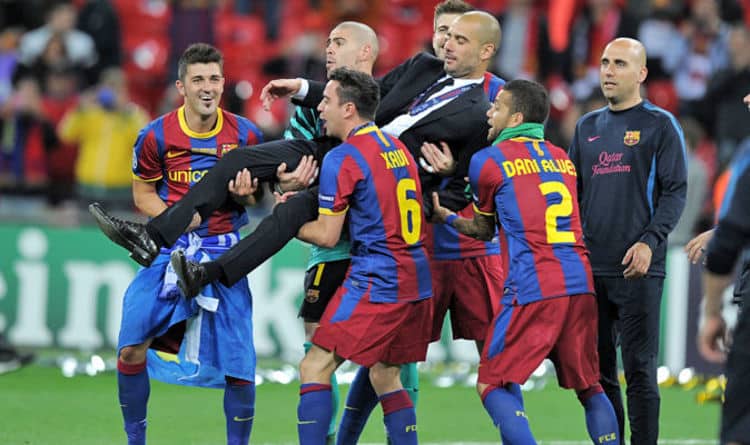 Xavi told Manchester City's officials: "My concept is very similar. Guardiola also wants to be dominant, he wants to have the ball, strong possession, lots of attacking movements… It's ultimately about being proactive within the game. It's about skilfully attacking the opponent in a certain way. In this sense, it is not my idea."
"I've learned a lot with Guardiola, from the way he is, the ambition he has, the desire and passion that he feels. He's a football-obsessed tactician and it has been a pleasure to be around him."
"We talk often. We've got a good relationship. We met up in the summer and grabbed a bite to eat, which was really nice. To be honest, I consider him the best coach in the world right now. So any knowledge he can impart to me will be more than welcome. It's a privilege to have him around contributing ideas."
Xavi further added: "With Guardiola as manager, I had no doubt [City would dominate]. Admittedly, the first year was tough for him because you always have to adapt to the different style and standards, even a different culture or background."
"However, there was no question that Guardiola was going to be successful. I have said this many times before, and in many interviews: all he needed was time."
Apparently, Xavi feels he is ready and wants to return to the Camp Nou to coach the players and guide them to greater successes.
Do check out:
All the latest 2019-20 kits of football teams from all over the world are now available on Tech2Sports. Superior quality kits at the lowest price guaranteed. Show your support for your favourite club and country by wearing their colours.
If you're a Barcelona fan, then check this out:
1. Home Kit
2. Home Kit (Full Sleeve)
3. Away Kit
4. 3rd Kit
5. Mobile Cover