As part of the latest COVID-19 regulations brought out by the United Kingdom government, up to 2,000 fans will now be allowed in Premier League clubs' stadiums that are part of the Tier-2 allocation while clubs falling under the Tier-3 category will not be allowed to have any fans whatsoever.
There is also a Tier-1 allocation which allows for a maximum attendance of up to 4000 fans, however, no Premier League club's area comes under that category. This will come as a welcome move to some football clubs' fans who have been wanting to go and watch the matches live in the grounds. 
It is understood that this division sees an equal distribution of 10 clubs in Tier-2, which can welcome 2000 fans, but 10 clubs in the high-risk areas of Tier-3 that for the time being due to the safety protocols will not allow any fans at all.
Some of the nation's areas such as Liverpool City Region, London,  Surrey, Southampton and Brighton & Hove have been declared as part of Tier-2 and are relatively in the safer zone with lesser infected cases.
The areas in Tier-3 consist of the likes of Greater Manchester, Birmingham, Newcastle-Upon-Tyne, Leeds, City of Wolverhampton and Leicestershire are in the most risky zones with the greatest chances of increased COVID-19 cases.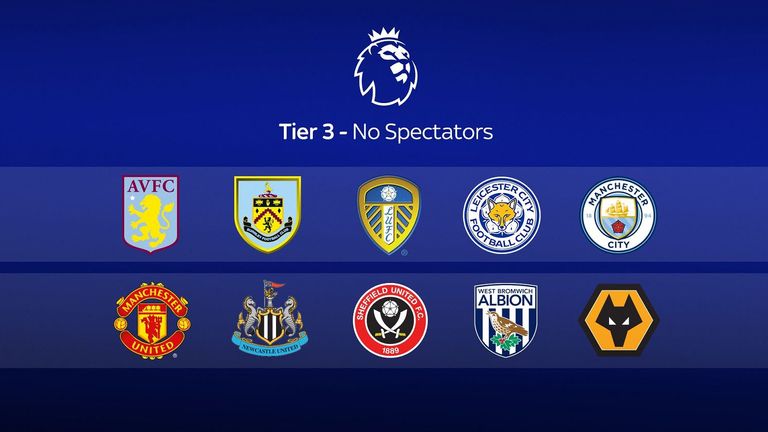 Accordingly, this also translates into the 20 football clubs as earlier discussed. Some of the teams that will be able to get fans back into the stadium would be Liverpool, Everton, Chelsea, Arsenal, Crystal Palace, Southampton and Brighton & Hove Albion.
Whilst the likes of Manchester United, Manchester City, Aston Villa, Wolves, Newcastle and Leeds United will still be under the radar and subject to no fans inside the stadium.
However, the UK government has promised to review the tiering system back in a parliamentary procedure on December 16, and the fans of Tier-3 clubs will hope that they too are in the clear, so that they can go and watch their respective favourite teams.