Generally, players who get transferred to different clubs or leagues take time to adapt, maybe a season or two. But here's a list of 10 players who joined their new clubs and made an impact straight away this season.
10. Jesse Lingard, Manchester United to West Ham United – LOAN
In a bid to reignite some hopes of making the England squad for Euros, Jesse Lingard made a risky loan move to West Ham in the January window. Fortunately for him, it has worked perfectly, and everyone is happy. 
Since making the move to London, Lingard has amassed an incredible nine goals and five assists in some scintillating performances for David Moyes' high-flying West Ham side and quickly reminded the rest of the league that he is still a tremendous Premier League player.
9. Pedri, Las Palmas to FC Barcelona – €5m rising to €16m
Pedri didn't come through La Masia, but he may as well have been, as the teenage midfielder has rolled with the good times and bad throughout Barcelona's tumultuous season.
It has been a quite brilliant breakout season for the 17-year-old. Pedri was expected to learn from training with Barcelona's first team, see some minutes in the league, take in the experience, and be prepared for the future. It's been nothing of the sort. He has played more minutes than Sergio Busquets and as many as Antoine Griezmann, and it's all been utterly merited.
8. Andre Silva, AC Milan to Eintracht Frankfurt – €2.9m
One of the signings of the season for the Bundesliga, Andre Silva made his move to Frankfurt permanent for a paltry sum of £2.7 million. Since then, the Portuguese forward has gone on to become one of the most prolific strikers in German football and is expected to start for his nation with Cristiano Ronaldo upfront. 
The 25-year-old talent has scored 28 goals and given 10 assists in all competitions for Frankfurt.
7. Federico Chiesa, Fiorentina to Juventus – Two-Year Loan + €51m
Federico Chiesa's breakthrough moment arrived at the San Siro, in the 3-1 win against Milan, in early January, as he scored twice after a tough start to the season.
Chiesa's dynamism has been in sharp contrast to the otherwise pedestrian style of his teammates in Juventus. He was the only player to be able to hold his head high following Juventus' dismal Champions League knockout against Porto, as he netted all three of his team's goals across the two legs. Chiesa has scored 14 goals in all competitions this season, in addition to 11 assists.
6. Wesley Fofana, Saint-Etienne to Leicester – €37m
For those who watched Saint-Etienne last season, Wesley Fofana's exceptional performances in the Premier League this season were not a great shock.
Off the back of only 30 professional matches, he showed himself capable of making the step up to excel in England's top flight to the disbelief of many.
Fofana has been combative, strong, technically accurate and well-deserving of a place among the best signings after Leicester City emerged FA Cup winners with a clean sheet against Champions League finalist Chelsea.
5. Sven Botman, Ajax to LOSC Lille – €8m
Christophe Galtier's LOSC Lille are one win away from replacing Paris Saint-Germain as champions of France. Lille's defence has been extremely impressive, conceding just 22 goals this season, six fewer than Paris Saint-Germain.
The left-footed centre-back, Sven Botman, has been an absolute revelation in the Lille backline. Christophe Galtier has already lavished praise on the youngster and called him one of the best centre-backs he has ever worked with. Botman is strong, loves to tackle, dominates aerial duels, and is mature beyond his age.
4. Tomas Soucek, Slavia Prague to West Ham – €21m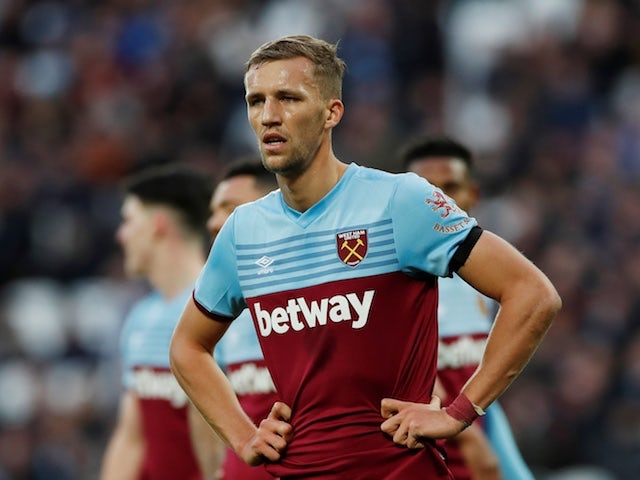 Tomas Soucek actually played for West Ham for the second half of last season on loan from Slavia Prague. The Hammers triggered their option to sign him on a permanent basis in the summer ahead of the 2020/21 season.
The Czech midfield has been a revelation, he has proved his prowess at set-pieces means he is now a marked man within the Premier League. His work rate as a box-to-box midfielder is impressive. He has scored 10 goals and assisted one in the Premier League while starting all the games throughout the season.
3. Achraf Hakimi, Real Madrid to Inter Milan – €40m
Real Madrid's loss became Inter Milan's gain. As Madrid already had Dani Carvajal in their ranks, they were not going to be able to do justice to Achraf Hakimi's talent.
So Inter Milan signed the Moroccan international and the 22-year-old has been tremendous for the Nerazzurri and has contributed greatly to Inter Milan's title-winning Serie A campaign.
The right-back has scored seven goals and provided eight assists in Serie A this term and is one of the best full-backs in the world right now.
2. Luis Suarez, FC Barcelona to Atletico Madrid – FREE
Suarez joined Barcelona's title rivals Atletico Madrid after he was told to leave the club on the back of an illustrious career at the Camp Nou. He immediately improved Atletico with his goalscoring prowess. He was in sublime form at the start of the season and the Rojiblancos are now one game away from securing the La Liga title.
The Uruguayan international has scored 20 goals and provided three assists from 31 matches in the Spanish league this season. His goals, including the one in the penultimate game which completed Atletico's extraordinary comeback, have gone a long way towards his new team's title charge and he is undoubtedly one of the signings of the season.
1. Ruben Dias, Benfica to Manchester City – €68m
Check out any list of the top signings of the season and you will see this man topping it. Scoring goals has never been a major problem for Pep Guardiola's Manchester City but most of their criticisms and weaknesses usually lie in the defensive areas – central defense specifically. They have been looking for a replacement for Vincent Kompany and Ruben Dias is surely the man for it.
Dias has produced multiple match-winning performances this season and his exploits in the Premier League, Champions League, and the Carabao Cup deserve special mention. He has kept an impressive 14 clean sheets in 30 appearances in the Premier League this term.
Manchester City have the best defensive record in the Premier League and are also favorites to win the Champions League final and it's safe to say that the Portuguese centre-back has had an impact at City that's similar to what Virgil van Dijk had at Liverpool a couple of seasons earlier.
Honourable Mentions
Edinson Cavani, PSG to Manchester United – FREE
Thiago Silva, PSG to Chelsea – FREE
Edouard Mendy, Rennes to Chelsea – €25m
Raphinha, Rennes to Leeds – €20m
Alvaro Morata, Atletico Madrid to Juventus – LOAN
Yannick Carrasco, Dalian Pro to Atletico Madrid – €27 million