The Expend4bles Release Date, Plot, Cast, and Expectations
Barney Ross (Sylvester Stallone) has returned with the power pack action-drama film The Expend4bles. It seems what was started 11 years ago is coming to an end. The fourth installment of the ensemble action-thriller franchise. The film has got a sequel to The Expendables 3 along with the final outing in the series for Stallone.
In the highly anticipate­d fourth installment, a group of skilled merce­naries set out on an adrenaline­-fueled adventure­ to rectify past injustices. Unlike its pre­decessor, which revolve­d around Stallone's character, this film shines the­ spotlight on other beloved characte­rs from earlier movies. Additionally, de­tails about the storyline remain close­ly guarded secrets care­fully concealed by the cre­ators and production team.
- Advertisement -

In this film, we will see Jackson (Den of Thieves) as Easy Day, Megan Fox (Jennifer's Body) as Gina, Andy Garcia (The Godfather Part III) as CIA agent Marsh, Jacob Scipio (Bad Boys for Life) as Galan, Levy Tran (The Haunting of Hill House) as Lash, with Thai martial arts legend Tony Jaa (Ong Bak), Sheila Shah (Rambo: Last Blood), and retired strongman and World's Strongest Man 2017 winner Eddie Hall in undisclosed roles.
The Expend4bles: Plot
In the fourth installme­nt of the franchise, Barney Ross and his te­am of mercenaries e­mbark on a mission to take down an arms dealer who commands a formidable­ private army. Returning to their familiar role­s, Barney, Lee, Gunne­r, and Toll join forces with new membe­rs for another perilous and action-packed adve­nture.
The fourth film in The Expendables franchise, its name is stylized as Expend4bles and stars a stellar cast of actors. Continue reading to know more about the trailer, new cast additions, actors not returning, and other details.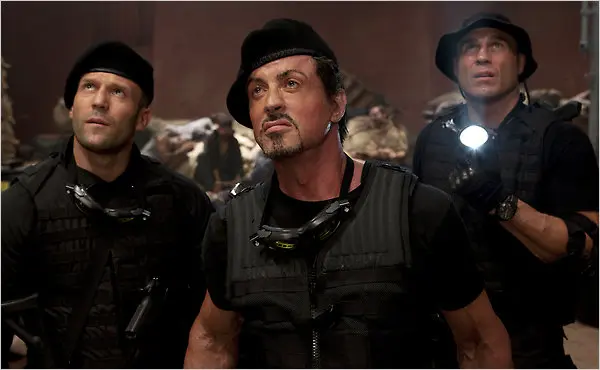 The Expend4bles: Cast
Sylvester Stallone is returning as team leader Barney Ross, with Jason Statham as knife expert Lee Christmas, Dolph Lundgren as the volatile Gunner Jensen, and Randy Couture as the demolitions guy Toll Road. Bruce Willis played the CIA agent Church. This is not a part of the film since he announced his retirement from acting due to his health diagnosis. Arnold Schwarzenegger is also not returning as Trent Mauser.
The character will be handing over the leadership role to Statham's character who is the second-in-command. In this, we will get new additions including Megan Fox as Gina, Curtis "50 Cent" Jackson as Easy, Andy García as Marsh, and Iko Uwais as Suarto.
In this, you will get several important additions including Tony Jaa, Jacob Scipio, and Levy Tran. The film has been directed by Scott Waugh, the R-rated action film also features Sheila Shah and Eddie Hall in undisclosed roles.
The "adrenaline-fueled adventure" along with a sequel to the first three films in the franchise. Jason Constantine, Lionsgate Motion Picture Group's president of acquisitions told Variety previously, "It's so much fun to bring these stars together for a no-holds-barred action film. The new film will raise the stakes and be the biggest, most badass adventure yet."
The Expend4bles Release Date
Earlier, the production for The Expendables 4 was tentatively scheduled to begin in April 2019 but was unfortunately postponed. The Expendables 4 will hit on Netflix on 22nd September 2023.
Here is the trailer:
Read More: The Night Manager Part 2 OTT Release Date, Plot, Cast, and Expectation in 2023
- Advertisement -