Yesterday, we reported how Samsung has taken the global smartphone market by storm amidst the pandemic. They have led three out of the five major markets around the world in Q3 2020. To read more about that, click here. Today, we bring you yet another major news from Samsung. Till now, we have heard updatable GPU drivers in PCs very often. But in today's era, a lot of games are being played on the smartphone itself. The South Korean smartphone manufacturer, Samsung, has officially launched a standalone GameDriver app which is set to give a completely different gaming experience to the Samsung users.
This software solution – an Android app will boost the gaming experience on selected Galaxy devices. Currently, this application 'GameDriver' can only be downloaded by users of Samsung's Galaxy S20 and Galaxy Note20. The South Korean company has said that this gaming app will be available to download in more number of handsets very soon.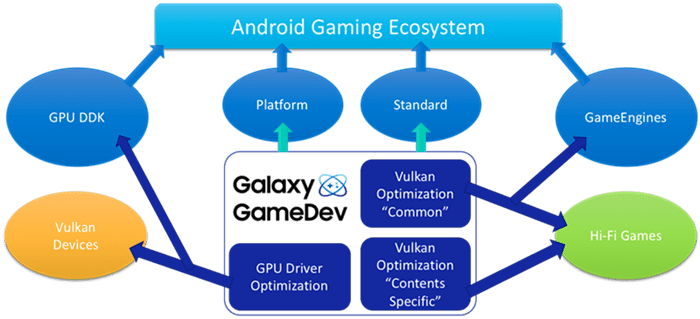 Samsung has also commented that this optimization of GPU has been done after collaborations with the US tech giant Apple and other GPU vendors like Qualcomm and ARM. They keep working with more than 50 partners which include game studio, publisher, tool developers, game engine companies, and GPU vendors. The GameDriver app is a part of the Galaxy GameDev program. This GameDev program has been around since 2016.
- Advertisement -

We have already seen Samsung's robust demand among the customers. Chinese smartphones have caused disruptions in every major smartphone company but Samsung's success is still carrying on. With this Android application, Samsung will be able to lure more people towards their products. Especially, people who want to find smartphones that are supportive of playing games will be more interested in Galaxy S20 and Galaxy Note20 and all the other models that will be equipped with this app in the future.
- Advertisement -