Finally Madhav has finally revealed the launch date of the Realme Buds Air Pro Master Edition and Watch S Pro. The launch date for the launch of both these devices is set for 23rd December, 12:30 PM IST. The availability of both the devices has not been revealed neither it is still not clear on which e-commerce platform both the devices will be available.
Realme Buds Air Pro Master Edition
Buds Air Pro Master Edition is the Master Edition of the previously launched Buds Air Pro which was also the Pro version of the Realme Buds Air Pro.
Realme Air Buds Pro will have a total playback time of 25 hours. The earbuds will have the ANC feature and thus keeping it on we can get a playback time of around 20 hours. According to Realme 10 minutes of charge will provide a playback time of 3 hours and it takes only 1 hour to fully charge the whole thing.

It will come with a 10 mm dynamic driver which will provide a rich audio quality paired with powerful bass. The Buds Air Pro will come with IPX4 protection that will cover rain or sweat. Like the Realme Buds Air, this pro version will also have a low latency mode but this time the threshold went up to 94ms and the company calls it Super Low Latency mode. Needless to mention this one will also support touch control functions and controls making it easier to control without laying any hand on your smartphone.
The main difference between this and the standard Realme Buds AIr Pro version is the color. The Realme Buds Air Pro Master Edition will come in silver with a glossy finish. The standard models come in Rock Black and Soul White.
Realme Watch S Pro
Let's check out what are the specifications we can expect from this device of Realme. As a successor of the Realme Watch S, we can expect some serious improvements in the case of the Realme Watch S Pro. The Watch S features a 1.39″ LCD and is powered by a 390mAH battery. It is already confirmed that the successor will feature an AMOLED display. The Watch S comes with a heart rate sensor and a SpO2 sensor. For dust and water resistance, it has a certification of IP68.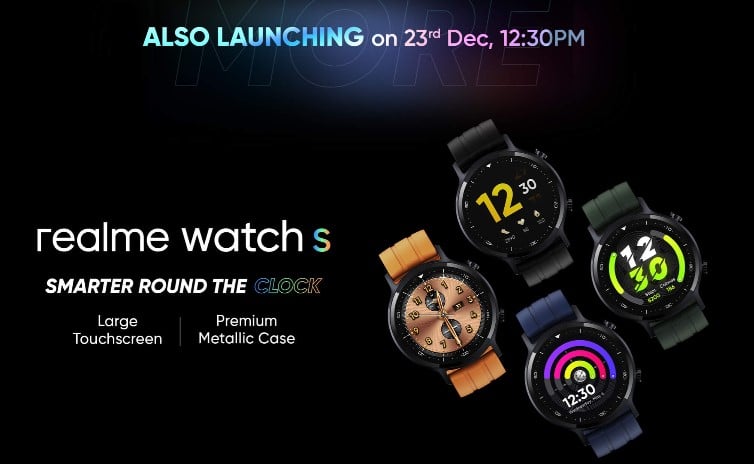 These are all the expected specifications of both the devices as the company has not revealed any official specifications of the devices. So we have to wait for 23rd December to know the exact specifications of both the devices and the price will also be revealed on that day.