A refrigerator is an irreplaceable part of any family in India. It does not matter whether you live alone or have a large family under one roof, you cannot survive without a fridge to help you keep your perishable and non-perishable food items fresh for you. And whether you are looking for the latest refrigerator model to replace your old one or want to purchase one for your new home, you might feel overwhelmed with the options.
That is why we have compiled a list of the latest refrigerator models that are the best in the market for you to choose from according to your needs.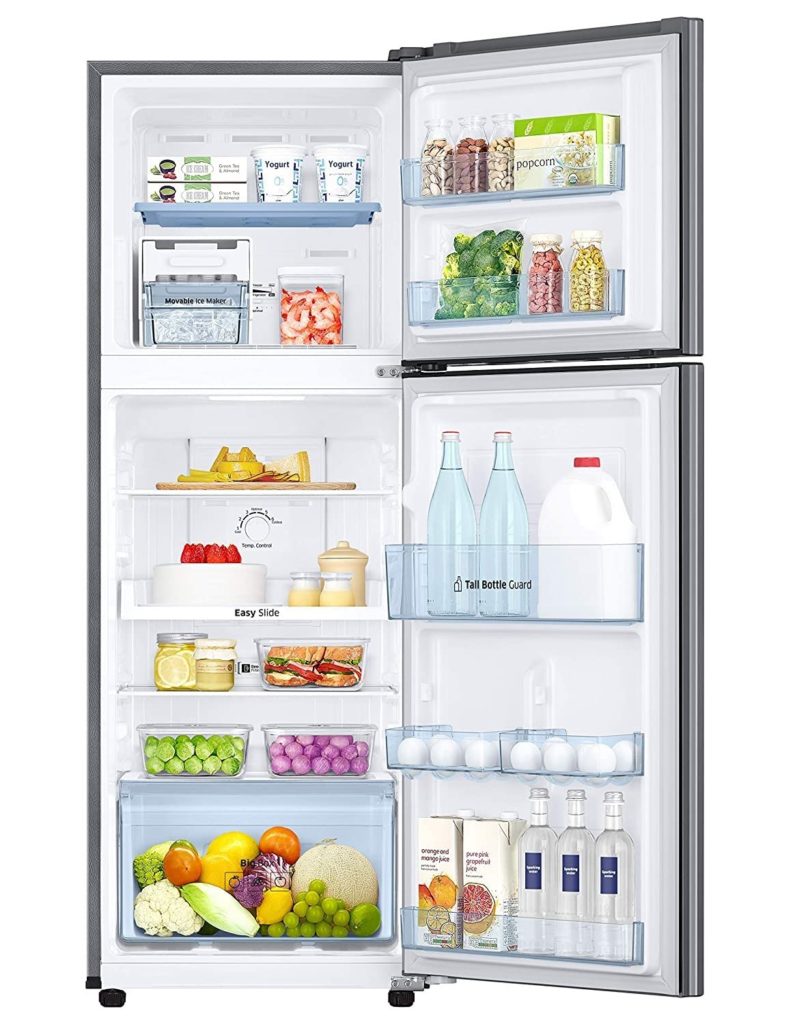 1. Samsung 253 L 2 Star Frost Free Double Door Refrigerator Gray Silver (RT28A3022GS/HL)
Samsung is one of the most trusted brands in India when it comes to electronic home appliances in India. The brand is also at the forefront of the list when it comes to refrigerators. This double-door fridge by the company has a 2-star rating which means it can save up to 20% energy. The model also has a frost-free defrosting system and 253 L capacity, which is perfect for a family of 3-5 people.
The shelves in the fridge are made with tempered glass and it also comes with an all-around cooling system. Refrigerators are not only there to help your family keep their food fresh and safe but they also enhance the beauty of the kitchen. The sleek look of this model can give your kitchen a modern look. The Rs 12,476 price point is also very attractive for customers.
2. LG 190 L 4 Star Direct Cool Single Door Refrigerator Blue Glow (GL-D201ABGY)
Another company which is famous in India for its electrical appliances, especially refrigerators and TVs is LG. This amazing single-door, 5-star model by the company is a shining example of why their make is so reliable. The 5-star rating on the model ensures up to 55% energy savings. Even though this is a single-door model, it has a capacity of 190 L which is perfect for smaller families of 2-4 people. The direct cooling defrosting system and its smart inverter compressor put it ahead on the list. The LG fridge price is Rs 13,293.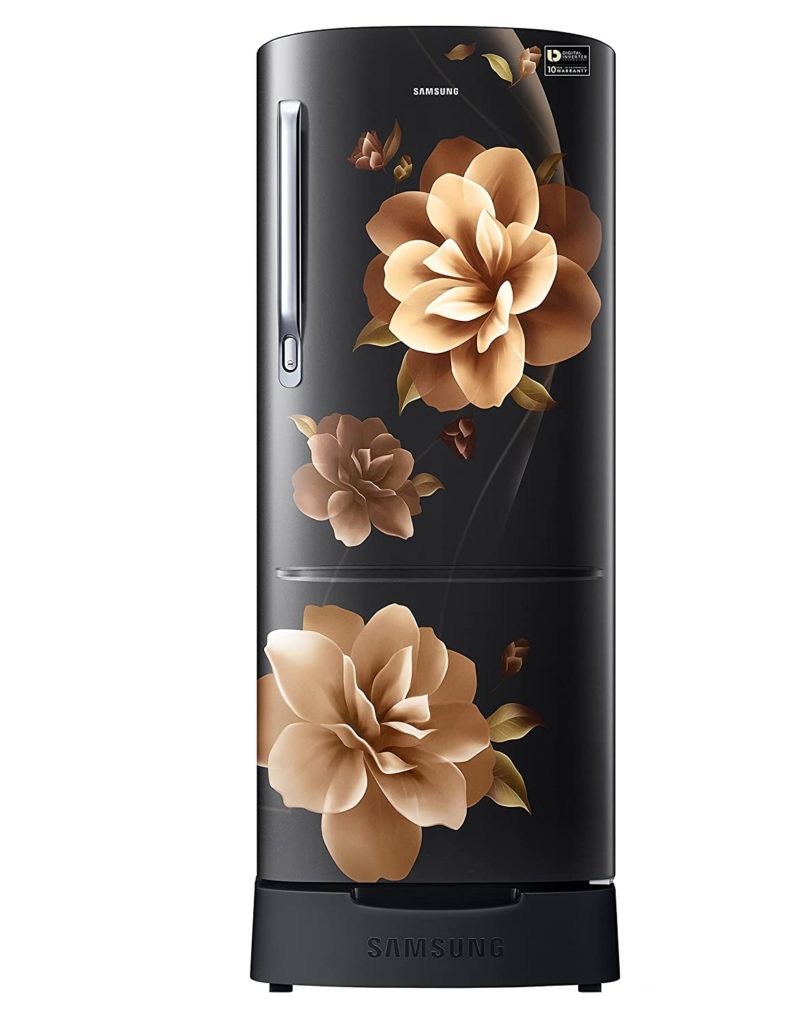 3. Samsung 192 L 3 Star Direct Cool Single Door Refrigerator Black (RR20A182YCB/HL)
If you are searching for a more economical latest refrigerator model which would be reliable in the future, then this model from Samsung has got you covered. You can get this single-door fridge at a low price of Rs 7,996. It has a direct cool system which means it will require manual defrosting. But the 192 L model comes with a 3-star rating which ensures up to 35% energy saving. The beautiful floral design will also go a long way to decorate your kitchen. It comes with a handful of easy operation technology which makes it easy to use. All in all, this fridge is a great option for anyone on a budget.
4. LG 260 L 2 Star Frost Free Double Door Refrigerator Dazzle Steel (GL-S292RDSY)
This LG refrigerator is a great option if you have a family of around 3-5 people. The model has two doors and a 3-star rating as well. It comes with a frost-free defrosting system which stops any sort of ice build-up. This makes certain that you do not have to manually clean the ice build-up. This 260 L model can accommodate slightly larger families. This LG fridge price is about Rs 20,859.
5. LG 335 L Frost Free Double Door Refrigerator (GL-I372RPZY, Shiny steel)
This LG model is the largest one on our list at 335 L, which means it can easily accommodate a family of 5-7 people. This double-door fridge comes with a sleek design and frost-free technology which ensures auto cleaning of any ice-build up. The 3-star rating certifies its capacity to save up to 35% energy. It comes with three shelves and an anti-bacterial gasket to ensure safety. The LG fridge price is Rs 29,889.
Conclusion
We can safely say that whatever your need is in terms of a refrigerator, you can always find a perfect model for yourself. Side-by-side refrigerator is also in trend in India. The Indian refrigerator market is saturated with thousands of models for you to choose from. You can even have two refrigerators if you have a larger family to accommodate. But this list can make sure you find the perfect latest refrigerator for your needs.